Banana Bread Cauliflower Oatmeal (Gluten-Free, No Added Sugar)
This 15-minute gluten-free creamy cauliflower oatmeal is packed with fiber from both rolled oats and riced cauliflower. It makes for an easy, filling, and nutritious breakfast, and you won't even taste the cauliflower! Plus, it's sweetened entirely by ripe banana, so there's no added sugar.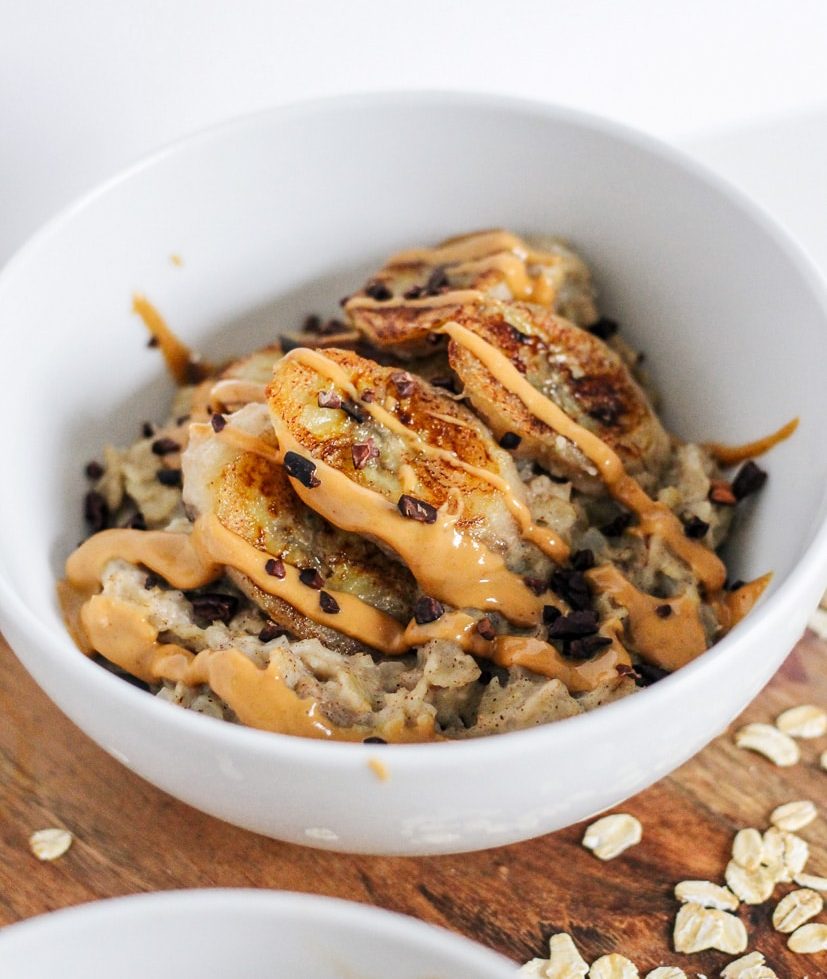 Why cauliflower oatmeal?
I know what you're thinking… cauliflower OATMEAL?! Aren't cauliflower pizza, cauliflower gnocchi, and cauliflower fried rice enough?! Can we please stop trying to turn cauliflower into something it's not (haha)…
Trust me, this cauliflower oatmeal is the real deal! Cauliflower is so versatile you really can add it to just about anything. And it has a mild flavor, which means you can easily sneak some veggie into breakfast without tasting it.
But how? You may have seen the popular 'cauliflower n'oatmeal' (also referred to as cauliflower porridge and keto oatmeal) on Pinterest and thought to yourself there's no way a bowl of cauliflower rice cooked in milk is going to taste anything like oatmeal. I get it. It doesn't.
Here's where this recipe is different. Instead of replacing all of the oats with cauliflower rice, we're just swapping out a portion of them. This way, you still get that oatmeal texture and flavor you love but with an extra nutrition boost. Plus, you'll still get a lot of volume but for less carbs and less calories, which means room for more toppings!
How to make cauliflower rice
Cauliflower rice is made from just one ingredient; you guessed it – cauliflower! I could talk about the health benefits of cauliflower all day… but in short, it's a superfood powerhouse that's rich in fiber and other disease-fighting nutrients.
You can make cauliflower rice at home by cutting a head of fresh cauliflower into florets and processing these florets in a food processor until rice-like consistency. Personally, I think that's too much work! Does anyone really rice their own cauliflower anymore?!
I like to buy frozen pre-riced cauliflower, which is available at most grocery stores.
Frozen cauliflower rice
If you know me at all, then you know I'm team frozen foods allllll the way. Buying frozen cauliflower rice is more convenient, time-saving, and very affordable (my local Whole Foods sells frozen cauliflower rice for just $1.99 a bag).
I always have a few bags on hand in my freezer. My go-to's are Green Giant cauliflower rice, Bird's Eye cauliflower rice and the Whole Food's brand 365 Everyday Value, and Target versions. Oh, and I can't forget the OG that started it all, Trader Joe's cauliflower rice.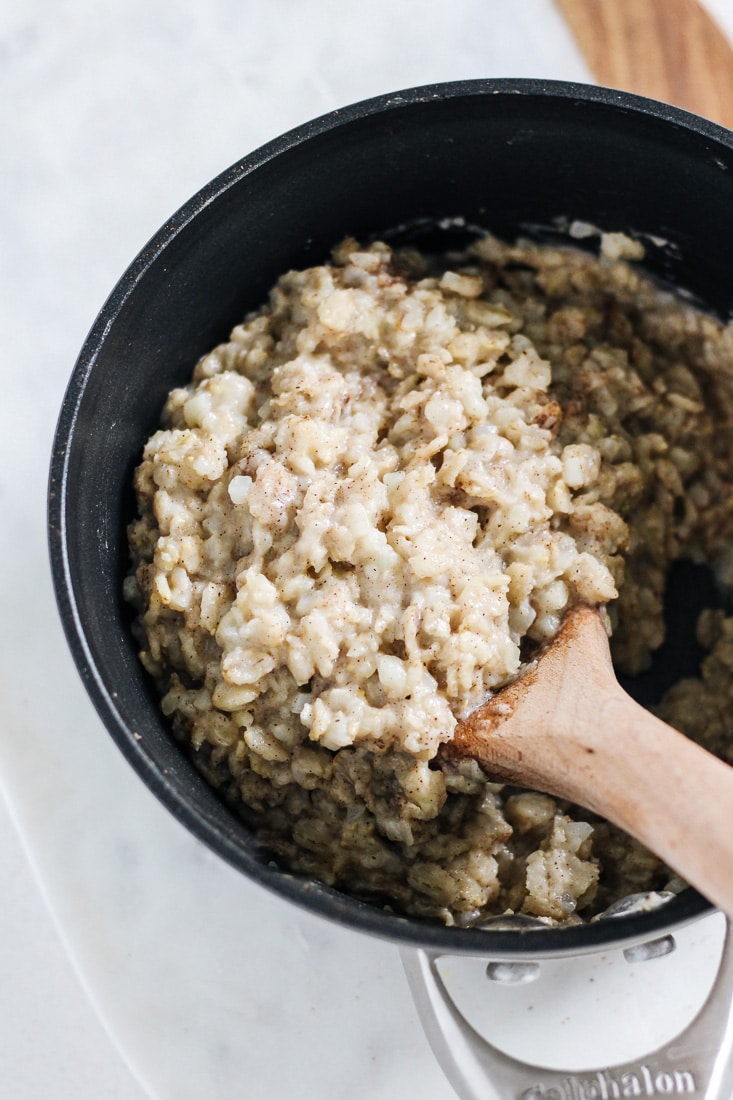 What you'll need to make this cauliflower oatmeal recipe
Here's what you'll need to make this creamy and nutritious breakfast:
Rolled oats: You can also use quick-cooking oats; however, you may need to adjust the liquid amount (and you'll definitely have to adjust the cooking time). Be sure to look for oats labeled 'gluten-free' if necessary (more on this below).
Frozen cauliflower rice: The cauliflower is going to add volume, fiber, vitamins, and minerals, for little calories. And you really won't taste it!
Almond milk: You can also use regular milk or coconut milk here. Or whatever milk your heart desires!
Banana: You'll need a large, extra-ripe banana for this recipe (after all, it is called 'banana bread cauliflower oatmeal'). The riper the better here. We're relying on the power of fruit to sweeten this recipe, and the riper the nanner the sweeter it tastes! By pureeing a portion of the banana and mixing it into the warm oats it'll make it creamy and sweet without adding sugar.
Nut butter: I've never met an oatmeal bowl that didn't have a big glob of nut butter on it. So, pick whichever nut butter you like most! I'm partial to peanut butter in this recipe.
Are rolled oats gluten free?
Interestingly enough, oats are naturally gluten-free. So, how come some oats aren't labeled gluten-free? Oats can be 'contaminated' (with gluten) in the growing and processing stages.
For example, oats that are to be sold and labeled as gluten-free must be grown on land that hasn't grown gluten-containing grains (like wheat) for some time. They also have to be processed in a facility that doesn't also process gluten-containing grains. Since the processing is similar among the grains, commercial oats are oftentimes processed in facilities that handle numerous other grains, like wheat, rye, and barley.
So, if you want this cauliflower oatmeal recipe to be completely gluten-free, be sure to look for the words 'gluten-free' on the packaging. Most big grain companies, like Bob's Red Mill and Quaker, manufacture gluten-free oats.
Let's get cooking! If you make this recipe I'd love to see it! Feel free to share on Instagram and tag me @shapedbycharlotte so I can see it.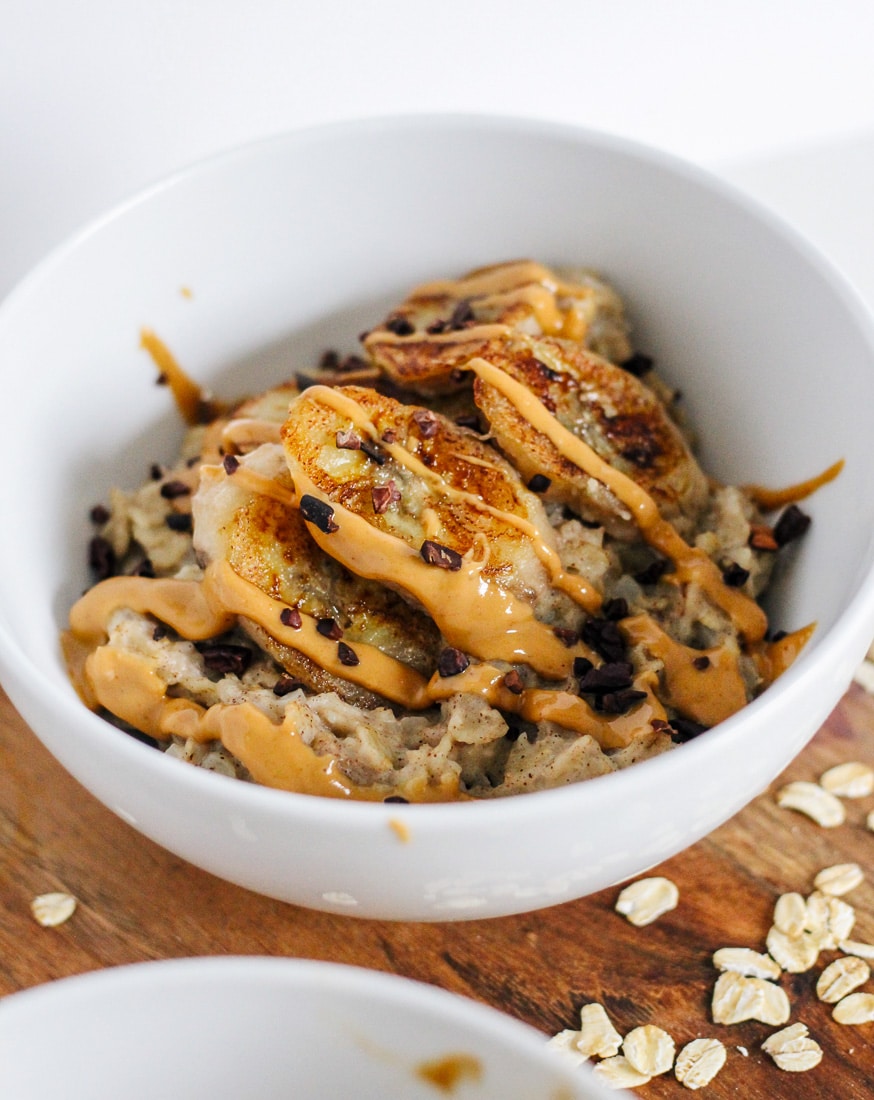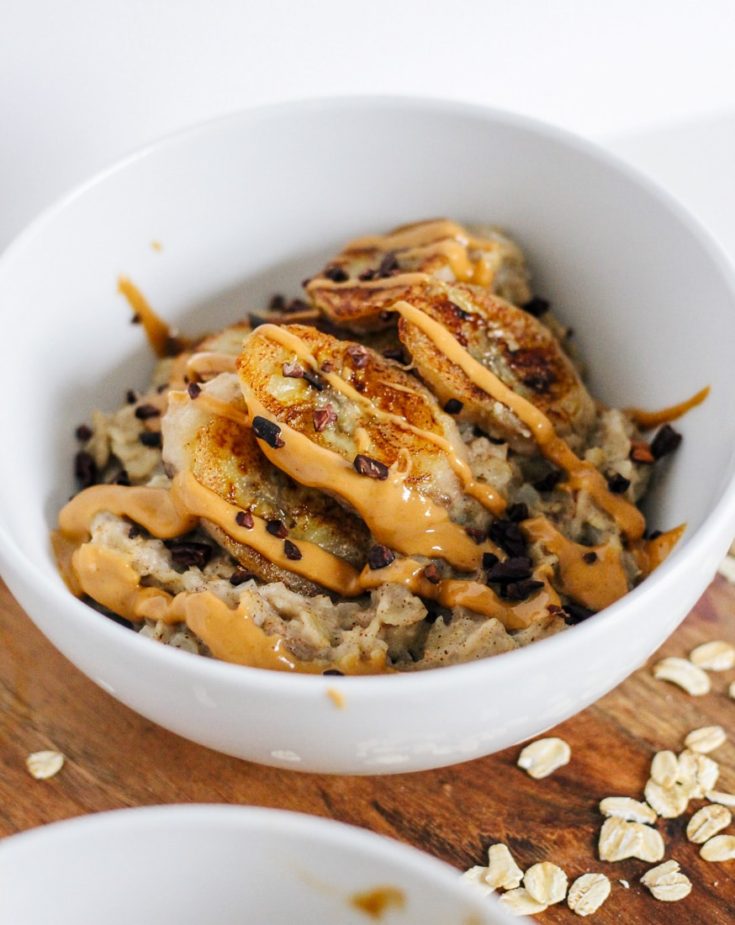 Banana Bread Cauliflower Oatmeal
Yield: 2 servings
Cook Time: 15 minutes
Total Time: 15 minutes
These 15-minute creamy banana bread cauliflower oats are packed with fiber from both rolled oats and frozen riced cauliflower. They're perfect for a nutritious
breakfast, and you won't even taste the cauliflower! 
Ingredients
2 medium extra-ripe bananas
1 cup frozen cauliflower rice
1/2 Tbsp coconut oil
2 cups unsweetened almond milk
1 cup old-fashioned oats (gluten-free if necessary)
1/2 tsp vanilla extract
1/2 tsp cinnamon
2 Tbsp peanut butter or other nut butter of choice 
Optional: roasted cocoa nibs or mini chocolate chips for topping
Instructions
Add one of the bananas to a blender and blend until pureed. Slice the other banana.
Saute cauliflower rice in coconut oil in a small saucepot until warmed through, about 5 minutes.
Add almond milk and oats and cook over medium heat until all of the liquid has been absorbed, about 7 to 10 minutes.
Stir in pureed banana, vanilla, and cinnamon. Optional: add a touch of maple syrup or honey.
Top with banana slices, nut butter, and chocolate chips or cocoa nibs. Optional: saute the banana slices in a little bit of coconut oil until browned to enhance their sweetness before topping.

Thanks for stopping by! To see what other healthy and tasty recipes I'm whipping up in the kitchen, be sure to follow me on Facebook and Instagram!
This post may contain affiliate links, which means I may receive a small commission if you purchase through those links. I only recommend products that I know, trust and love! Thank you for your support!