Healthy Banana Oatmeal Breakfast Cookies
These vegan healthy banana oatmeal breakfast cookies are super soft and easy to make. They're loaded with fiber and sweetened primarily by extra-ripe bananas, with no added sugar. They're so nutritious you can even enjoy them for breakfast!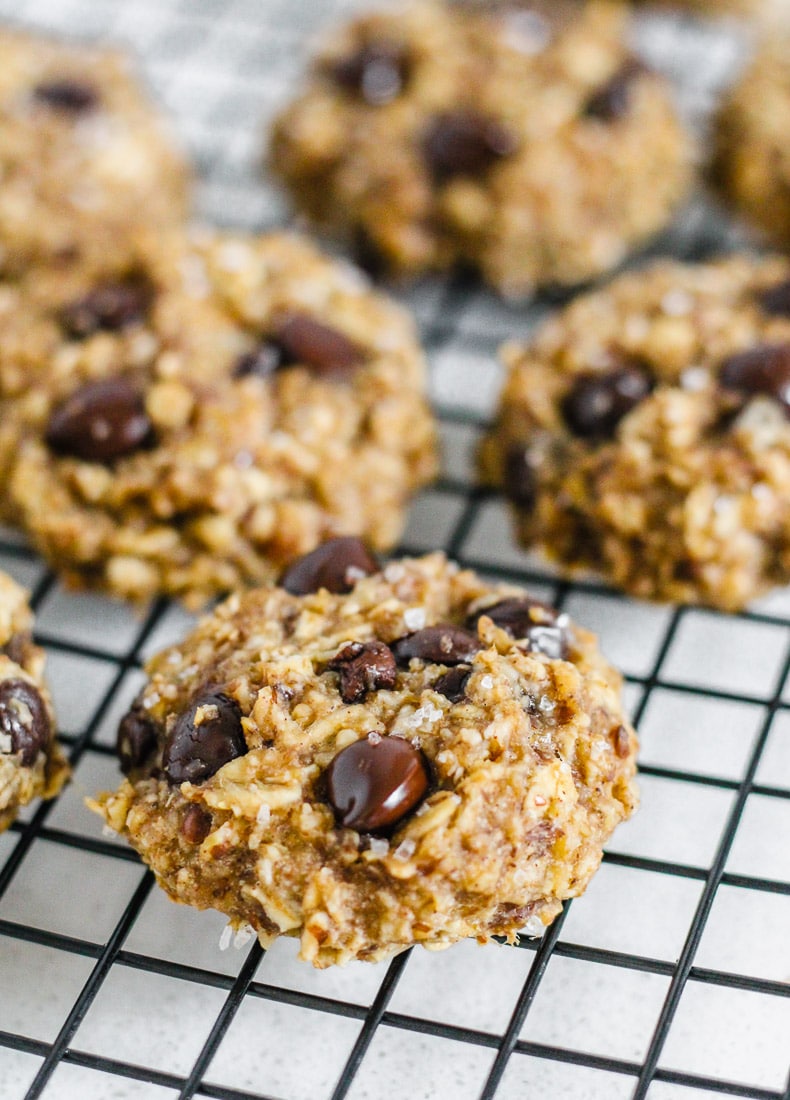 Healthy Breakfast Cookies
As a dietitian, you'd think the last thing I'd ever recommend as a healthy breakfast option would be cookies. And normally you'd be right… until my healthy banana oatmeal cookies came into existence!
What Makes a Healthy Breakfast Cookie?
When it comes to building a nutritious and healthy breakfast cookie, I prioritize a few things. These apply to both breakfast cookies and other healthy breakfast options in general:
Fill them up with fiber: Fiber helps fill you up without filling you out. It also helps keep blood sugar levels stable, which means you're less likely to be reaching for a morning snack 30 minutes later. Fiber sources that are great for breakfast cookies include fruit, nuts, seeds, and whole grains. You'll be getting fiber from the banana, flaxseed, nut butter, and oats in these cookies.
Pack with some protein: Fiber and protein are a powerful, satiating and hunger-squashing duo. You may not know this, but oats are a good plant-based protein source. Other great protein source to incorporate into your breakfast cookies are nuts and nut flours. You'll be getting protein from the flaxseed, nut butter, and oats in these cookies.
Skip the added sugar: Okay, you don't have to skip it entirely, I just needed a word that started with 's' for alliteration purposes (haha). Added sugars are the sugars added to foods and beverages during the manufacturing process. They are different from natural sugars – those found naturally in foods like the banana in these cookies (here's my latest post on added sugar versus natural sugar). In my opinion, the less added sugar in your breakfast the better. Plus, you really won't need much or any in these cookies! The extra-ripe bananas provide a good amount of sweetness on their own.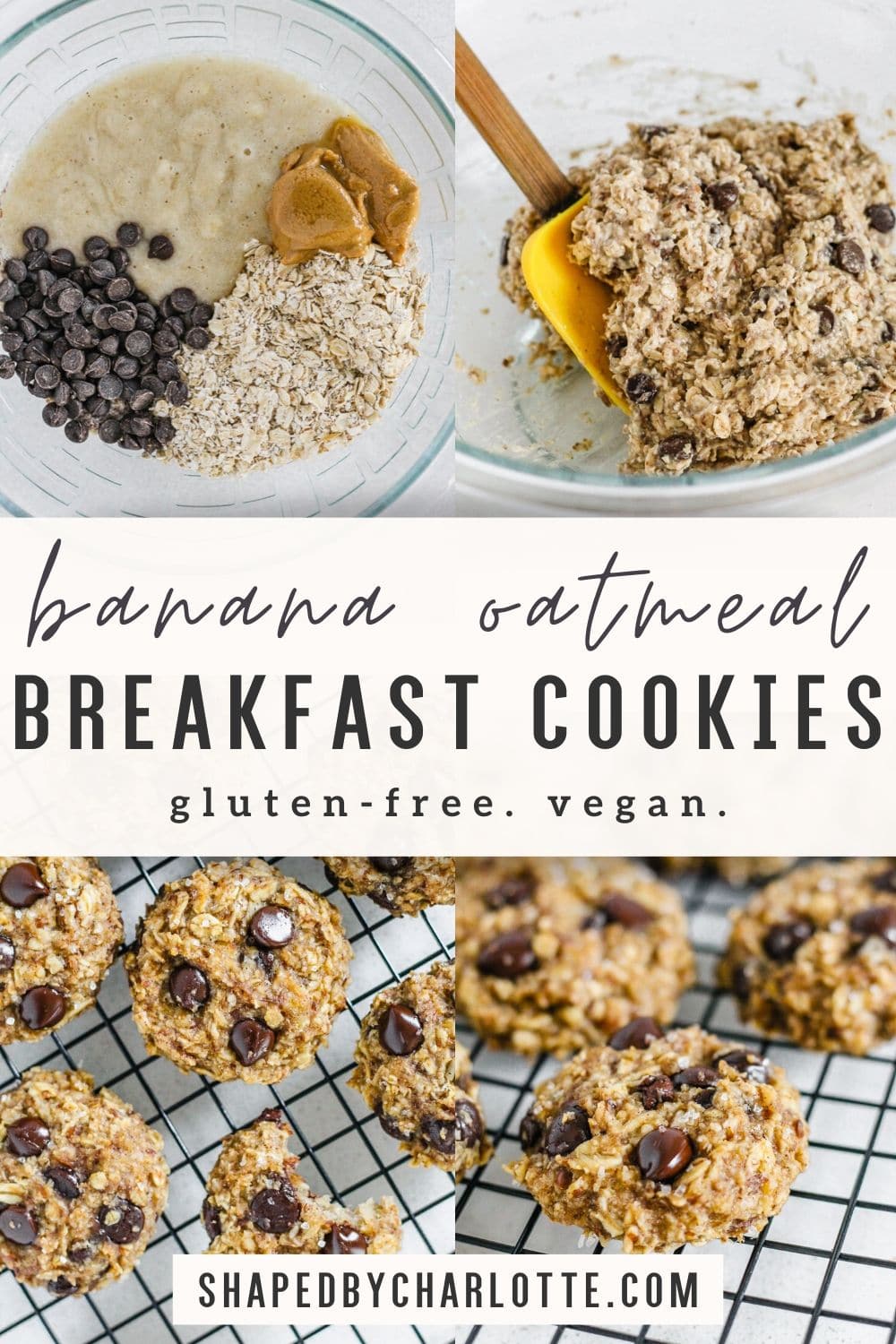 How to Make These Banana Oatmeal Breakfast Cookies
Here's what you'll need to whip up these healthy breakfast cookies:
Oats: I use a 50/50 mixture of rolled oats and quick oats in this recipe. I think using the two improves the final texture of the cookies, but it's not completely necessary. If you only have rolled oats, consider pulsing them in a food processor or blender just a tiny bit until they resemble the same size of quick oats.
Bananas: You'll want to use extra-ripe bananas in this recipe. I repeat, do not use bananas that aren't extra-ripe. The riper the banana the sweeter the taste! If you have bananas that don't seem ripe enough, see the section below for how to quickly ripen bananas in the oven.
Flaxseed: This recipe is vegan. So, instead of using a regular egg, you're going to make a flax egg by mixing your flaxseed with a little bit of almond milk and letting it thicken. You can also just use a regular egg and omit the flaxseed and almond milk if you like!
Nut butter: I prefer using peanut butter in this recipe, but any nut or seed butter will work!
Chocolate chips: I use Lily's Sweets semi-sweet stevia-sweetened chocolate chips in this recipe because they're so delicious and have no added sugar. However, you can use whatever chocolate chips you like or have on hand.
SALT: Normally I wouldn't call out salt in the intro text, but I feel it's very necessary for this recipe. Did you know salt enhances sweetness in baked goods? I made one batch without sprinkling salt on the cookies and one batch with and just WOW – what a difference it made! Please don't make the mistake of not sprinkling your breakfast cookies with salt (unless of course you're following a sodium restriction for health reasons). If you look closely at the pictures for the cookies you can actually see some of the big flaky salt I sprinkled on them.
To make these cookies, start by making your flax egg so that it can thicken while you prepare the remaining ingredients.
Then, you'll want to puree your bananas in a blender. I always recommend pureeing over mashing them with a fork so you don't end up with big lumps in your cookies.
Next, combine all of the ingredients in a mixing bowl, mix, and scoop onto a baking sheet using a cookie scoop. Press the mounds lightly with your fingertips (they won't flatten and expand on their own like normal cookies), sprinkle with salt, and bake! I repeat, do not forget the salt.
To store your banana oatmeal breakfast cookies:
Store your healthy breakfast cookies in an air-tight container on the counter or in the fridge. They'll last for a few days on the counter and up to a week in the fridge.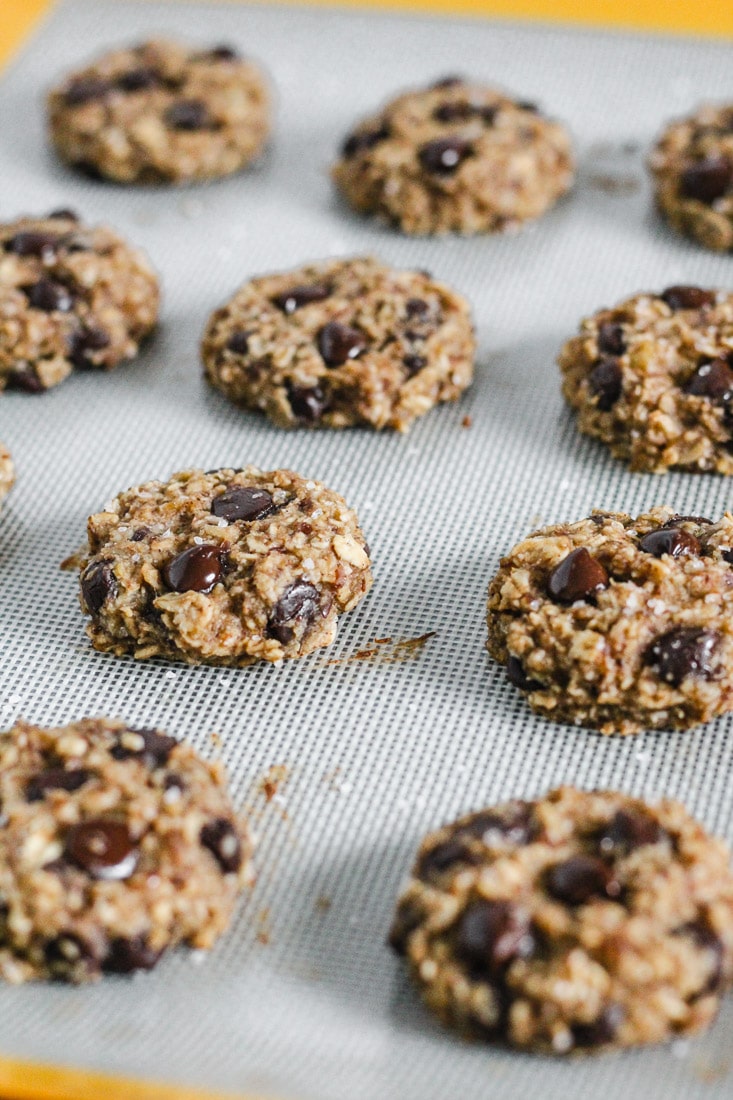 How to Quickly Ripen Bananas
So, maybe you stumbled upon this recipe on Pinterest while looking for a breakfast cookie recipe and now you're intrigued. You're ready to give this recipe a try but there's one BIG problem. Your bananas aren't ripe enough yet.
Don't let unripe bananas stop you! You can instantly ripen your bananas in the oven, here's how.
How to ripen bananas in the oven:
Keep your bananas in their peels and place them on a foil-lined baking sheet. Bake them at 3oo degrees F until the banana peels turn completely dark brownish-black all over, about 15 to 20 minutes. Let them cool before using them in the recipe.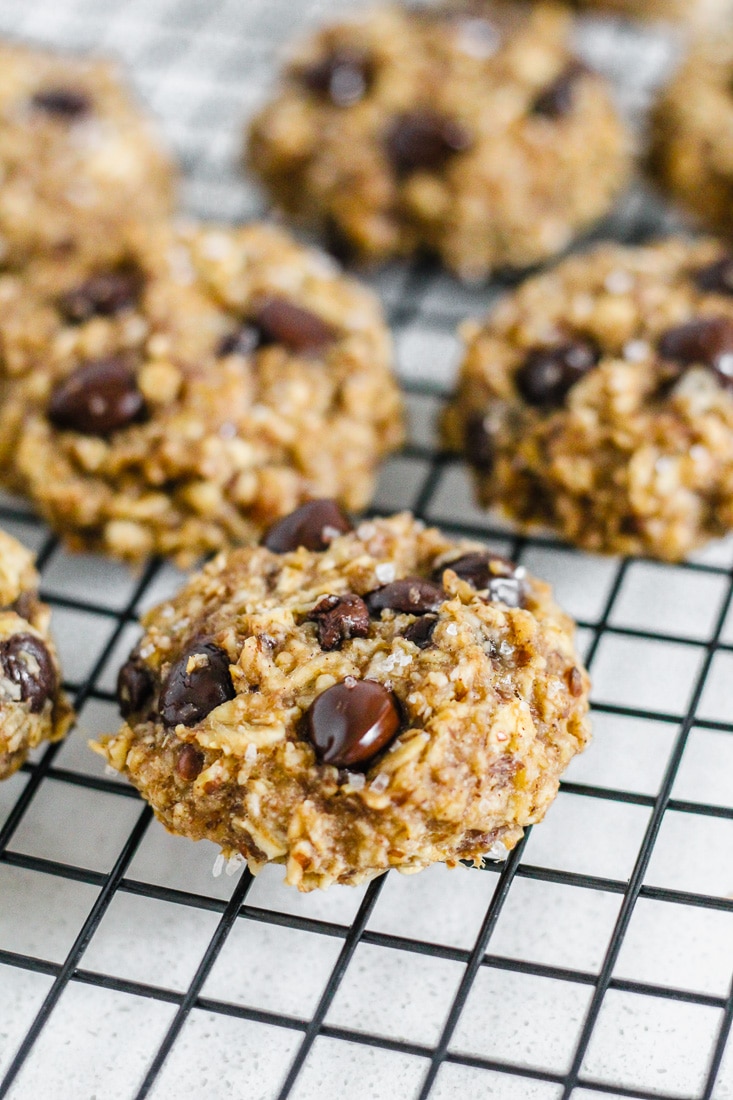 Healthy Banana Oatmeal Breakfast Cookies
Yield: 12 cookies
Prep Time: 10 minutes
Cook Time: 15 minutes
Total Time: 25 minutes
These vegan healthy banana oatmeal breakfast cookies are super soft, easy to make, and require just a handful of ingredients. They're loaded with fiber and sweetened primarily by extra-ripe bananas, with no added sugar. They're so nutritious you can even enjoy them for breakfast!
Ingredients
1 flax egg (1 Tbsp ground flaxseed + 2.5 Tbsp almond milk)
2 medium extra-ripe bananas
1/2 cup old-fashioned oats (gluten-free if necessary)
Heaping 1/2 cup quick-cooking oats (gluten-free if necessary)
2 Tbsp peanut butter (or other nut butter)
1/2 tsp vanilla extract
1/2 tsp cinnamon
1/3 - 1/2 cup chocolate chips (I use Lily's stevia-sweetened ones)
1/8 - 1/4 tsp sea salt for sprinkling on top
Instructions
Preheat oven to 350 degrees F.
Combine flax egg ingredients in a small bowl and let sit for 5 minutes.
Meanwhile, puree bananas in a blender.
Combine flax egg, pureed bananas, oats, peanut butter, vanilla, and cinnamon in a medium-sized bowl and mix until well-combined.
Fold in chocolate chips.
Using a small cookie scoop, scoop mixture into 12 small mounds onto a parchment-lined baking sheet (or a silicone baking mat on top of a baking sheet).
Press lightly with your finger tips to flatten the mounds slightly. Optional: add extra chocolate chips on top. Not optional: sprinkle tops with salt.
Bake until golden, about 15 minutes.
Thanks for reading! Did you make one of my recipes? Leave a comment & let me know!
To see what other healthy and tasty recipes I'm whipping up in the kitchen, be sure to follow me on Facebook and Instagram!
This post may contain affiliate links, which means I may receive a small commission if you purchase through those links. I only recommend products that I know, trust and love! Thank you for your support!