Healthy Loaded Plantain Nachos
Healthier loaded "nachos" using thinly sliced plantain instead of regular chips! These plantain nachos are super easy to whip up and as crunchy (if not crunchier) than a regular chip. Plus, they're grain/gluten-free and can be made paleo, dairy-free, and Whole30-approved!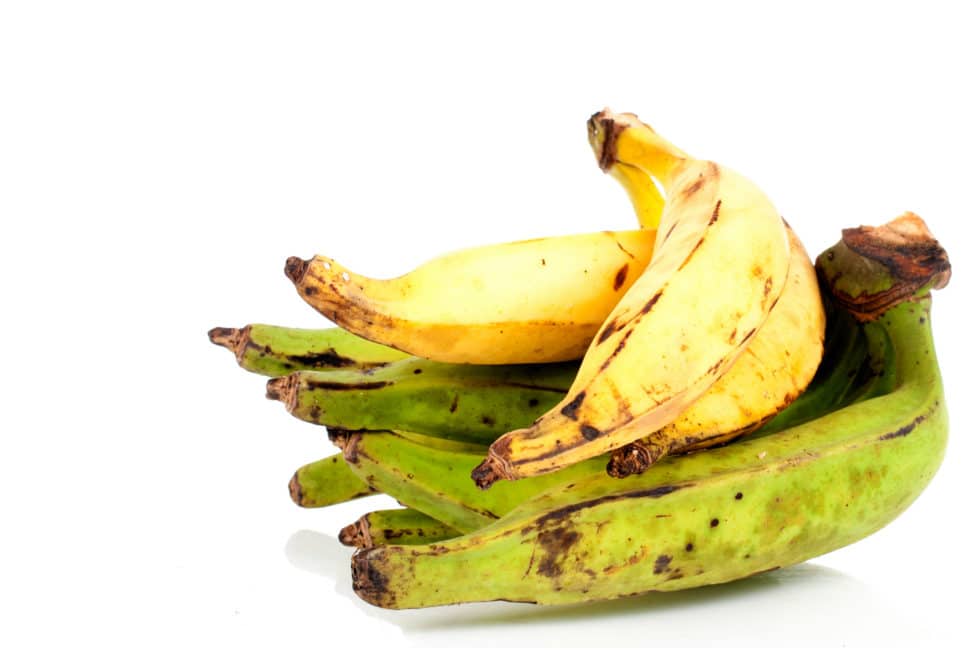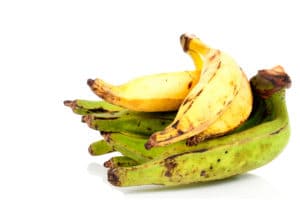 Have you ever noticed those large, green, odd-looking bananas in the banana section at the grocery store? Yea, those aren't bananas, they're plantains! And they're the star of these simple, healthy nachos.
Bananas vs. plantains: what's the difference?
At first sight, it's easy to mistake a plantain for a banana. In fact, plantains belong to the banana family – they're like the starchier sister.
Plantains (plátanos in Spanish) are basically large bananas. Unlike bananas, they're treated more like a vegetable than a fruit since they're almost always eaten cooked. Try eating a raw plantain and you'll understand why.
Plantains are usually enjoyed once cooked, whereas bananas are consumed raw. Furthermore, plantains are more often used in their unripened state, whereas bananas are enjoyed nice and ripe.
When unripe, plantains have a green hued skin that's difficult to peel. At this stage, they're higher in starch and lower in sugar, making them perfect for baking, boiling, and frying. This starchy fruit is extremely versatile and can be used in a variety of savory and sweet dishes.
Are plantain chips healthy?
Cooked plantains are nutritionally similar to potatoes when it comes to calories. They're a rich source of fiber and contain a variety of vitamins and minerals, like vitamins A and C, B vitamins, potassium, and magnesium.
What makes plantain chips a healthier option is all dependent on how you cook them. Many store-bought or restaurant chips are coated in fat and fried. By making the plantain chips yourself, you control the amount of fat added and how they're cooked (i.e. baked over fried).
Be wary of store-bought plantain chips as many are high in fat and even added sugar. It's always a safer bet to make them yourself – plus, it's easy to do! Let me show you how.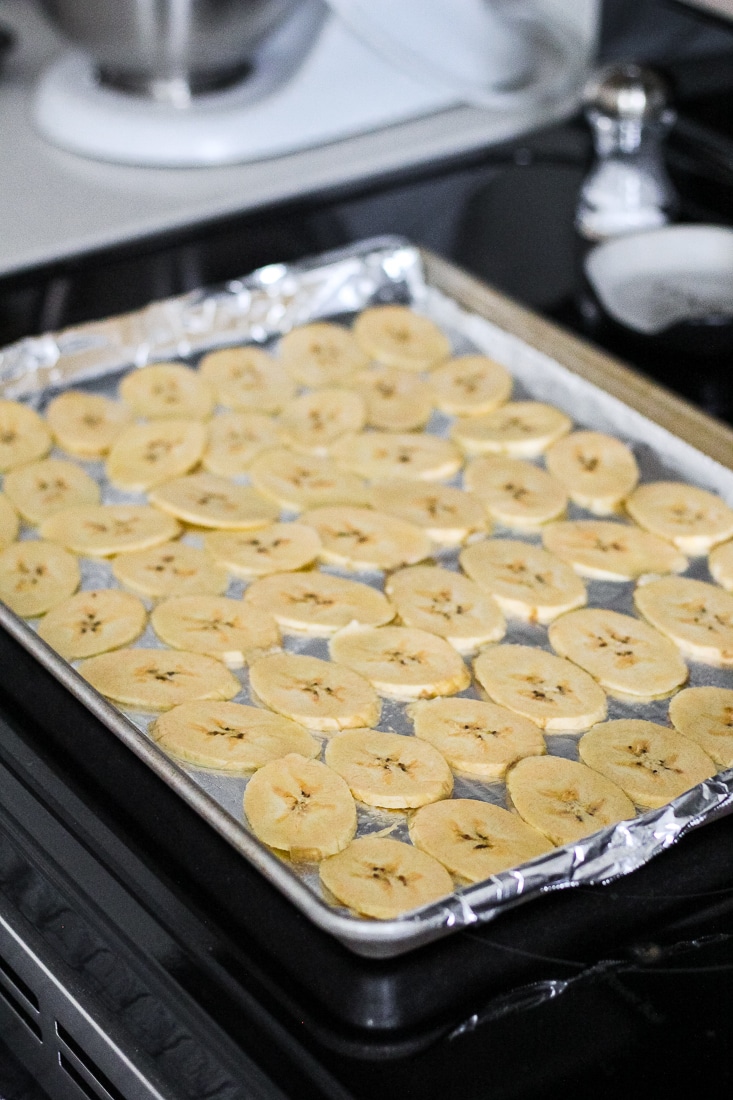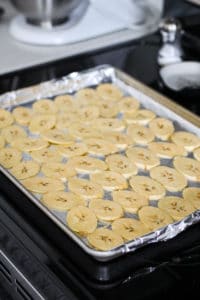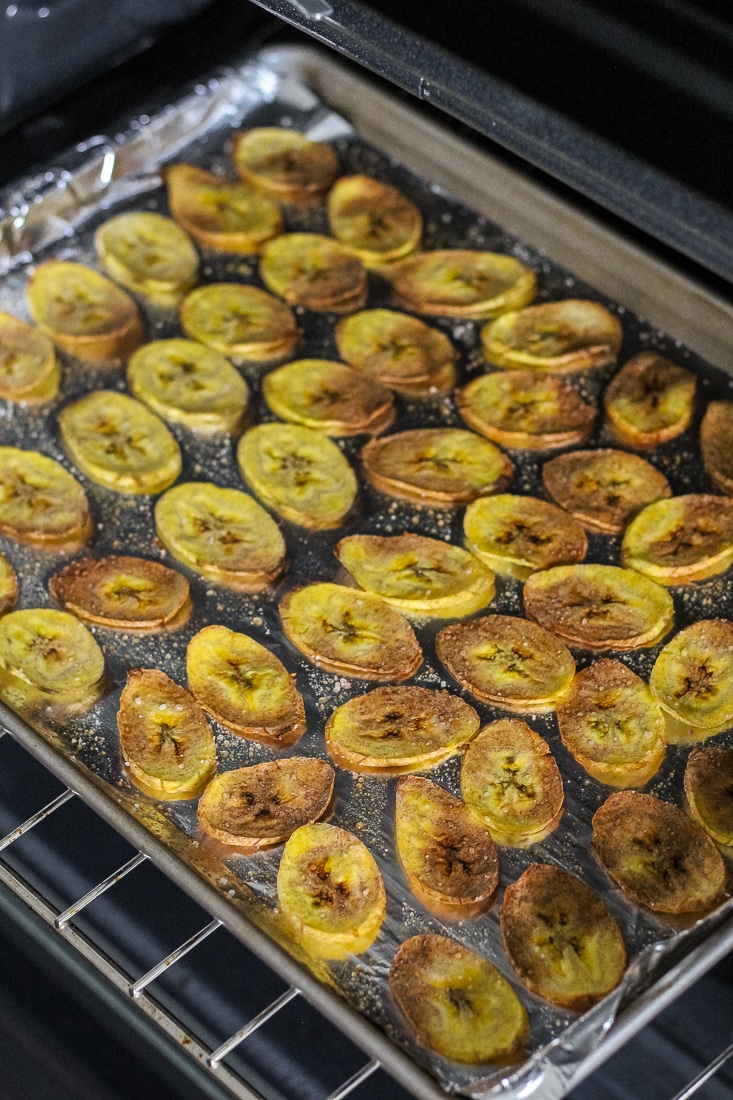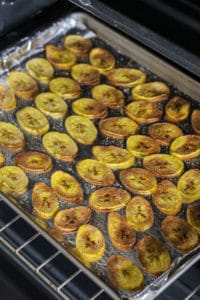 *As an Amazon Associate I earn from qualifying purchases.
How to Make Plantain Chips
Don't be intimidated by the thought of making homemade chips – it's much easier than you'd think! But it's only easy if you have the right tools. Well, one tool in particular: a mandoline slicer.
A mandoline slicer slices fruits and vegetables with ease. With it you're able to easily cut the plantains into slices of the same thickness. Plus, you're able to get the slices much thinner than you would if you were slicing by hand with a knife. This is the OXO mandoline slicer I use, and highly recommend!
Steps for making the best plantain chips
Step one: Peel the plantains. Peeling plantains is a little more difficult than peeling bananas. The peel is thick, hard, and really stuck on there. Use a knife to cut the ends. Gently cut a slit down the length of the peel, trying not to cut into the flesh. Remove the peel in strips with your fingers and gently slice off any remaining peel bits.
Step two: Cut a small slice diagonally from one end of the plantain. Run this flat, diagonal edge through the mandoline slicer over and over again until you've sliced the whole thing. The slices should be about 1/8-inch thick.
Step three: Lay the slices in an even layer onto foil-lined and greased baking sheets. Be sure not to let the slices overlap! You'll likely need more than one baking sheet for this.
Step four: Spray the tops with olive oil-based cooking spray, sprinkle with salt, and bake away! Make sure to rotate the pans about halfway through and watch them towards the end – they like to brown quickly!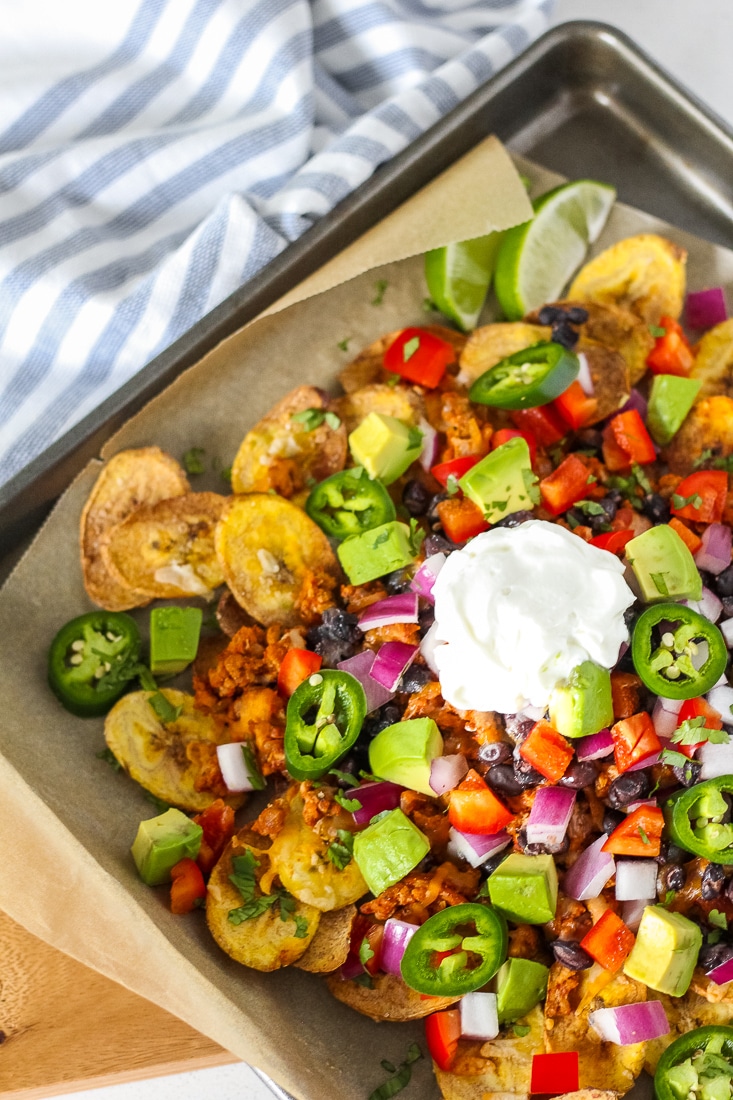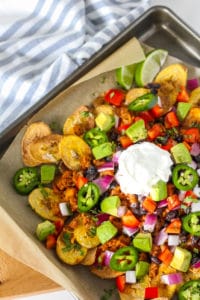 Here's what you'll need to make these loaded plantain nachos:
Plantains: You'll want to buy the green, unripe plantains.
Olive oil-based cooking spray: I like to spray the plantain slices with olive oil spray instead of tossing them in olive oil for better oil distribution. Feel free to simply toss in a little olive oil or melted coconut oil if you prefer. If you're following Whole30, be sure to use 100% pure olive oil or coconut oil cooking spray (with no other ingredients).
Ground turkey: For some protein! If you're a vegetarian or vegan, feel free to omit the turkey. You can substitute vegetarian crumbles or simply add more beans.
Salsa & taco seasoning: These help give the turkey some flavor. The salsa also helps keep the turkey from being too dry. If Whole30, be sure to use Whole30-approve brands like Primal Palate taco seasoning and Muir Glen salsa.
Shredded cheese: I love melted cheese on nachos; I feel like it brings the whole dish together! However, cheese is definitely not Whole30 or paleo, so omit it if you're following either of those diets. If you're dairy-free or vegan, you can try adding a dairy-free cheese substitute like So Delicious Cheddar Jack (yum).
Nacho toppings of your choosing: I've given you a bunch of Whole30/paleo nacho toppings to choose from, but feel free to add your own. Get creative! My favorites are guacamole and fresh jalapeno (I like it spicy).
Let's get cooking! If you make this recipe I'd love to see it! Feel free to share on Instagram and tag me @shapedbycharlotte so I can see it.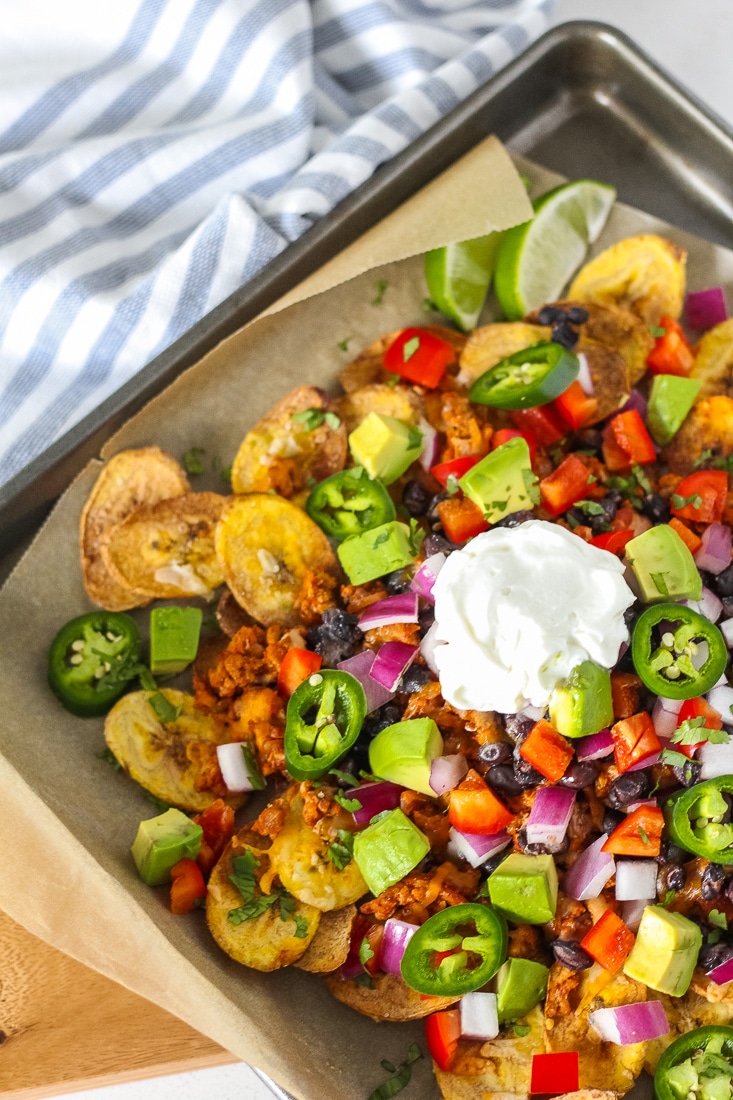 Loaded Plantain Nachos
Yield: 4 - 6 SERVINGS
Prep Time: 10 minutes
Cook Time: 20 minutes
Total Time: 30 minutes
Healthier loaded "nachos" using thinly sliced plantain instead of regular chips! These plantain nachos are super easy to whip up and as crunchy (if not crunchier) than a regular chip. Plus, they're grain/gluten-free and can be made paleo, dairy-free, and Whole30-approved!
Ingredients
For the plantain chips:
2 green plantains, peeled
1/2 tsp sea salt
For the ground turkey:
1/2 lb. lean ground turkey
1 tsp oilve oil
For the nachos (omit if paleo/Whole30)
1 cup Mexican-blend cheese
1 cup black bean beans, drained & rinsed
Nacho toppings (optional)
Shredded romaine lettuce
Diced tomato
Diced red onion
Homemade guacamole or sliced avocado
Sliced fresh jalapeno
Plain, Greek yogurt (omit if paleo/Whole30)
Fresh cilantro
Squeeze fresh lime juice
Extra salsa
Instructions
Preheat oven to 375 °F.
Using a mandoline slicer, thinly slice plantains on the diagonal. I set my thickness to 2 - 2.5 on my mandoline.
Place plantain slices onto two, large foil-lined and greased baking sheets. Be sure to place them in one even layer (no overlaps). Spray tops with olive oil-based cooking spray and sprinkle with salt.
Bake until slightly browned on the edges, about 20 minutes. Check on them halfway through and rotate pans. Be sure to monitor them during the last few minutes because they will brown quickly!
Meanwhile, brown ground turkey and seasoning in olive oil until turkey is cooked through. Add salsa, stir, and continue cooking until some of the liquid from the salsa's absorbed, about 1 to 2 minutes.
Assemble all of the cooked plantain chips in a pile on one baking sheet. Top with ground turkey, beans, and cheese. Return to the oven until cheese melts, about 5 minutes.
Top with desired toppings and serve immediately!
Recommended Products
As an Amazon Associate I earn from qualifying purchases.
Thanks for reading Shaped by Charlotte! To see what other healthy and tasty recipes I'm whipping up in the kitchen, be sure to follow me on Facebook and Instagram!
Shaped by Charlotte LLC is a participant in the Amazon Services LLC Associates Program, an affiliate advertising program designed to provide a means for sites to earn advertising fees by advertising and linking to amazon.com. As an Amazon Associate I earn from qualifying purchases!
This post may contain affiliate links, which means I may receive a small commission if you purchase through those links. I only recommend products that I know, trust and love! Thank you for your support!