Healthy Tomato Soup Recipe (with a secret ingredient!)
I may be biased, but this is the best healthy tomato soup recipe you'll ever try! It's thick, creamy(ish), and rich in plant protein, all thanks to my secret ingredient (read on to find out what it is). Plus, it can easily be made dairy-free and/or vegan if necessary!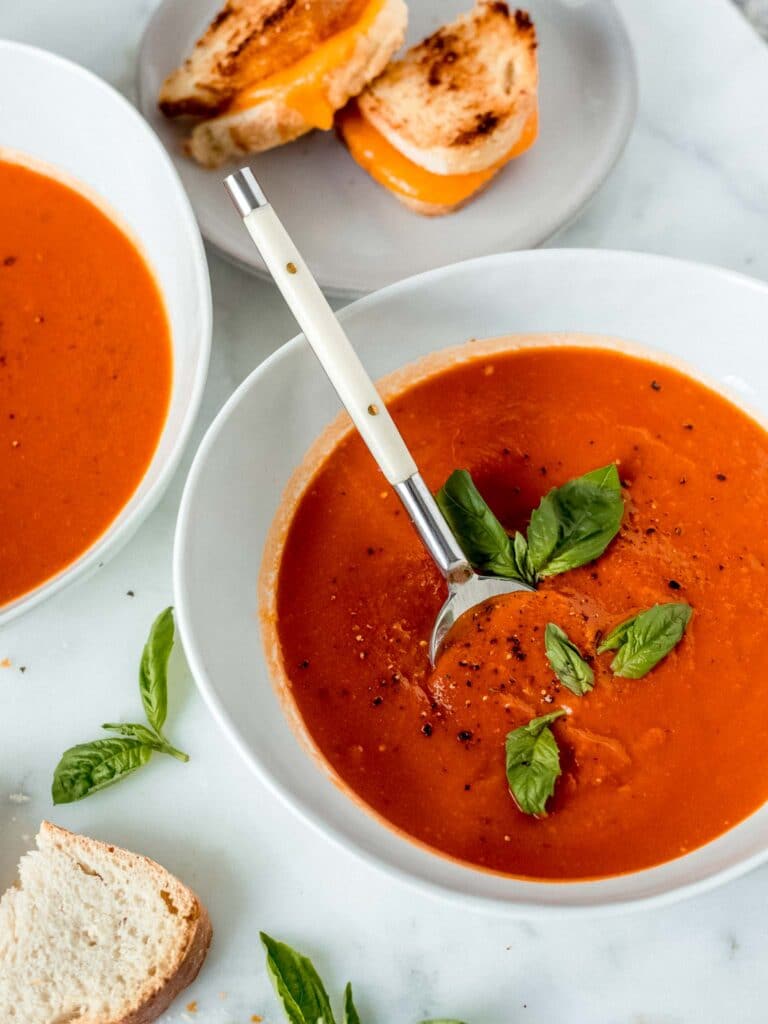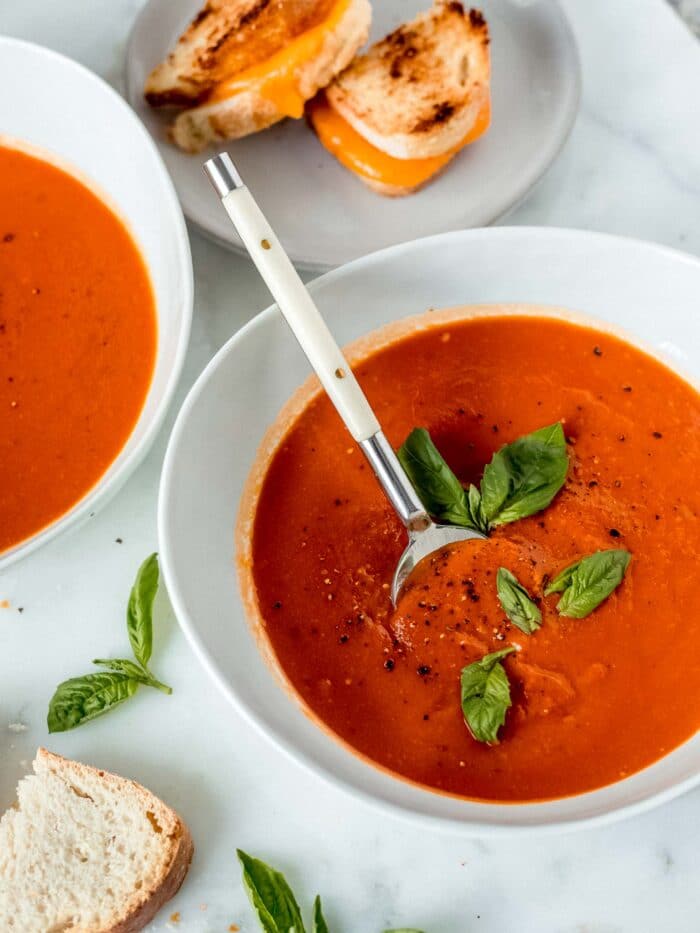 There's nothing quite as satisfying as enjoying a warm bowl of thick tomato soup with a grilled cheese in hand on a chilly day. This healthy tomato soup recipe is a lightened-up version of the classic cold-weather comfort food—it's just as hearty and satisfying but much more nutritious. Which begs the question…
Is tomato soup good for you?
It's mostly tomatoes—a vegetable, no wait, a fruit—so it must be healthy, right? While I won't get into the "are tomatoes a vegetable or a fruit" debate here, I will get into whether or not tomato soup is a healthy choice.
And my answer is: well, it depends. Tomatoes are extremely nutritious and one of the best sources of lycopene—a potent phytonutrient that may protect against cardiovascular disease and certain cancers, especially prostate cancer. And canned and cooked tomatoes are an even better source of lycopene than their fresh or raw counterparts, since the heating process makes lycopene more bioavailable. So, you've at least got that going for you. But there's more to tomato soup than just tomatoes…
Tomato soup calories
Tomato soup is often made with heavy cream and added sweetener, so it can be high in fat, sugar, and calories. Take, for example, the beloved Panera Creamy Tomato Soup. One cup (without croutons) contains 14 grams of fat and clocks in at around 230 calories.
If you take a look at Campbell's Classic Tomato Soup, one on-the-go container (a little under 1½ cups) has less than a gram of fat and only 140 calories, but contains 12 grams of added sugar.
On the other hand, Campbell's Healthy Request tomato soup has significantly less added sugar, and brands like Pacific and Progresso offer healthier, lower-fat, -sugar, and -calorie versions as well.
Is tomato soup good for weight loss?
Again, it depends! Broth-based soups are generally better choices than cream-based soups for weight loss. So, tomato soups like Panera's Creamy Tomato Soup, which uses heavy cream, aren't as friendly on the waistline as some of the other options available.
If you want a tomato soup that's good for weight loss, your best option is to make it yourself! That way YOU control what goes in it (and what doesn't).
This healthy tomato soup recipe skips the heavy cream and uses vegetable broth and the liquid from the canned tomatoes instead. And would you like to know the secret to thick and creamy soup without the heavy cream? *Drumroll please*… white beans!
Yes, you read that correctly. Blending white beans into this soup delivers a delicious richness that comes with fill-you-up fiber and plant protein.
This Thai Chicken Zoodle Soup is another nutritious soup that's great for weight management!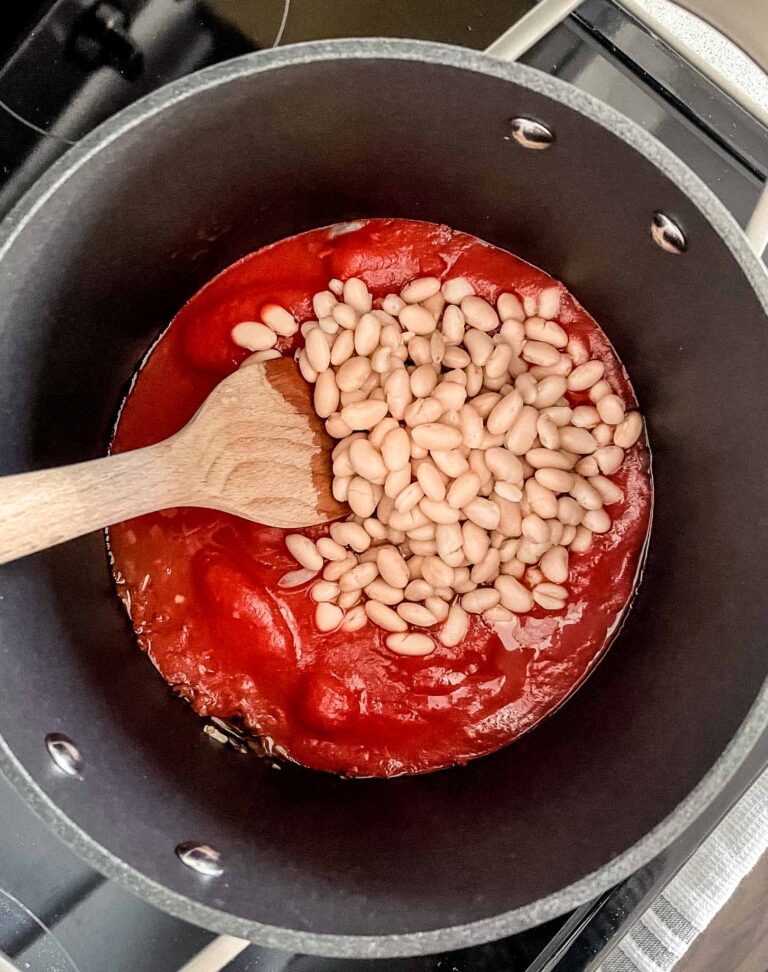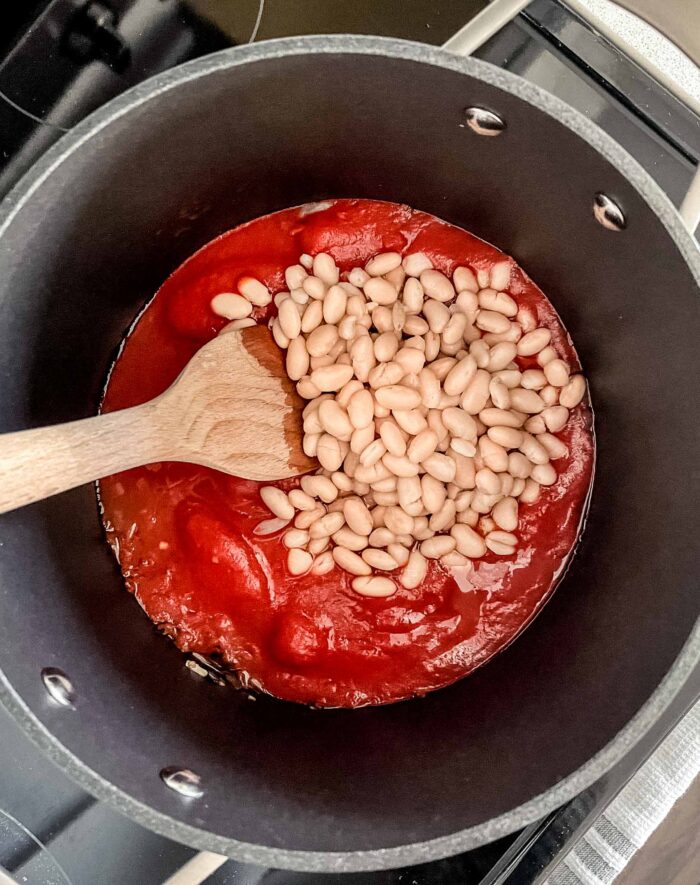 What you'll need for this healthy tomato soup recipe
The main ingredients in this soup are:
Canned whole peeled tomatoes. Choose "San Marzano" tomatoes if possible, as they are the gold standard of canned tomatoes. Cento is one of my favorite brands and is widely available.
Canned white beans. There are several different varieties of white beans. I prefer to use cannellini, as they are one of the creamiest.
Dairy-free tomato soup
This healthy tomato soup recipe is the perfect example of a "plant-forward" recipe in that it's mostly plant-based, but with a little bit of animal protein. It calls for a couple tablespoons of grated parmesan for flavor, but you can easily swap this out for nutritional yeast to make a dairy-free version.
P.S. If you're interested in learning more about plant-forward eating and why it's the next big thing in nutrition, check out my latest post!
Vegan tomato soup
This recipe also calls for a tablespoon of butter (again, for flavor). To make a vegan version of this soup, use vegan butter or add an extra tablespoon of olive oil, in addition to using nutritional yeast instead of parmesan as mentioned above.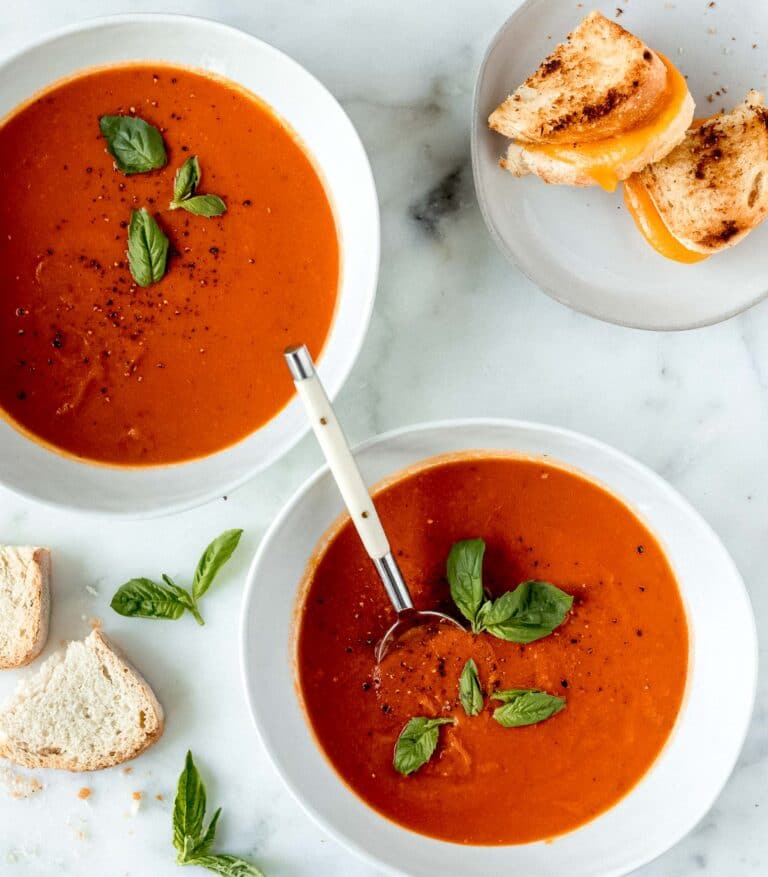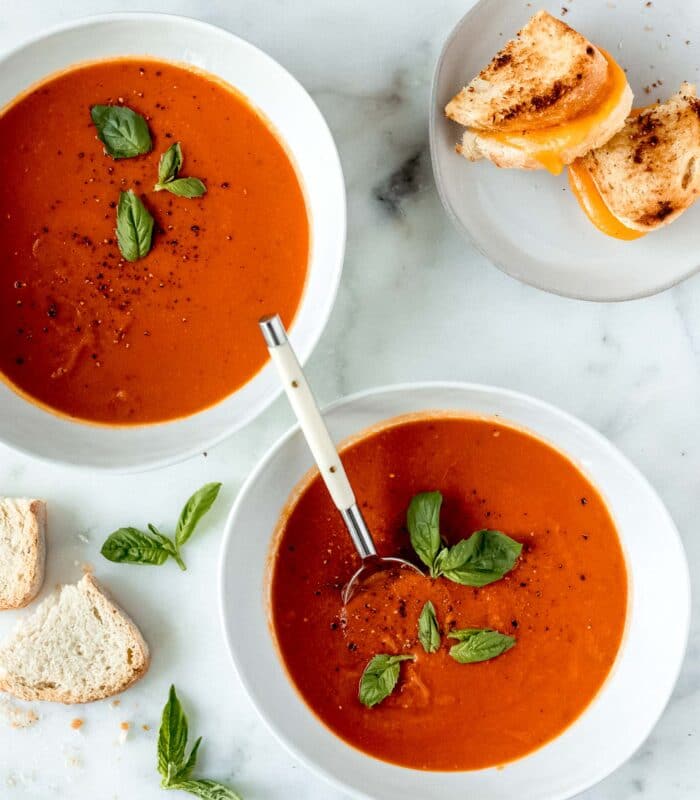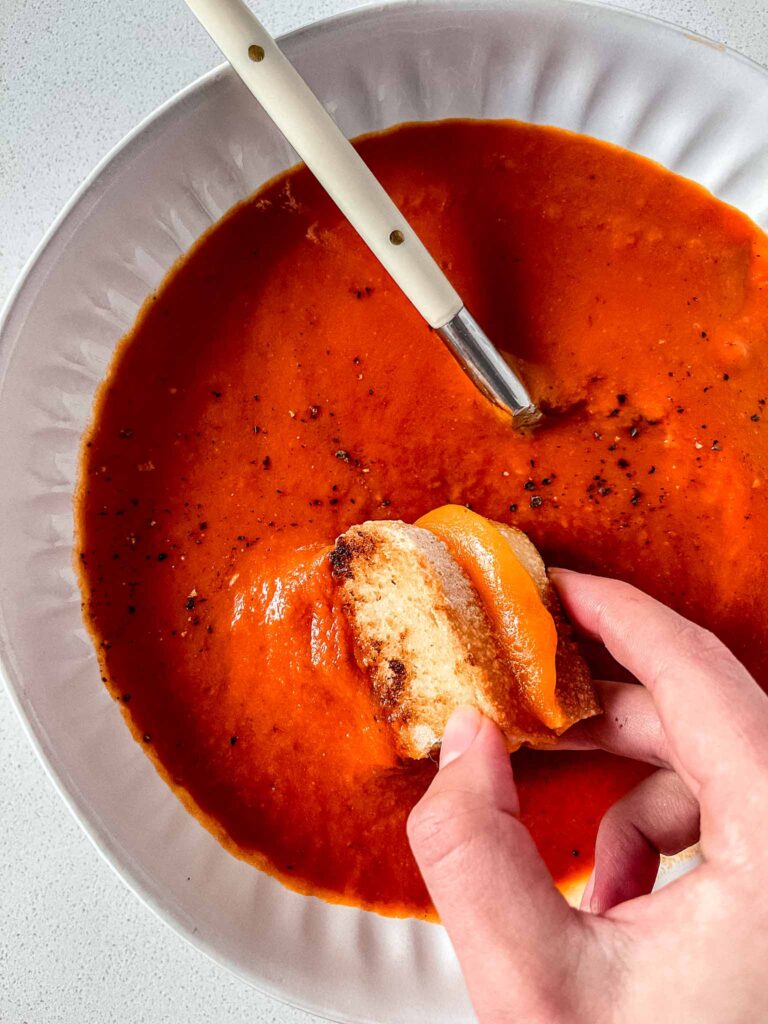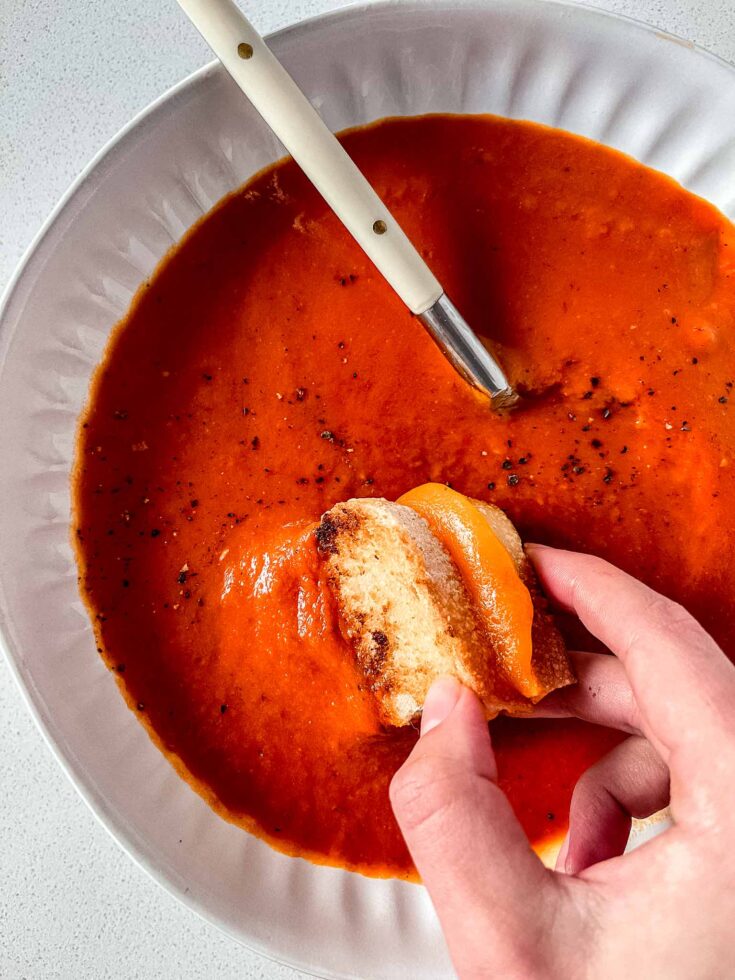 Healthy Tomato Soup Recipe (with a secret ingredient!)
Yield: 3 to 4 servings
Prep Time: 5 minutes
Cook Time: 25 minutes
Total Time: 30 minutes
White beans stand in for heavy cream in this thick and creamy(ish) healthy tomato soup recipe that's packed with fiber and plant protein.
Ingredients
1 tablespoon extra-virgin olive oil
1 large shallot, chopped
1-1/2 tablespoons tomato paste
2 cloves garlic, minced
1/4 teaspoon crushed red pepper
1, 28-ounce can whole-peeled tomatoes (San Marzano preferred), with the juices
1, 15-ounce can white beans (I recommend cannellini beans), drained and rinsed
1 cup low-sodium vegetable broth
Salt and black pepper
1/2 cup loosely-packed fresh basil leaves
2 to 3 tablespoons grated Parmesan cheese (sub 1 to 2 tablespoons nutritional yeast if vegan/dairy-free)
1 tablespoon butter (sub vegan butter if vegan)
2 teaspoons balsamic vinegar
Instructions
Heat the olive oil in a large soup pot over medium heat. Add the shallot and sauté until softened, about 5 minutes. Stir in the tomato paste, garlic, and crushed red pepper, and cook until fragrant, about 1 minute.
Add the canned tomatoes (with the juices), white beans, vegetable broth, and a heaping ½ teaspoon salt, cover, and simmer over low heat to allow the flavors to meld, about 20 minutes.
Add the basil, parmesan, butter, and balsamic vinegar. Puree the soup with an immersion blender or in batches in a blender or food processor until very smooth. (If using a blender, hold a dish towel over the lid and make sure not to cover tightly to allow air to escape from the top).
Season with additional salt and pepper to taste.


This post may contain affiliate links, which means I may receive a small commission if you purchase through those links. I only recommend products that I know, trust and love! Thank you for your support!