The Ultimate Healthy Trader Joe's Shopping List (Updated for 2022!) with 90 Dietitian-Approved Food Items
Trader Joe's is THE mecca for healthy, affordable food products, which is why dietitians (like me) love it. However, finding them while navigating the narrow aisles and sifting through millions of food products can be a bit overwhelming. But not any longer, with this ultimate healthy Trader Joe's shopping list (updated for 2022) at your fingertips!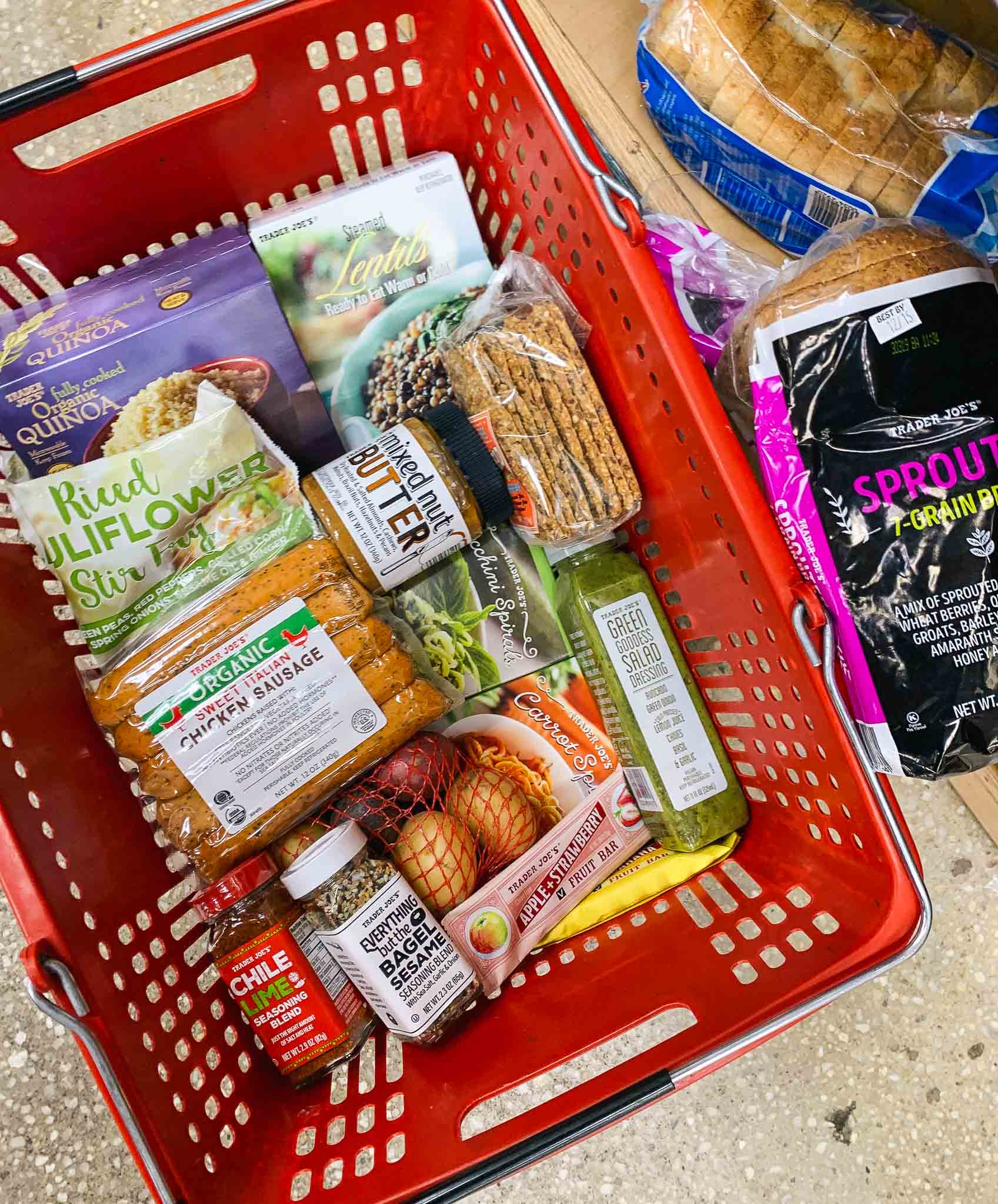 Healthy Trader Joe's Shopping List
Call me crazy, but I'd choose shopping at Trader Joe's over DSW any day of the week. I feel like a kid in a candy store when I'm walking down the aisles of Trader Joe's. You really can't beat their low prices and wide variety of can't-find-anywhere-else food items (hello, cauliflower gnocchi).
I took five, hour-and-a-half-long shopping trips to put together this healthy Trader Joe's shopping list. Did I get stares (more like glares) as I took pictures of every single food item in this post. Yes. Did I care? Also, yes. But still, I carried on for you, my friend.
Before you dig into this healthy Trader Joe's shopping list, be sure to grab your copy of my FREE printable healthy Trader Joe's shopping list. A blank template for you to fill in is also included!
So, without further ado, here are 90 (yes, ninety) dietitian-approved, healthy Trader Joe's food items to throw into your cart next time you're there. And let me tell ya, it was extremely difficult to narrow it down to just 90 things…
Healthy Trader Joe's Produce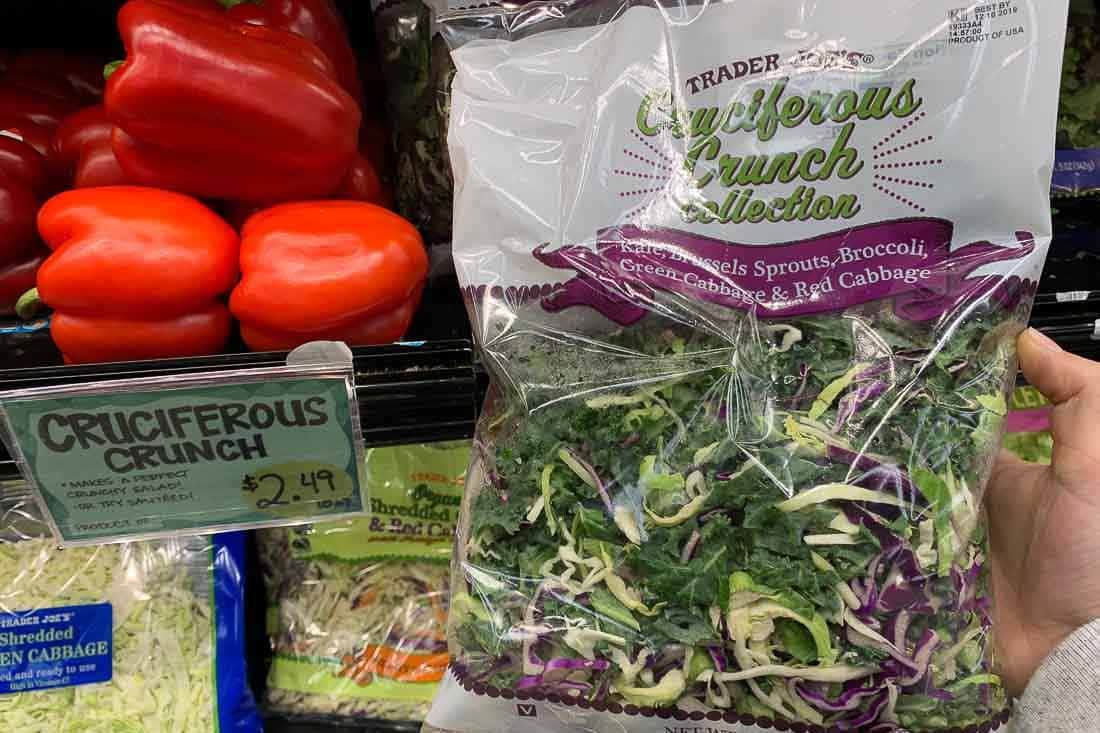 Cruciferous Crunch Mix
It's a balanced mix of, you guessed it, cruciferous veggies: kale, Brussels sprouts, broccoli, and green and red cabbages. Use it to add texture and crunch to a salad, in a slaw, on a sandwich, in a wrap… the possibilities are endless. P.S. Did you know cruciferous veggies are rich in glucosinolates—inactive phytonutrients that are activated into their potent disease-fighting forms when they come into contact with enzymes stored separately in these veggies as they're chopped and chewed? Pretty cool.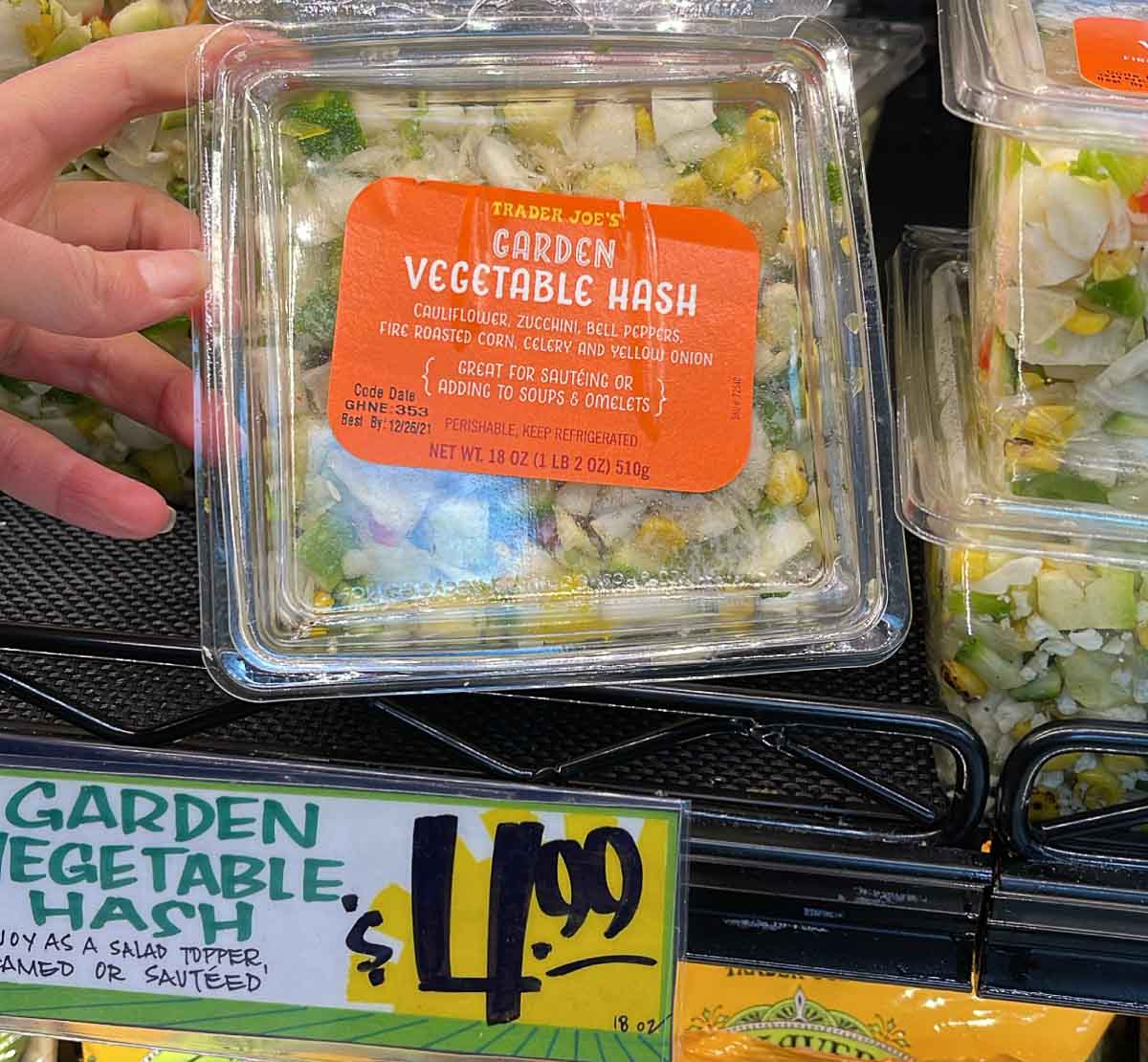 Garden Vegetable Hash
Combining cauliflower, zucchini, bell peppers, fire roasted corn, celery, and onion, this nutritious garden vegetable hash is prepped and ready to go, no chopping necessary. Stir-fry it up with some eggs for breakfast or with rice and shrimp (or whatever protein you choose) for dinner.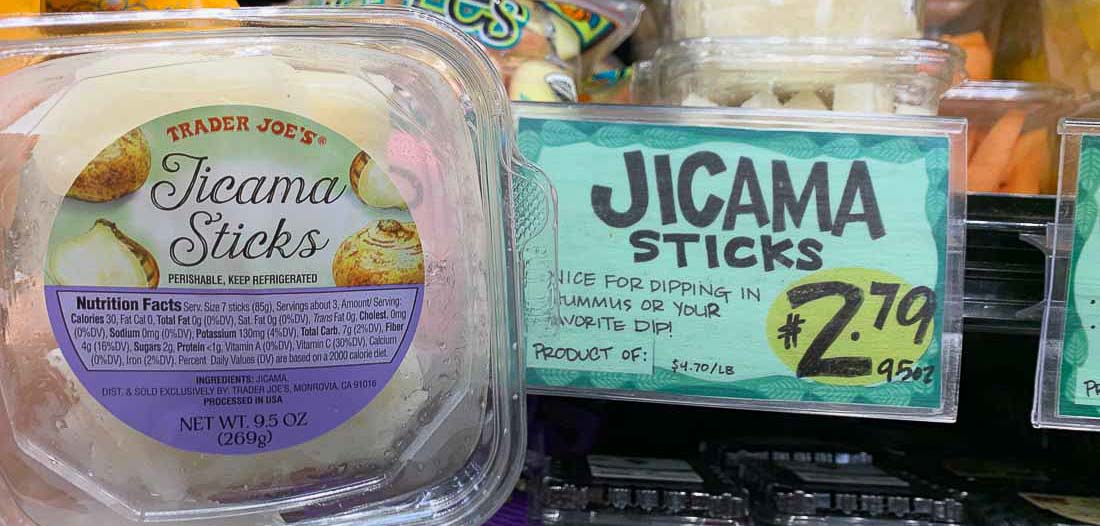 Jicama Sticks
Jica-what-now?! Jicama is a round root vegetable with a slightly sweet flavor and a ton of fiber. Trader Joe's did the peeling and cutting part, now all you have to do is the dipping part. These jicama sticks are perfect as snack when paired with any of the dips listed in the "Dips" section below.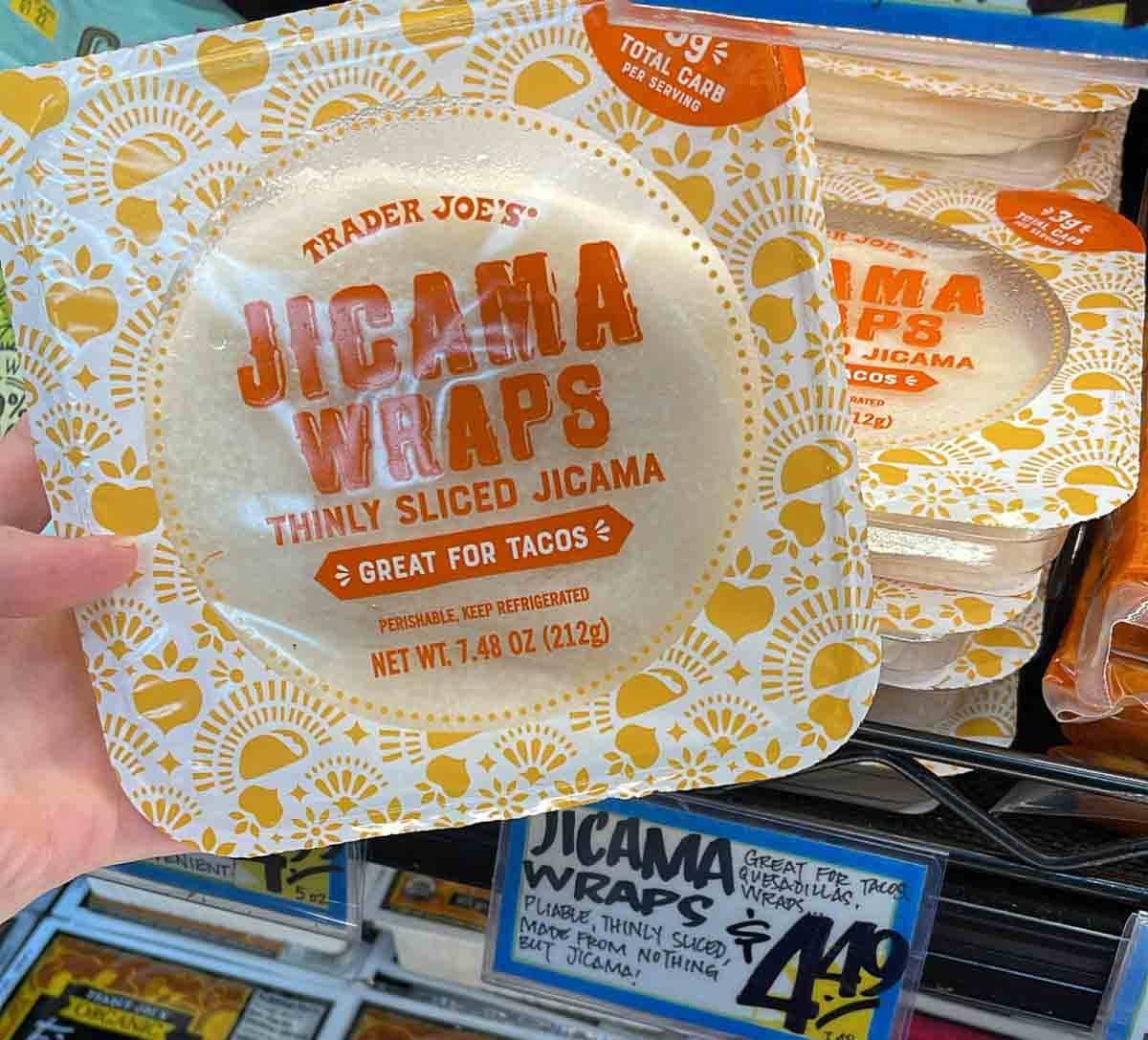 Jicama Wraps
If you're not one for biting into a chunk of jicama (see above), you may prefer it thinly sliced. These jicama "wraps" are just that—thinly sliced jicama. They make for a great low-carb taco shell alternative, with just 3 grams carbs (per 2 wraps), 2 grams of which is fiber!
Mediterranean-Style Salad Kit
This salad kit features a crisp blend of shredded romaine, radicchio, and broccoli stalks along with feta, roasted chickpeas, dried tomatoes, and a tangy red wine vinaigrette. Serve it with canned tuna or grilled chicken or keep it plant-based by adding cooked quinoa or more roasted chickpeas.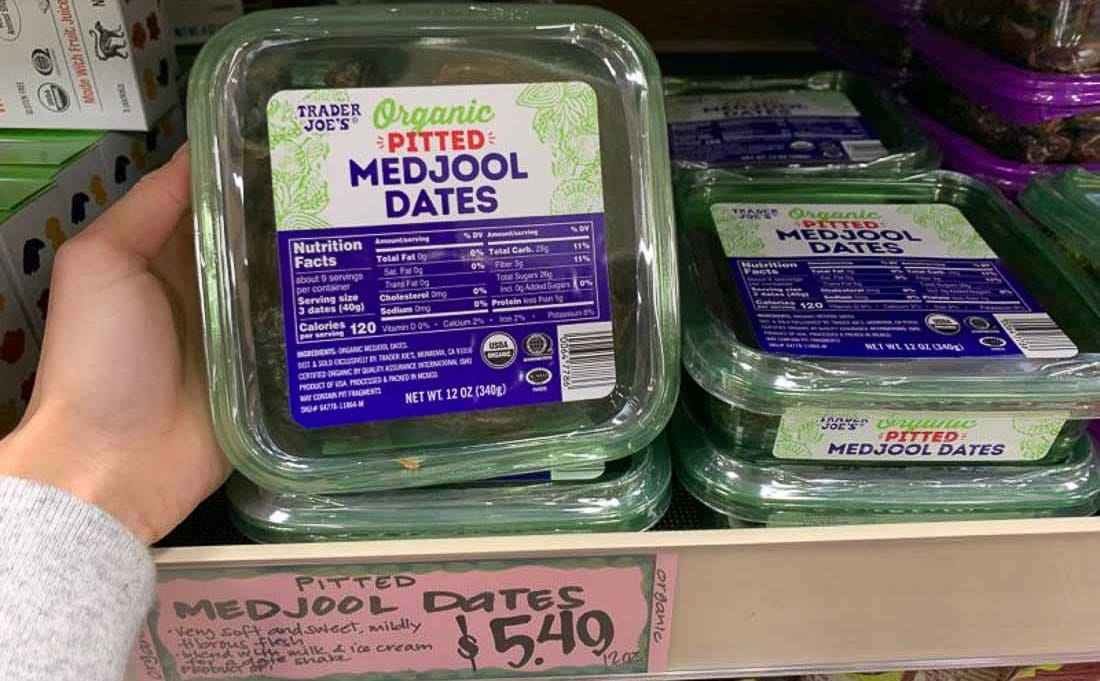 Organic Pitted Medjool Dates
If fruit is "nature's candy" then dates are nature's caramel. Their soft and chewy texture, natural sweetness, and caramel-like flavor make them the perfect base for a variety of sweet snacks and lightened-up treats, like energy bites and these Healthy Take 5 "Candy" Bites.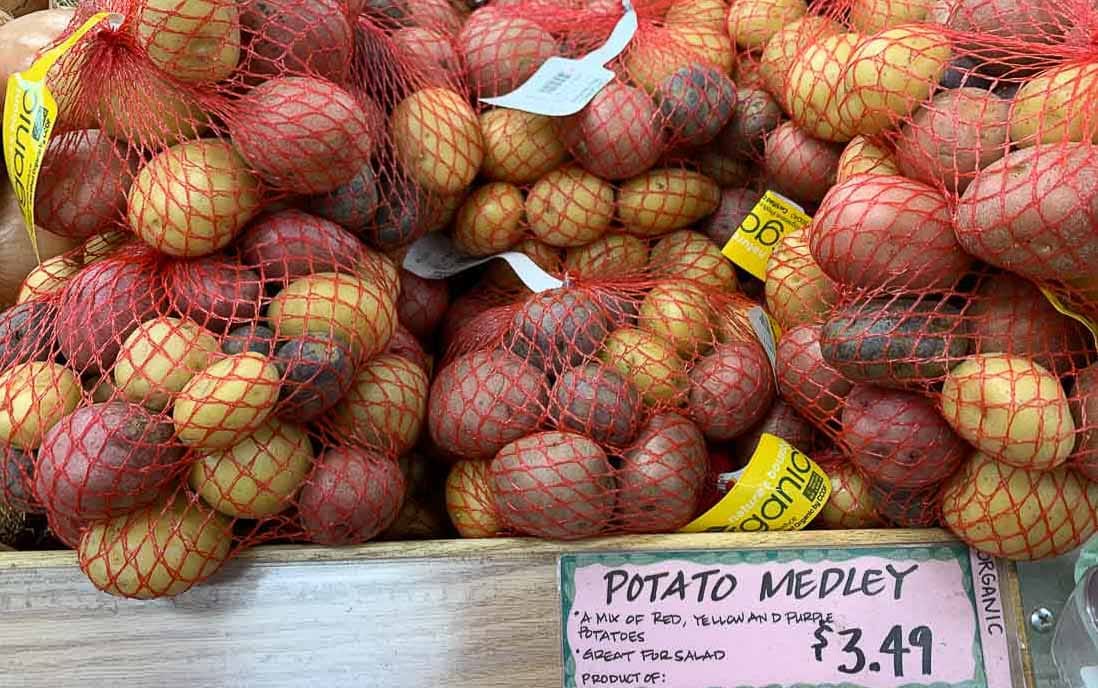 Potato Medley
Potatoes get a bad rap, but they're a good source of fiber, vitamins, and minerals. I especially love potatoes in mini, colorful form, because they're easier to cut and you're getting a variety of phytonutrients from the different colors (for example, purple potatoes are richer in anthocyanins).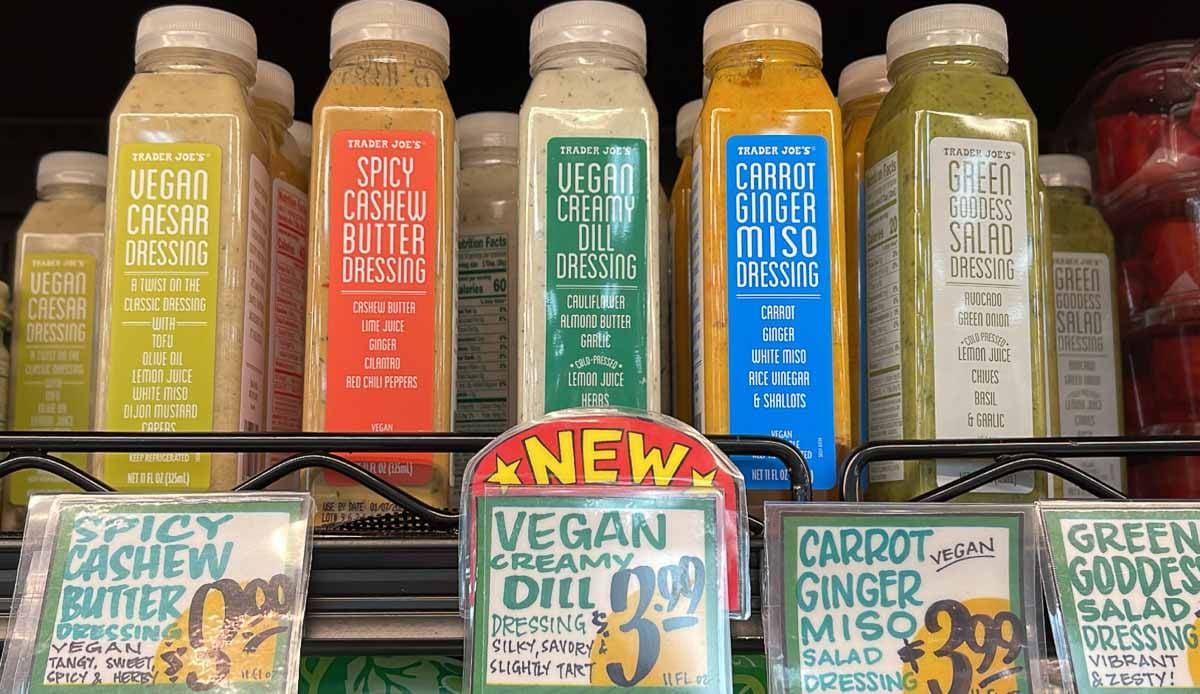 Salad Dressings
I couldn't single out just one because there's not one that outshines the others (okay, maybe the Vegan Caesar). They're all made with minimal ingredients and are low in calories and fat, so feel free to drench those salad greens. They come in five unique and delicious flavors: Green Goddess, Spicy Cashew Butter, Carrot Ginger Miso, Vegan Caesar, and Vegan Creamy Dill.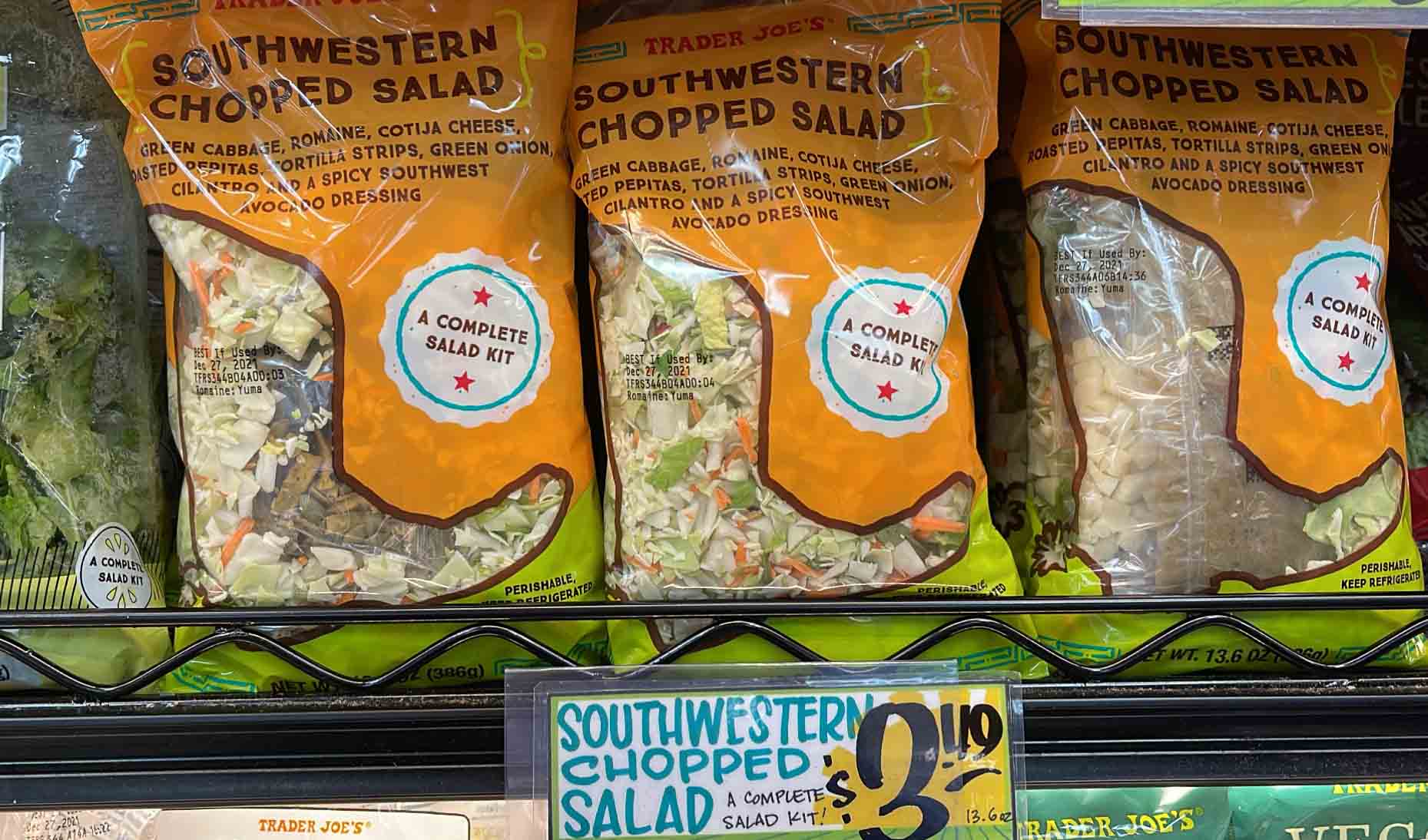 Southwestern Chopped Salad Kit
Another delicious and versatile salad kit, this southwestern chopped version—with romaine, cabbage, cotija cheese, roasted pepitas, tortilla strips, and an avocado dressing—pairs well with a variety of proteins, like black beans, shrimp, fish, and more!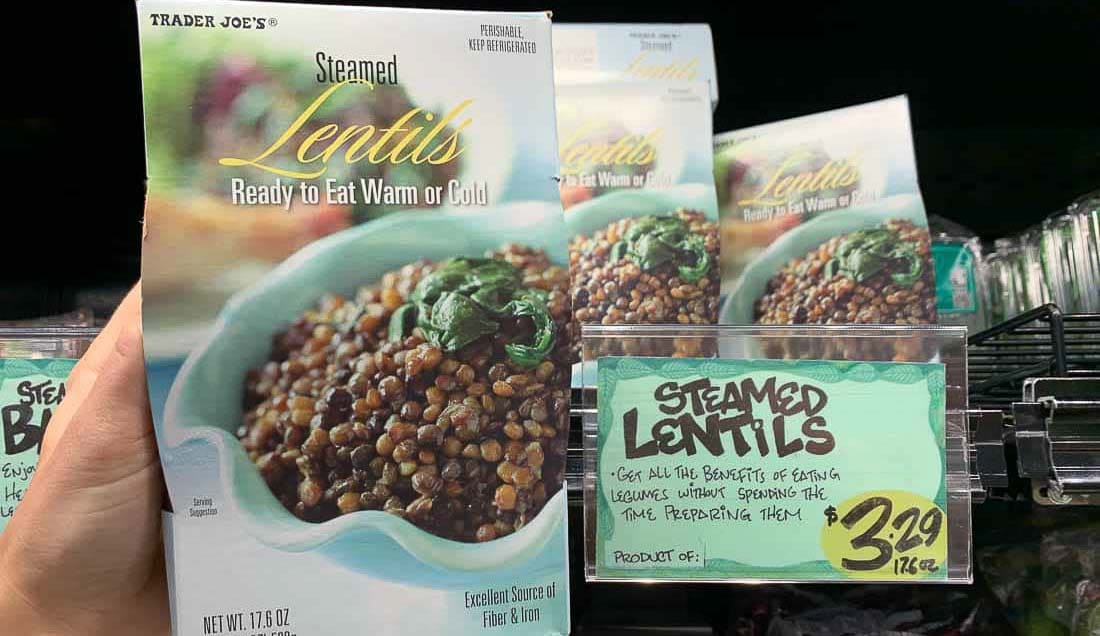 Steamed Lentils
Why am I listing these in the produce section? Well, because you can find them in the produce section at Trader Joe's! Cooking lentils from scratch can be a bit time-consuming when you're in the mood for a quick and easy weeknight meal. TJ's does all the legwork for you with these pre-cooked lentils so you can enjoy this fiber-rich, plant-based protein in a jiffy!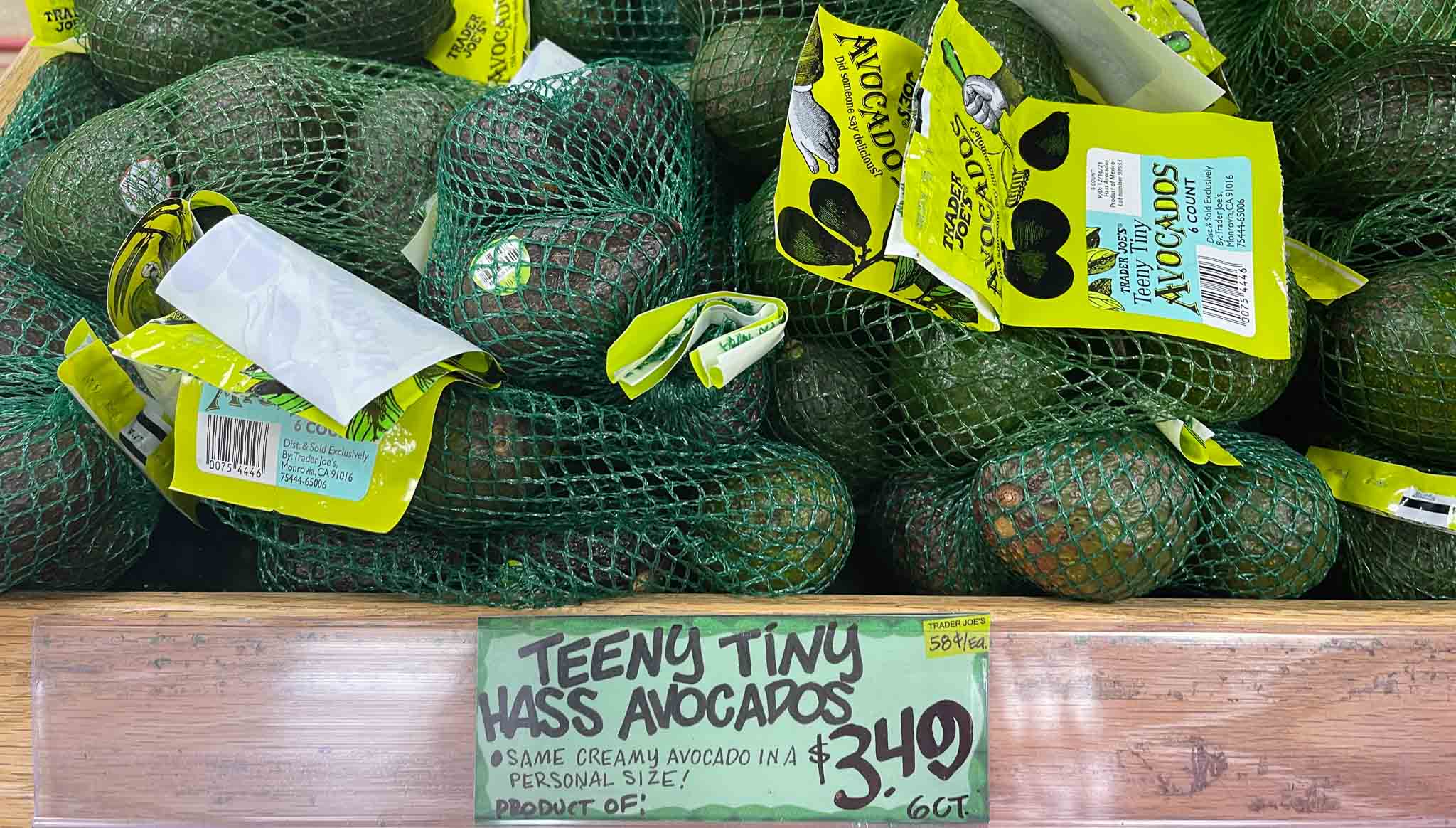 Teeny Tiny Hass Avocados
You can get avocados anywhere, but this 6-count bag of teeny ones is a must-try! They're about half the size of a regular avocado, making them the perfect size for a single serving. No more "saving the other half" only to watch it brown by the minute and end up in the trash.
Healthy Trader Joe's Breads, Grains, and Seeds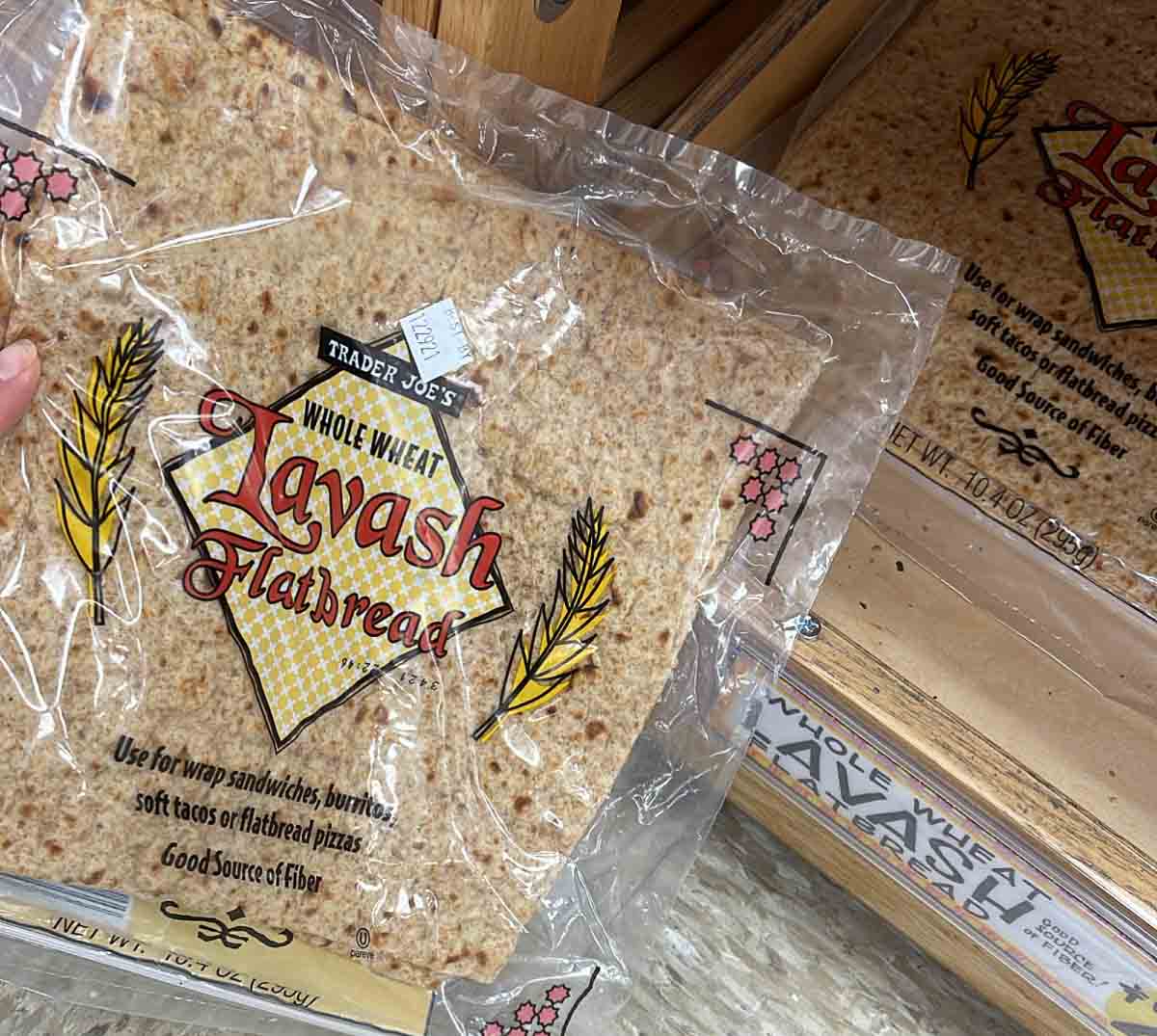 Breads – Lavash Flatbread
Another great option to fit all your lunch-making needs, these whole wheat lavash flatbreads provide 10 grams protein and 8 grams fiber per flatbread! Use them for wraps or burritos, or you can even use them as a base for flatbread pizzas.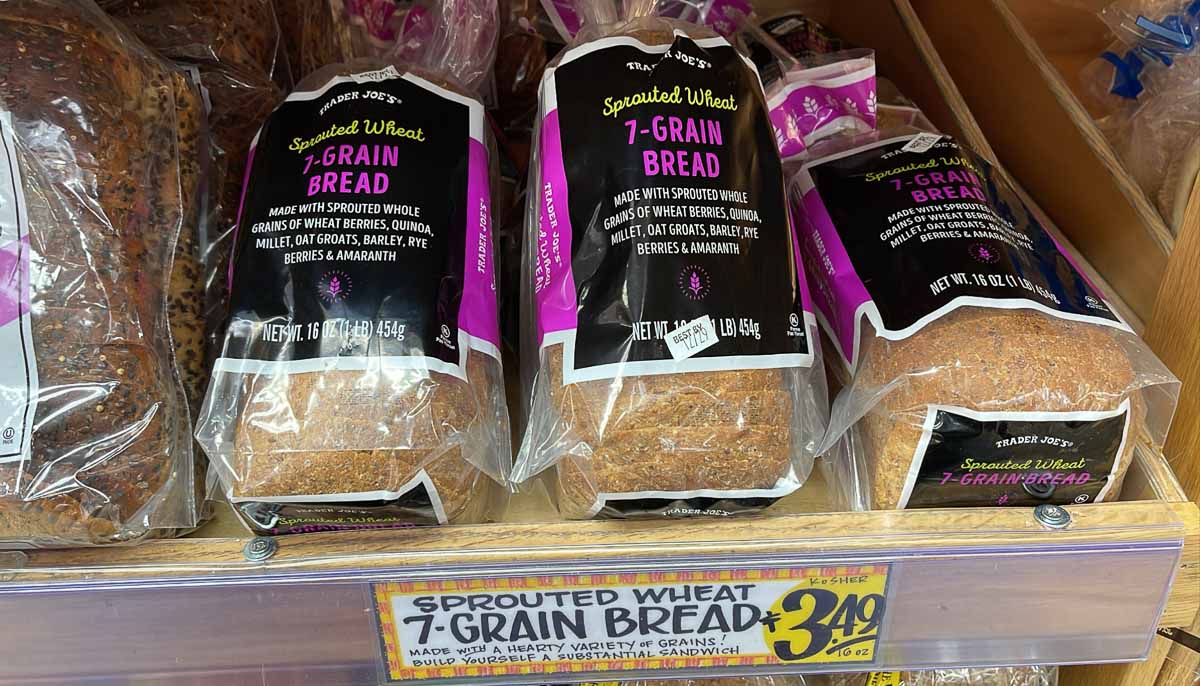 Breads – Sprouted Bread
Sprouted bread is basically the Beyonce of breads. Sprouted grains are simply whole-grain seeds that have already started to sprout. The sprouting process partially breaks down the starch in the grains, which lowers the carb content. Even better, sprouting decreases substances in the grain that block the absorption of nutrients, making them more bioavailable. Sprouted breads are also lower in gluten (although not gluten-free) and higher in protein and fiber than most breads.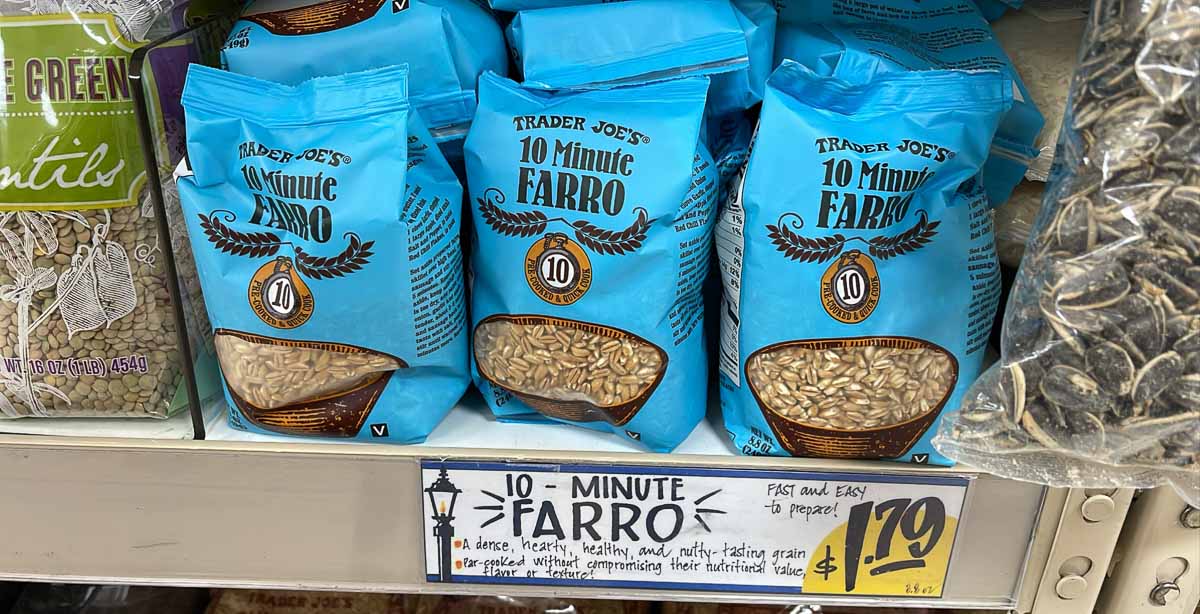 Grains – 10-Minute Farro
Farro typically takes at least 30 minutes to cook, but this 10-minute version is par-cooked, meaning Trader Joe's partially cooked it for you so that you wouldn't have to spend as much time cooking it at home. Farro is an extremely nutritious grain rich in protein, fiber, and a variety of micronutrients, like iron and magnesium.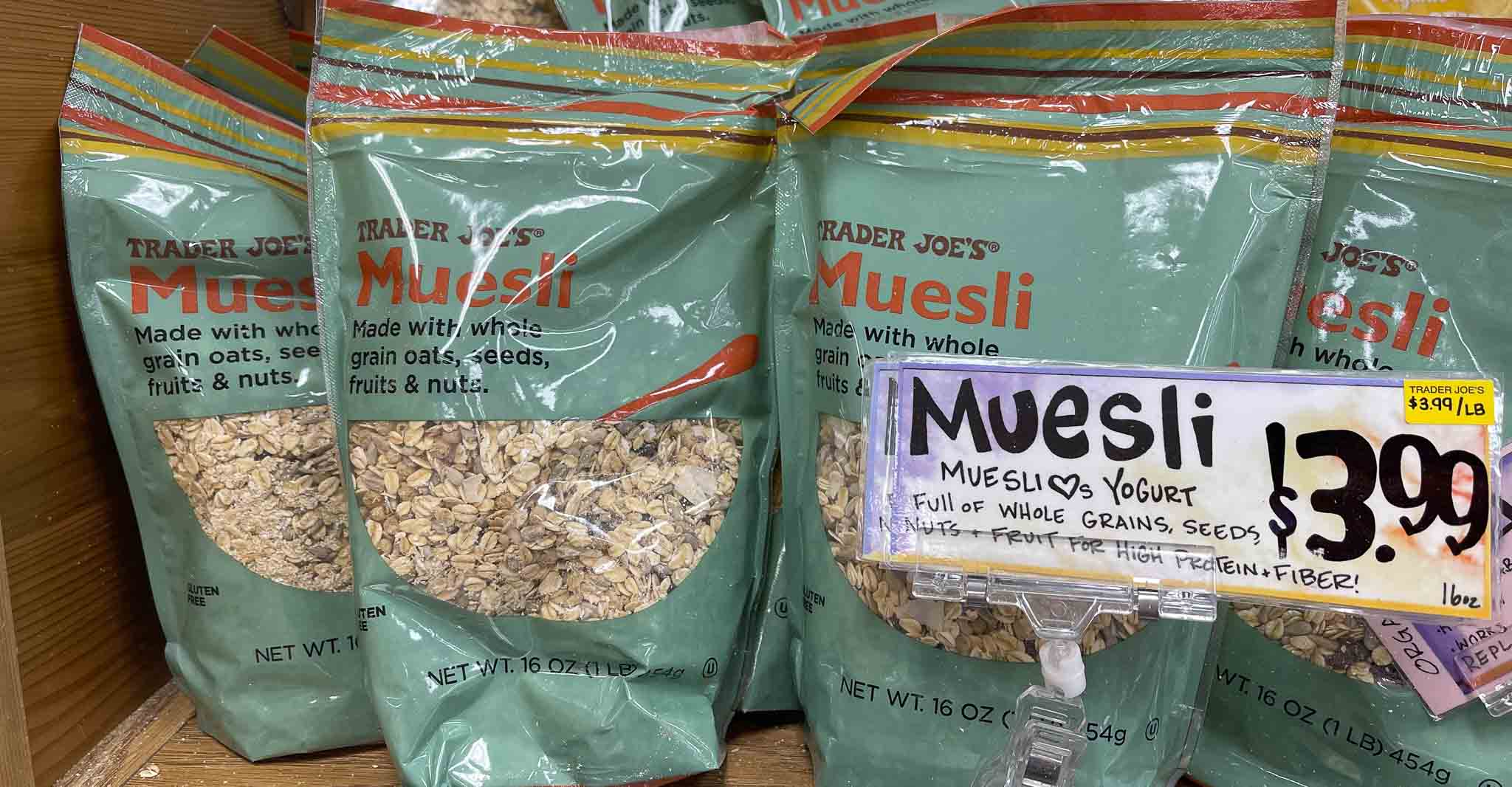 Grains – Muesli
Muesli is a granola-esque mix of grains (often including oats), nuts, seeds, and dried fruit. Swiss physician Maximilian Bircher-Benner is credited with creating and prescribing it as a healthy meal for his patients at the end of the nineteenth century. Unlike granola, there's no added oil or sweetener, and it's typically enjoyed raw and served cereal-style or soaked overnight oats–style. This muesli offers 10 grams protein and 5 grams fiber per serving, and has no added sugar!
Speaking of added sugar, ever wonder if your body can tell the difference between added and natural sugars? Click here to find out!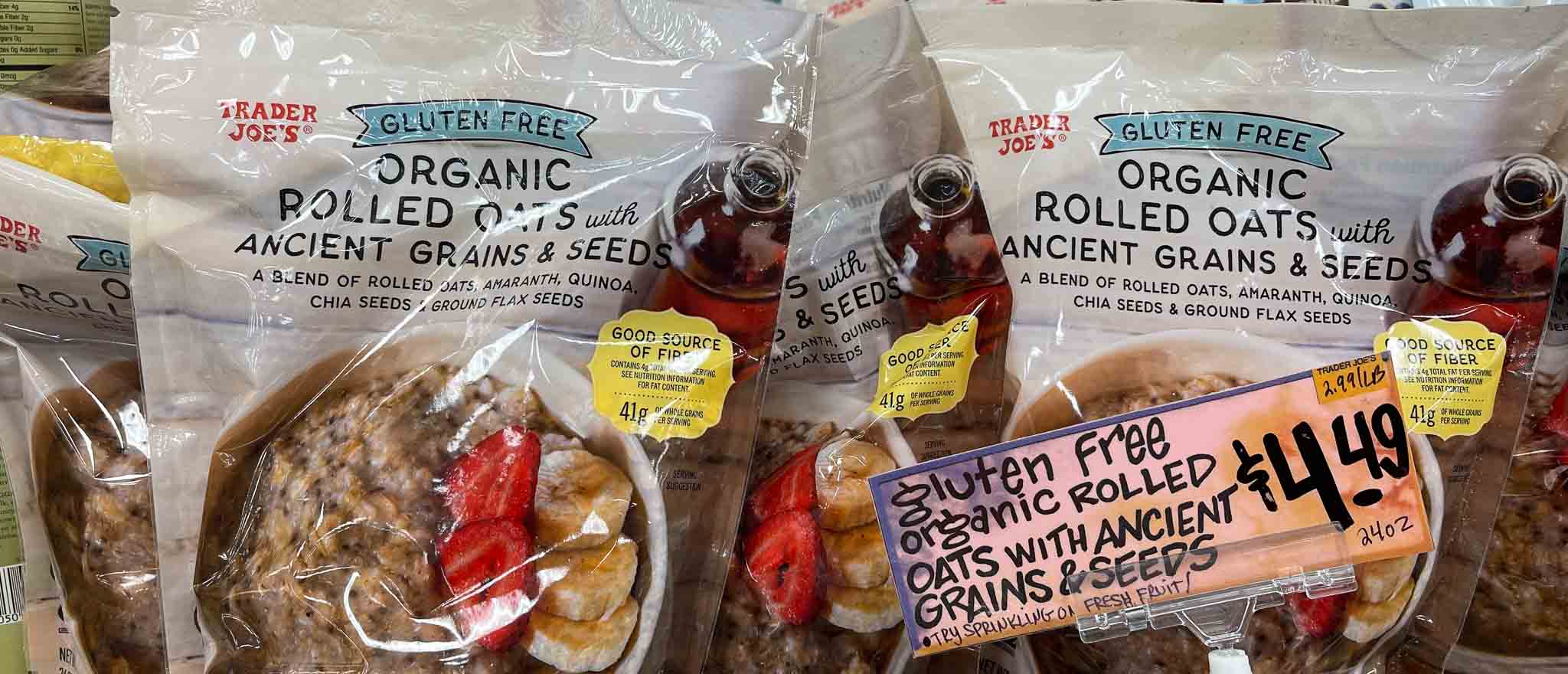 Grains – Organic Rolled Oats with Ancient Grains & Seeds
Oats are the perfect breakfast staple and can help keep you full and focused 'til lunch. And these are not-your-average oats because they're mixed with amaranth, quinoa, chia seeds, and ground flaxseed for extra protein and texture!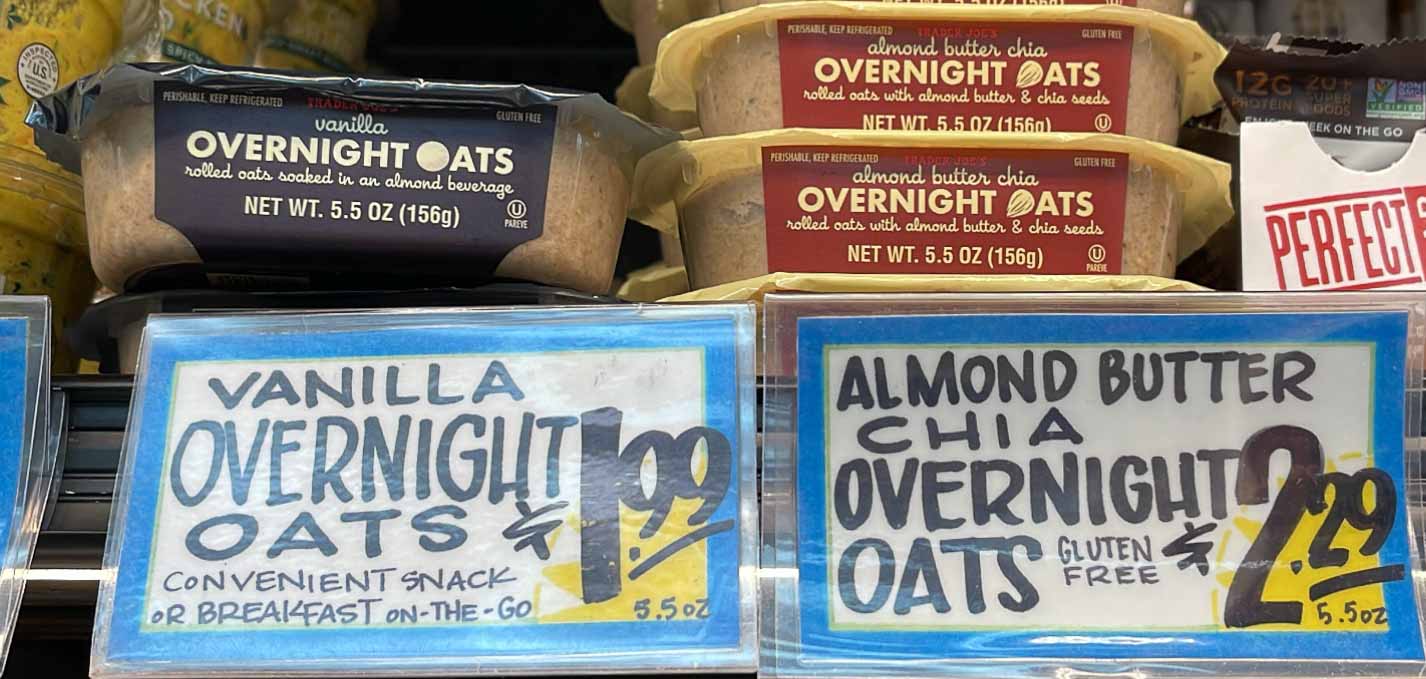 Grains – Overnight Oats
If you're looking for a healthy breakfast that's literally grab-and-go, no prep required, these ready-made overnight oats are a great option. As convenient as they are, what I like most about these overnight oats is that they're sweetened entirely by dates and have zero grams of added sugar. They come in two delicious flavors: vanilla and almond butter chia.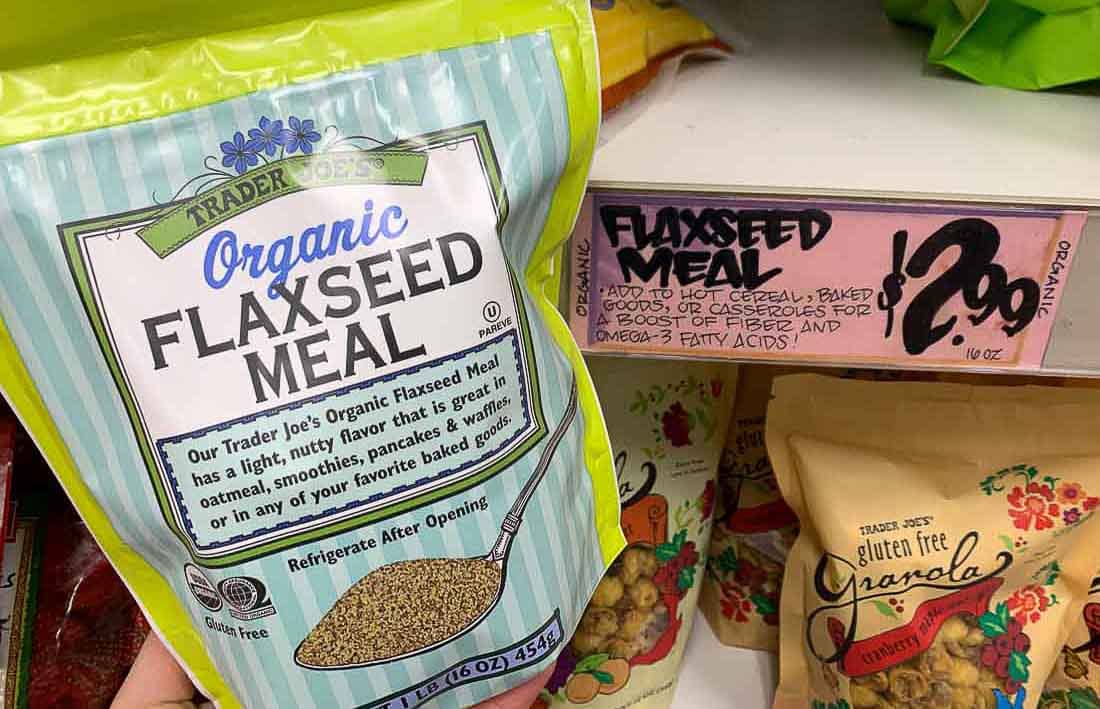 Seeds – Organic Flaxseed Meal
Like hemp seeds, this flaxseed meal is a great source of omega-3s, plus protein and fiber. I love adding it to smoothies or using it in vegan baking (to make a "flax egg" mix 1 Tbsp flaxseed meal with 2.5 Tbsp water and let sit for 5 minutes).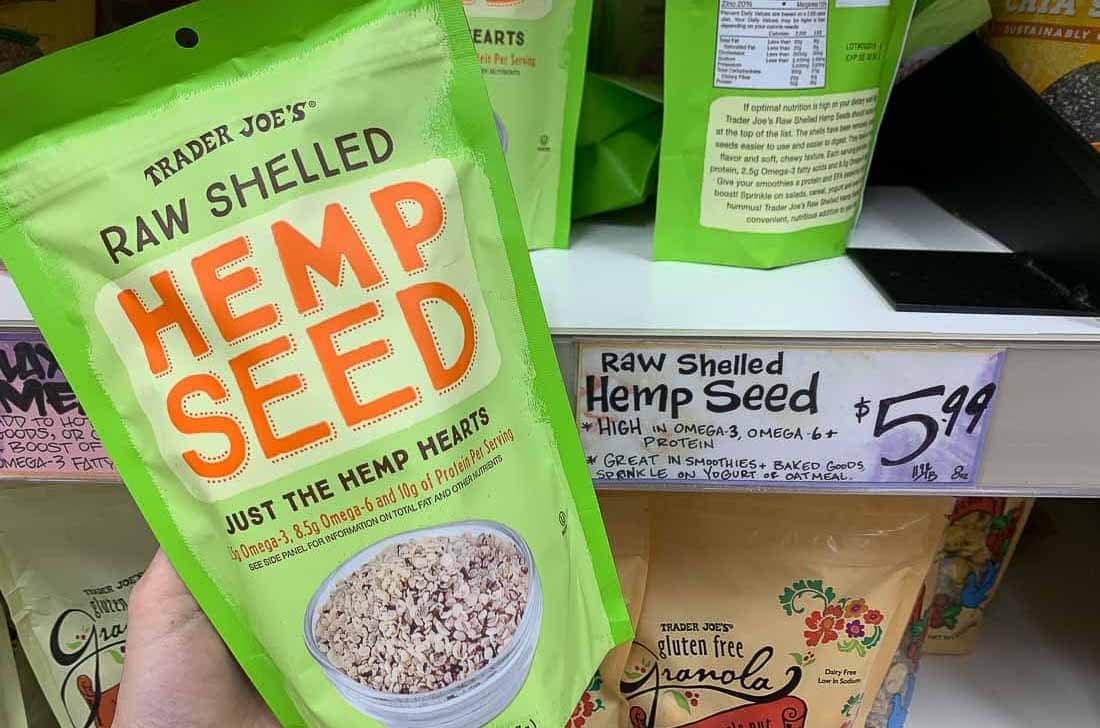 Seeds – Raw Shelled Hemp Seeds
Hemp seeds are a great source of healthy omega-3 fats, fiber, and protein. And speaking of protein, hemp seeds are the most protein-dense seed, providing a whopping 10 grams per 3 tablespoons. Add it to your smoothies or sprinkle it on avocado toast, oatmeal, salads, and more for a boost of protein.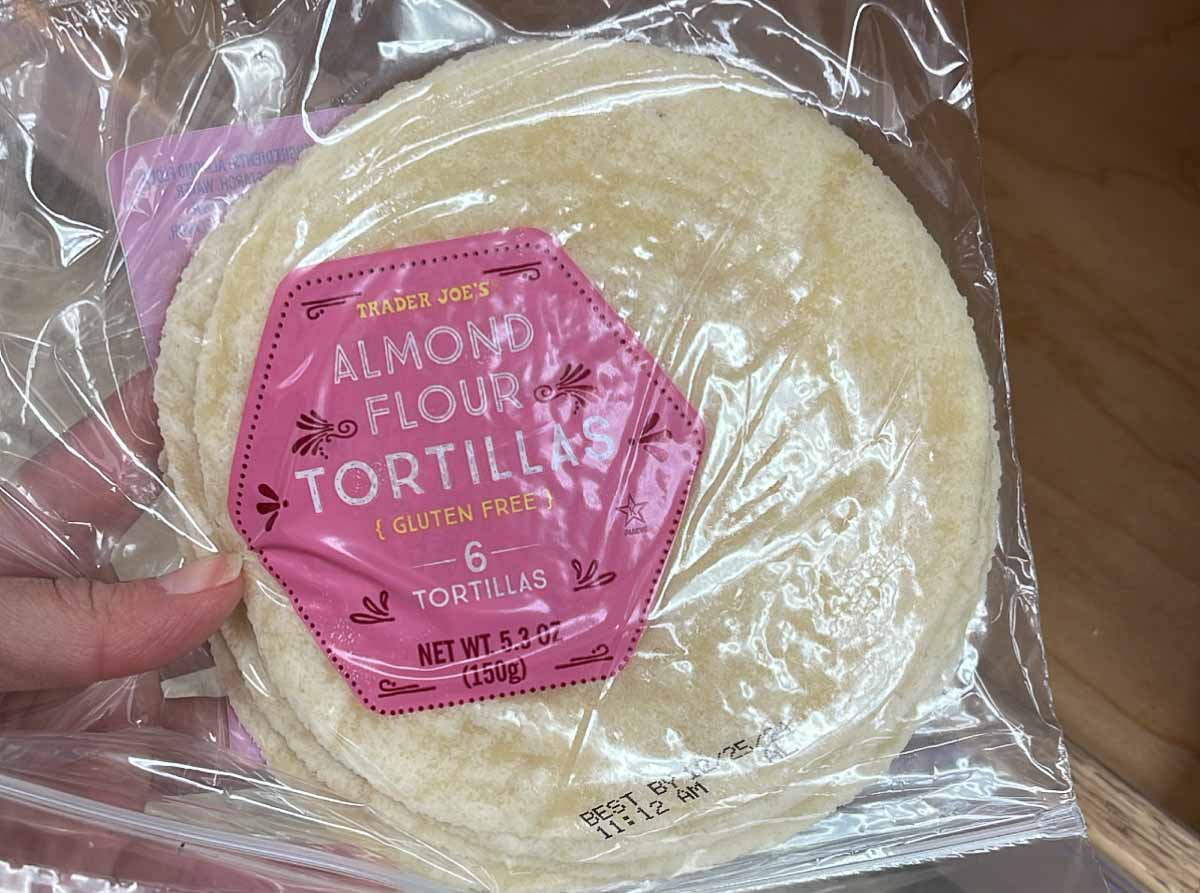 Tortillas – Almond Flour Tortillas
If you're looking to ditch the grains and lower carb intake, these almond flour tortillas are a great, lower carb option with under 20 grams carbs per 2 tortillas, plus 5 grams protein and 2 grams fiber.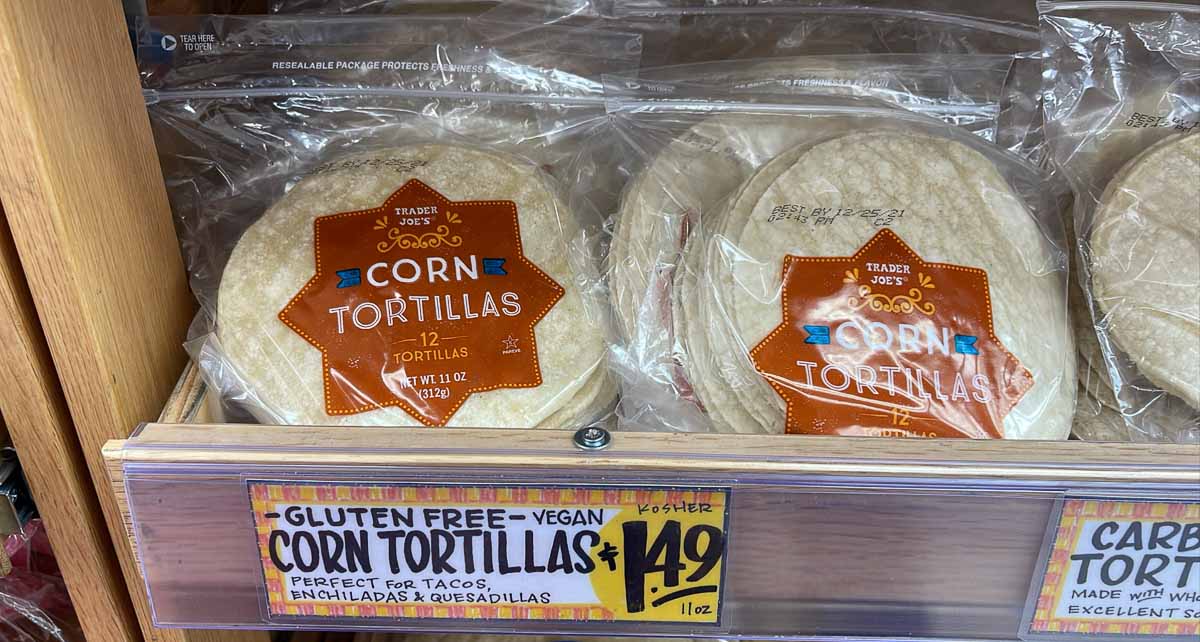 Tortillas – Corn Tortillas
I love using corn tortillas for tacos and enchiladas skillets for their authentic flavor. Just three ingredients make up these simple corn tortillas: corn, water, and lime. They're low in calories at 110 calories per 2 tortillas, and provide a little protein and fiber, too.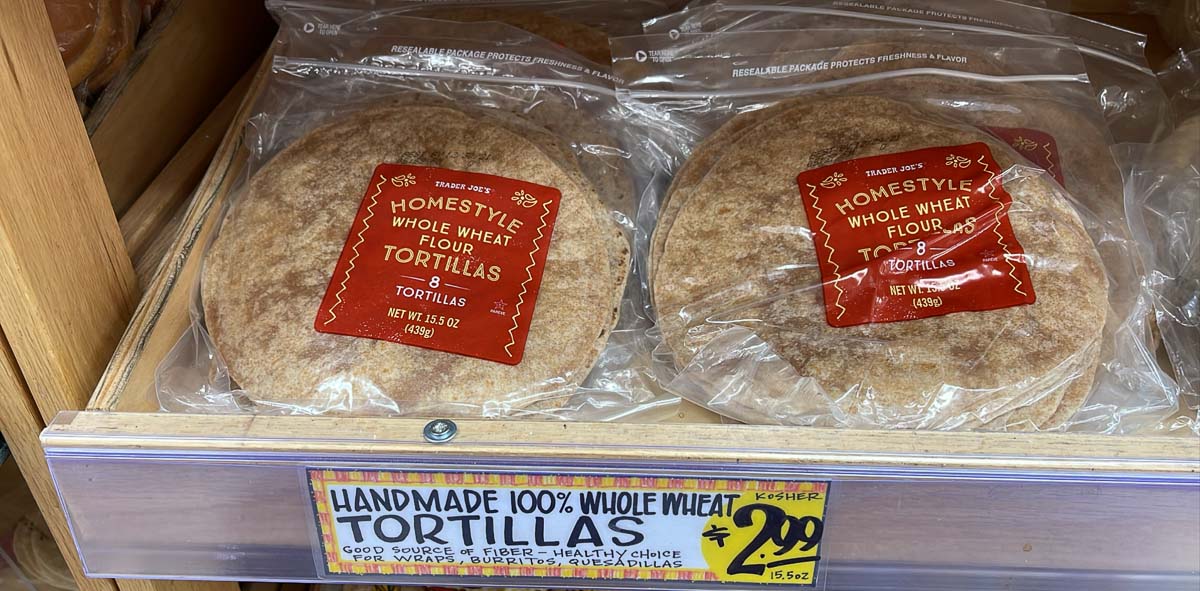 Tortillas – Whole Wheat Tortillas
With 6 grams protein and 4 grams fiber per tortilla, these 100% whole wheat tortillas make for an excellent choice for burritos, enchiladas, quesadillas, wraps, and more!
Healthy Trader Joe's Frozen Foods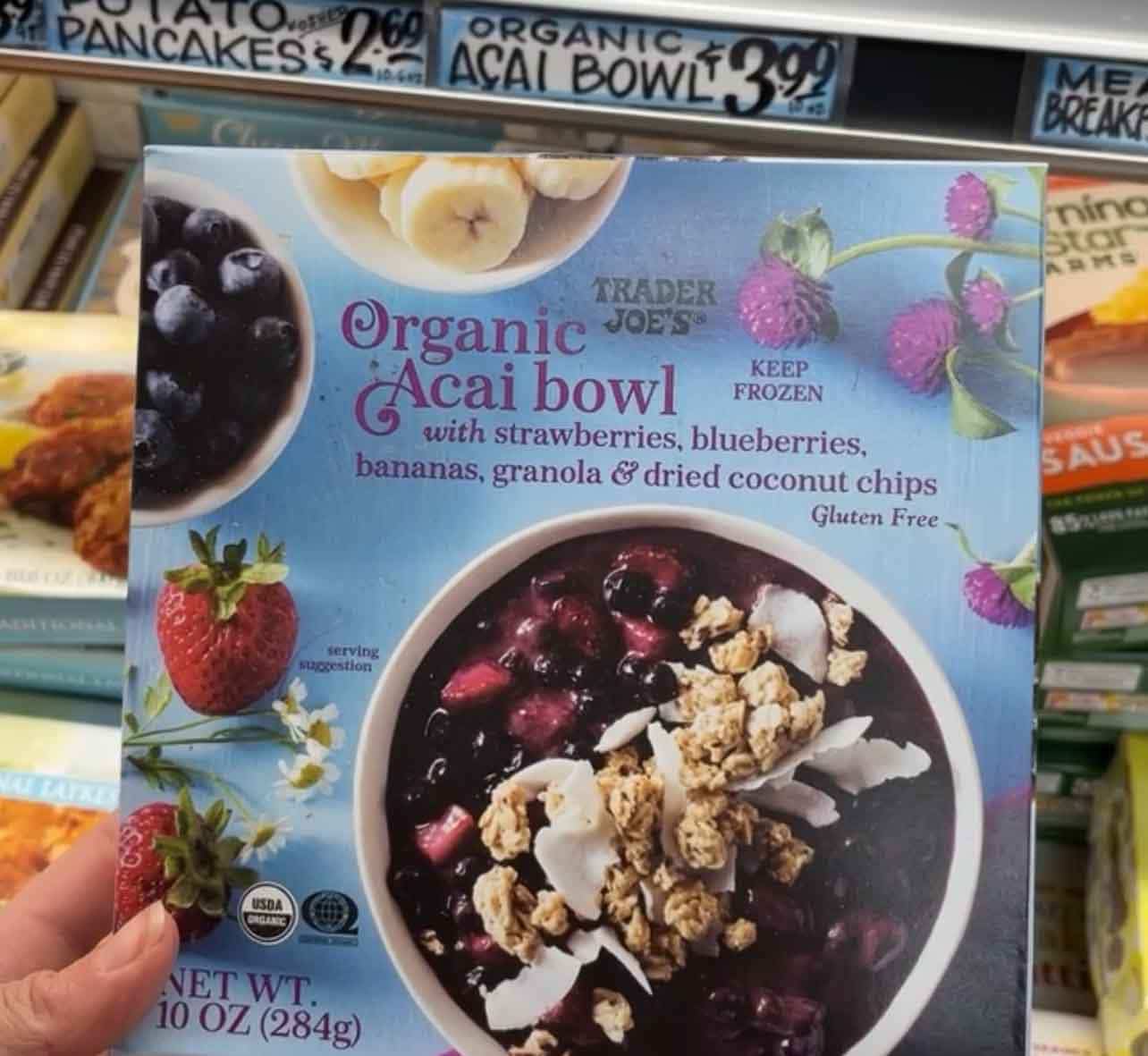 Breakfast – Organic Acai Bowl
Smoothie bowls from your local smoothie joint can be packed with both sugar, both natural and added. Trader Joe's version has just 18 grams of total sugars (2 of which is added sugar), which is about as much as medium-sized piece of fruit. It's also packed with 9 grams of fiber, coming mostly from the variety of berries it's made from.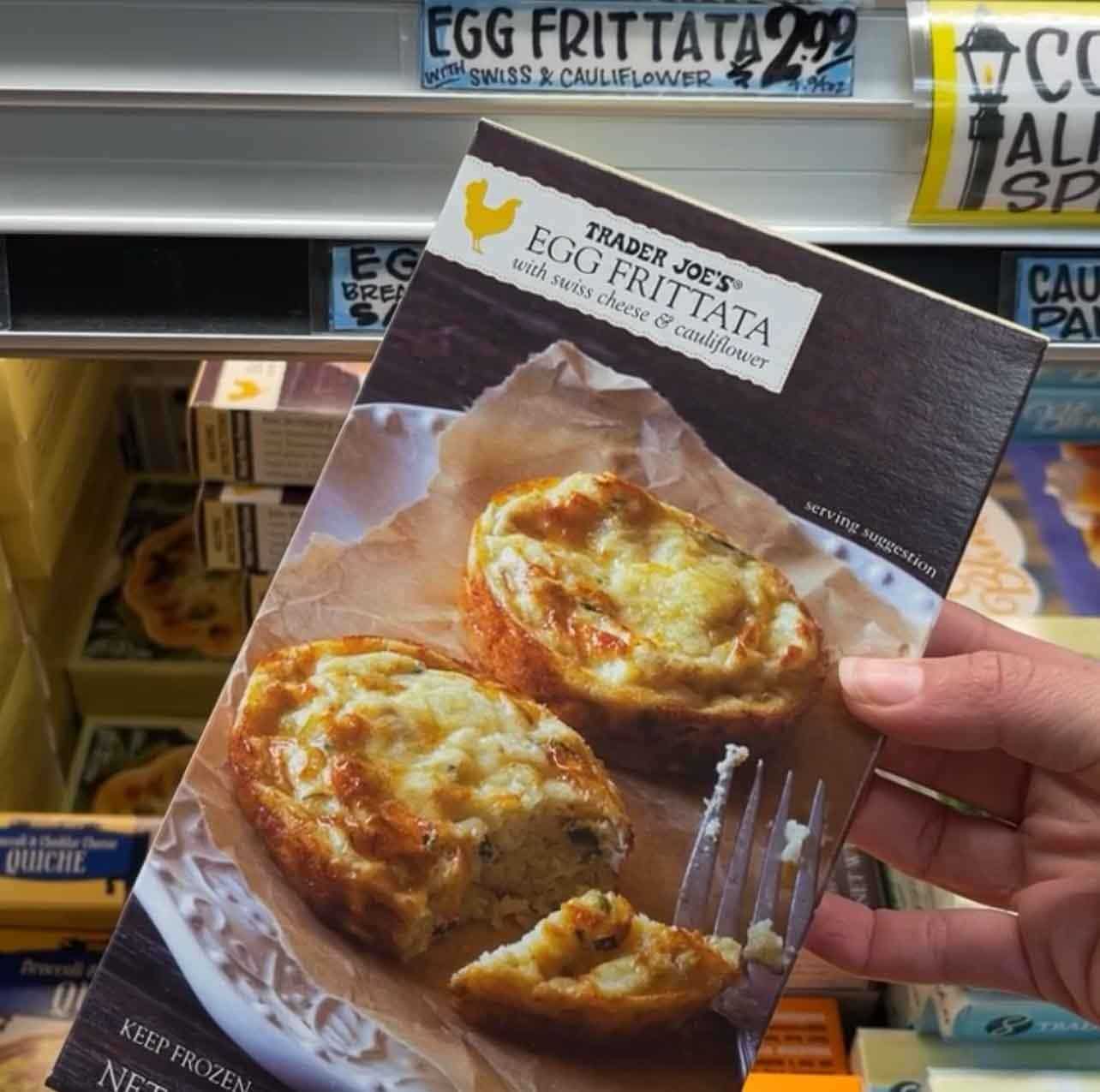 Breakfast – Egg Frittatas
Microwaving egg products is normally a disaster, but not with these mini frittatas. They are surprisingly tasty—thanks to the Swiss cheese and chives—and deliver a whopping 25 grams of protein. Trader Joe's even snuck in some cauliflower so that you can start your day with a little dose of veggies.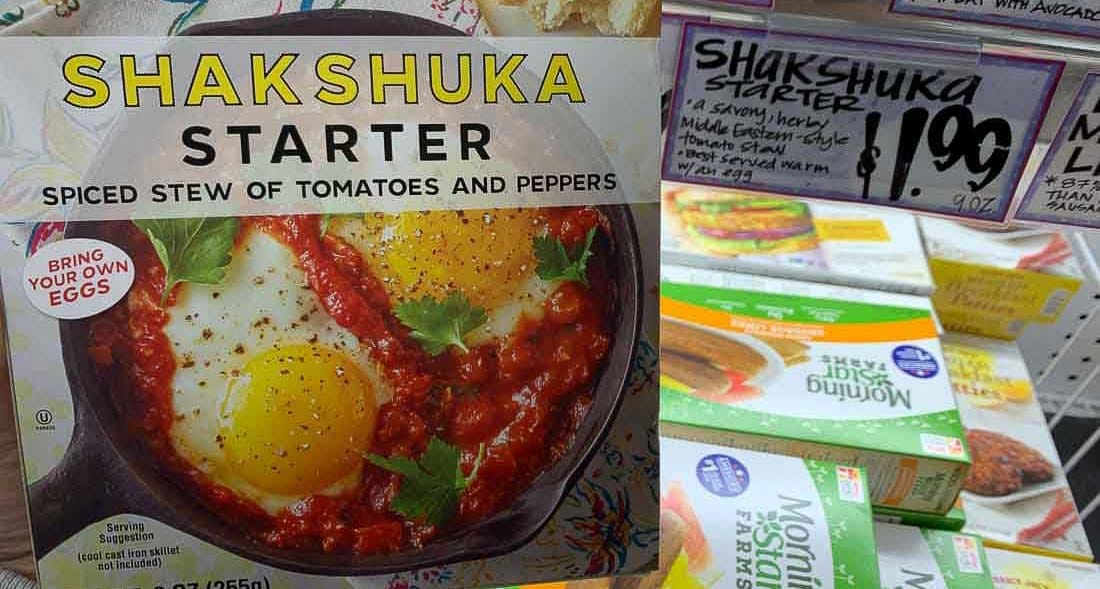 Breakfast – Shakshuka Starter
Originally from North Africa, shakshuka is a one-skillet breakfast, brunch, or breakfast-for-dinner of eggs poached in a spiced tomato sauce. Just crack a few eggs into this and you've got a healthy, gourmet brunch right at home.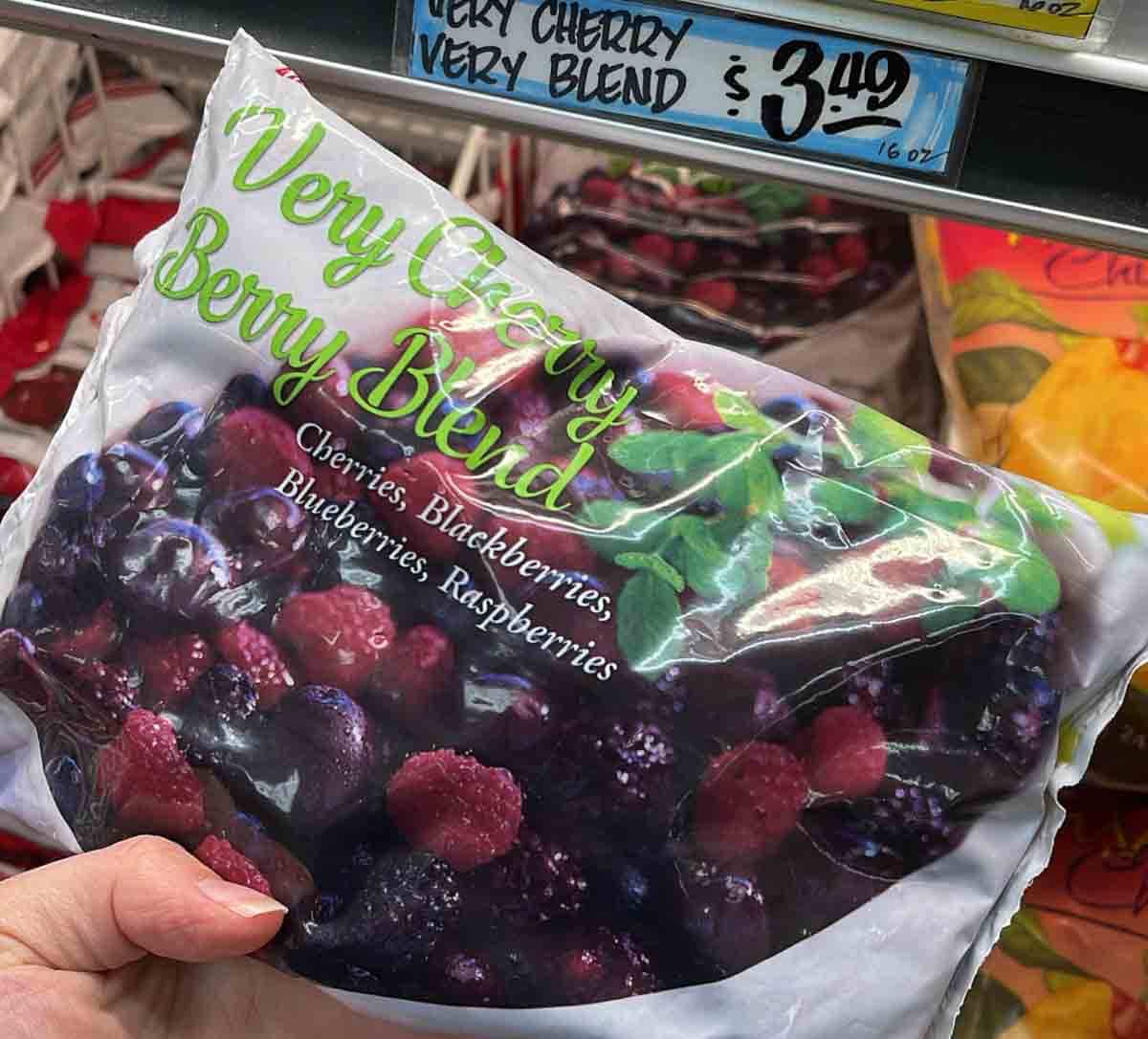 Breakfast – Very Cherry Berry Blend
Another great addition to your smoothies, this very cherry berry blend combines cherries, blackberries, blueberries, and raspberries. Among the fruits, berries are typically the highest in fiber and lowest in natural sugars.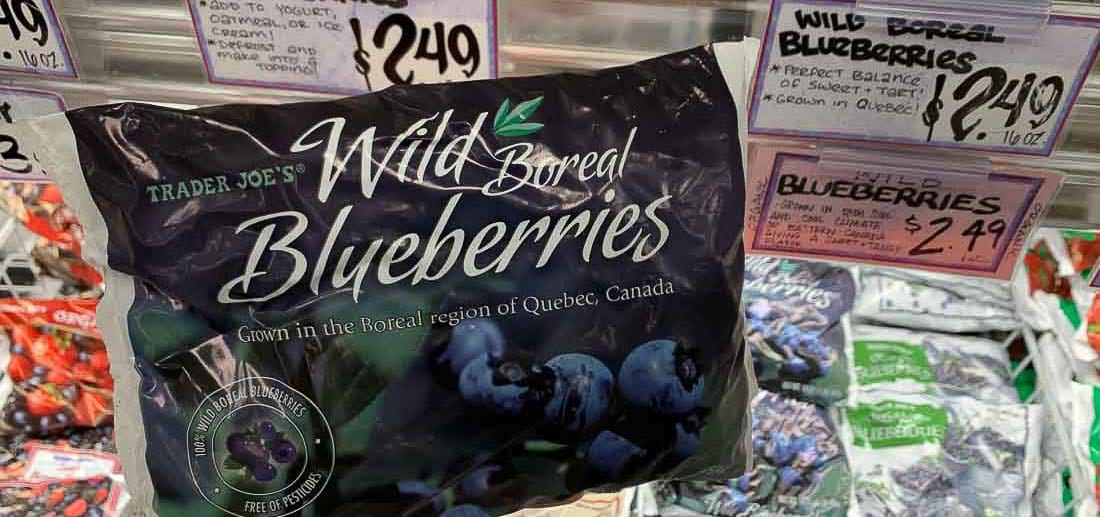 Breakfast – Wild Blueberries
Fun fact: wild blueberries are small in size but mighty in nutritional power. They have double the antioxidant capacity of regular, cultivated blueberries. Add these little guys to smoothies, oats, or yogurt for a nutrient-rich breakfast.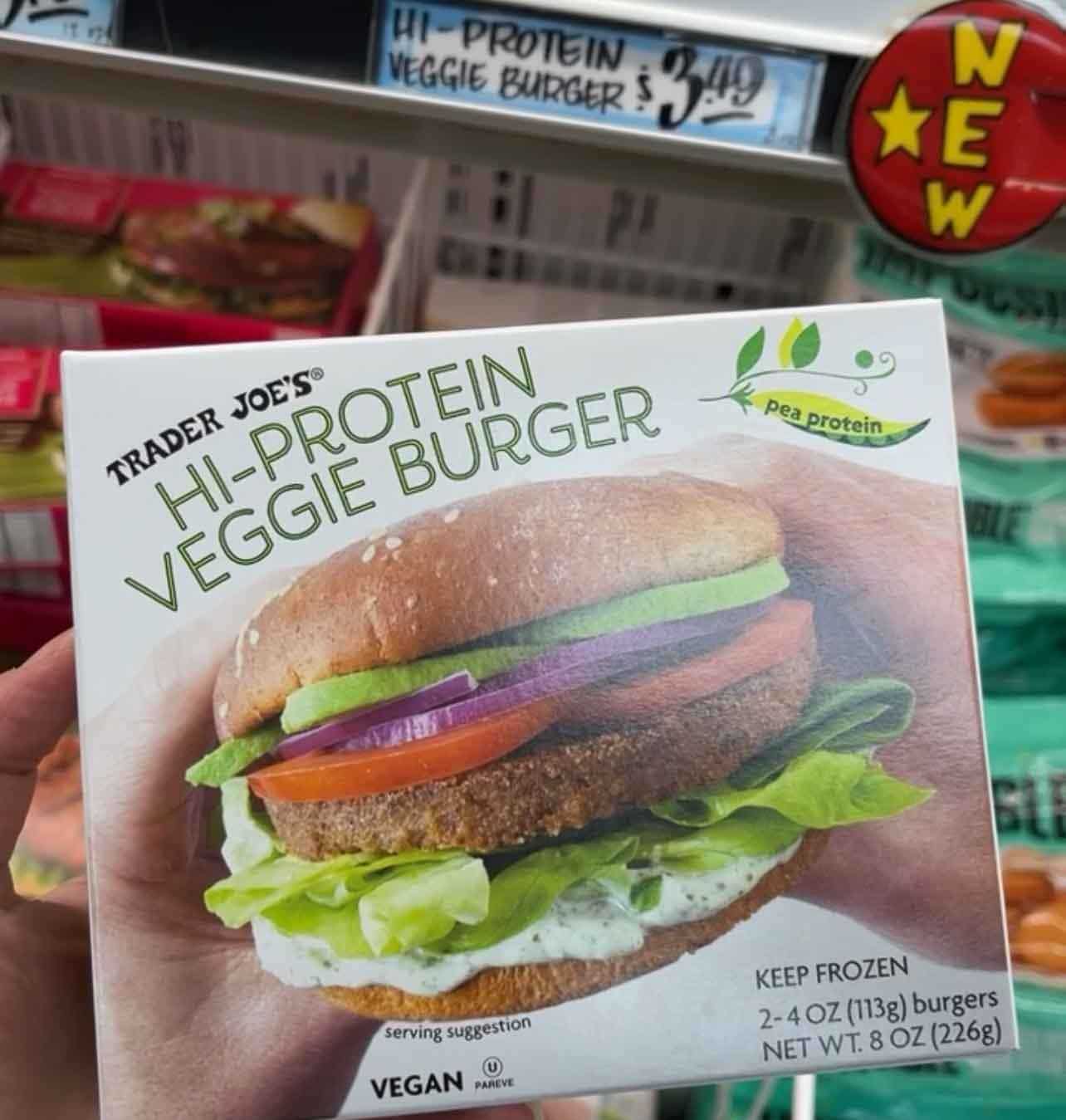 Burgers – Hi-Protein Veggie Burger
Although these burgers aren't universally loved, they are packed with 26 grams protein—an unheard-of amount of protein for a veggie burger. They also have a much shorter ingredient list than many other meatless burgers on the market. You can easily dress up their somewhat bland flavor with a variety of toppings, like cheese, avocado, Trader Joe's Herbed Tahini Sauce (see dips section), and more!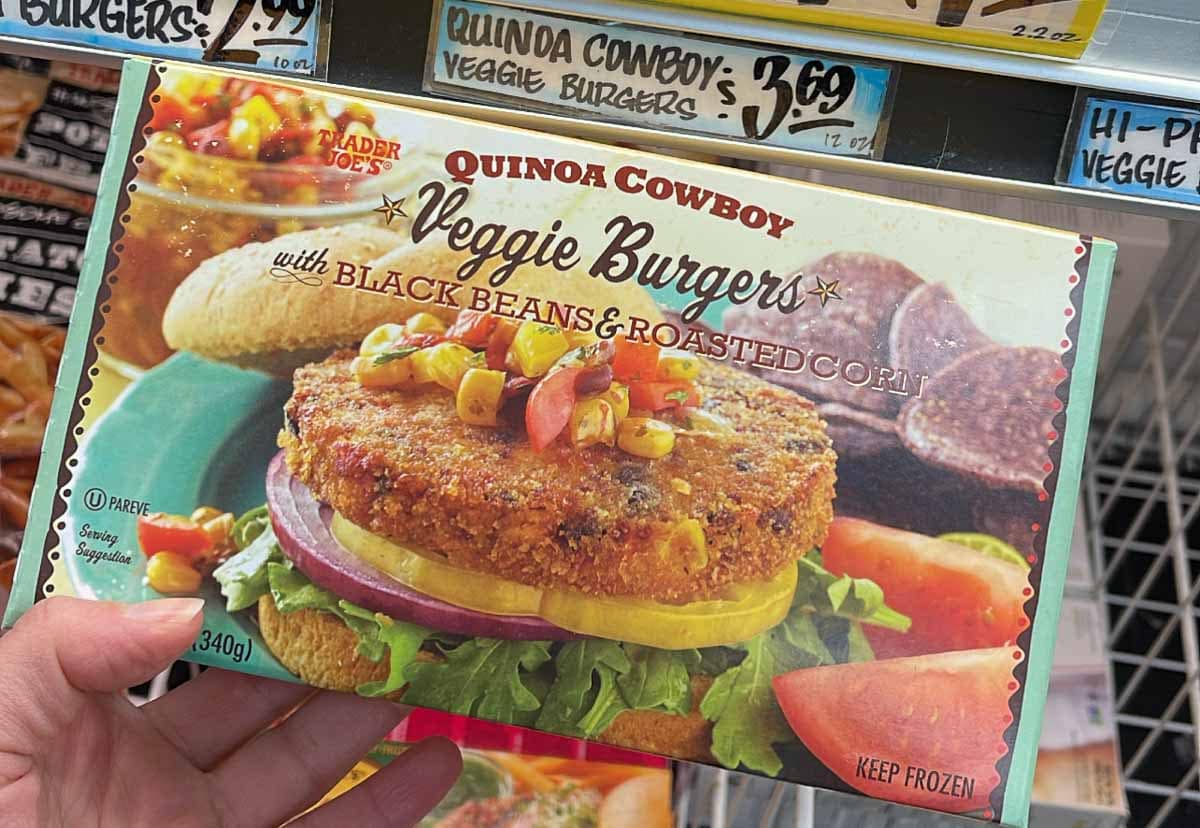 Burgers – Quinoa Cowboy Veggie Burgers
These veggie burgers are surprisingly tasty and packed with a variety of nutrient-dense plant foods, like quinoa, black beans, red bell peppers and more. Although they do offer fiber, they don't offer much protein (5 grams per patty), so I'd recommend topping with some cheese and/or hummus!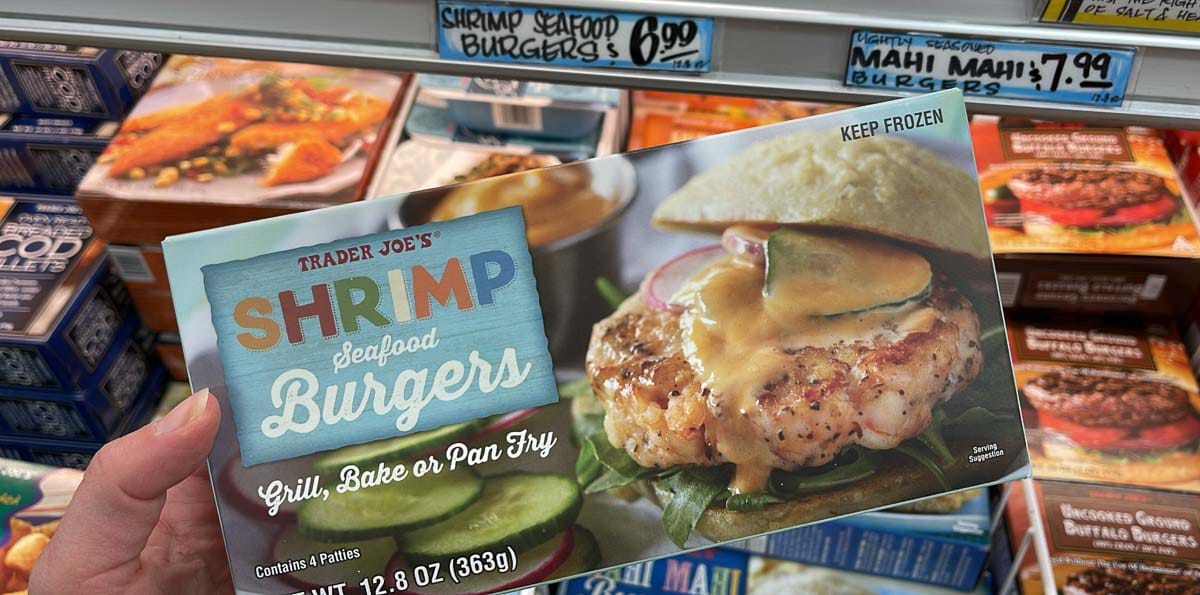 Burgers – Shrimp Seafood Burgers
A fan favorite, these shrimp seafood burgers make for a delicious, low-fat pescatarian option. And at just 90 calories per burger, you don't have to think twice about loading up on the toppings!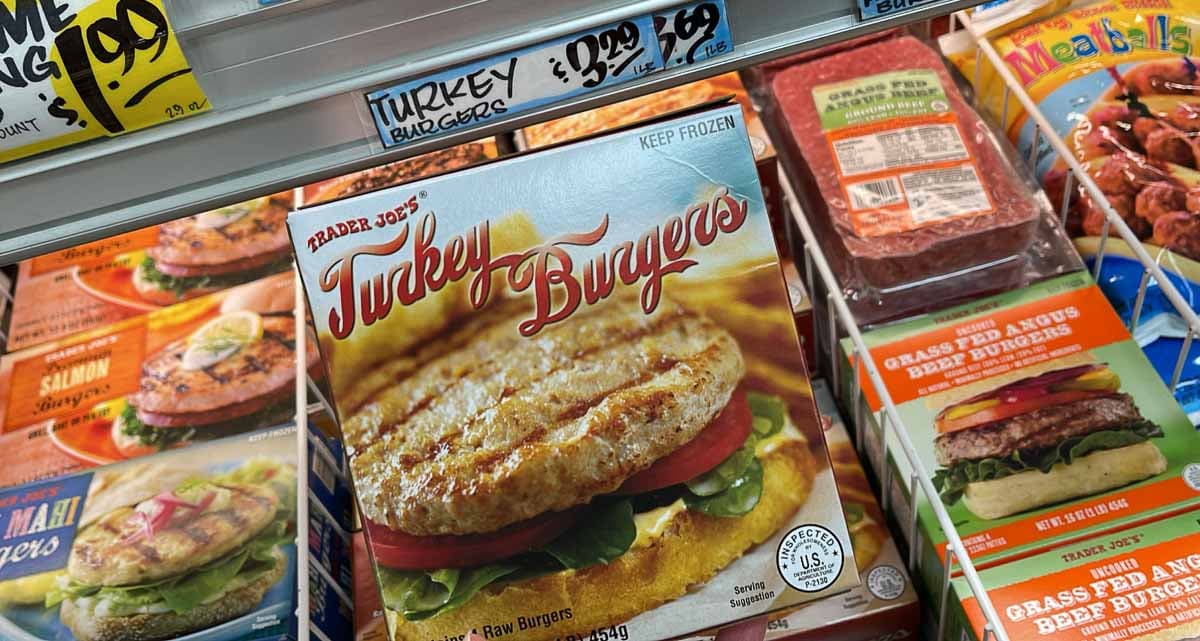 Burgers – Turkey Burgers
These turkey burgers make for the perfect blank canvas for any and all burger toppings. Plus, they're made with just 3 ingredients: turkey, salt, and rosemary extract.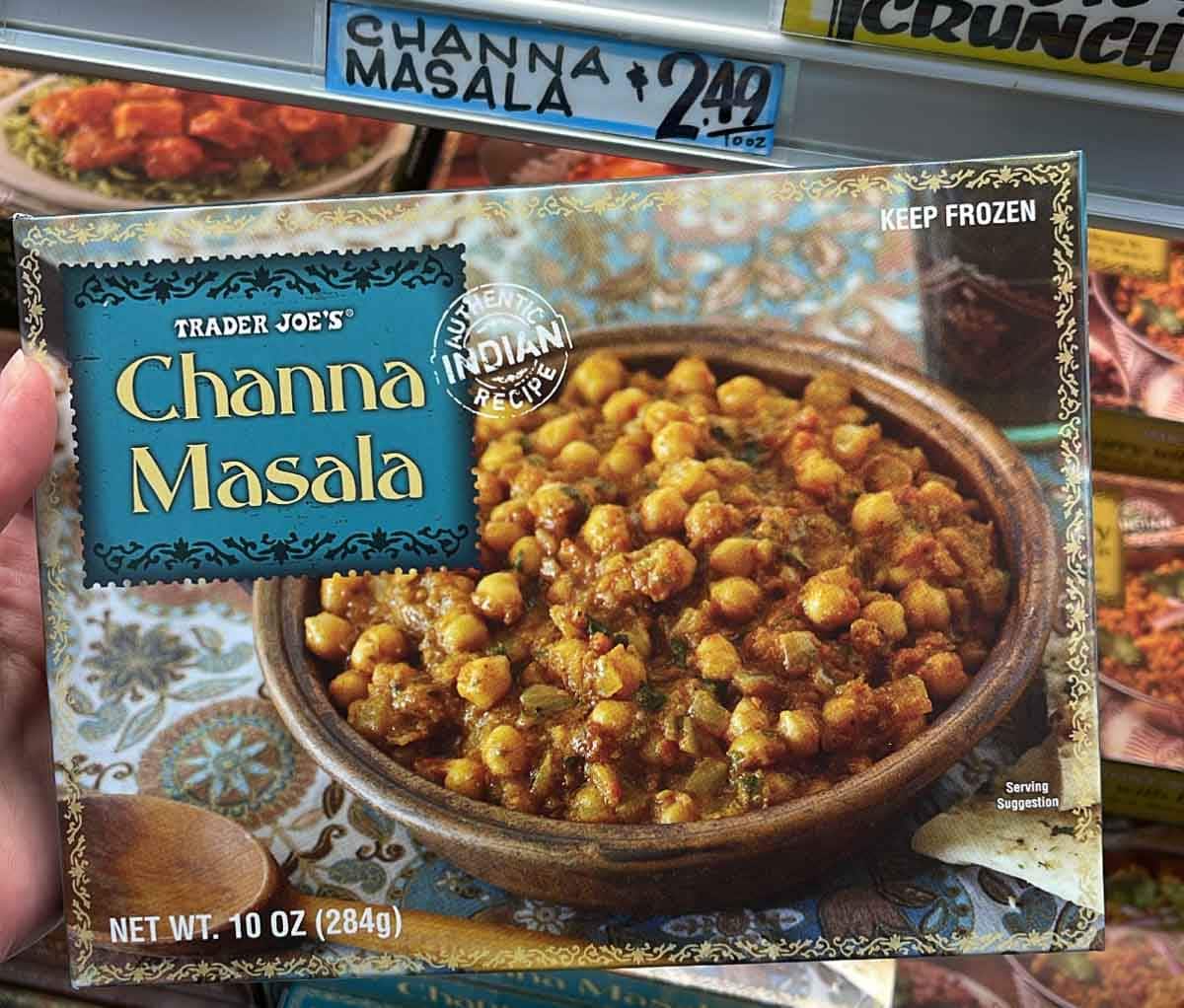 Frozen Meals – Channa Masala
Channa masala is an Indian curry dish consisting of chickpeas cooked in a spiced tomato onion gravy. At under 400 calories, this frozen meal also provides 12 grams each of protein and fiber.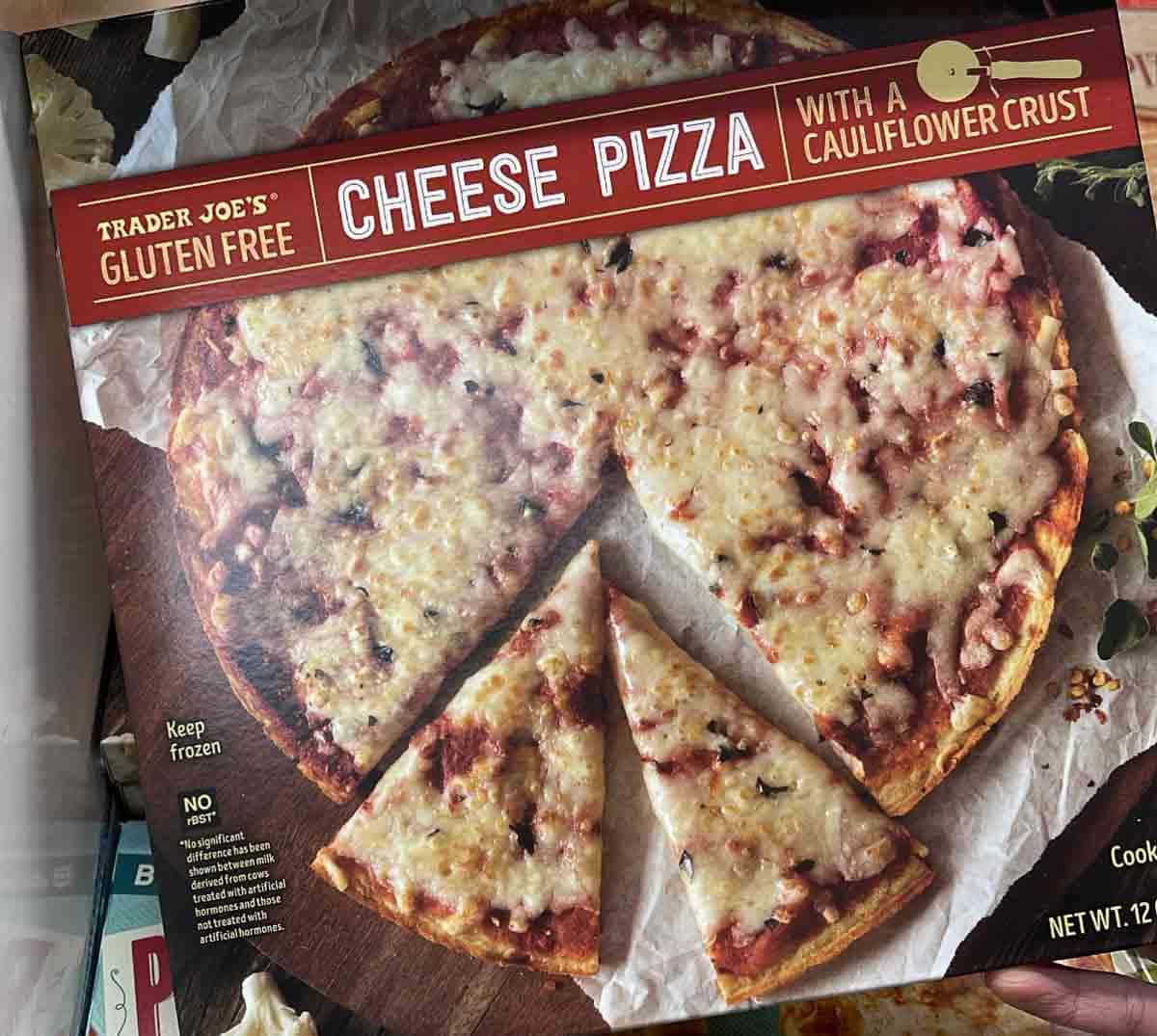 Frozen Meals – Cheese Pizza with a Cauliflower Crust
While I'm all for getting the real stuff, sometimes I want the taste of pizza without the sluggish side effects. Enter: this cauliflower crust pizza. The entire pizza clocks in at under 800 calories and provides a whopping 41 grams protein and 8 grams fiber.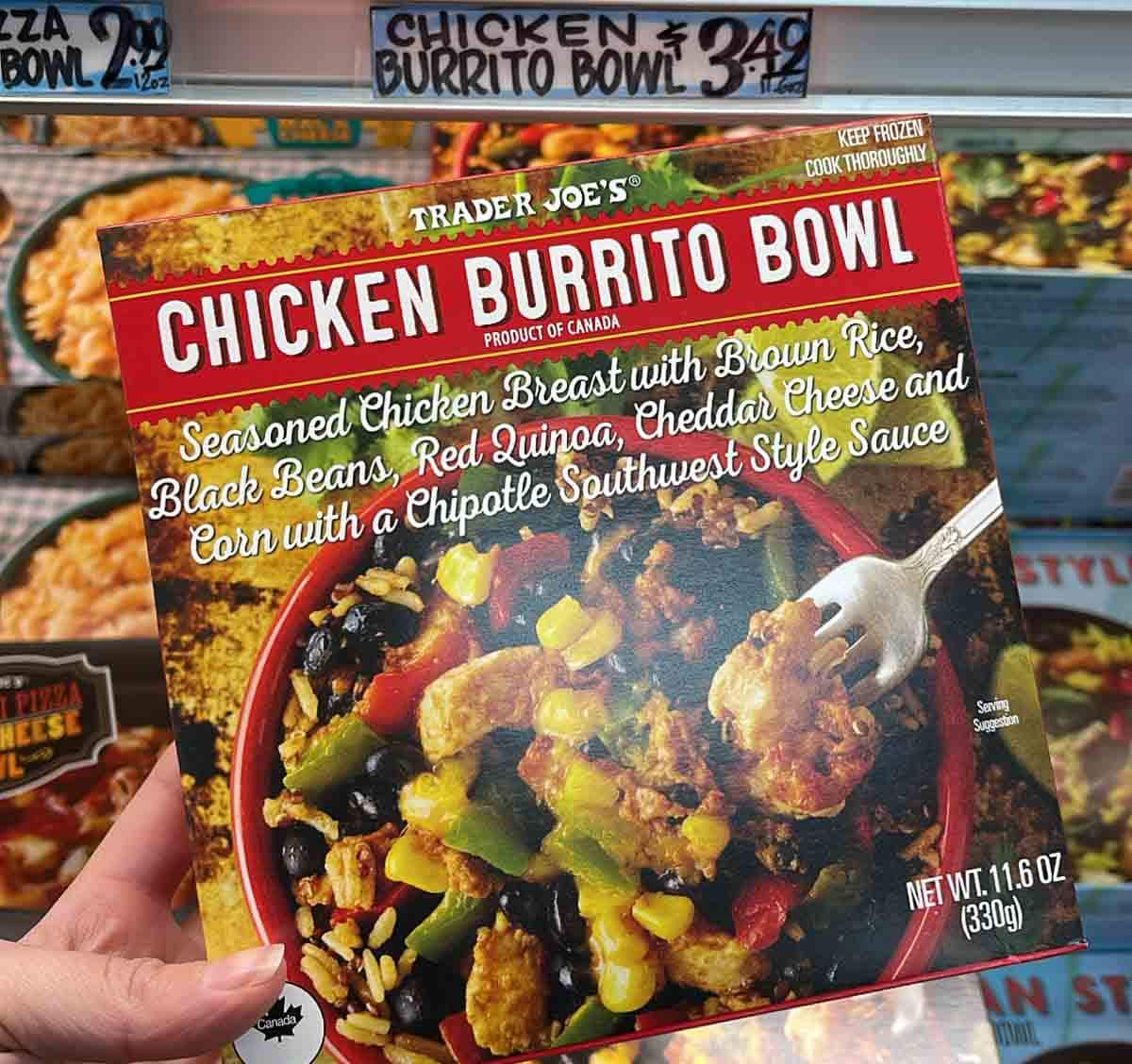 Frozen Meals – Chicken Burrito Bowl
Giving Chipotle a run for it's money, this burrito bowl, with a base of brown rice and quinoa, is as nutritious as it is delicious. It has over 20 grams protein and 9 grams fiber, which is hard to come by in frozen meals that aren't plant-based.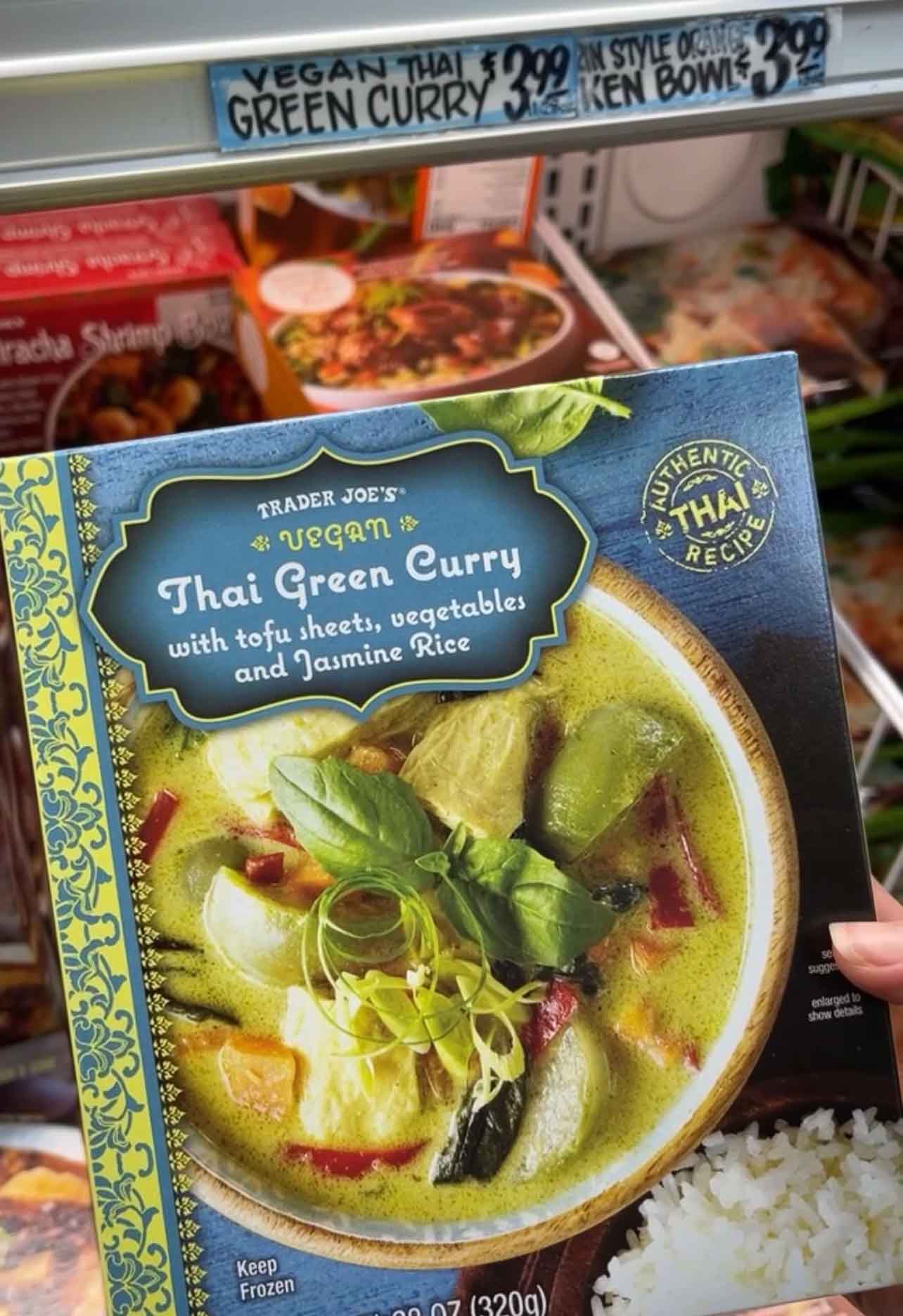 Frozen Meals – Thai Green Curry
This is one of the best tasting vegan frozen meals available, thanks to a flavor-packed green curry sauce that's served over tofu, jasmine rice, and a variety of vegetables, like carrots and eggplant. It has a decent 14 grams of protein, but you can easily increase that by adding some canned chickpeas.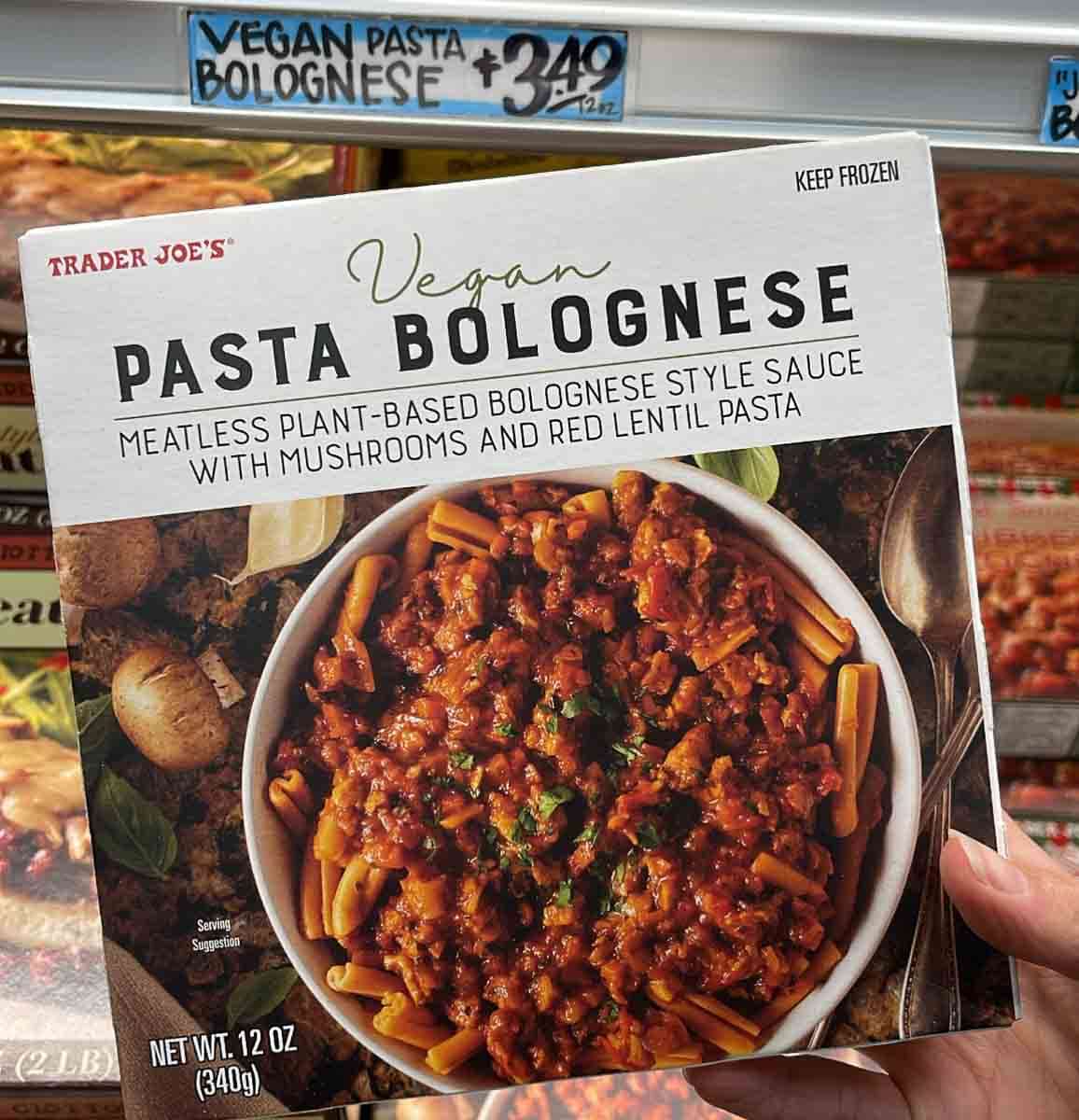 Frozen Meals – Vegan Pasta Bolognese
People either love this frozen meal or detest it, there's no in-between. While I'll admit the pasta is a little too al dente, the meatless lentil- and mushroom-based sauce more than makes up for it. As do the nutritionals… I've never seen a vegan frozen meal with 30 grams protein (and a whopping 13 grams fiber).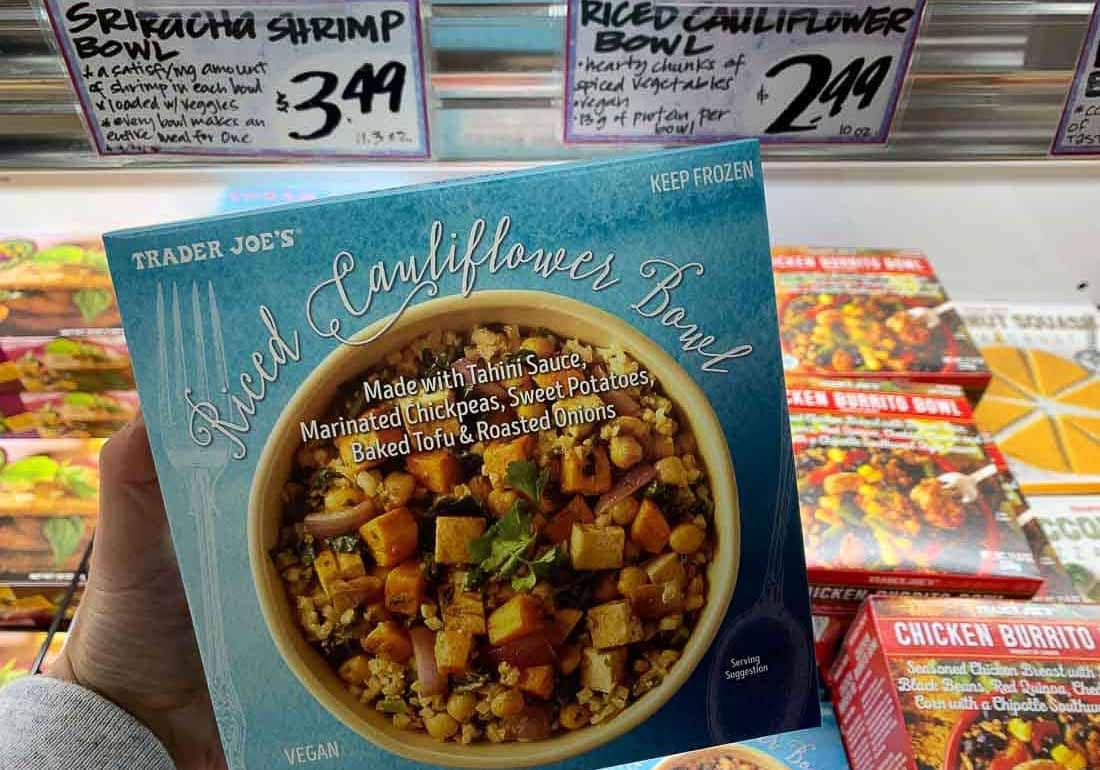 Frozen Meals – Riced Cauliflower Bowl
This riced cauliflower bowl may not look very appetizing, but it's packed with big flavors and nutritious ingredients. It provides 13 grams protein, 8 grams fiber, and 25% of the daily value for iron—all for under 300 calories.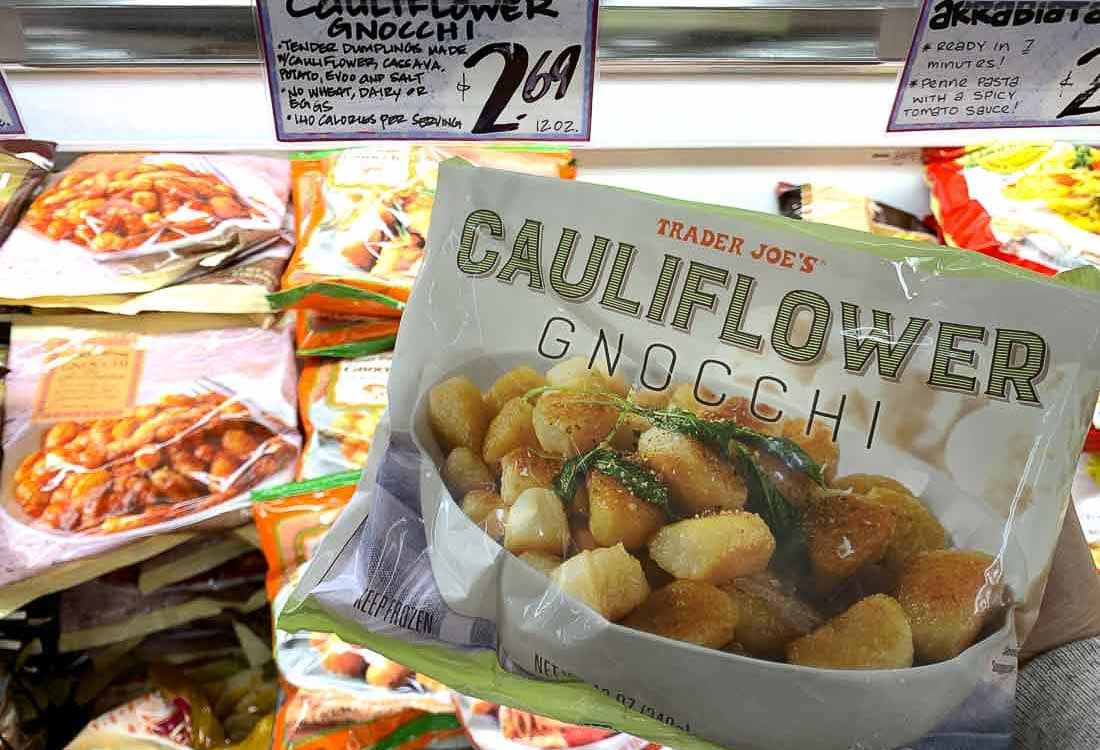 Sides – Cauliflower Gnocchi
This cauliflower gnocchi has a cult following, and for good reason. With minimal ingredients and lots of fiber, this cauliflower take on the small Italian potato dumplings with a cult following is both nutritious and delicious. But please, do not boil them! The best way to cook them is in a skillet with a little olive oil.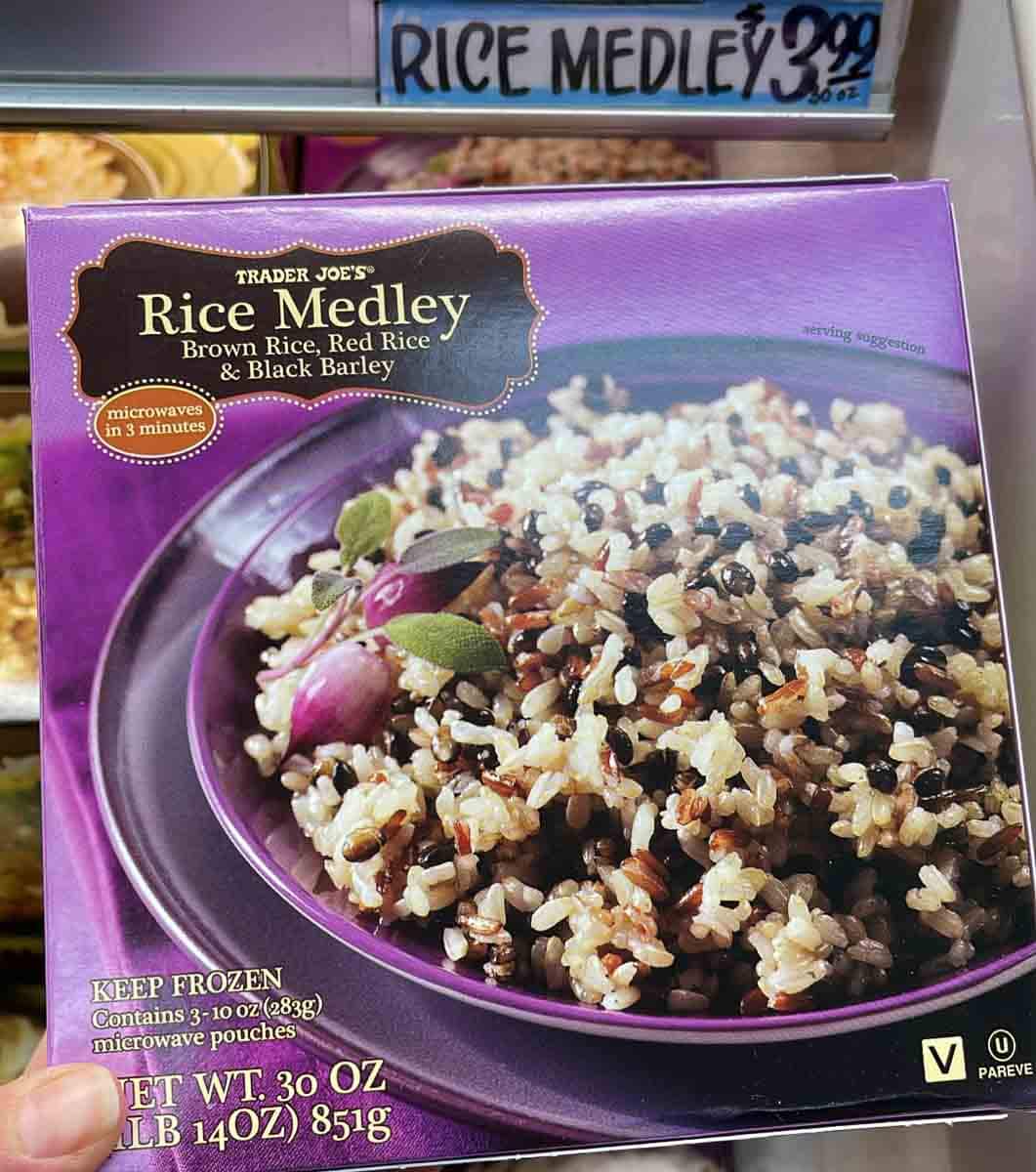 Sides – Rice Medley
This frozen rice medley makes for the perfect, fiber-rich base for quick weeknight meals. The grains are fully cooked, simply heat in the microwave for a few minutes, pair with some protein and veggies, and season to your liking!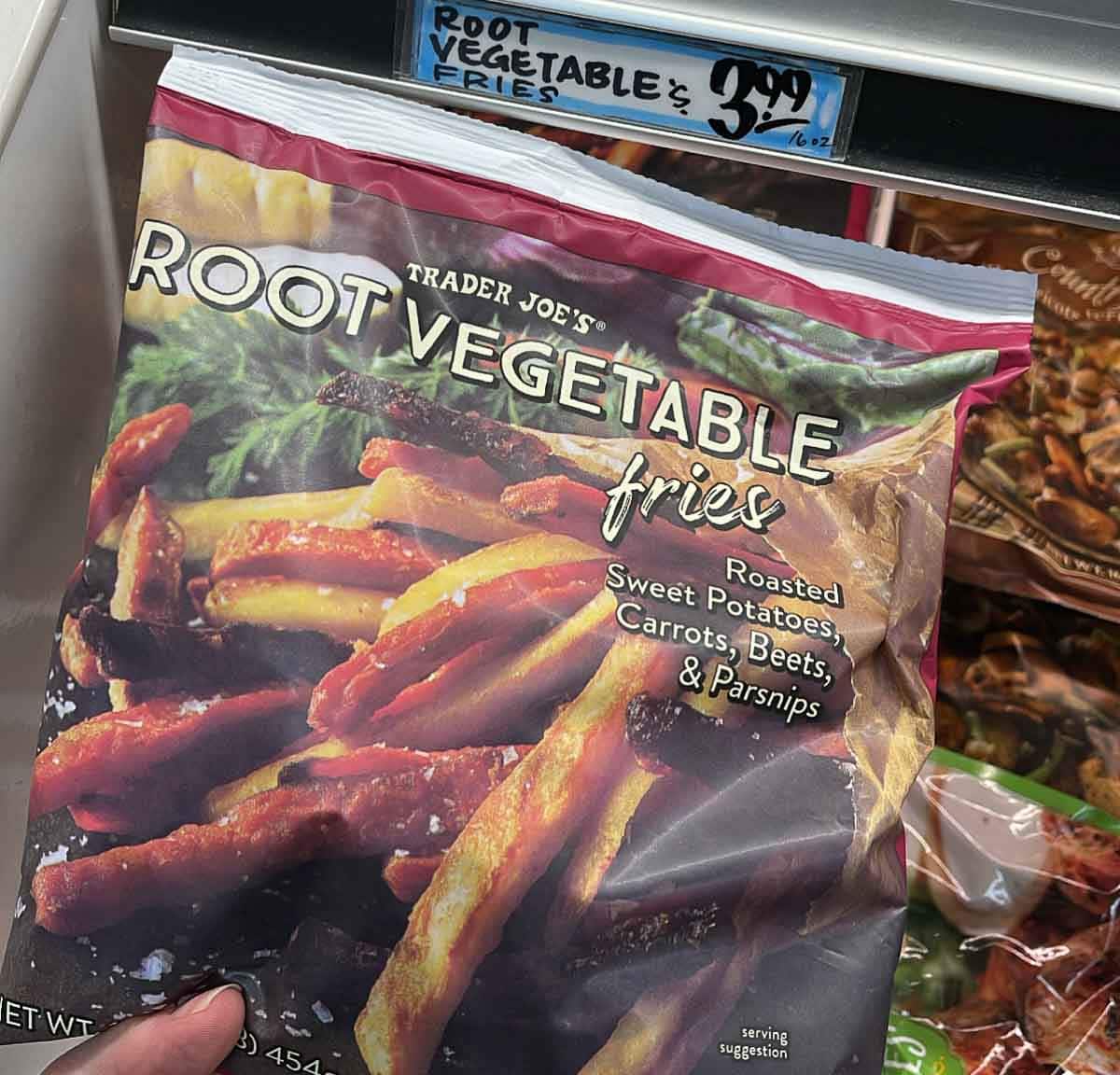 Sides – Root Vegetable Fries
Sweet potatoes, carrots, beets, and parsnips are the only ingredients you'll find listed on the back of this bag of frozen root vegetable fries. That's right—there are no added oils or seasonings in here, which means these fries are a blank canvas. Spice them up with Trader Joe's Chile Lime seasoning or Everything but the Elote seasoning or keep it simple with just salt. My favorite way to cook them is in the air fryer with a touch of olive oil.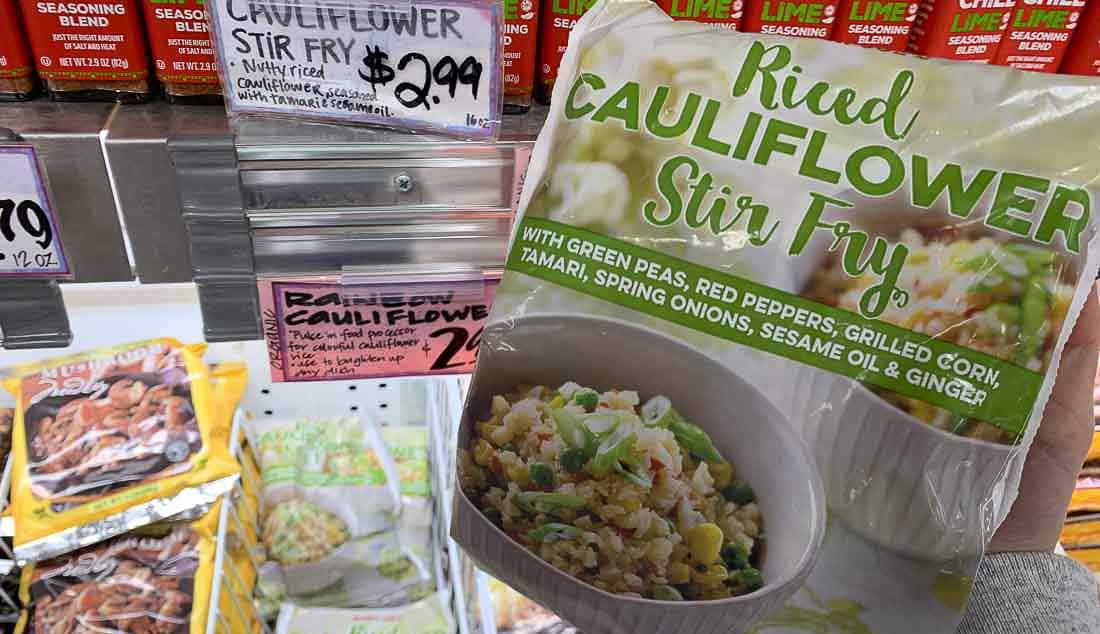 Sides – Riced Cauliflower Stir Fry
This riced cauliflower stir fry makes for a great base for easy weeknight dinners. Just add your favorite protein: eggs, chicken, shrimp, pork, beef, tofu, etc. Although it comes seasoned with tamari (similar to soy sauce), I like to add a little extra to up the umami flavor.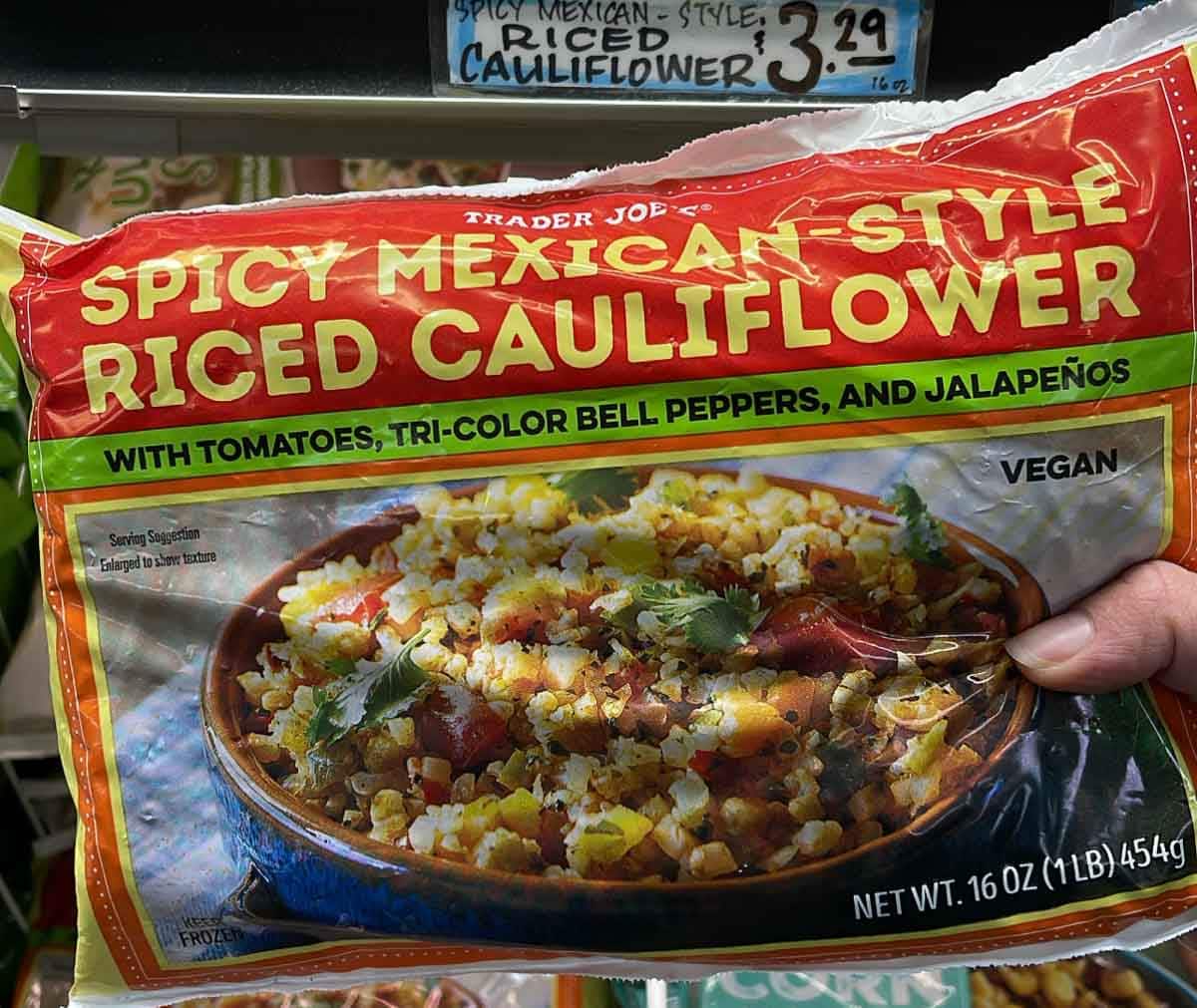 Sides – Spicy Mexican-Style Riced Cauliflower
If you like the riced cauliflower stir fry above then you'll love this flavor-packed, spicy Mexican-style version that's flavored with tomatoes, pickled jalapenos, lime juice, and a pinch of cayenne pepper.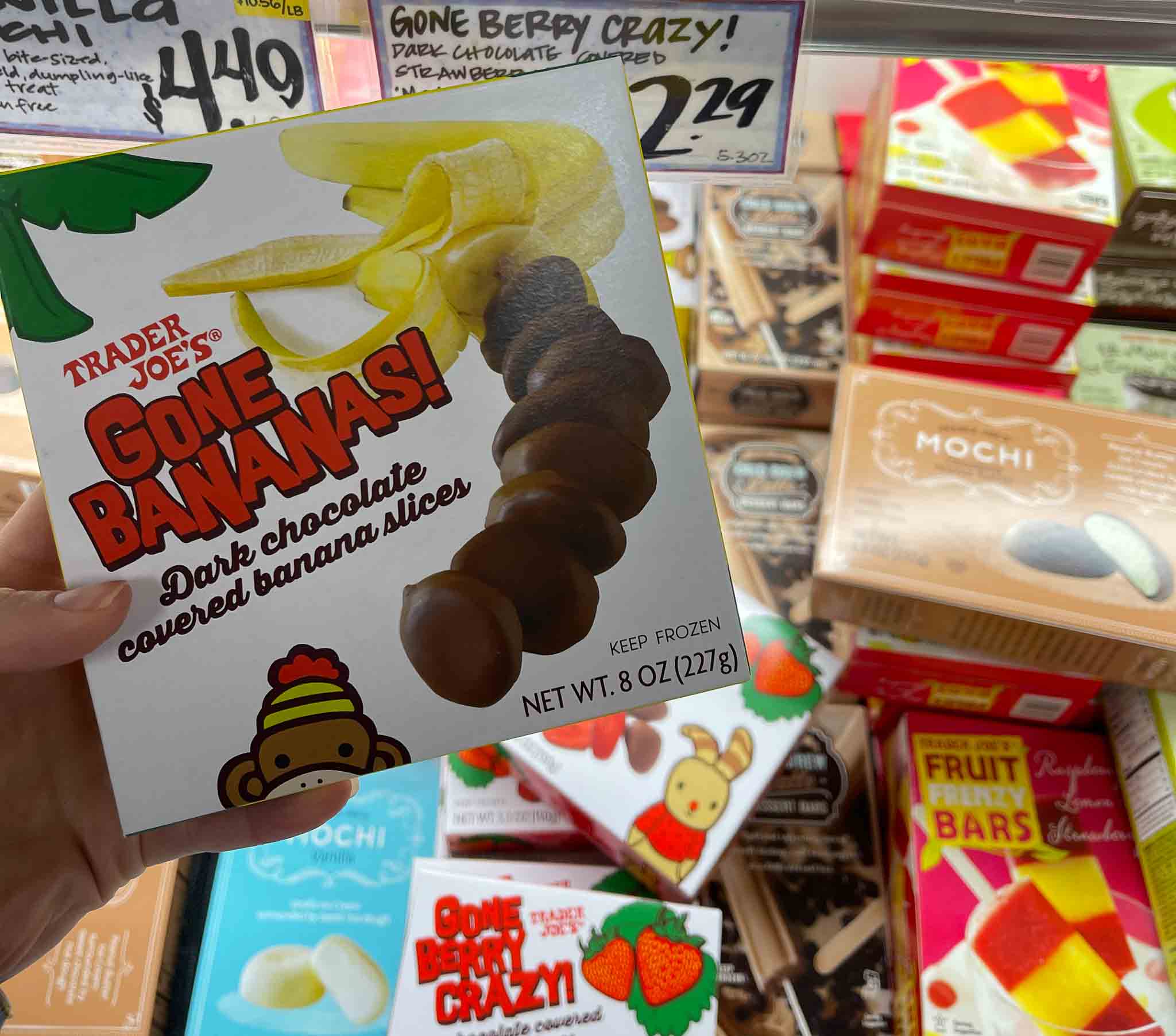 Sweets – Gone Berry Crazy & Gone Bananas
There are two types of people in this world: those who need something sweet after a meal and those who don't. I am the former. These chocolate-covered fruits are the perfect sweet, post-meal *palette cleanser* for when you're looking for something on the lighter side. Six of the strawberry pieces or four of the banana pieces clock in at just 100 calories.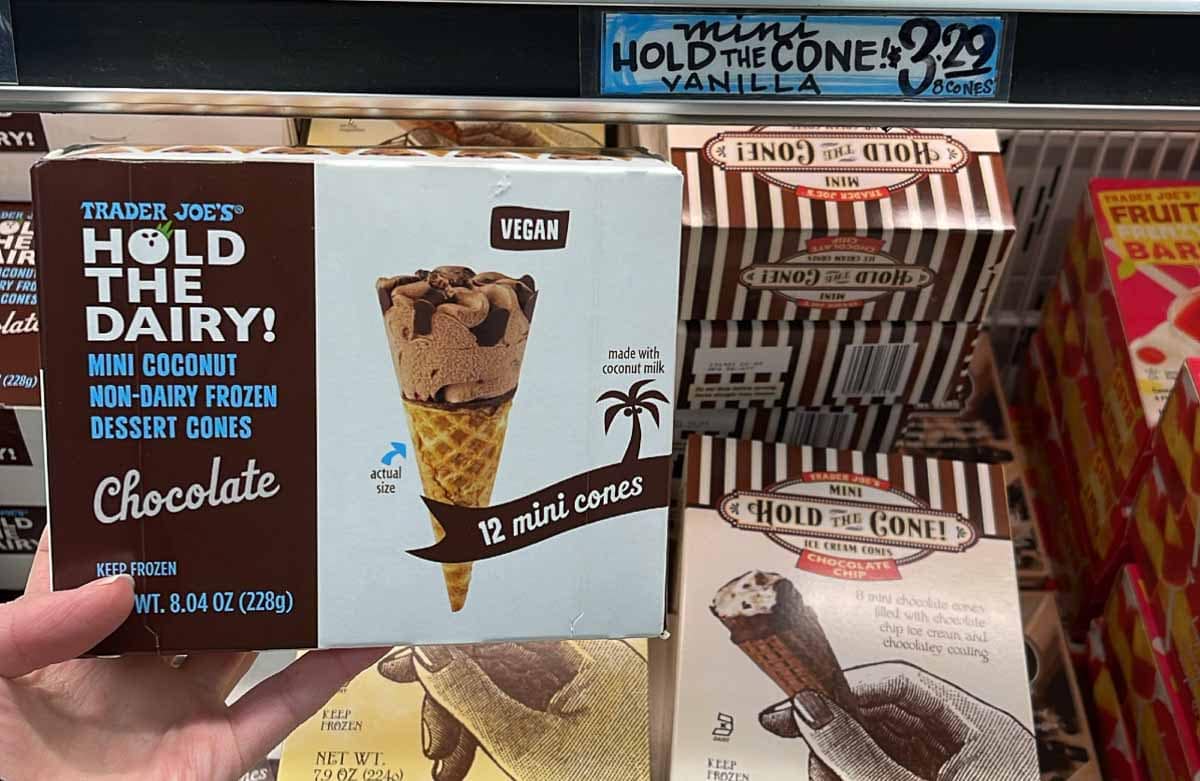 Sweets – Hold the Cone & Hold the Dairy
These mini ice cream cones are great for the days when you're craving something sweet but on the lighter side and chocolate-covered fruit (see above) just won't do it for ya. They come in chocolate, vanilla, and chocolate chip flavors and have just 85 to 90 calories per cone. They also have a dairy-free, coconut-milk-based version with just 60 calories per cone.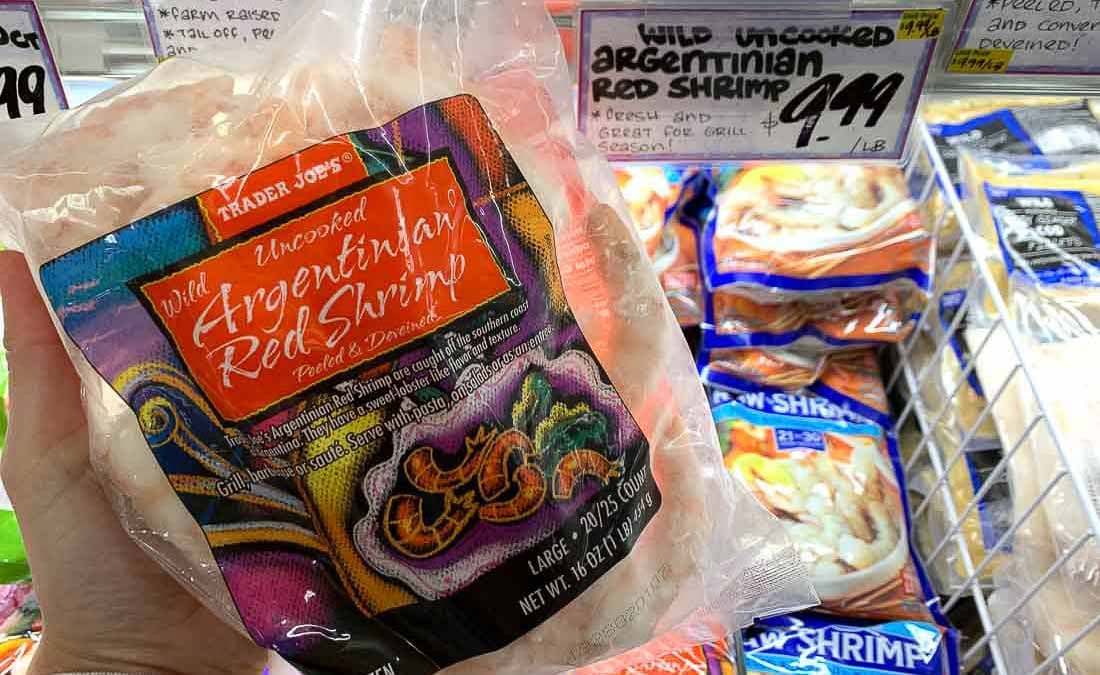 Wild Argentinian Red Shrimp
Shrimp are a lean source of protein that cooks super quickly. Grab a handful out of this frozen bag to add to any of your meals. My favorite way to enjoy these shrimp is with the Trader Joe's Cauliflower Stir Fry (regular or spicy).
Healthy Trader Joe's Vegan Proteins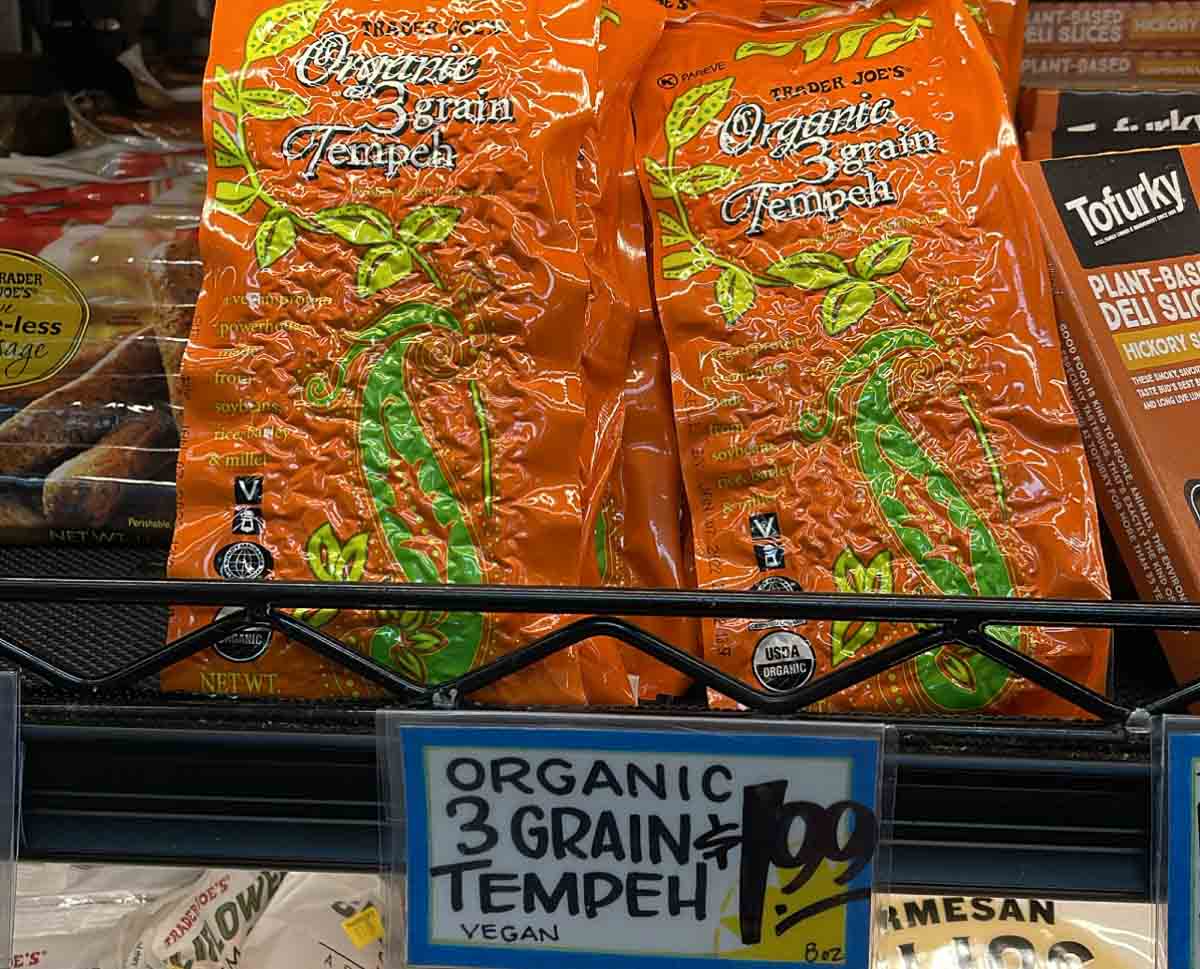 Organic 3 Grain Tempeh
Like its cousin tofu, tempeh is a protein-packed, soy-based food, delivering nearly 20 g of protein per serving. This one is made from fermented soybeans along with brown rice and barley, making it rich in fiber, too. Although tempeh is fermented, it's often pasteurized and is typically cooked before eating, which means it retains minimal probiotics. However, eating tempeh has been shown to increase concentrations of good gut bacteria, in large part thanks to its prebiotic fiber content. At just $1.99 a package, this tempeh gives you a lot of bang for your buck.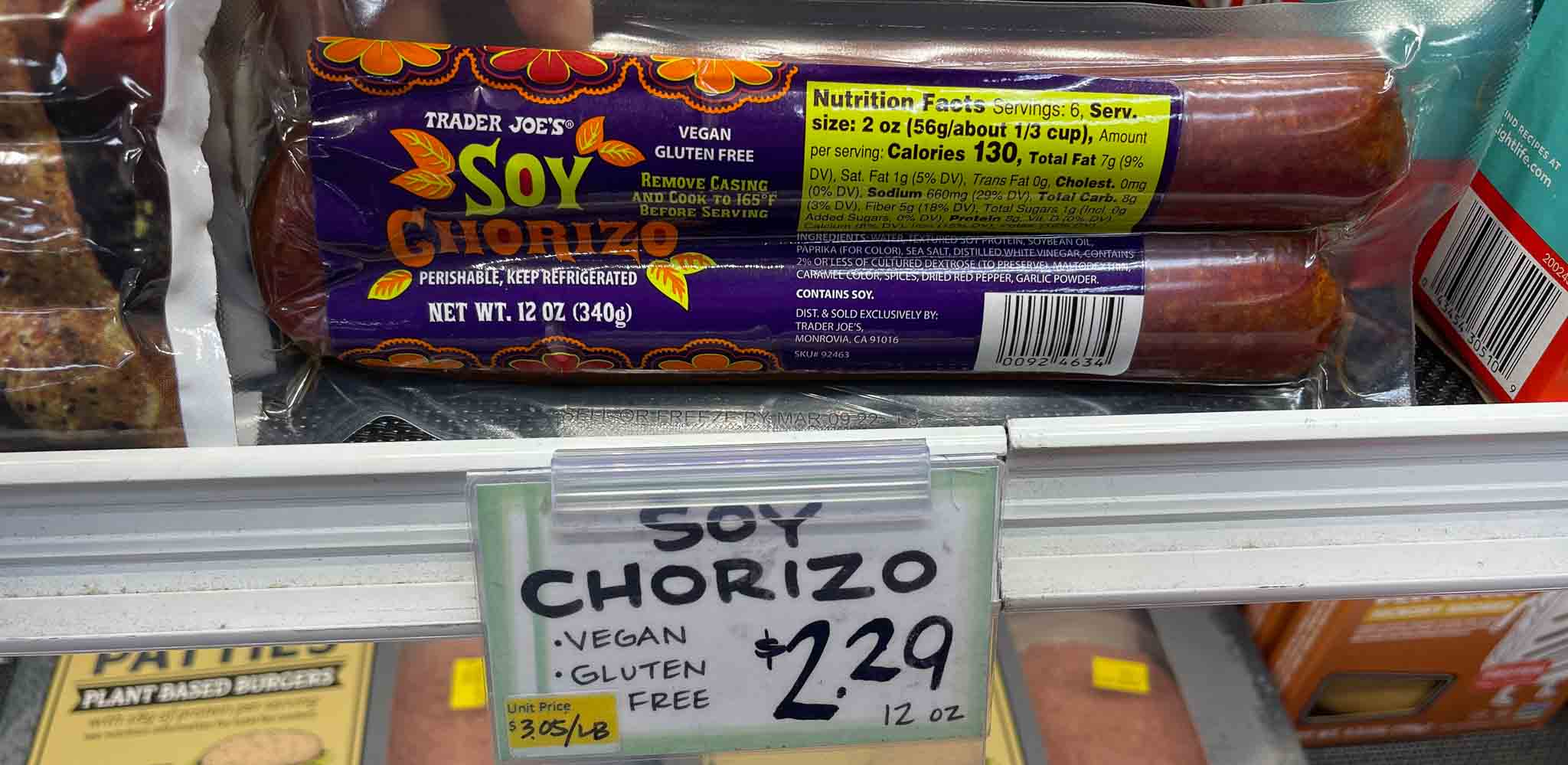 Soy Chorizo
Made from soy protein, this "chorizo" tastes quite similar to the authentic, spicy Spanish pork sausage (but without the pork, of course). It has a comparable amount of protein to the real deal but with significantly less saturated fat and some fiber as a nice bonus. Add it to a breakfast scramble, burrito bowl, tacos—the possibilities are endless.
Sriracha Baked Tofu
Tofu is one of the highest plant-based sources of protein. It's essentially a blank canvas that soaks up other flavors—in this case, everyone's favorite spicy condiment—like a sponge. Trader Joe's has done much of the legwork for you here by pre-marinating and baking it—all you have to do is heat it up (or eat it cold, your choice).
Healthy Trader Joe's Snacks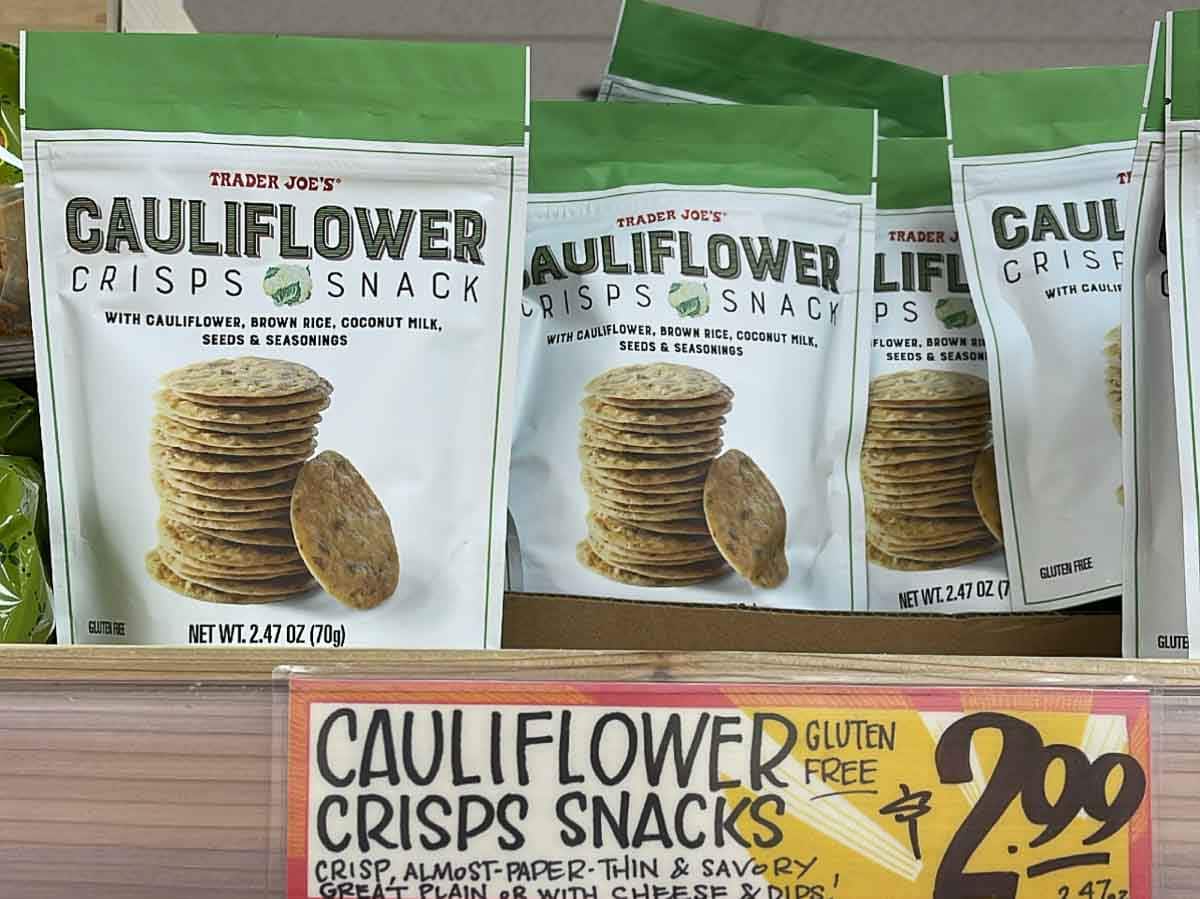 Cauliflower Crisps
Made of cauliflower (it's the first ingredient) and brown rice flour, these ultra-thin, gluten-free cauliflower crips make for a wonderful vehicle for just about any cheese, hummus, or dip (see dip section for the best Trader Joe's dips).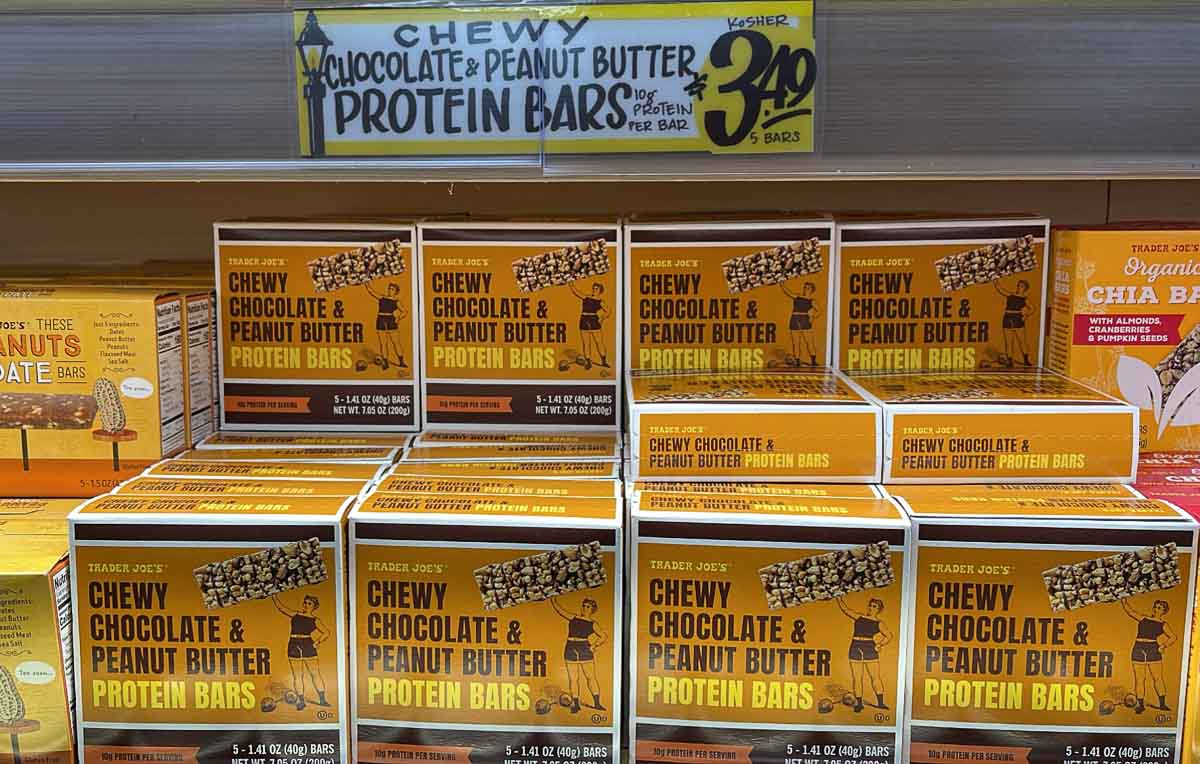 Chewy Chocolate & Peanut Butter Protein Bars
Although these bars aren't super high in protein, each one provides a good 10 grams protein plus 4 grams fiber. As a bonus, they're lower in added sugar than most protein bars on the market, with just 7 grams per bar.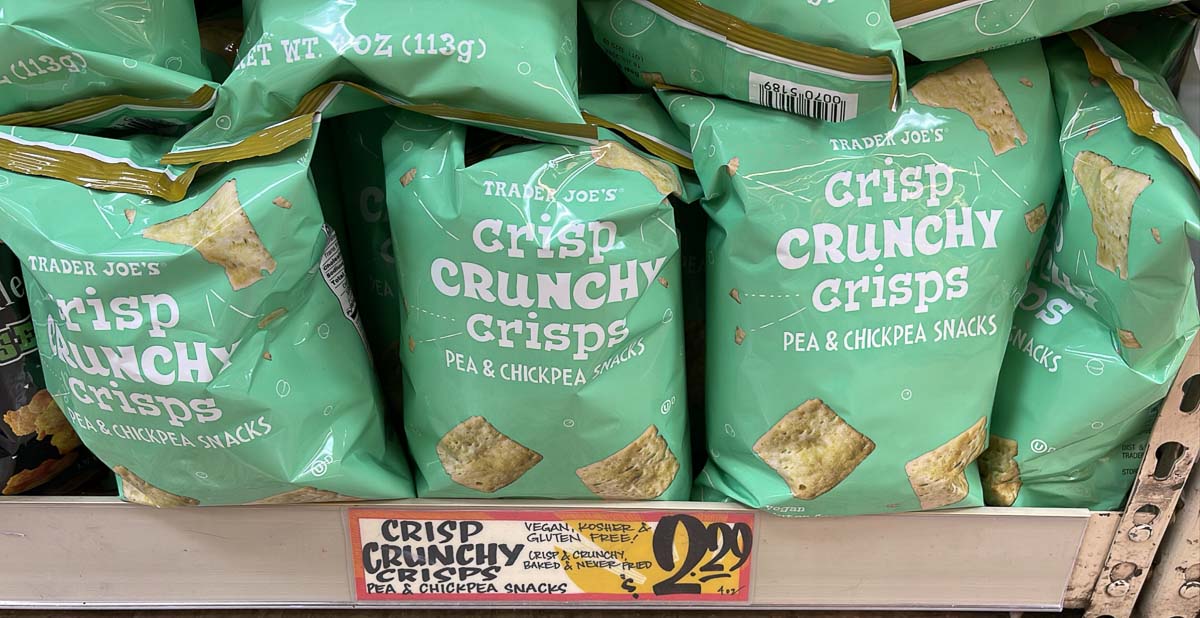 Crisp Crunchy Snacks
In all honesty, these are a bit bland. That said, they are low in fat and offer more protein and fiber than most chips on the market. So, as long as you dive into the bag with low(ish) expectations, these crisps will make for the perfect blank canvas for a variety of dips.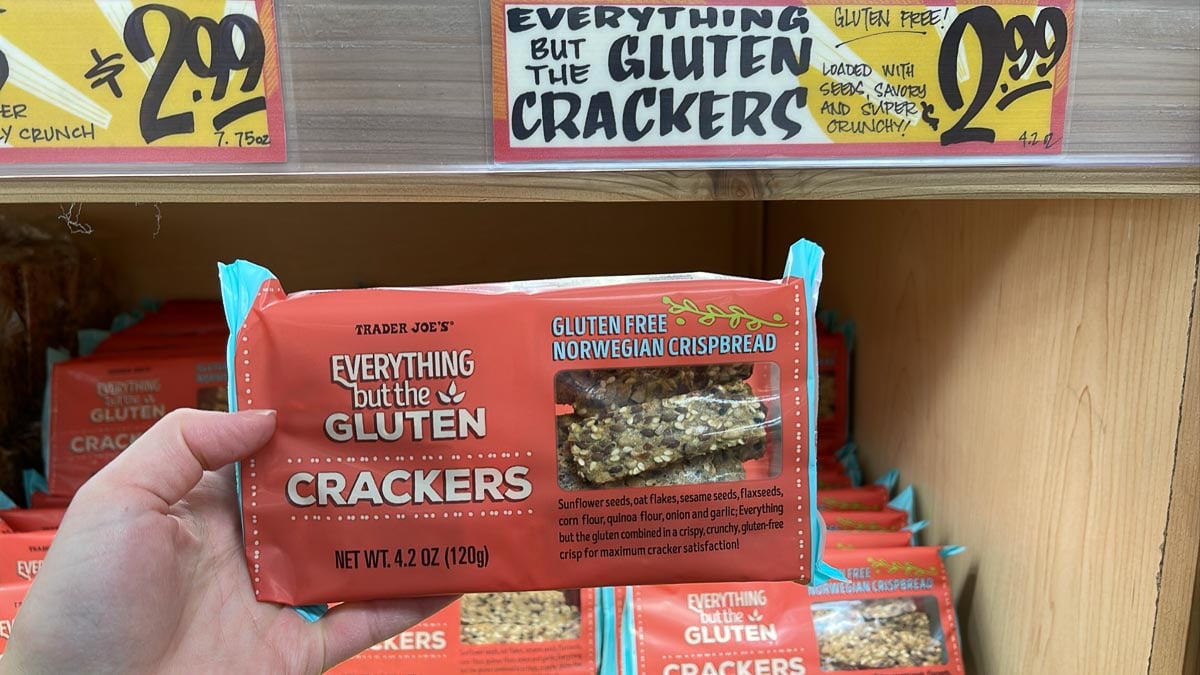 Everything but the Gluten Crackers
These extra seedy, everything but the gluten crackers aren't very appealing at first glance, but give them a chance and you'll find that they are surprisingly tasty! Plus, they're packed with the filling trio of protein, fiber, and healthy fats, thanks to a variety of seeds and whole grains.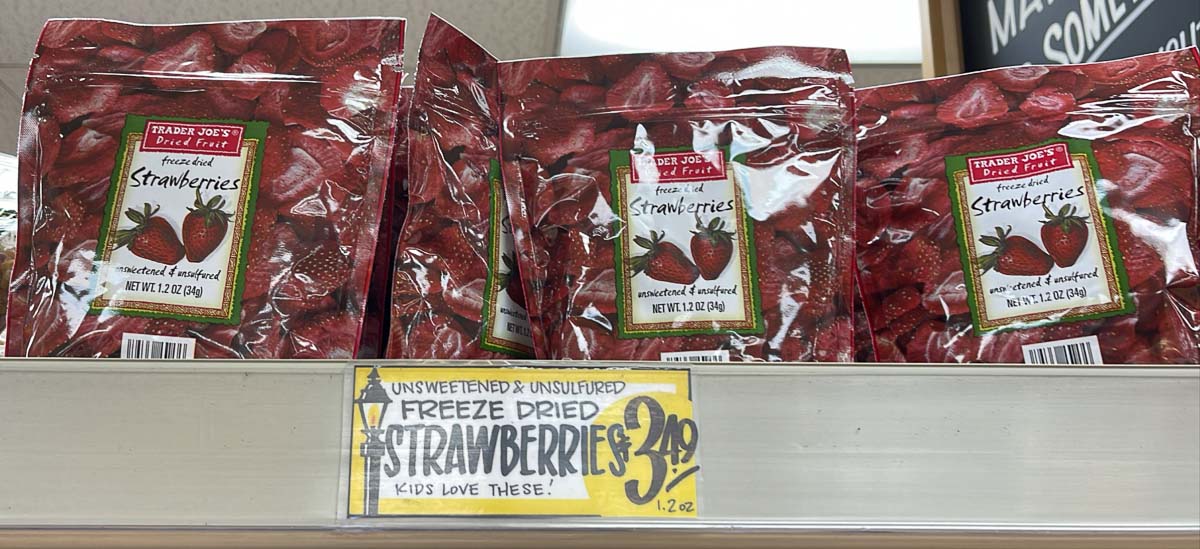 Freeze-Dried Fruit
It's so hard to find dried fruit that doesn't have added sugar, but you can usually always count on freeze-dried fruit. Trader Joe's and my other favorite store that starts with a "T" (cough Target) both have a very impressive selection of freeze-dried fruit. I love adding it to a DIY snack mix (with air-popped popcorn, nuts, etc.) or incorporating it into an energy bite recipe.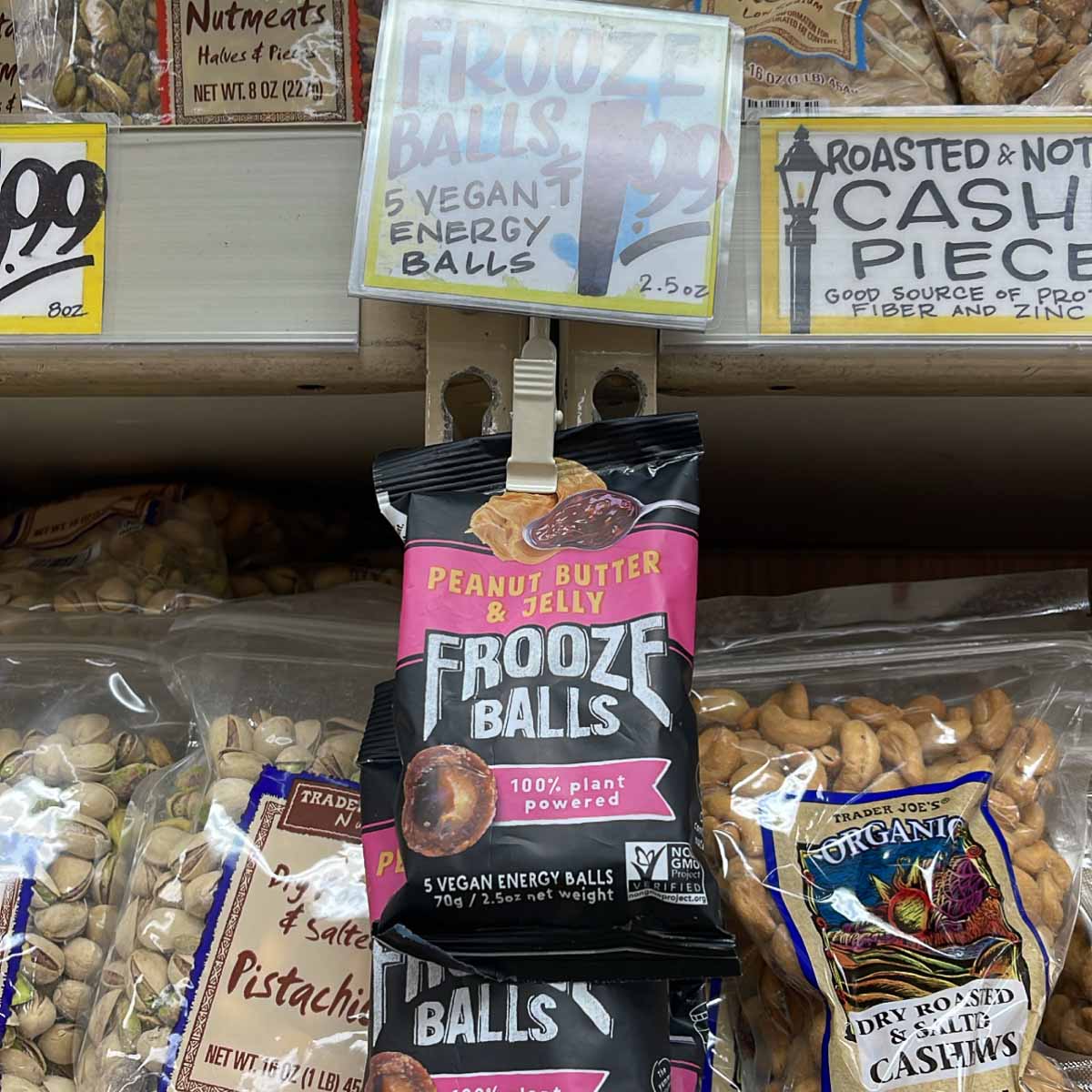 Frooze Balls
These date-based energy balls are a great plant-based snack for when that mid-afternoon slump hits. Like homemade versions, they're made from a combination of a handful of simple ingredients, like dates and nuts, provide protein, and are a great source of fiber. Unlike the homemade versions, they have a sweet and gooey surprise in the center! Trader Joe's carries two flavors: chocolate hazelnut and peanut butter and jelly.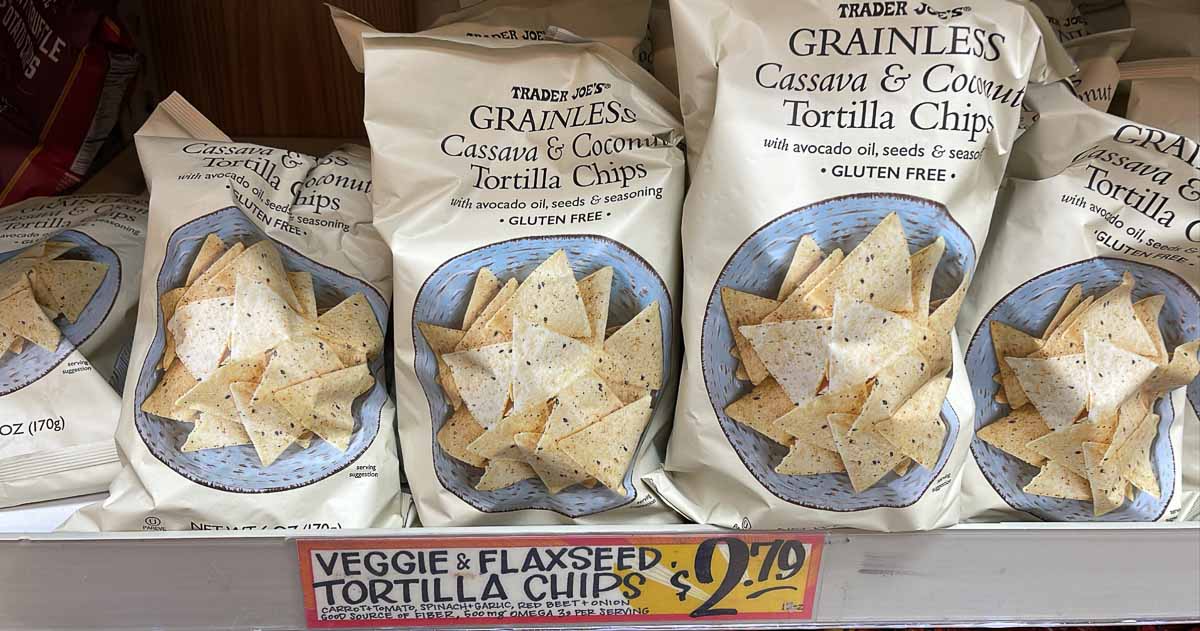 Grainless Cassava & Coconut Tortilla Chips
You won't be missing the grains when you chow down on these grainless tortilla chips! Instead of corn or wheat flours, these chips are made from cassava—a starchy root vegetable native to South America—and coconut flours. They're a bit crispier than their grain-containing counterparts and equally as delicious!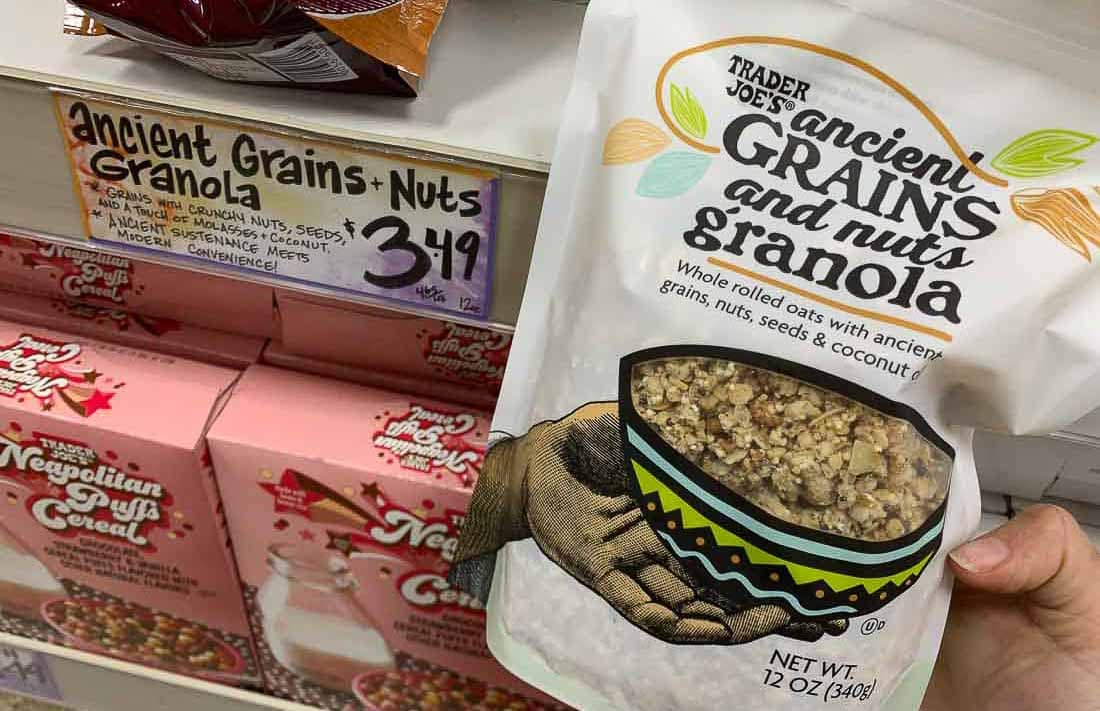 Granola – Ancient Grains Granola
Granola isn't usually on my list of top 5 or even top 10 snacks because store-bought options tend to be packed with added sugar. When looking for a good store-bought option, I typically recommend no more than 6 grams of sugar per 1/3 cup serving, and this one fits the bill!
Interested in knowing what I look for to find healthy store-bought granolas? Check out my post Is Granola Good for You?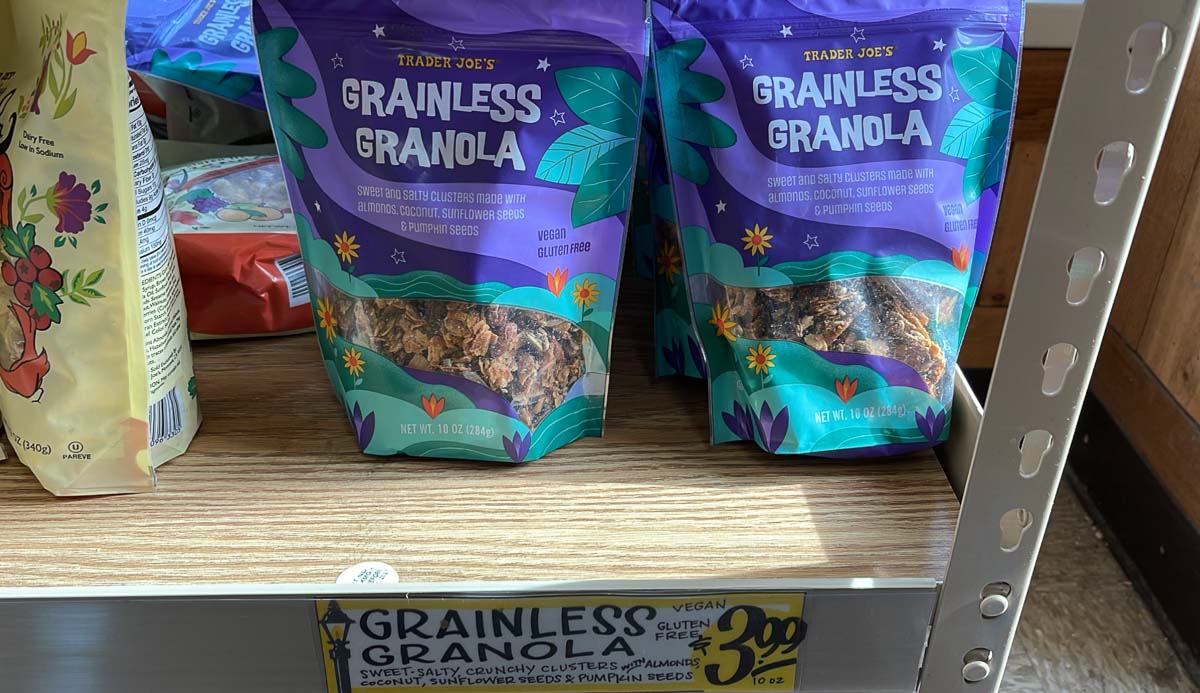 Granola – Grainless Granola
Now, if you're looking for a grain-free granola that swaps the oats out for nuts and seeds, look no further than Trader Joe's Grainless Granola. Unlike and grain-free granolas on the market, this one has a nice crispiness to it and actually tastes good. Plus, a 1/3 cup serving has less than 3 grams of added sugar.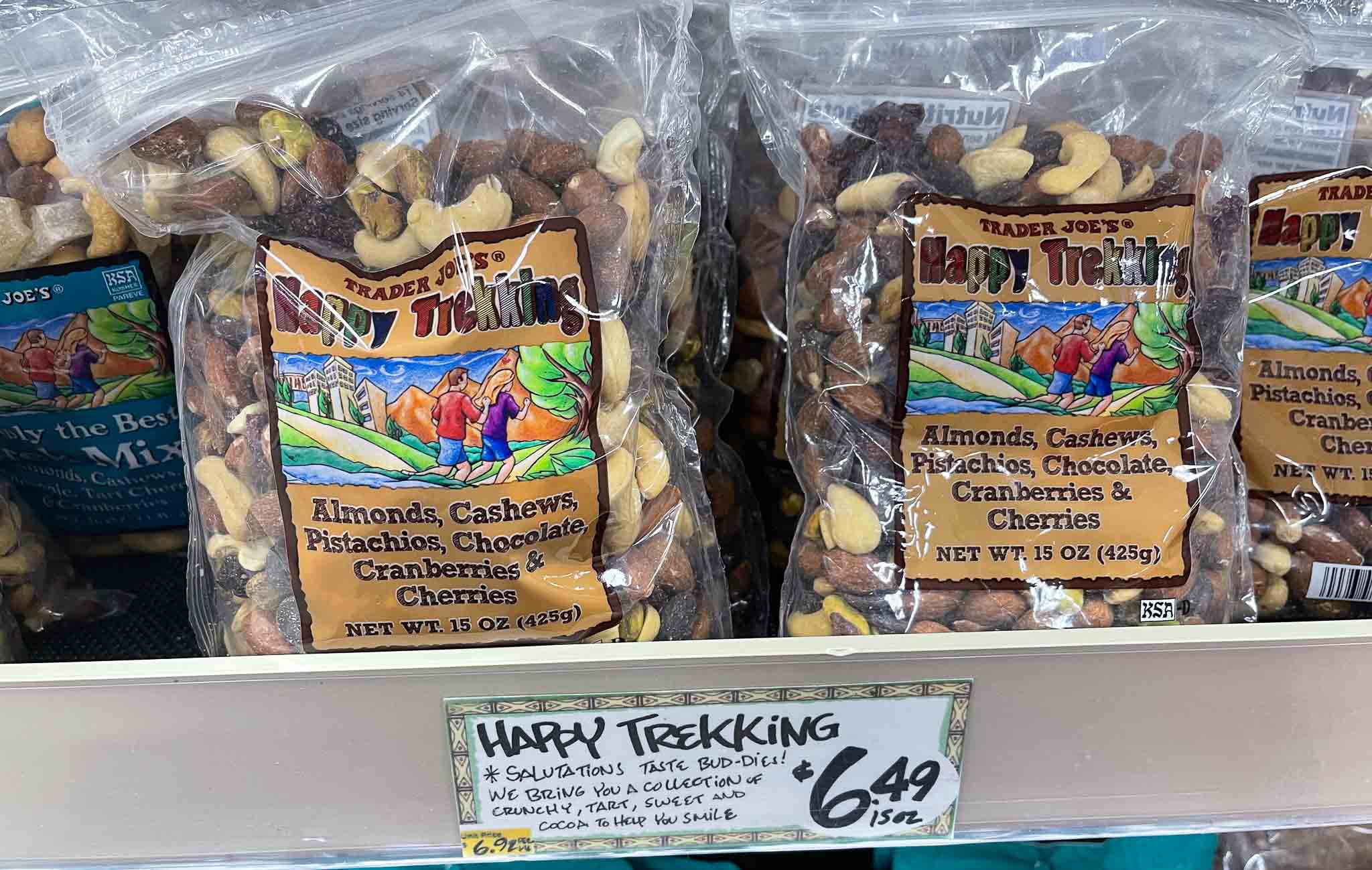 Happy Trekking Trail Mix
Trader Joe's offers a wide selection of trail mixes, some better than others. This Happy Trekking mix—cashews, almond, chocolate, pistachios, cranberries, and cherries—is a personal favorite when it comes to both taste and nutrition. Like granolas, trail mixes are notorious for being packed with added sugar, but this one has less than many of the other options at 6 grams added sugar per serving.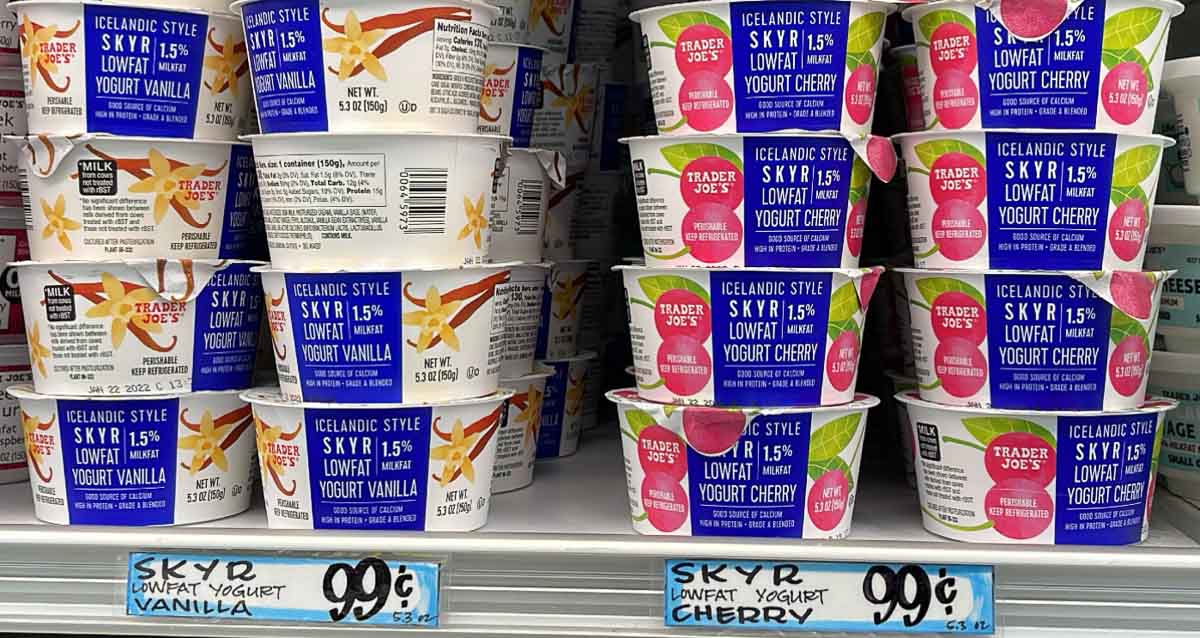 Icelandic-Style Skyr
In the US, skyr is comparable to Greek yogurt. They're made in a similar fashion, have a similar texture, and the nutritionals are almost identical (some skyr brands have a tiny bit more protein). This creamy flavored skyr has 15 to 16 grams protein and just 5 grams of added sugar per container (which is hard to find when it comes to flavored yogurt products). It comes in two delicious flavors: vanilla and cherry.
Just Mango Slices
As the name implies, these are literally just. mango. slices. That's it. These dried mango slices are chewy and sweet with a little fiber and no added sugar.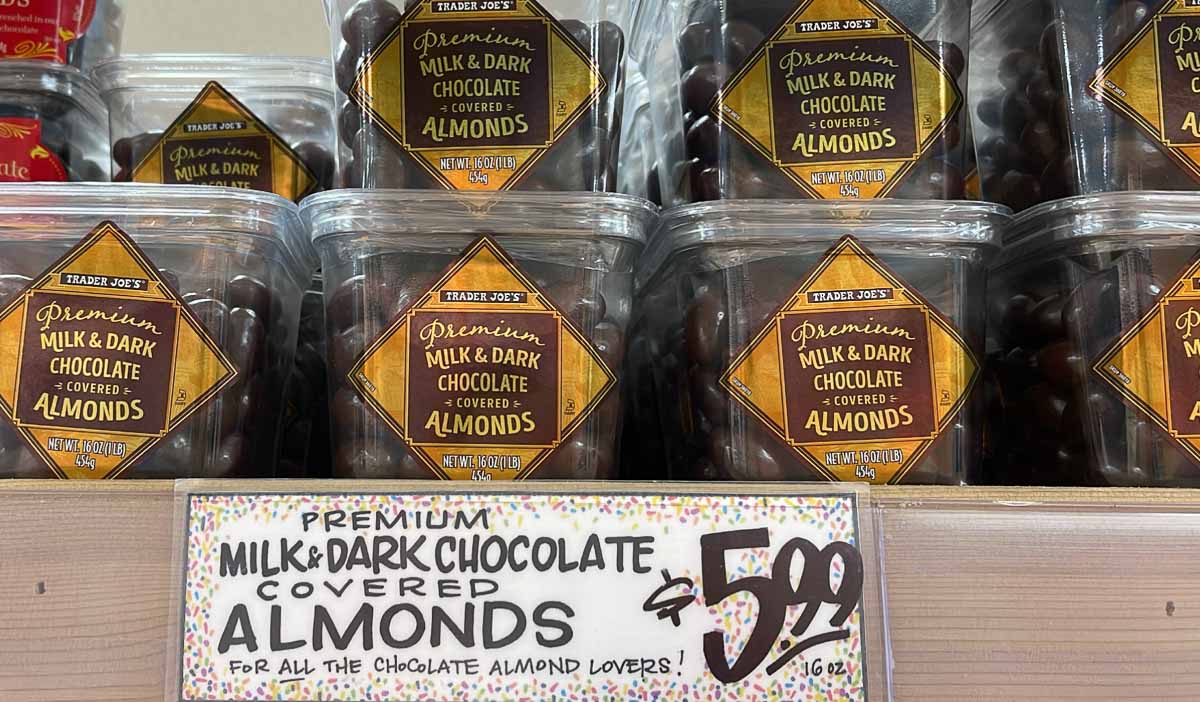 Milk & Dark Chocolate Almonds
It's the best of both worlds. Sweet milk chocolate and rich dark chocolate… for when you don't want to pick one over another. And being that these are chocolate covered almonds, you'll also get a little fiber and protein from this sweet snack.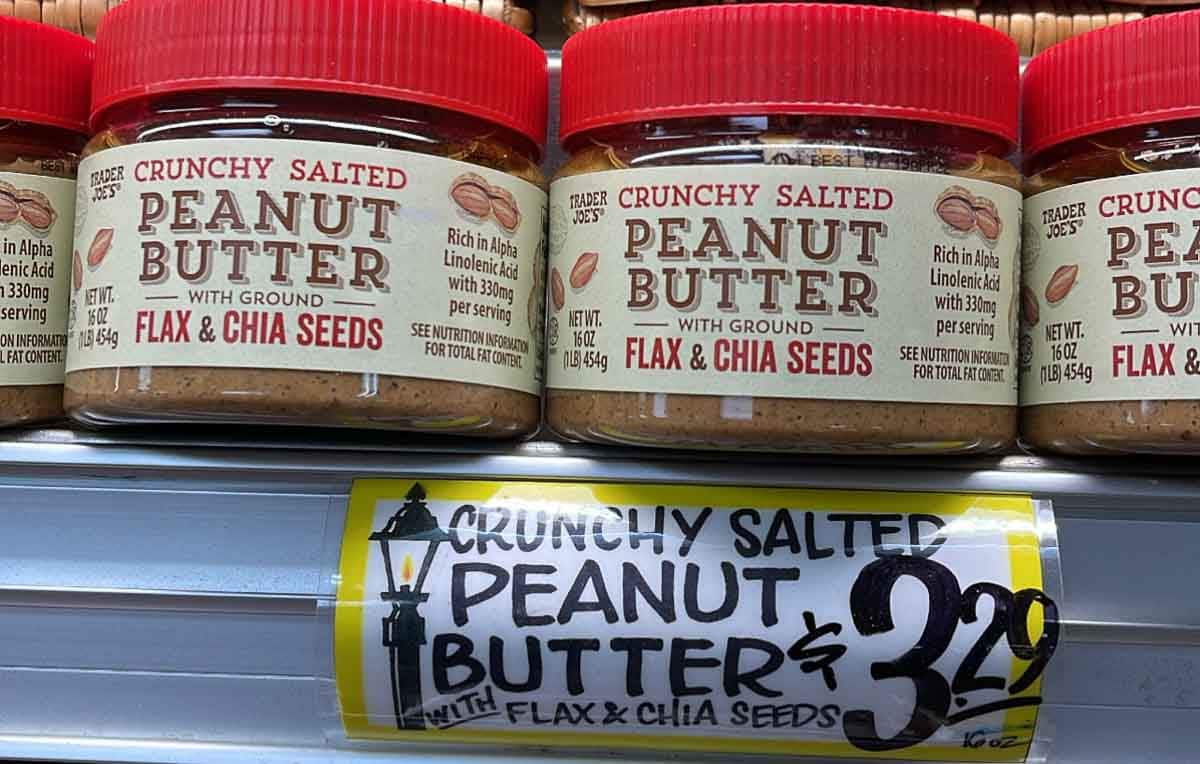 Nut Butter – Crunchy Salted Peanut Butter with Ground Flax & Chia Seeds
The humble peanut may be considered inferior to its pricey tree nut friends, but research shows peanuts yield similar health benefits. And this crunchy peanut butter offers even more benefits thanks to the addition of flax and chia seeds. Flax seeds are one of the best sources of the plant-based omega-3 alpha-linolenic acid (ALA). Chia seeds take the cake for most fiber, but are a good source of ALA as well.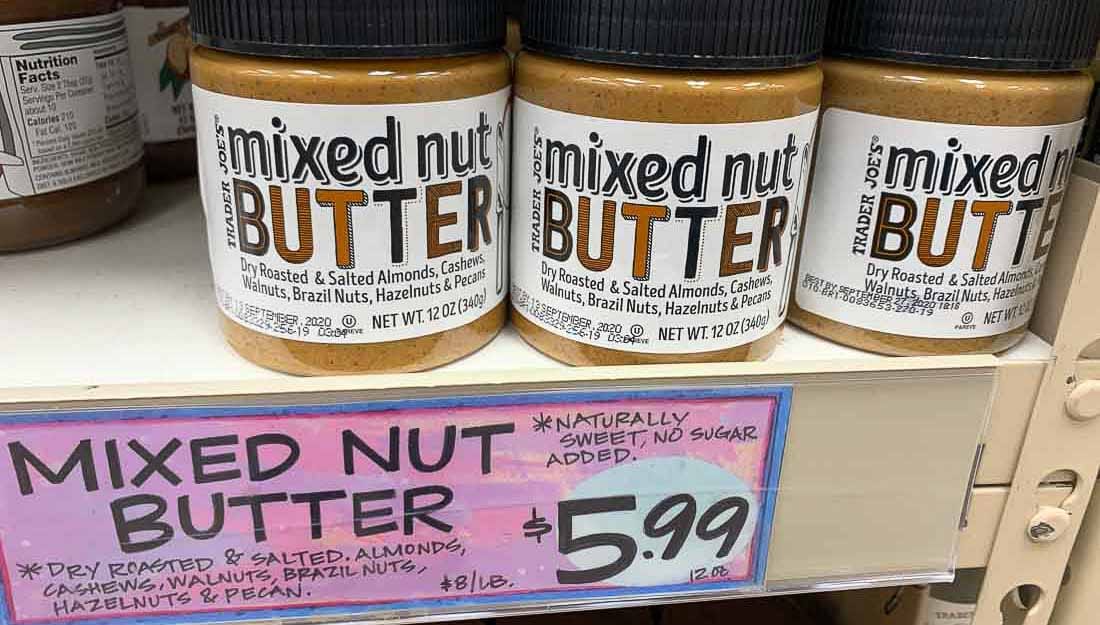 Nut Butter – Mixed Nut Butter
This nut butter is made from six different nuts: almonds, cashews, walnuts, hazelnuts, brazil nuts, and pecans. Each nut offers unique nutritional benefits, so getting a variety of nuts in one spoonful of nut butter is a dietitian's dream.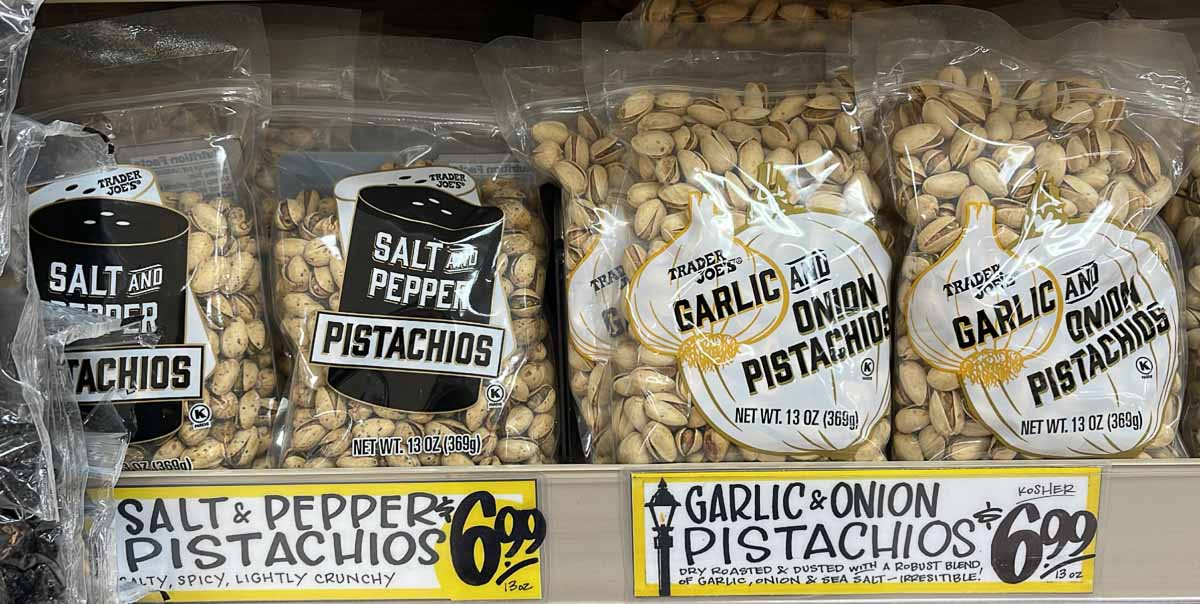 Pistachios
Pistachios are the most underrated nut. They are one of the lowest calorie nuts, are rich in fiber and protein, and have the highest amount of vitamin B6—important for energy production—of all the nuts. I'm not a huge fan of plain pistachios, so I love these salt and pepper and garlic and onion versions, which are both dry roasted.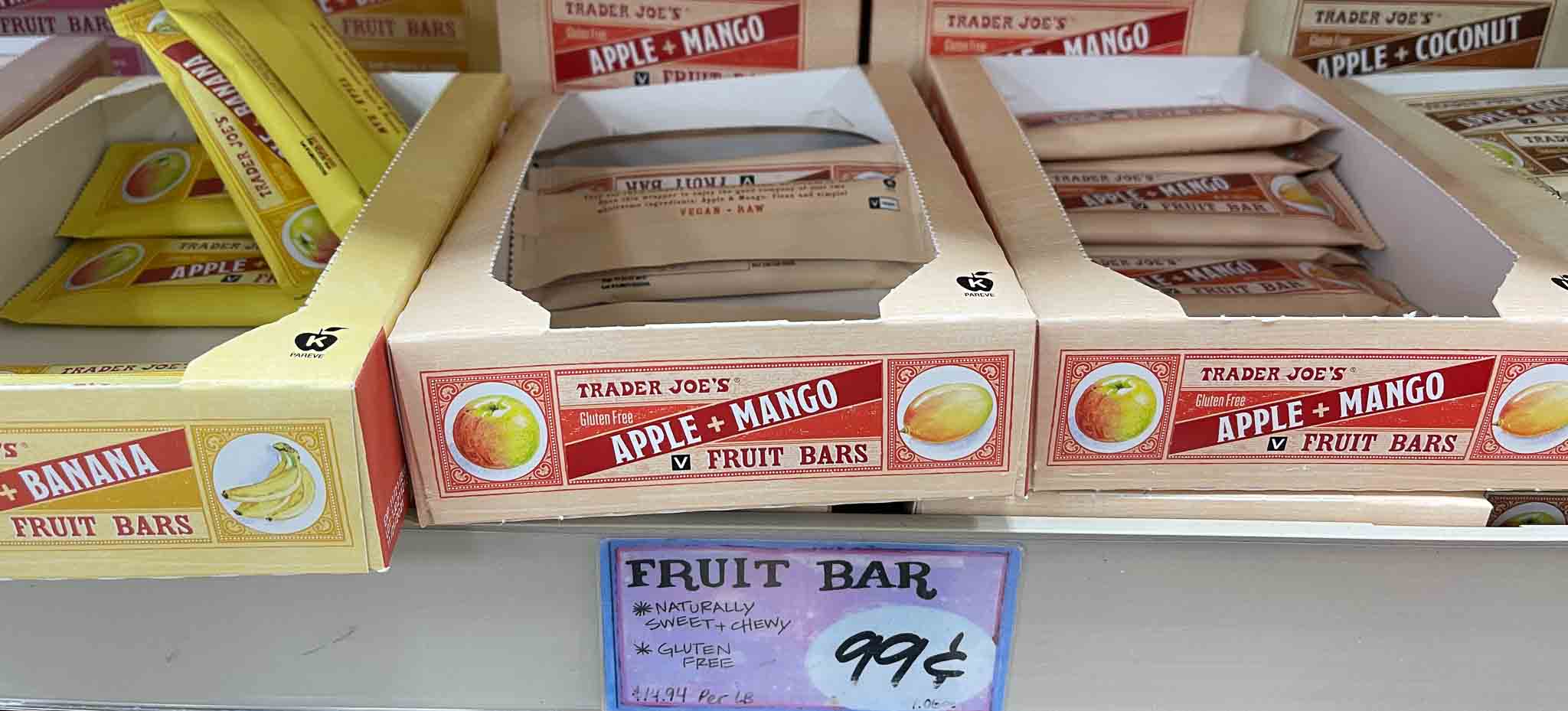 Pressed Fruit Bars
When That's It introduced pressed fruit bars to the world, my mind was blown. I just couldn't understand how they transformed fresh, whole fruit into a perfectly sweet and chewy, yet pricey bar. Then Trader Joe's came through (like they always do) with their own, cheaper version and I've been buying them ever since. They're literally just fruit—nothing else. They're a great source of fiber and perfect for taking on-the-go for breakfast or a snack. Their flavors include: Apple + Banana, Apple + Strawberry, Apple + Mango, and Apple + Coconut.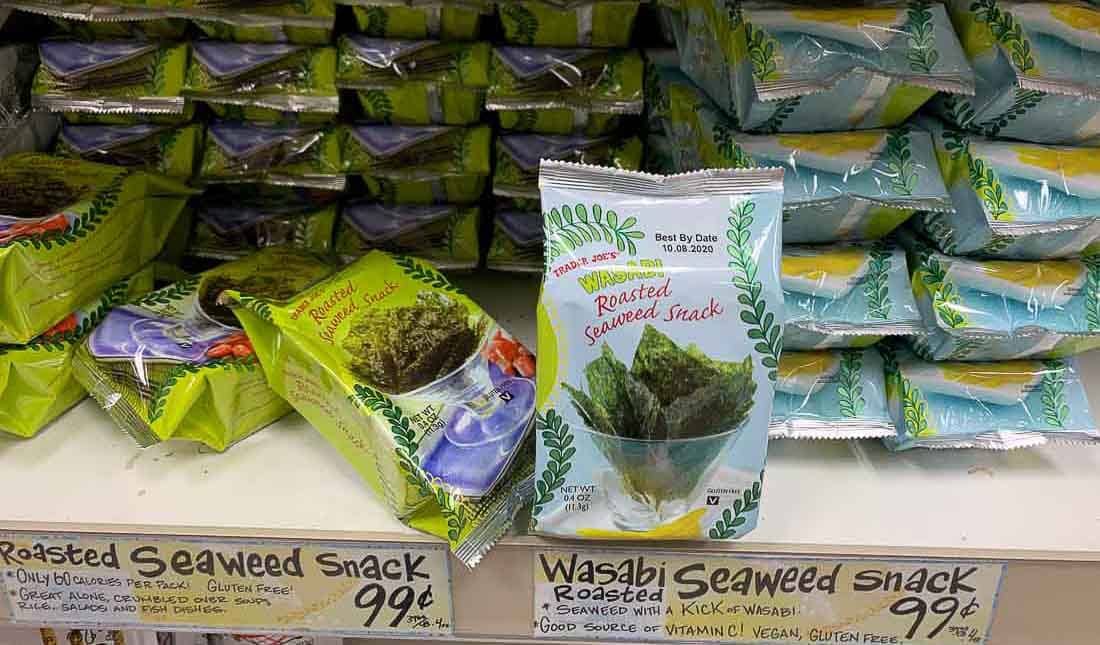 Roasted Seaweed Snacks
Much like the larger seaweed sheets that holds your sushi together, these snacks are made from seaweed that's pressed, roasted, and then cut into little sheets. Although these snacks might not sound appetizing, they're addicting. Plus they're super low in calories, high in vitamins A and C, and even have a little protein and fiber, too.
Healthy Trader Joe's Dips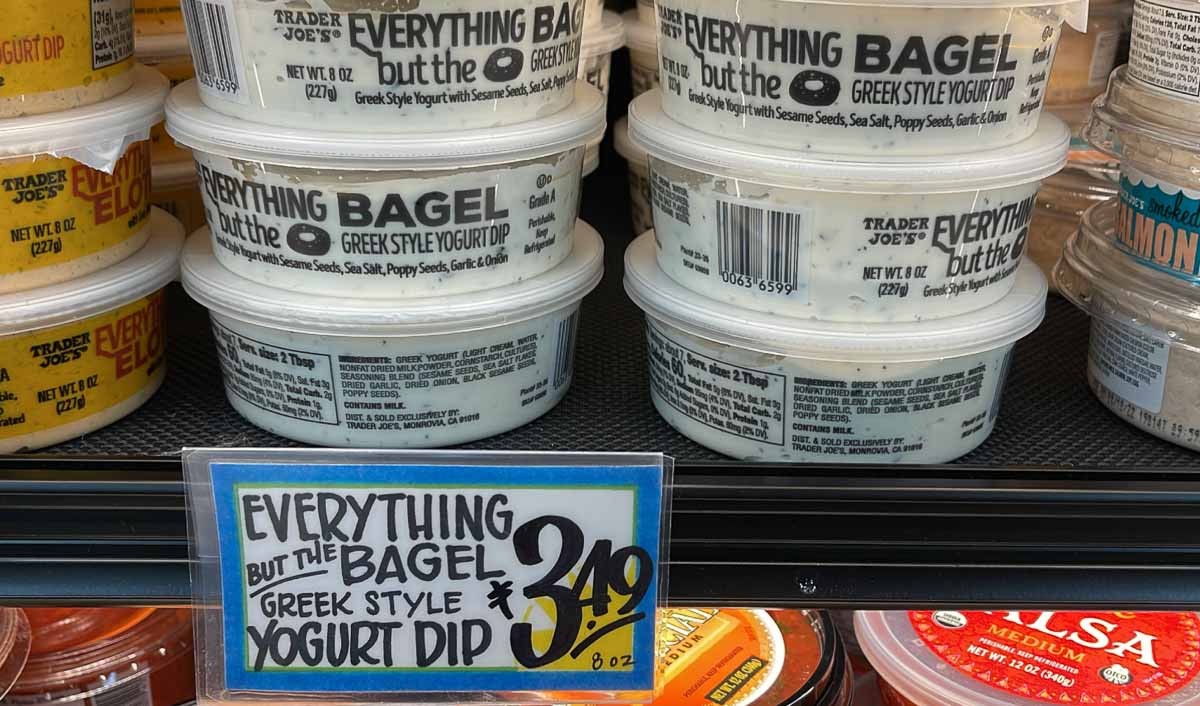 Everything But The Bagel Greek Style Yogurt Dip
This dip combines two of my favorite things—Trader Joe's famous Everything but the Bagel Seasoning and Greek yogurt—into one healthy yet delicious dip. Serve with sliced veggies, TJ's crispbreads, on bread, wherever and everywhere!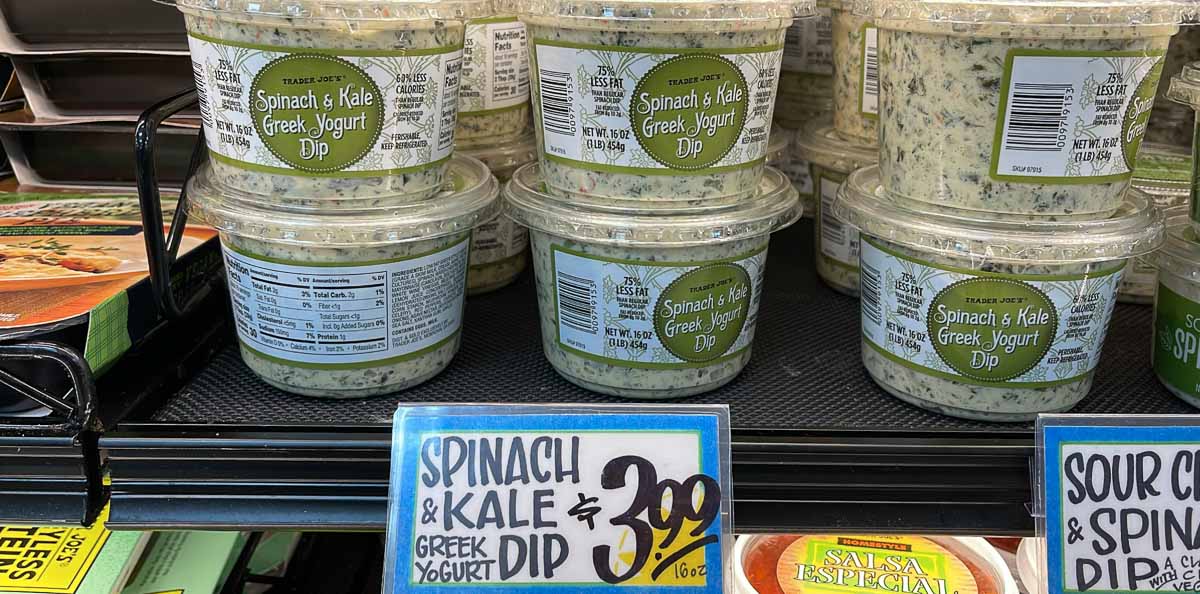 Spinach, Kale & Greek Yogurt Dip
Don't be fooled by the word "spinach"… traditional spinach dips are typically loaded with fat and calories. But Trader Joe's version is untraditional, with 60% less calories and 75% less fat than your typical spinach dip.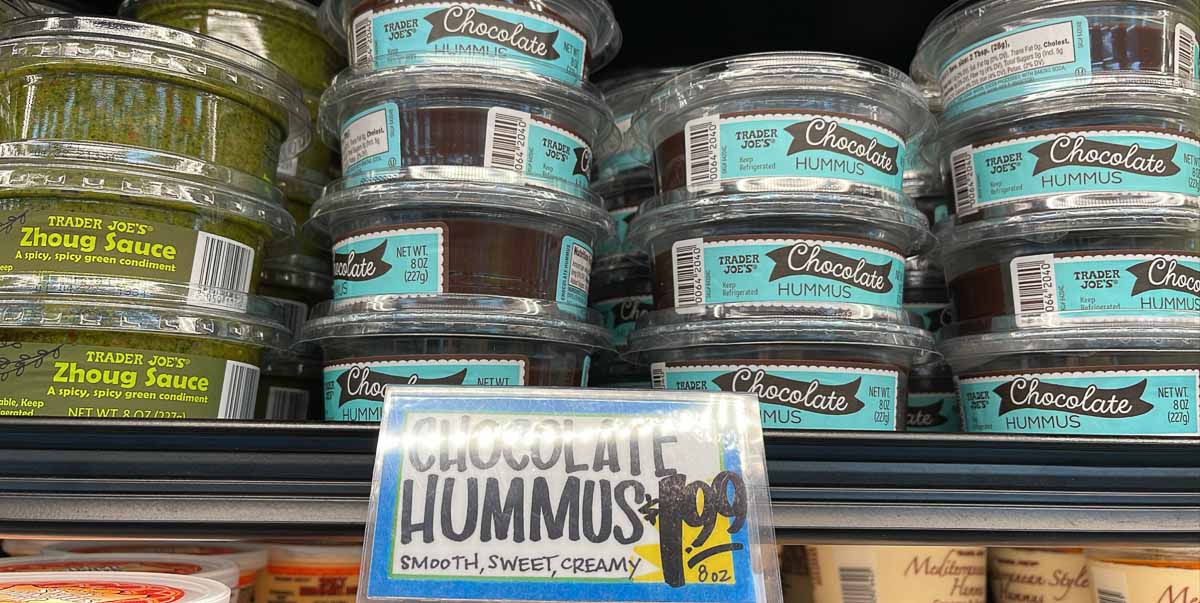 Chocolate Hummus
Sweet hummus sounds more interesting than it does tasty, but trust my when I say this sweet take on the classic Mediterranean spread is so delicious! And nutritious, too, since it's made with traditional hummus ingredients, like chickpeas and tahini. Serve it with fresh strawberries or on a banana, or simply eat it by the spoonful!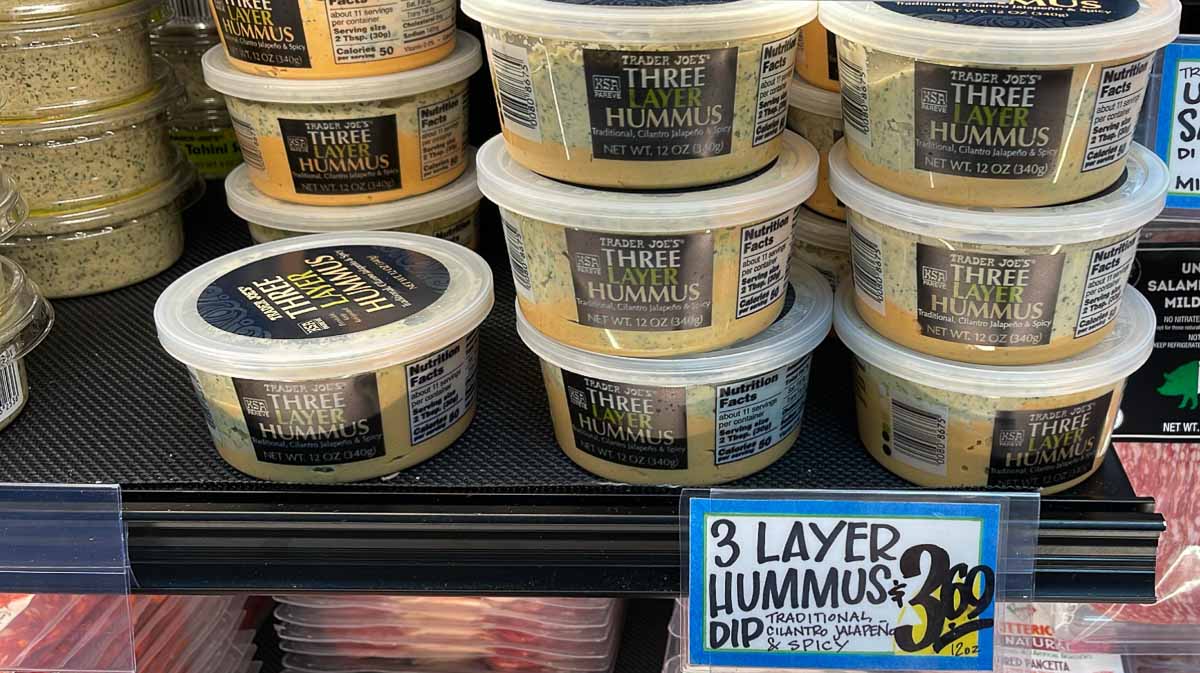 Three Layer Hummus
This hummus dip is exactly what its name says: three (delicious) layers of hummus in one container. You've got traditional, cilantro jalapeno, and spicy! Pair it with veggies for a healthy snack or use it as a spread for your sandwiches and wraps.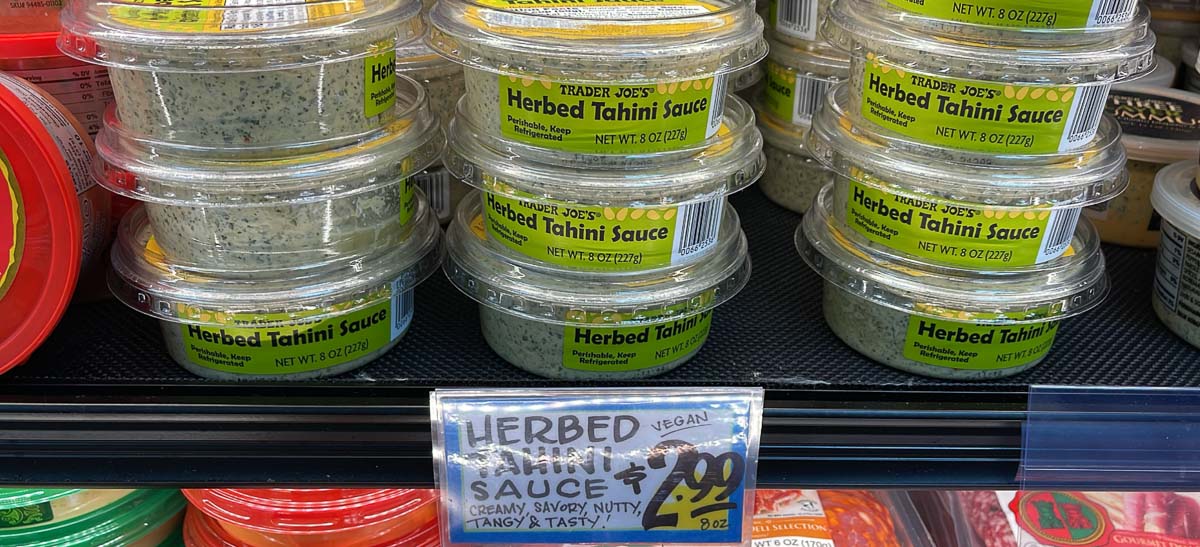 Herbed Tahini Sauce
Tahini—aka sesame seed butter—serves as the base for this creamy, herby, dairy-free sauce. Serve it over roasted vegetables, on a salad, in a sandwich or wrap—the possibilities are endless!
Healthy Trader Joe's Condiments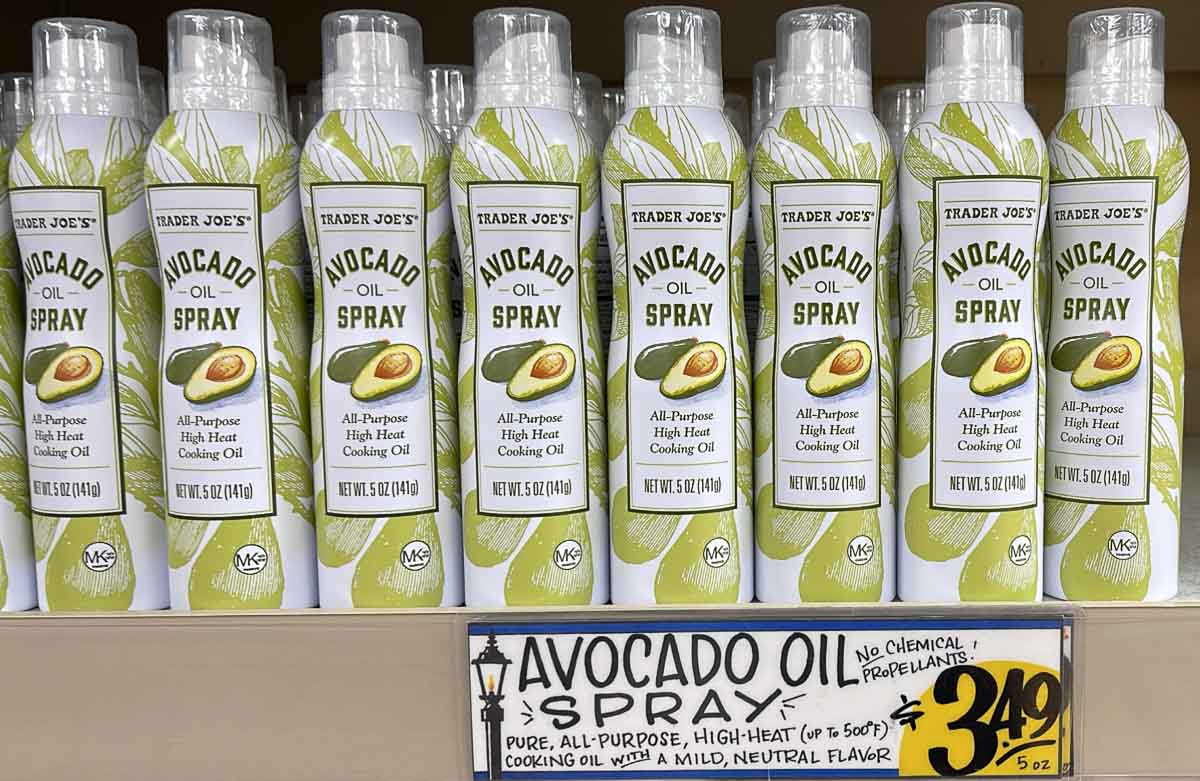 Avocado Oil Spray
Avocado oil is a neutral-flavored oil that is rich in heart-healthy monounsaturated fats and has a high smoke point. Unfortunately, even the spray form of it often comes at a hefty price point, but not at Trader Joe's!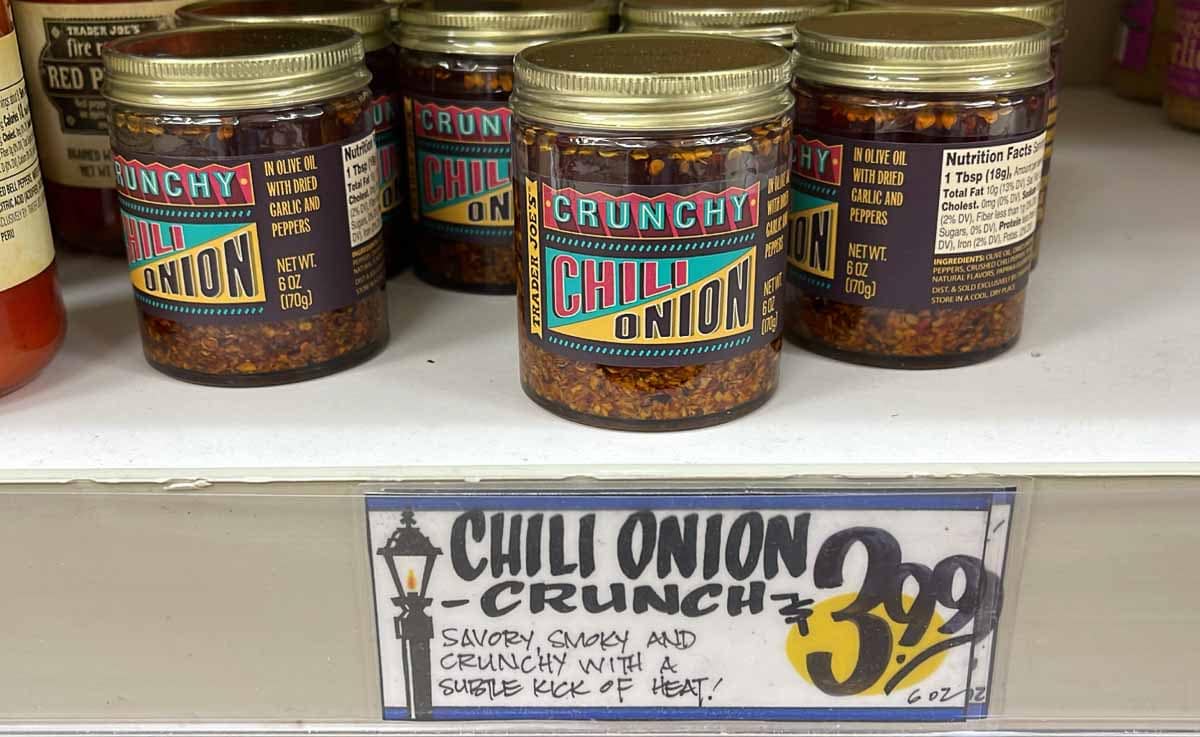 Chili Onion Crunch
Meet your newest favorite condiment. Made of a blend of olive oil and dried onions, garlic, red bell peppers, and chili peppers, this chili onion crunch adds a bold, slightly spicy and irresistible flavor to just about anything. It works especially well for elevating boring roasted veggies and proteins.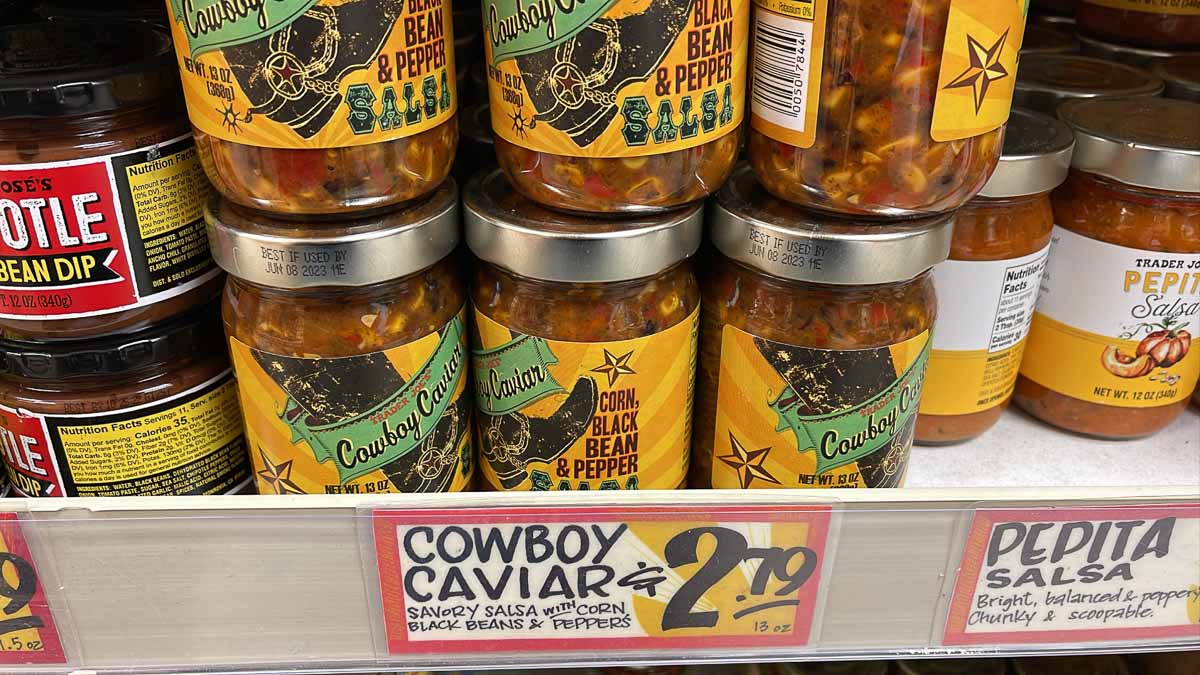 Cowboy Caviar Salsa
An untraditional salsa that's heavy on the corn and beans and packed with chipotle flavor from chipotles in adobo. Scoop it up with some tortilla chips or use it as toping for your tacos, burger, grilled chicken, and more!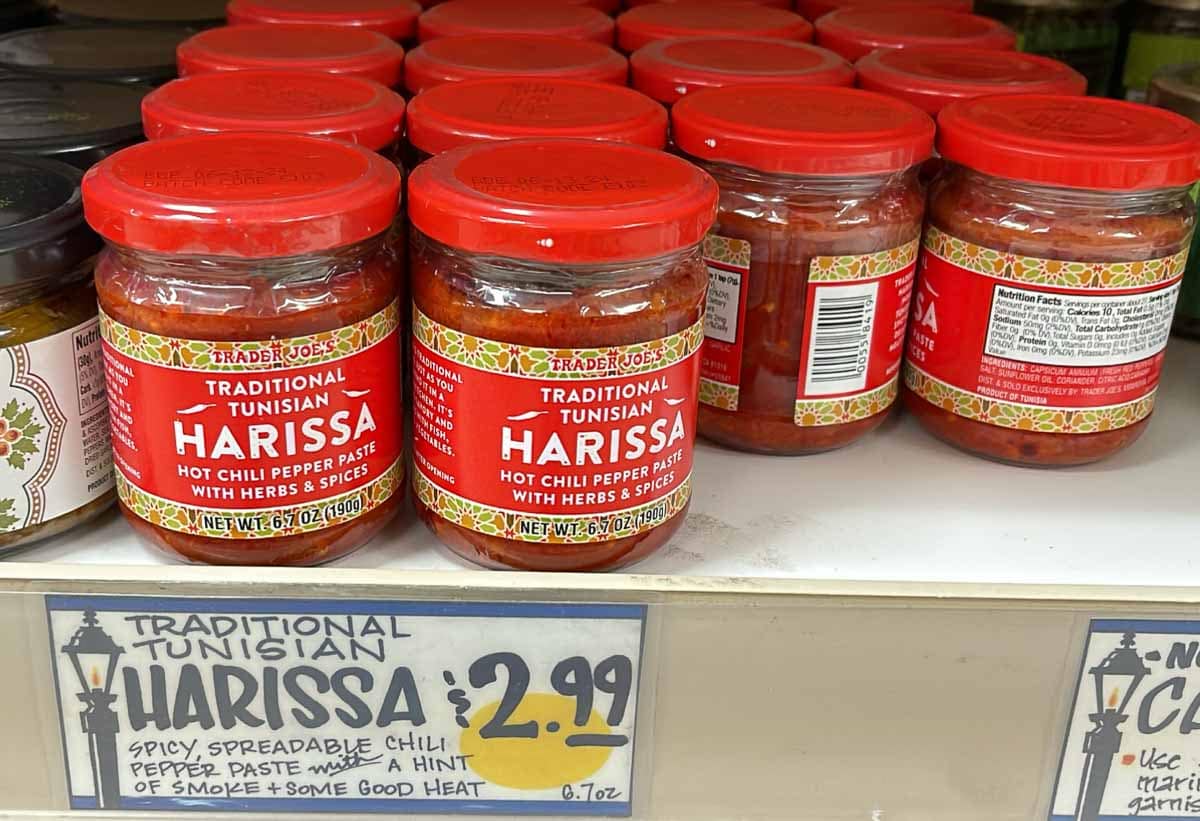 Harissa Paste
Harissa is a spicy North African red chile paste made of red peppers and spices. It's got a nice kick to it and is a staple in many North African and Middle Eastern dishes. I love to add it to shakshuka, a one-skillet breakfast, brunch, or breakfast-for-dinner of eggs poached in a spiced tomato sauce.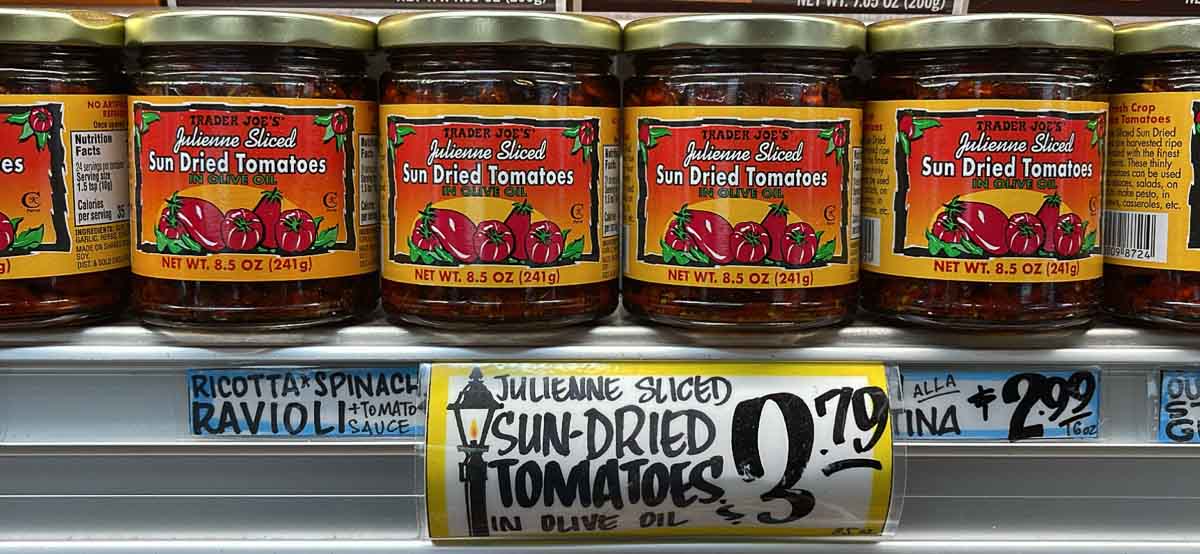 Julienne Sliced Sun Dried Tomatoes in Olive Oil
Sun dried tomatoes add flavor and depth to a variety of dishes, like pastas, salads, and pasta salads. These are jarred in olive oil, which you can drain out as you use them or incorporate it into your dishes by cooking with it or using it in a dressing or marinade.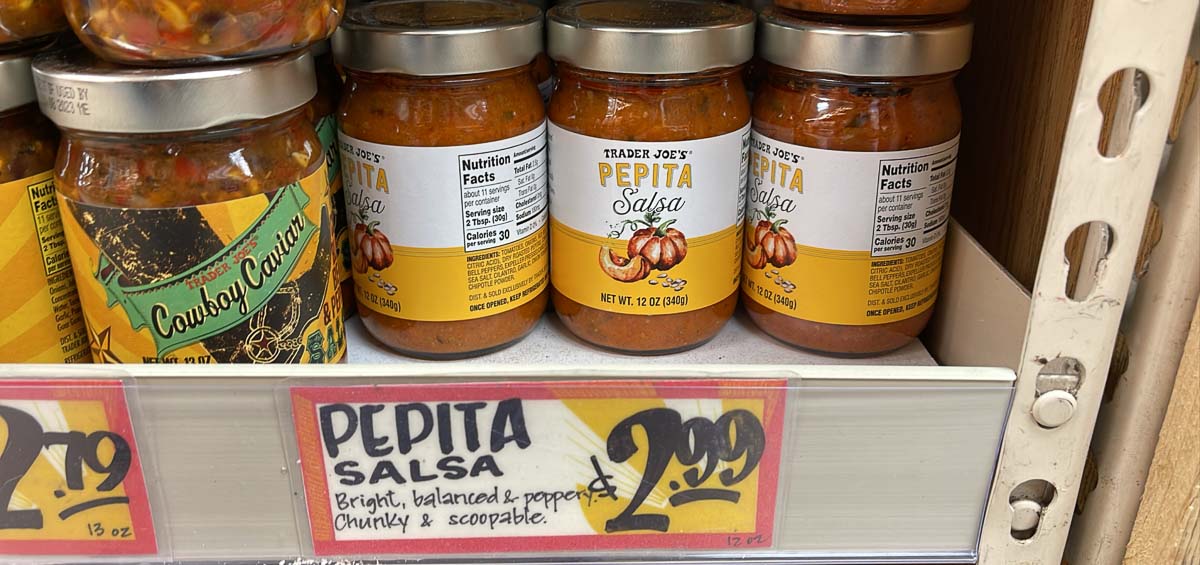 Pepita Salsa
A chunky salsa made from classic salsa ingredients, like tomato and onion, and not-so-classic ingredients, like pepitas (aka pumpkin seeds) and chipotle powder. It's got a bit of a kick to it but it's my favorite salsa at Trader Joe's!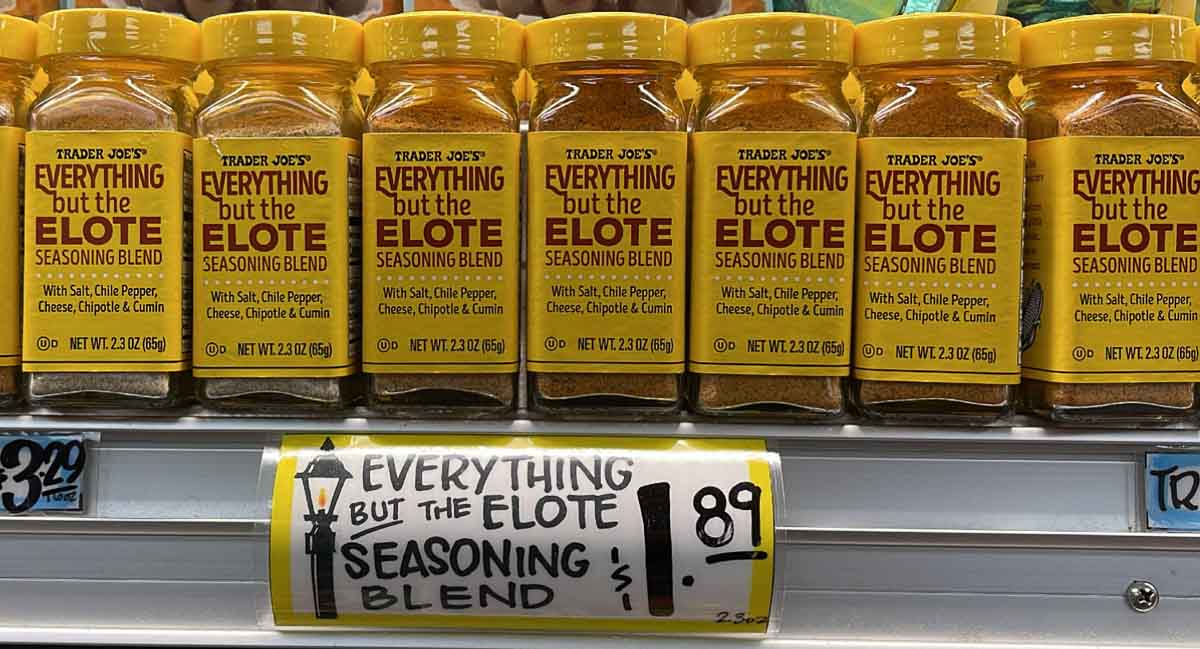 Seasoning Blends
Trader Joe's has an amazing selection of seasoning blends that can instantly elevate your dishes. Their famous Everything but the Bagel seasoning is a personal favorite, and their Chili Lime seasoning is a close second. I also love their Umami seasoning blend, made from porcini and white button mushroom powders, and their Everything but the Elote seasoning, which includes all the flavors associated with Mexican street corn (aka elote), like chile pepper, chipotle, and cheese.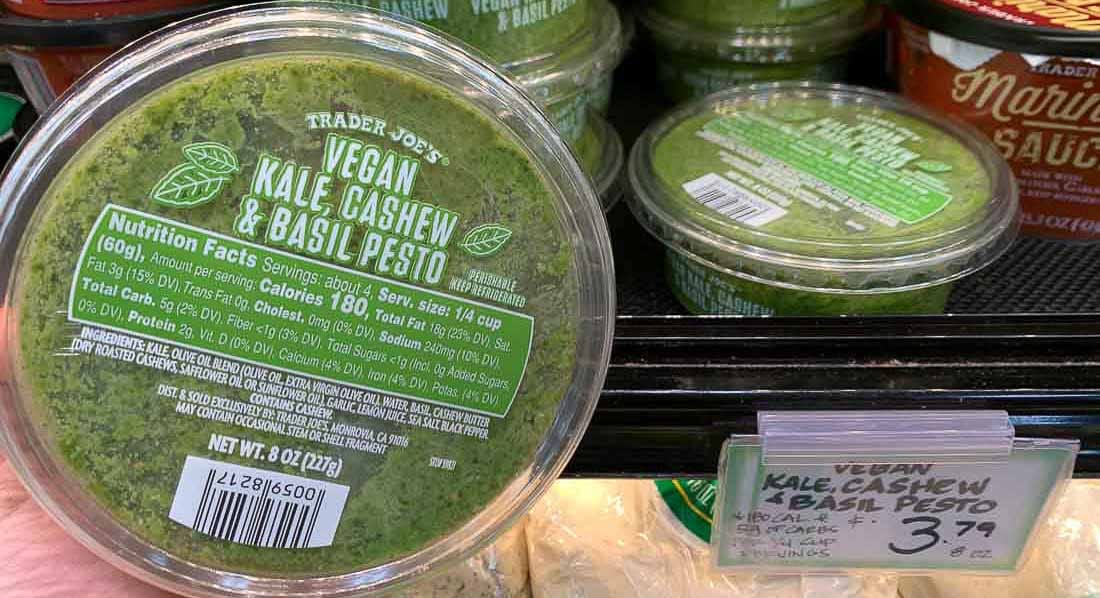 Vegan Kale, Cashew & Basil Pesto
Even omnivores will fall in love with this vegan pesto. It's as good as, if not better than, regular pesto and is packed with healthy fats. Use it as a pasta sauce, on eggs, in a sandwich, and on pizzas, salads, and more.
Healthy Trader Joe's Miscellaneous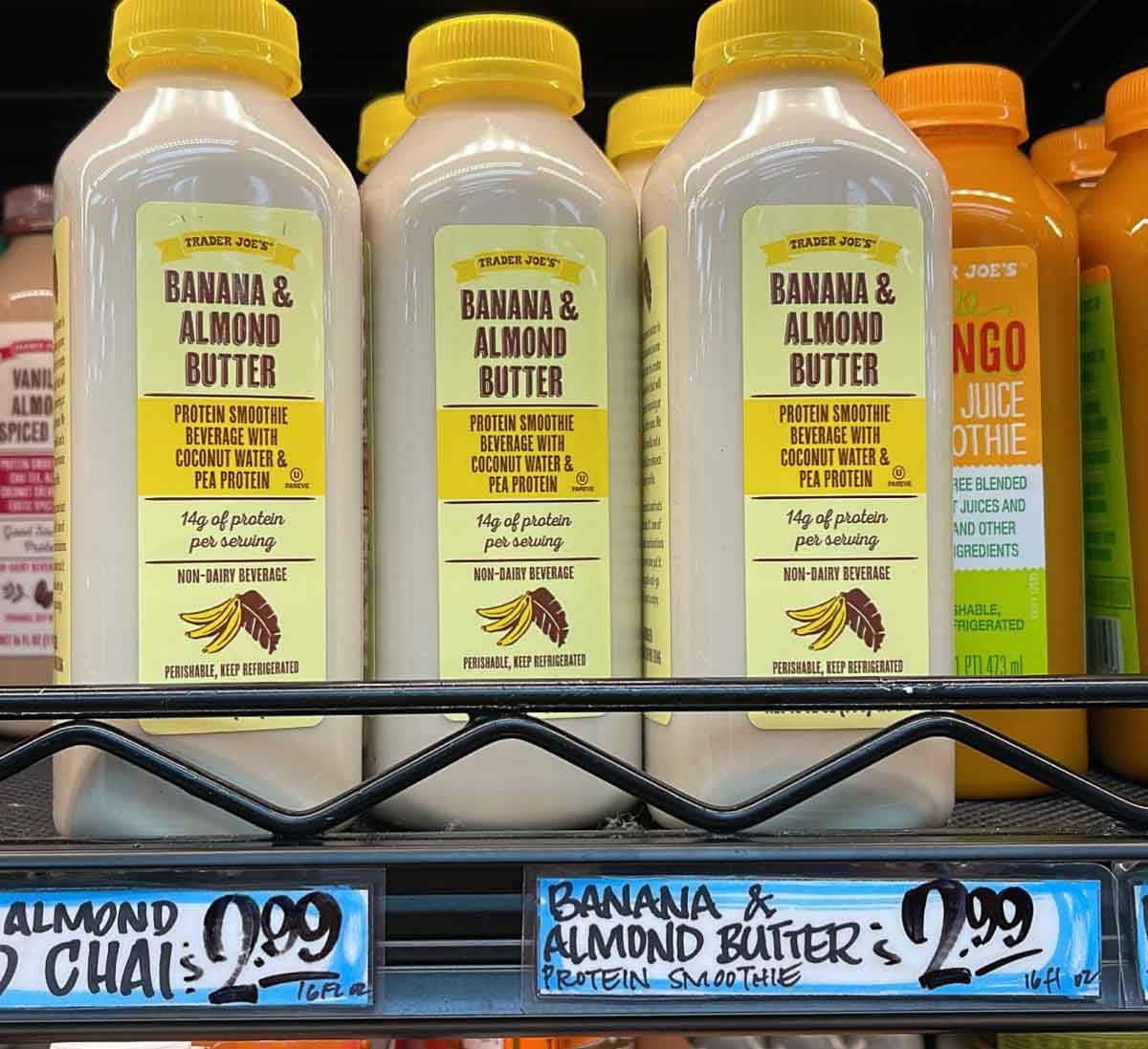 Banana & Almond Butter Protein Smoothie
I'm normally not one to recommend store-bought smoothies, as they tend to be high in sugar, but this one is an exception. It has no added sugar and is sweetened completely by banana puree and coconut water. Plus, it offers 14 grams protein and 5 grams fiber!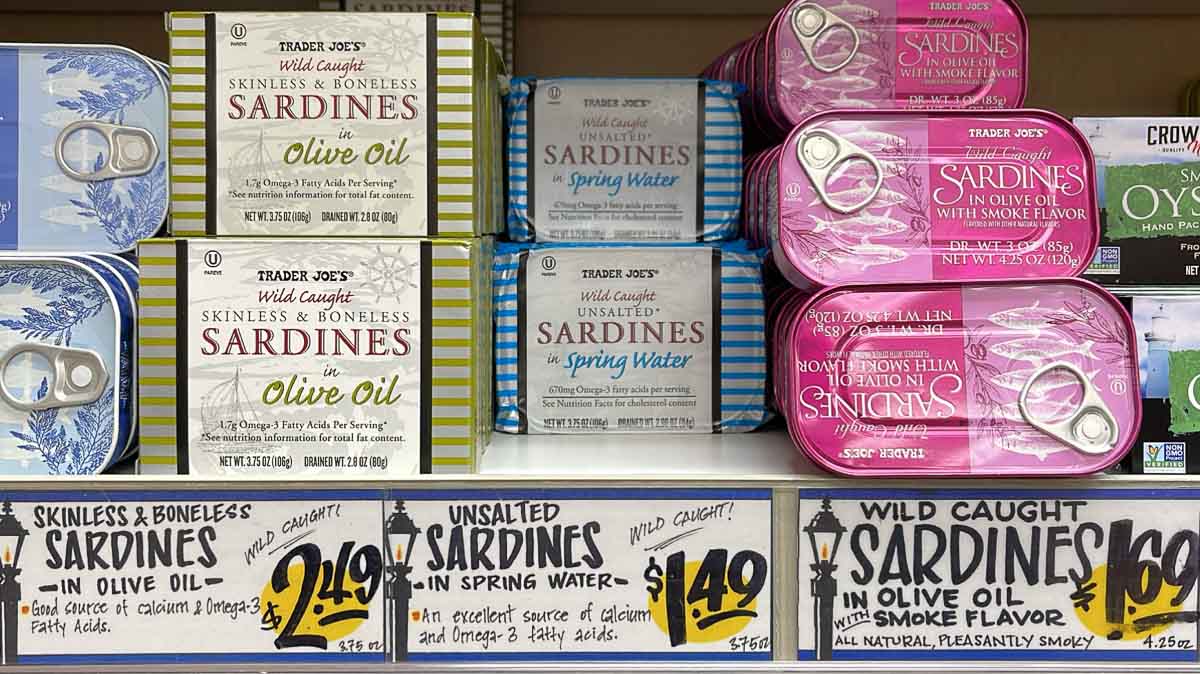 Canned Sardines
Sardines are little wonder fish—they're rich in protein, heart-healthy omega-3's and a variety of vitamins and minerals, including calcium and vitamin D, and have one of the lowest levels of mercury among fish.

Chicken Sausage Assortment
Trader Joe's selection of chicken sausages is on point. I'm partial to the spicy jalapeno flavor, but the organic sweet Italian is a close second. These high-protein, fully-cooked sausages just need to be re-heated before adding them to veggie spirals, quinoa, cauliflower stir fry, or whatever your heart desires.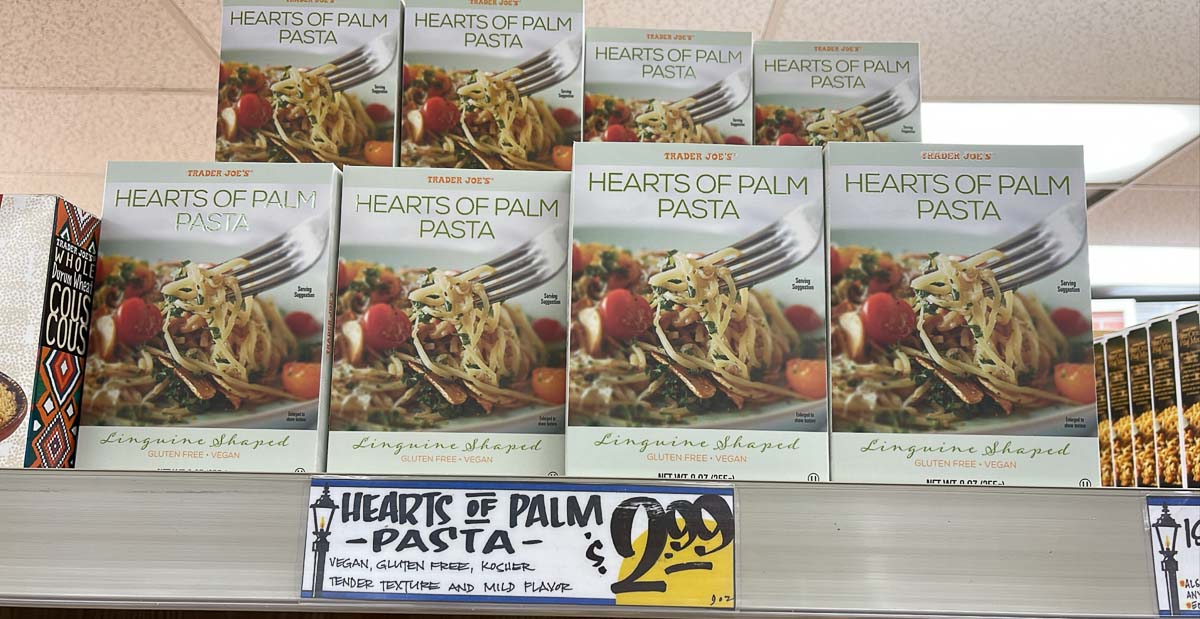 Hearts of Palm Pasta
A Trader Joe's gluten-free favorite, this best-selling pasta isn't technically pasta, but rather pasta-shaped hearts of palm. Made from just one ingredient—hearts of palm, obviously—this "pasta" has only 20 calories and 4 grams carbohydrate per serving, which is about one-tenth of the calories and carbs a serving of wheat-based pasta contains.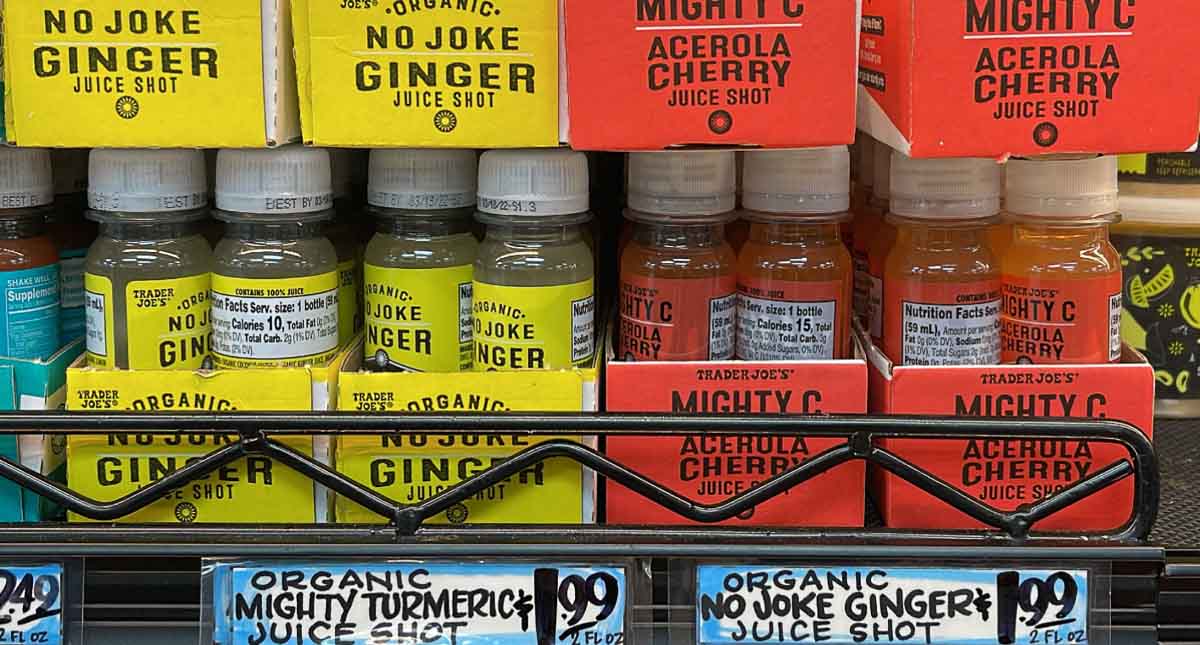 Juice Shots
Look, wellness shots won't bring about any miracles, but ginger shots, like Trader Joe's No Joke Ginger Shot, may have some benefits (you can read more about ginger shots here: Ginger Shot Benefits: Are Ginger Shots Good for You?). As for their Mighty C Acerola Cherry Juice Shot, it provides over 1000% (yes, with three zeros) of your daily vitamin C needs.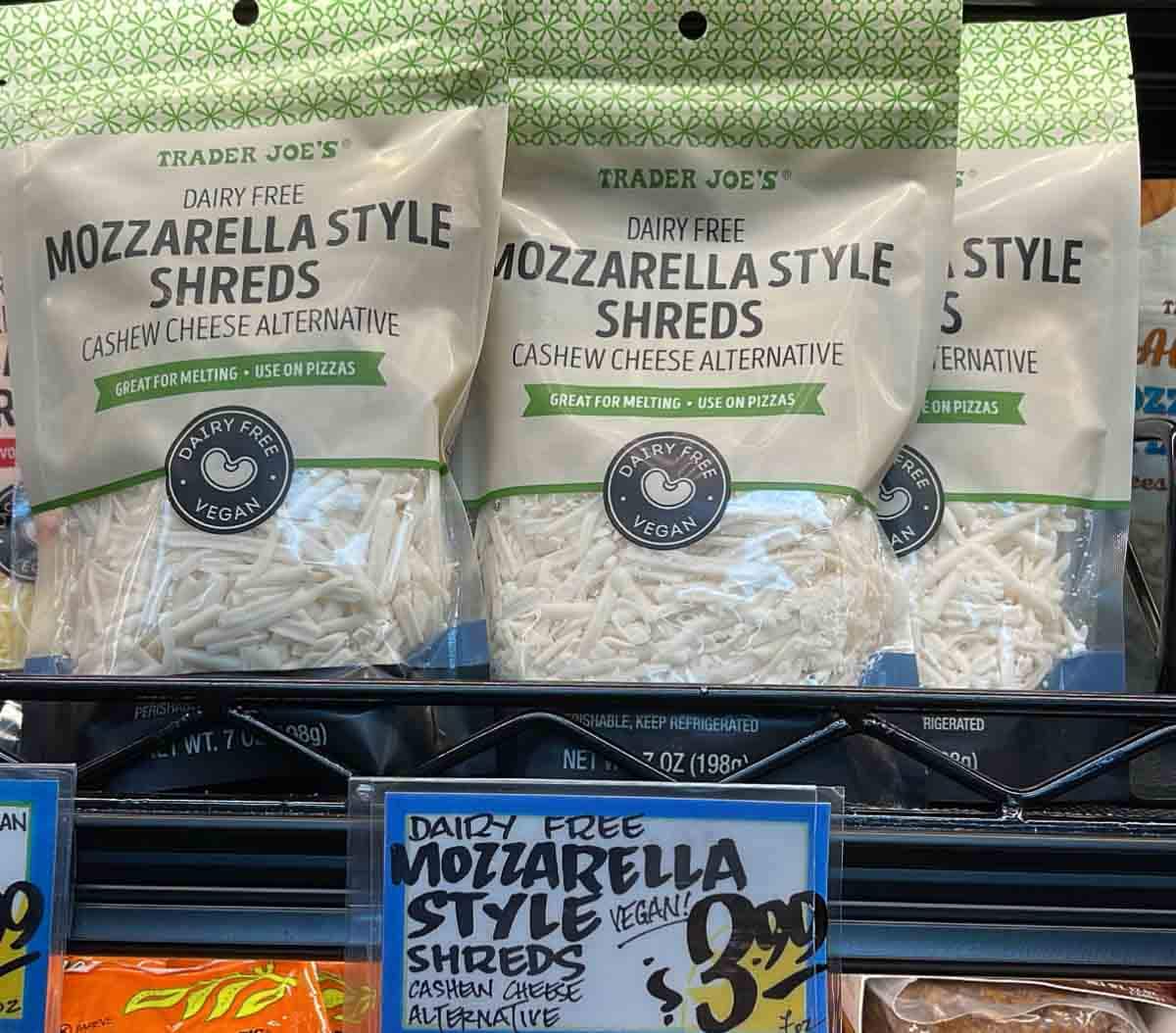 Mozzarella Style Shreds
If you love cheese but it doesn't love you back, Trader Joe's has a great dairy-free alternative for you! These mozzarella-style shreds may be made from cashews but they taste a lot like cheese, and melt like it, too. Although this cheese doesn't offer any protein, it's still a good option for those who want a little cheese in their life but choose to avoid dairy cheese for whatever reason.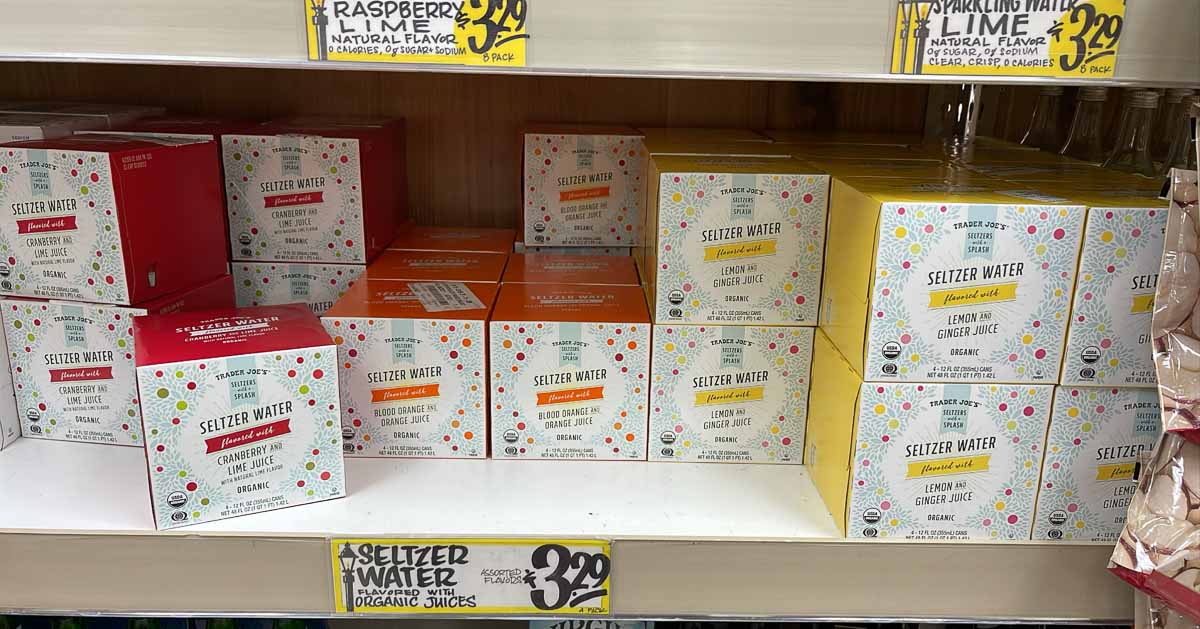 Seltzer Waters
These are no ordinary seltzer waters. Trader Joe's line of "Seltzers with a Splash" is comparable to Spindrift. As the name implies, they are seltzer waters with a splash of fruit juice for flavor. They come in delicious flavors like Blood Orange, Lemon & Ginger, and Cranberry & Lime.
That's all for now!
Keep in mind, just because something isn't on the list doesn't mean you shouldn't buy it. There are hundreds of healthy foods at Trader Joe's, like fresh vegetables, Greek yogurt, eggs, and more. I just wanted to call out the less obvious ones.
Before you go, be sure to grab your copy of my FREE printable healthy Trader Joe's shopping list above if you haven't done so already!
I'd love to know what food items from this healthy Trader Joe's shopping list are your favorites! Let me know in the comments section below!
This post may contain affiliate links, which means I may receive a small commission if you purchase through those links. I only recommend products that I know, trust and love! Thank you for your support!