The Ultimate Healthy Trader Joe's Shopping List (Updated for 2022): Over 50 Dietitian-Approved Food Items
Call me crazy, but I'd choose shopping at Trader Joe's over DSW any day of the week. I feel like a kid in a candy store when I'm walking down a TJ's aisle and see lentil pasta for $2.99 on my left and everything but the bagel seasoning for $1.99 on my right. Dramatic? I think not! You really can't beat their low prices and wide variety of can't-find-anywhere-else food items (hello, cauliflower gnocchi).
Trader Joe's is THE mecca for healthy, affordable food products, which is why nutritionists and dietitians (like me) love it.
Before you dig in to my top 50 list of favorite healthy Trader Joe's foods, I created a totally FREE guide complete with Trader Joe's shopping tips, a 7-day healthy meal plan WITH recipes, and a grocery list. Grab your copy below!
I don't want to keep you waiting much longer… so, without further ado, here are my TOP 50 favorite healthy finds at Trader Joe's. And let me tell ya, it was extremely difficult to narrow it down to just 50 things.
Healthy Trader Joe's – Produce Section
Salad Dressings
Let's start with a fan favorite, this trio of delicious salad dressings. I couldn't single out just one because there's not one that outshines the others. They're all made with minimal ingredients and are low in calories and fat, so feel free to drench those salad greens. Comes in three flavors: Green Goddess, Almond Butter Turmeric, and Carrot Ginger Miso.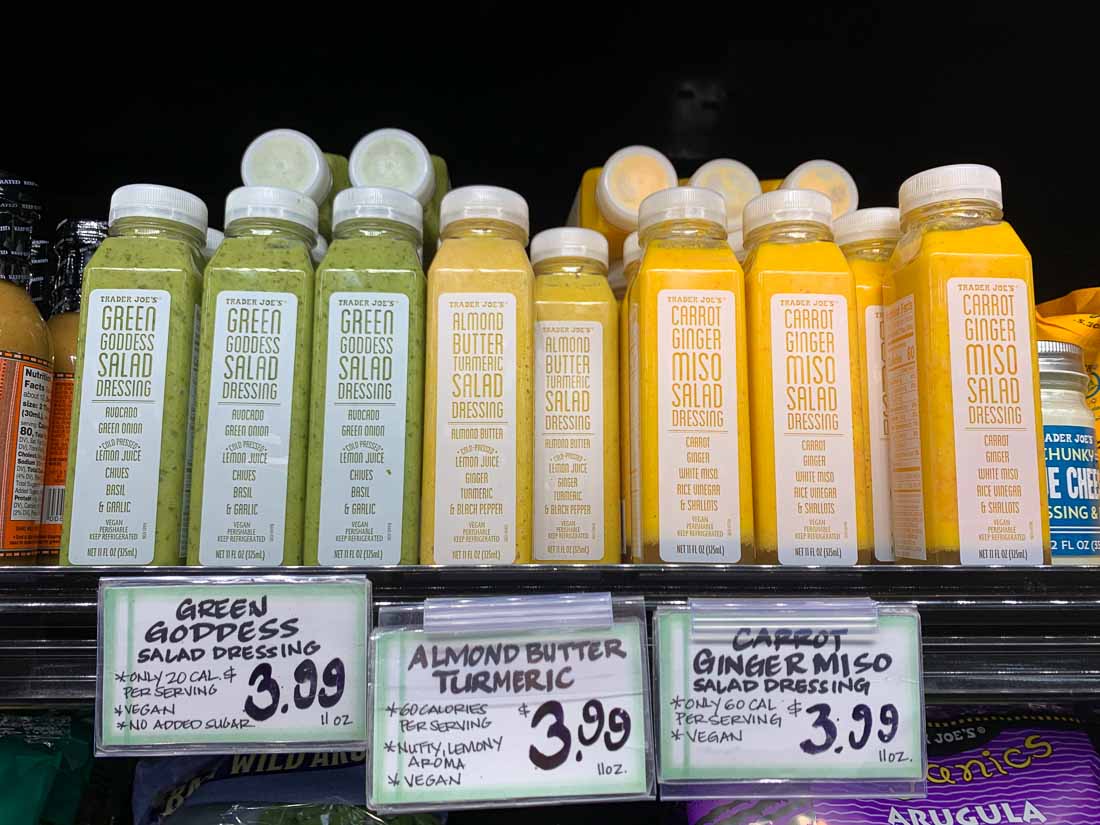 Cruciferous Crunch Mix
It's a balanced mix of, you guessed it, cruciferous veggies: kale, Brussels sprouts, broccoli, and green and red cabbage. Use it to add texture and crunch to a salad, in a slaw, on a sandwich, in a wrap… the possibilities are endless.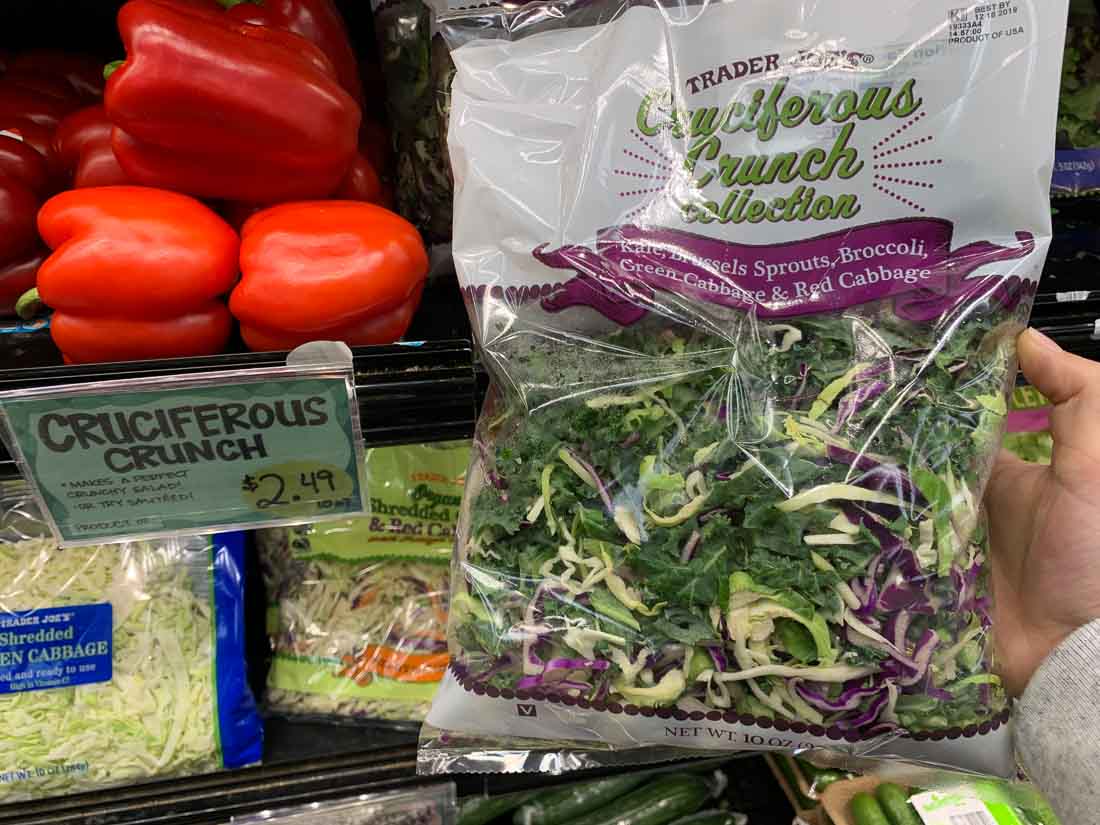 Mini Peppers
I've been a longtime fan of mini peppers. They're great as a snack, for dipping into hummus or one of (what feels like) millions of other Trader Joe's delicious dips. You can also use them as a base for mini bell pepper "nachos" aka your new favorite healthy gameday snack.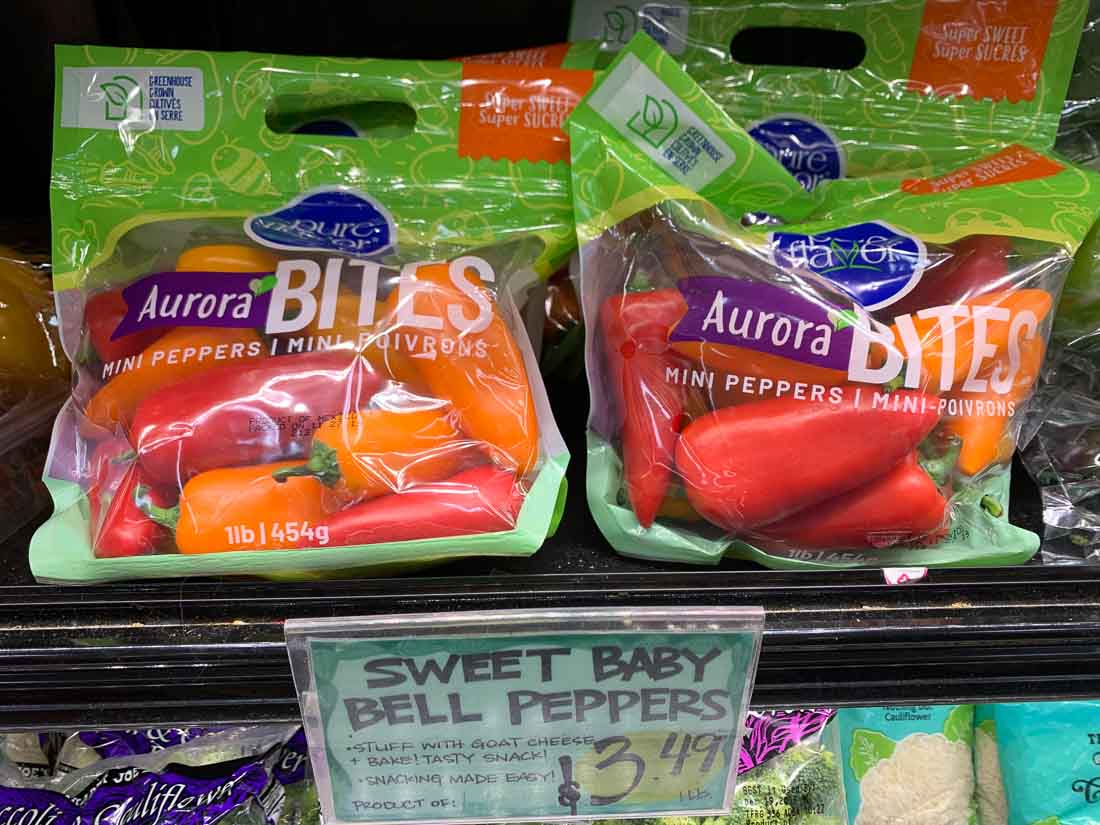 Potato Medley
Weird, I know. Potatoes get a bad rap, but they're a good source of fiber, vitamins, and minerals. I especially love potatoes in mini, colorful form, because they're easier to cut and brighten up your plate. Serve them alongside meat, poultry, seafood, or even in a salad.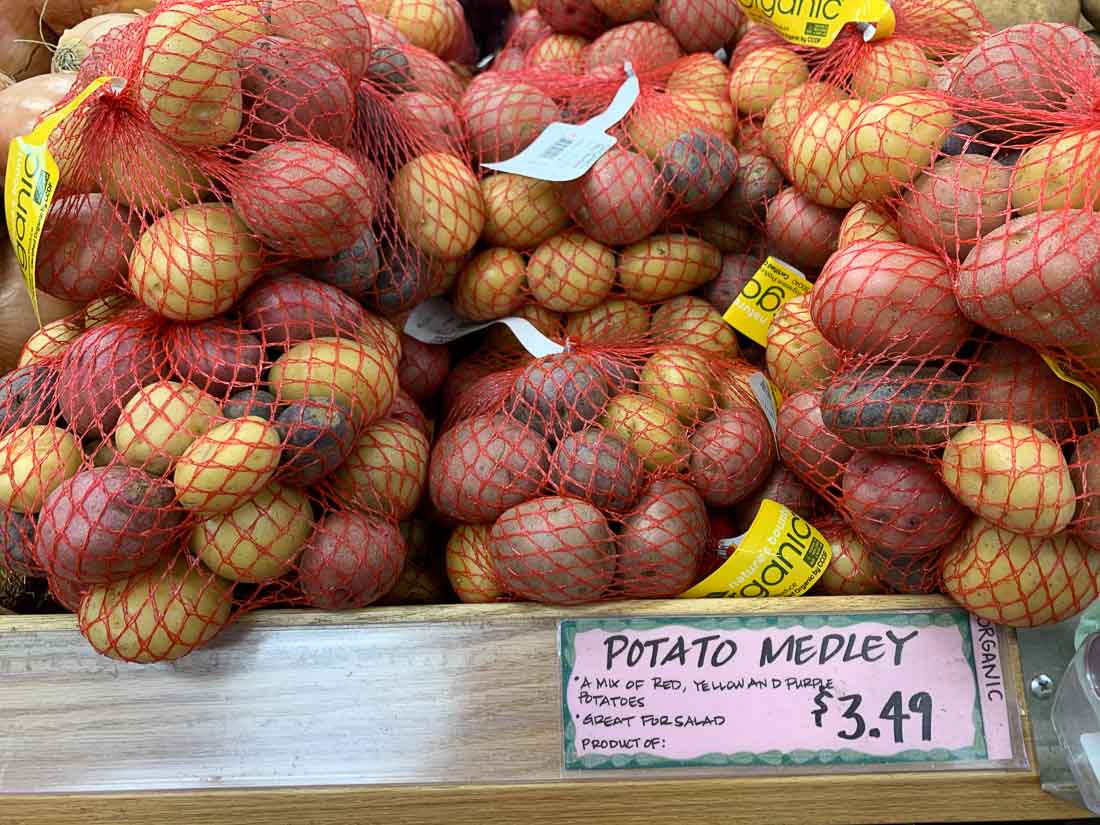 Jicama Sticks
Jica-what-now?! Jicama is a round root vegetable with a slightly sweet flavor and a ton of fiber. Trader Joe's did the peeling and cutting part, now all you have to do is the dipping part. These jicama sticks are perfect as snack when paired with any of the dips listed in the "Dips" section.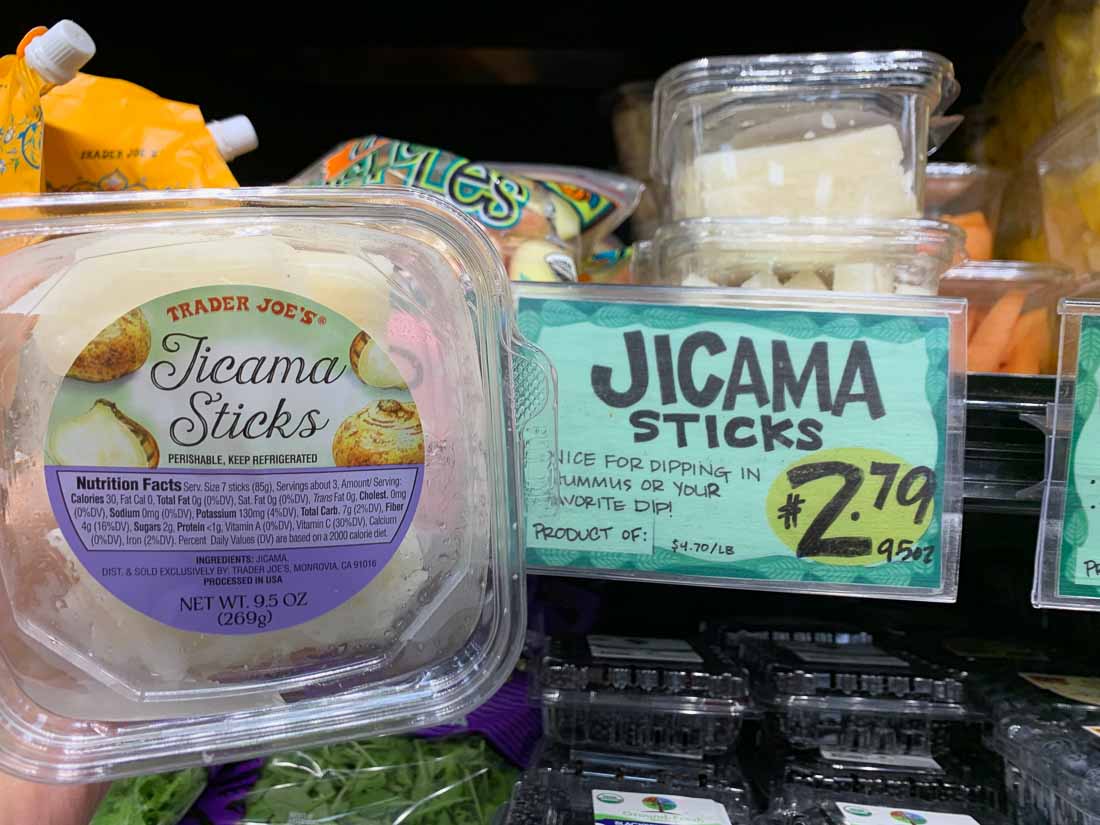 Steamed Lentils
Why am I listing these in the produce section? Well, because you can find them in the produce section at Trader Joe's! Cooking lentils on a weeknight can feel like a P.I.T.A. TJ's does all the work for you so you can enjoy this fiber-rich. plant-based protein in a jiffy!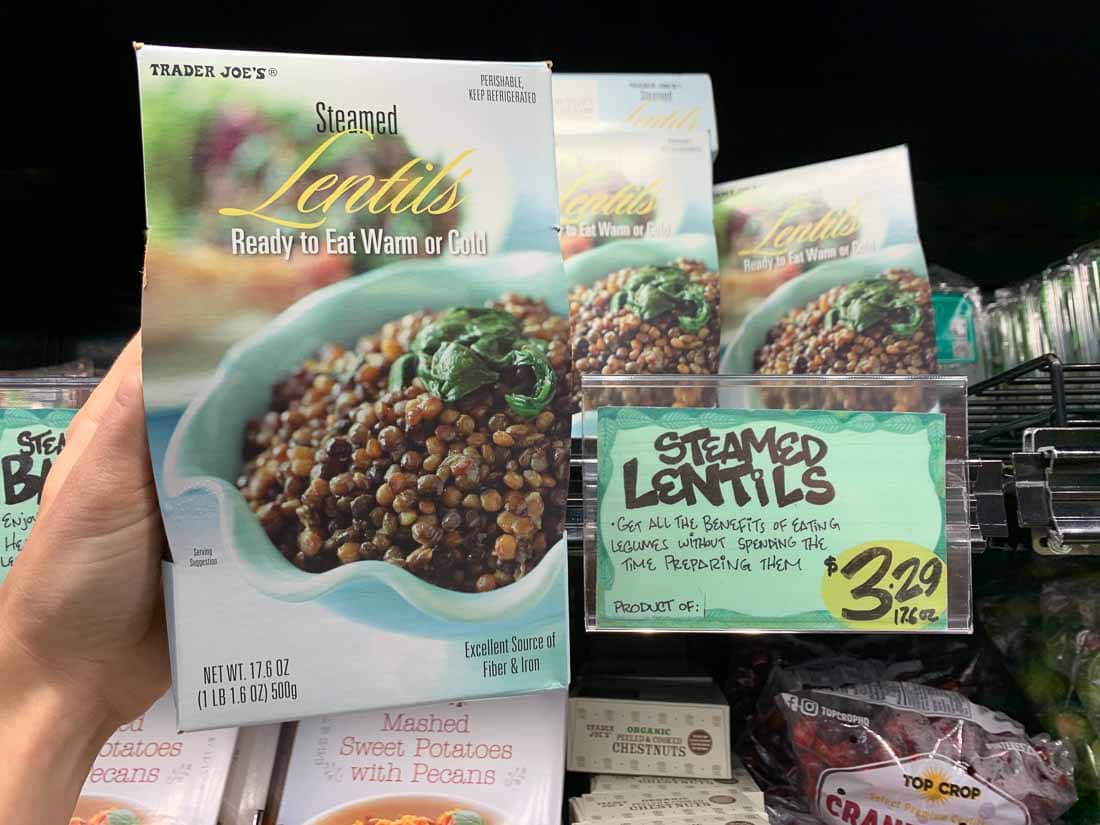 Healthy Trader Joe's – Nuts & Dried Fruits
Salt & Pepper Pistachios
Pistachios are so underrated. They're the perfect fiber- and protein-rich snack (and according to the sign at TJs, a good source of calcium and folate, too). Plus, you can eat pistachios til you're blue in the face without feeling overstuffed because there are 49 pistachios in a serving… FORTY-NINE. I don't like my pistachios plain, so I love the added salt and pepper seasoning. If you're not a pepper fan, they also have just salted pistachios.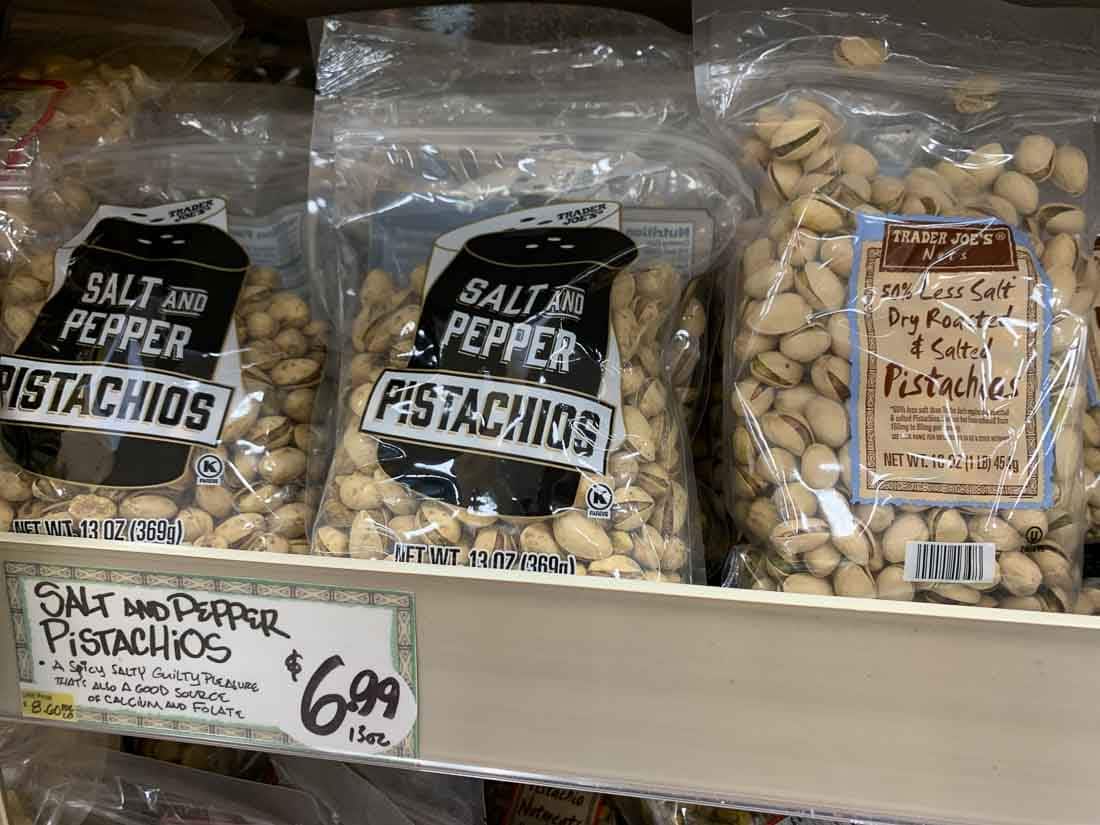 Just Mango Slices
As the name implies, these are literally just. mango. slices. That's it. These dried mango slices are chewy and sweet with some fiber, too.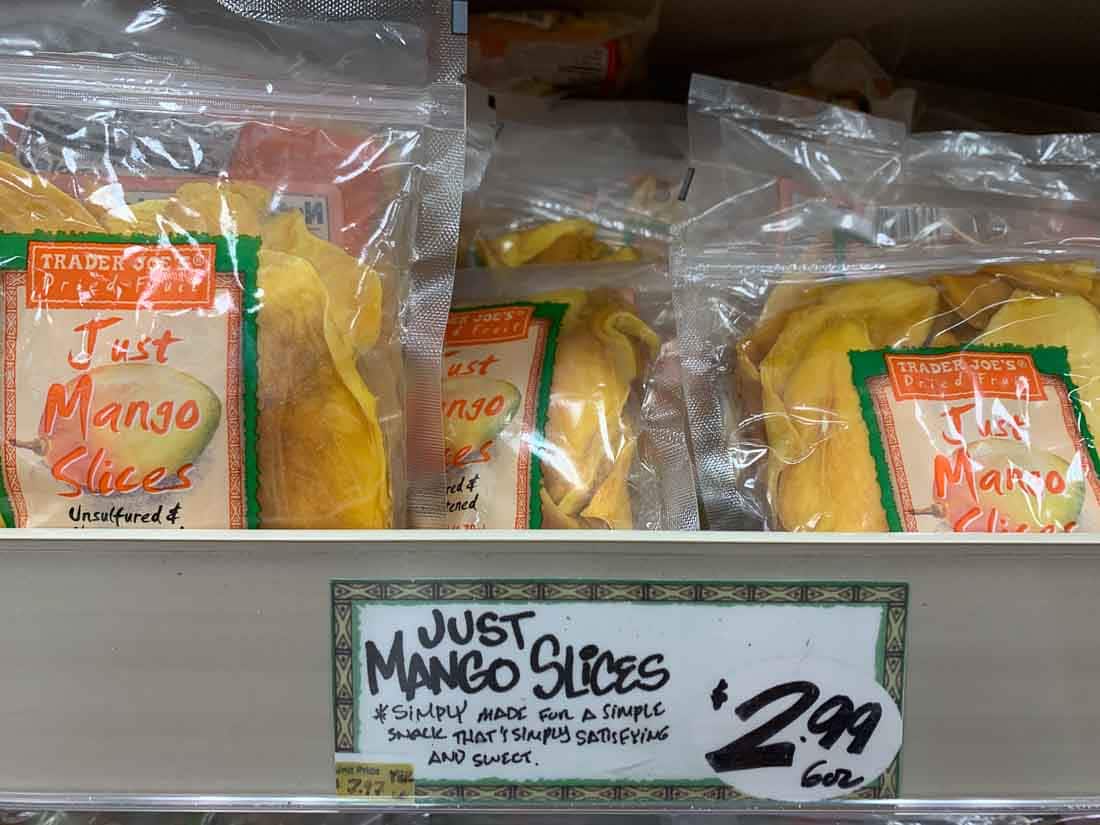 Freeze-Dried Fruit
It's so hard to find dried fruit that doesn't have added sugar, but you can usually always count on freeze-dried fruit. Trader Joe's and my other favorite store that starts with a "T", Target, both have a very impressive selection of freeze-dried fruit. I love adding it to a DIY snack mix (with air-popped popcorn, nuts, etc.) or incorporating it into an energy bite recipe, like these Strawberry Shortcake Bites.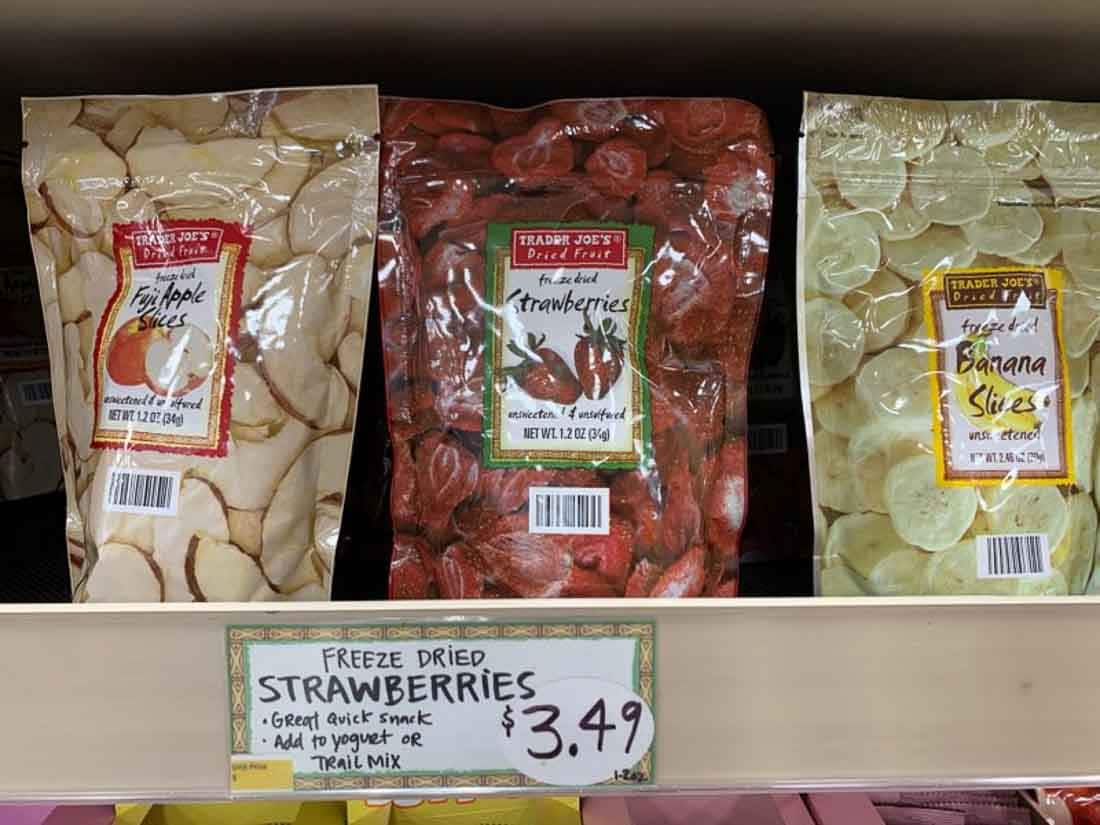 Organic Pitted Medjool Dates
Speaking of energy bites, as key ingredient in them is medjool dates. Nothing fancy about this TJ's version except for the low price (if you didn't know, dates are pricey).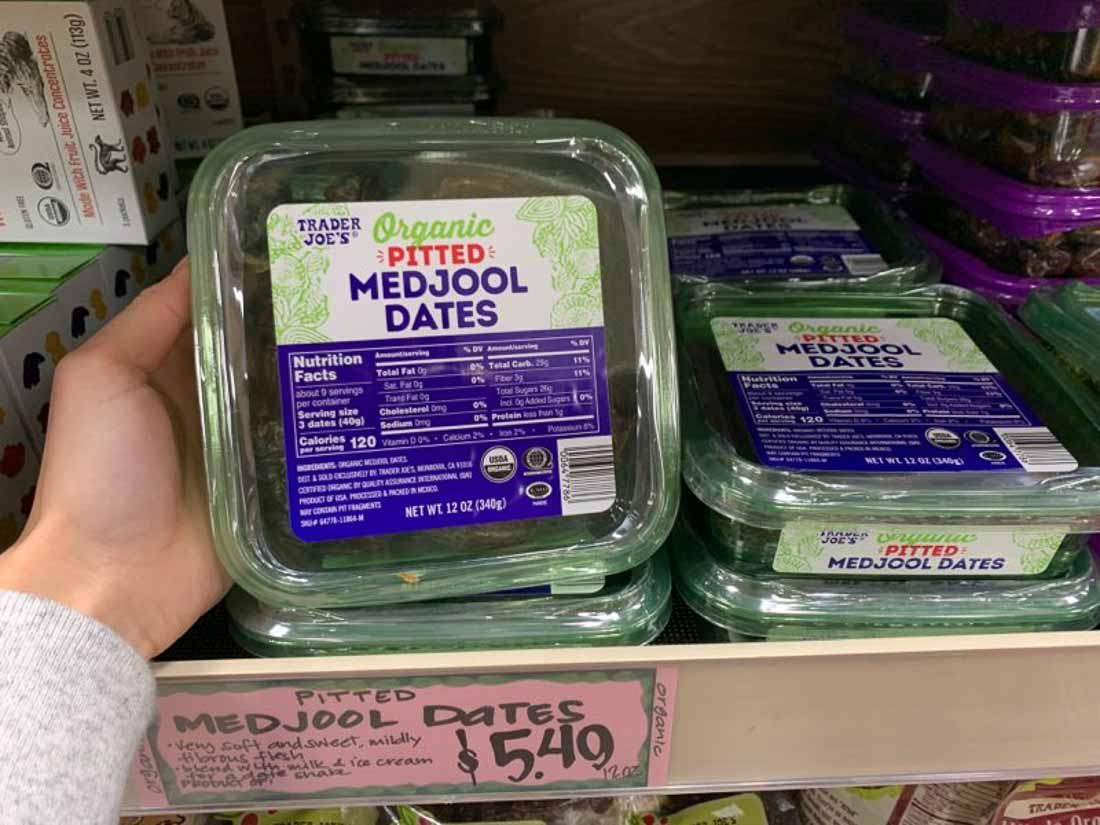 Pressed Fruit Bars
When That's It introduced pressed fruit bars to the world, my mind was blown. I just couldn't understand how they transformed fresh, whole fruit into a perfectly sweet and chewy, yet pricey bar. Then Trader Joe's came through (like they always do) with their own, cheaper version and I've been buying them ever since. They're literally just fruit – nothing else. They're a great source of fiber and perfect for taking on-the-go for a quick breakfast or snack. Their flavors include: Apple + Banana, Apple + Strawberry, Apple + Mango, and Apple + Coconut.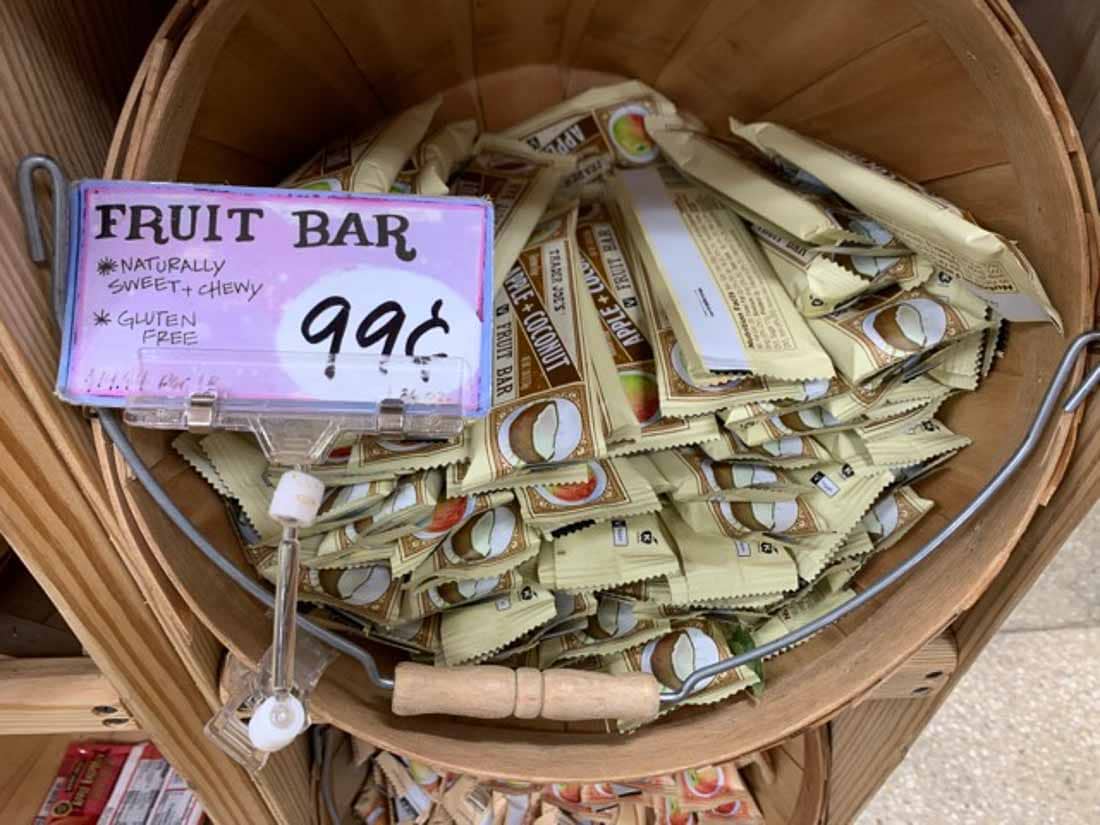 Healthy Trader Joe's – Beverages
Cold Brew Coffee Concentrate
I'm a year-round-cold-brew kind of gal, so I love that such a small bottle can yield 12 cups of delicious cold brew. Just dilute with water, add ice, and you've got cold brew.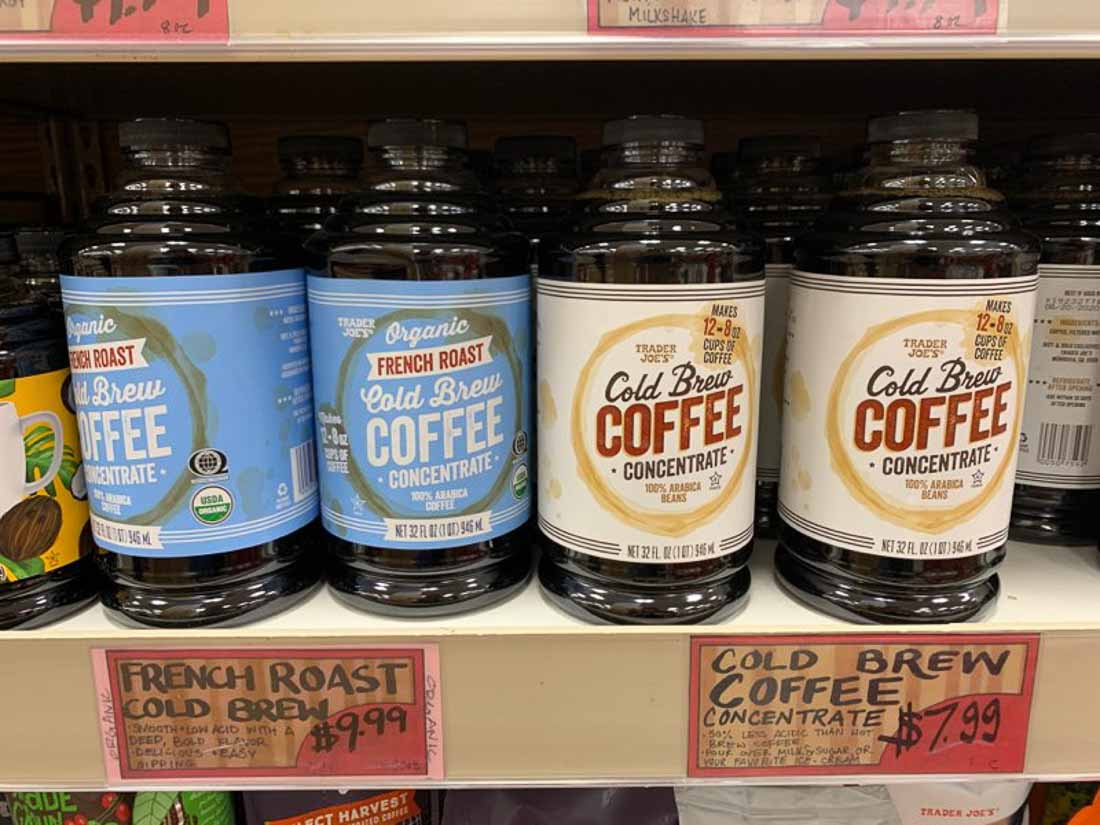 Lungo & Ristretto Espresso Capsules
So, I may have lied a little bit on the last item… I'm more of a 10-months-of-the-year-cold-brew kind of gal. For those other two months, I'm making a latte with my Nespresso machine. Those Nespresso pods are pricey, so I'm glad I found a cheaper, yet equally delicious version at Trader Joe's.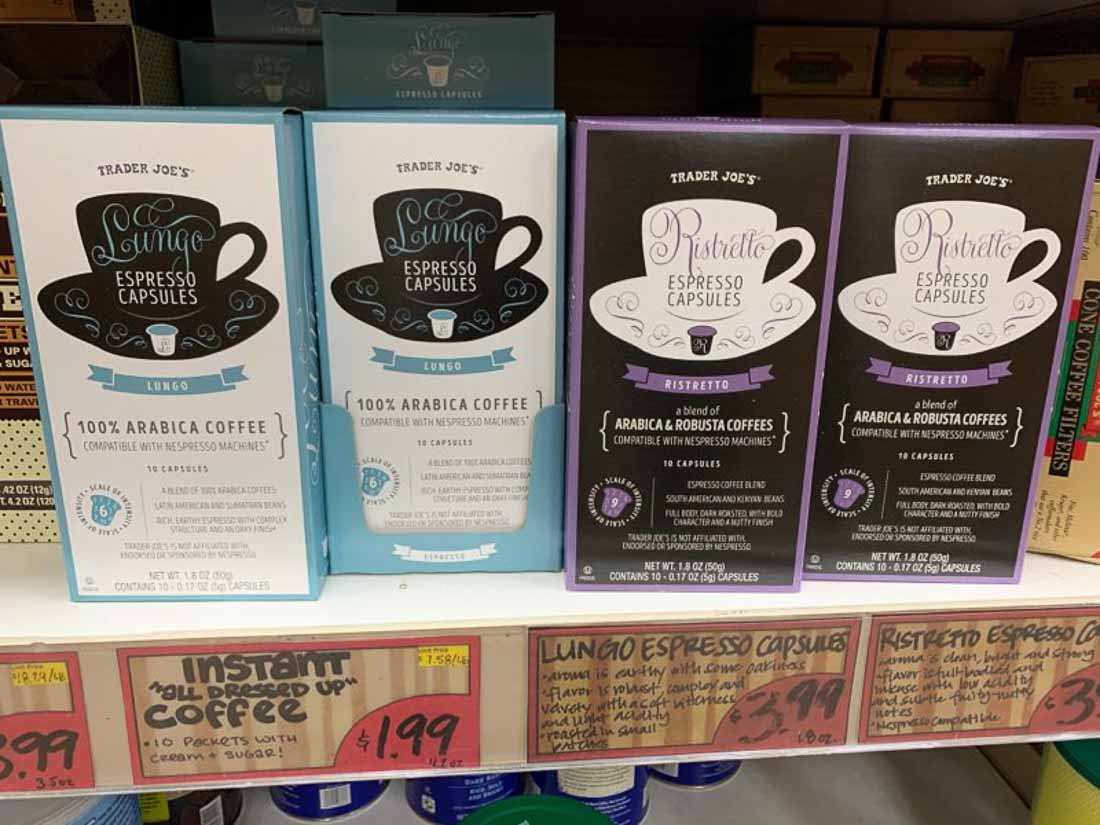 Herbal Teas
In addition to carrying big-name tea brands like Yogi, Trader Joe's also has their own line of delicious herbal teas. These caffeine-free blends are perfect for unwinding at night.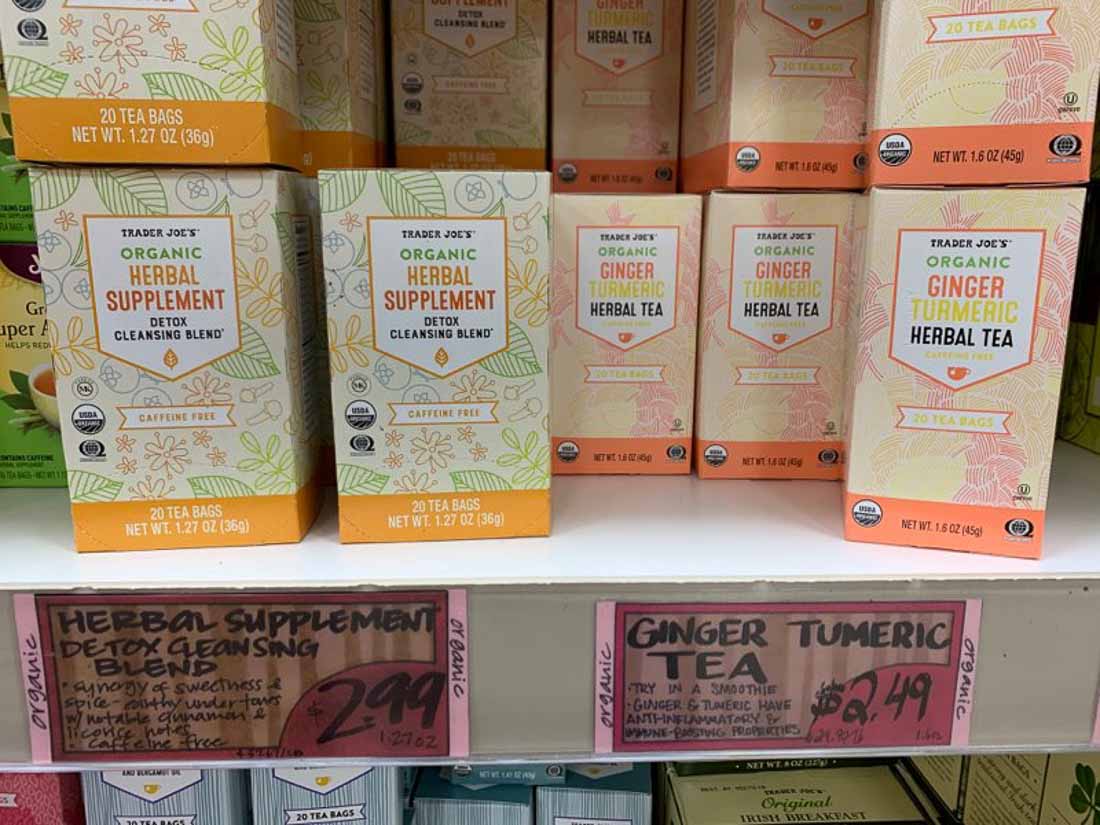 Seltzer Waters
These are no ordinary seltzer waters. Trader Joe's line of "Seltzers with a Splash" is comparable to Spindrift. As the name implies, they're seltzer waters with a splash of fruit juice for flavor. They come in delicious flavors like Blood Orange, Lemon & Ginger, and Cranberry & Lime.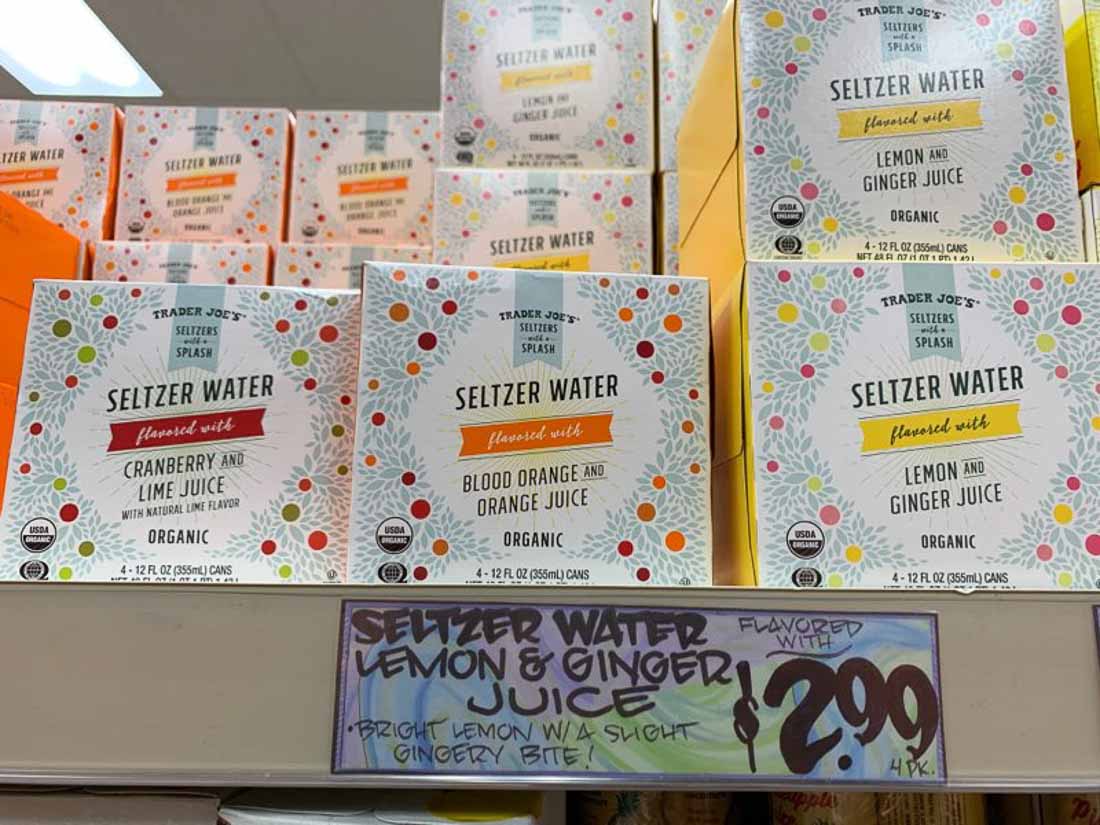 Healthy Trader Joe's – Dips
Organic Buffalo Style Hummus
Trader Joe's good ol' Roasted Garlic Hummus is great to satisfy your everyday hummus needs. But if you're feeling spicy, look no further than this buffalo hummus. It's still got the protein and fiber that regular hummus has, just with a little kick.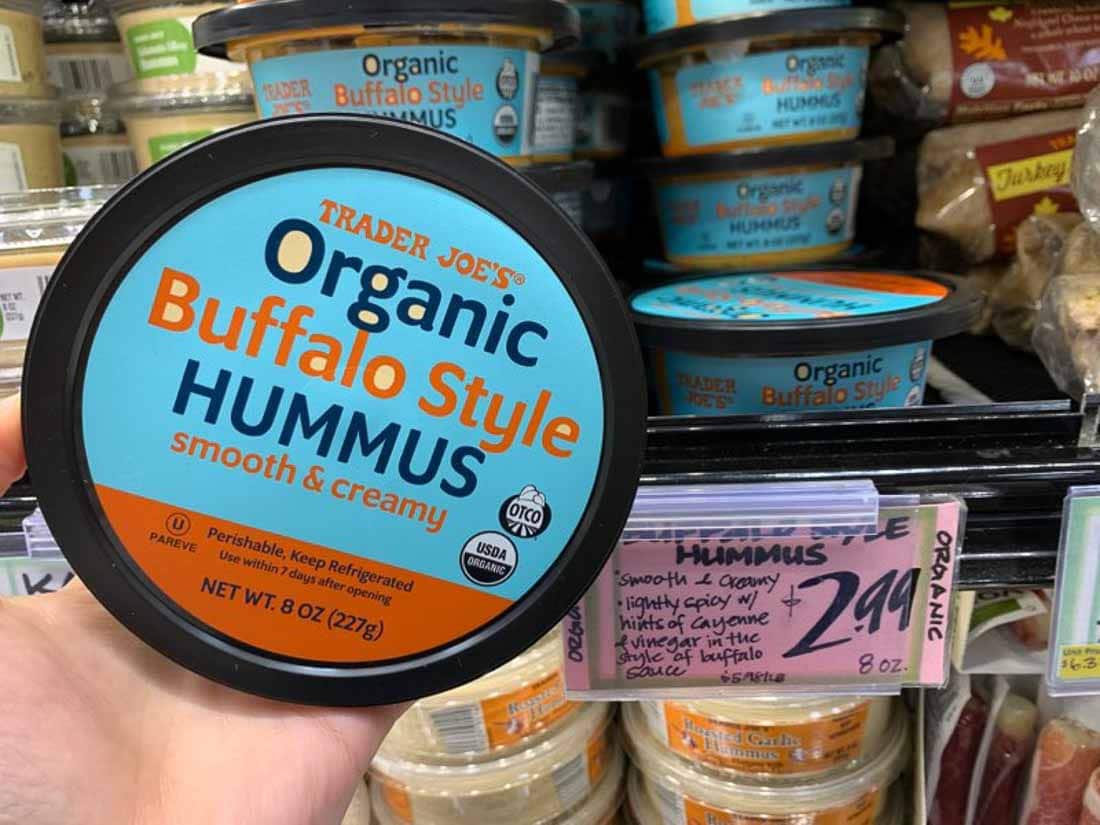 Everything But The Bagel Greek Style Yogurt Dip
You know that hot sauce commercial where the grandma says, "I put that shit on everything!" I literally put EBTBS on/in everything. This dip combines EBTBS and Greek yogurt, two of my favorite things in one simple yet delicious dip. Serve with sliced veggies, TJ's crispbreads, on bread, wherever and everywhere!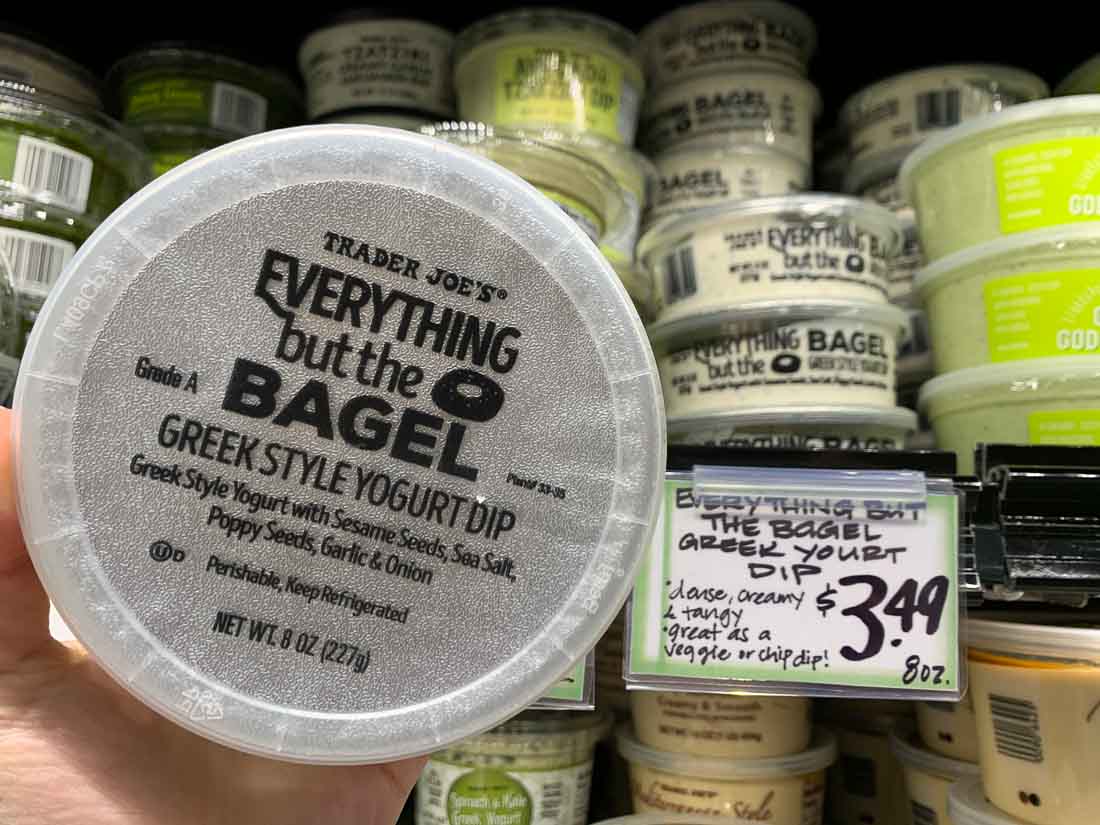 Healthy Trader Joe's – Frozen Foods
Turkey Burgers
I'm not sure what I love more about these turkey burgers, that they're tasty AF or that they're made with just 3 ingredients: turkey, salt, and rosemary extract.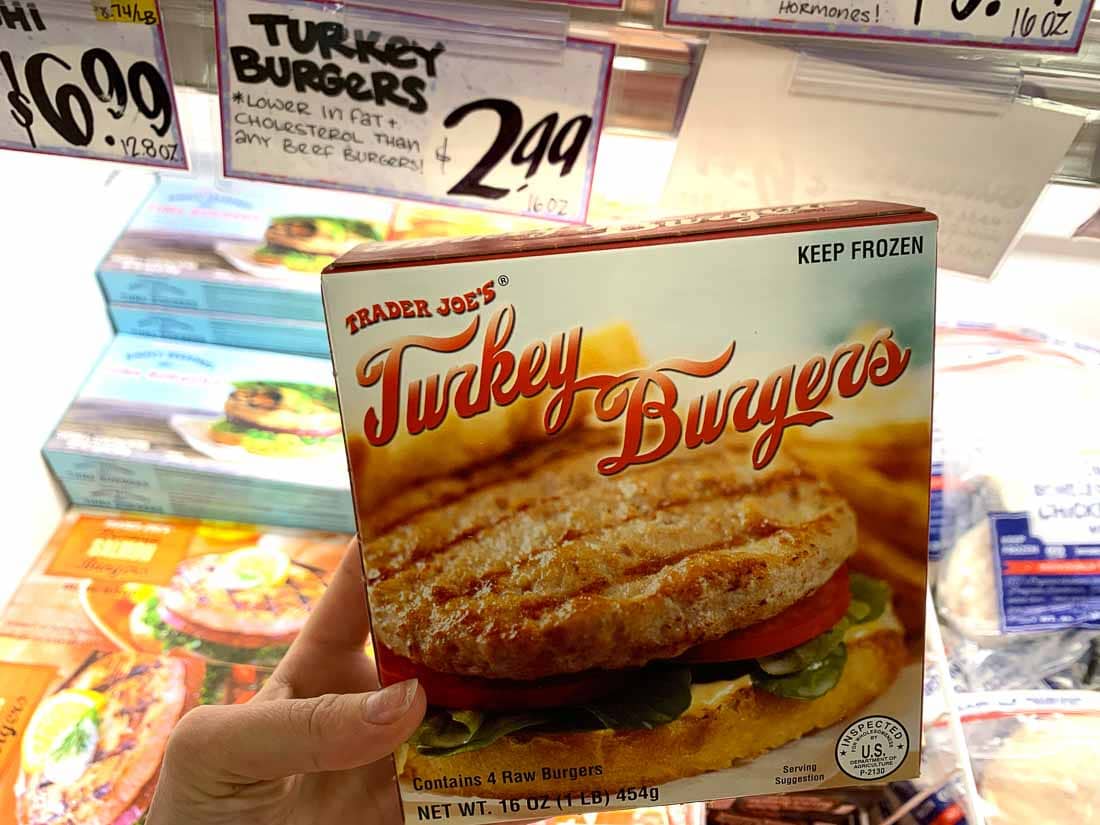 Chili Lime Chicken Burgers
Even tastier than the turkey burgers are these chili lime chicken burgers. They also have minimal ingredients, and make for an easy weeknight meal.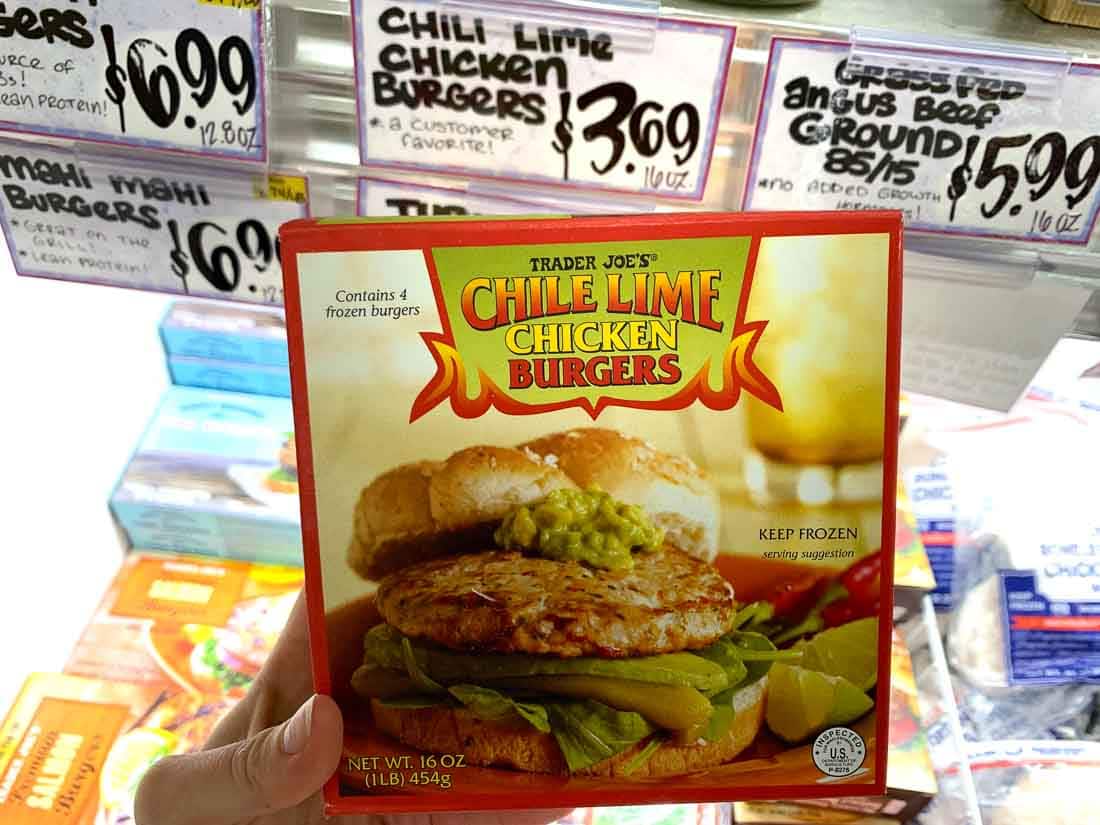 Riced Cauliflower Bowl
You don't see many frozen tofu meals at grocery stores, and it's something I'd normally steer clear of. I took a leap of faith on this one and boy am I glad I did! Not only is it delicious, but it's also high in protein, very high in fiber, and a good source of healthy fats.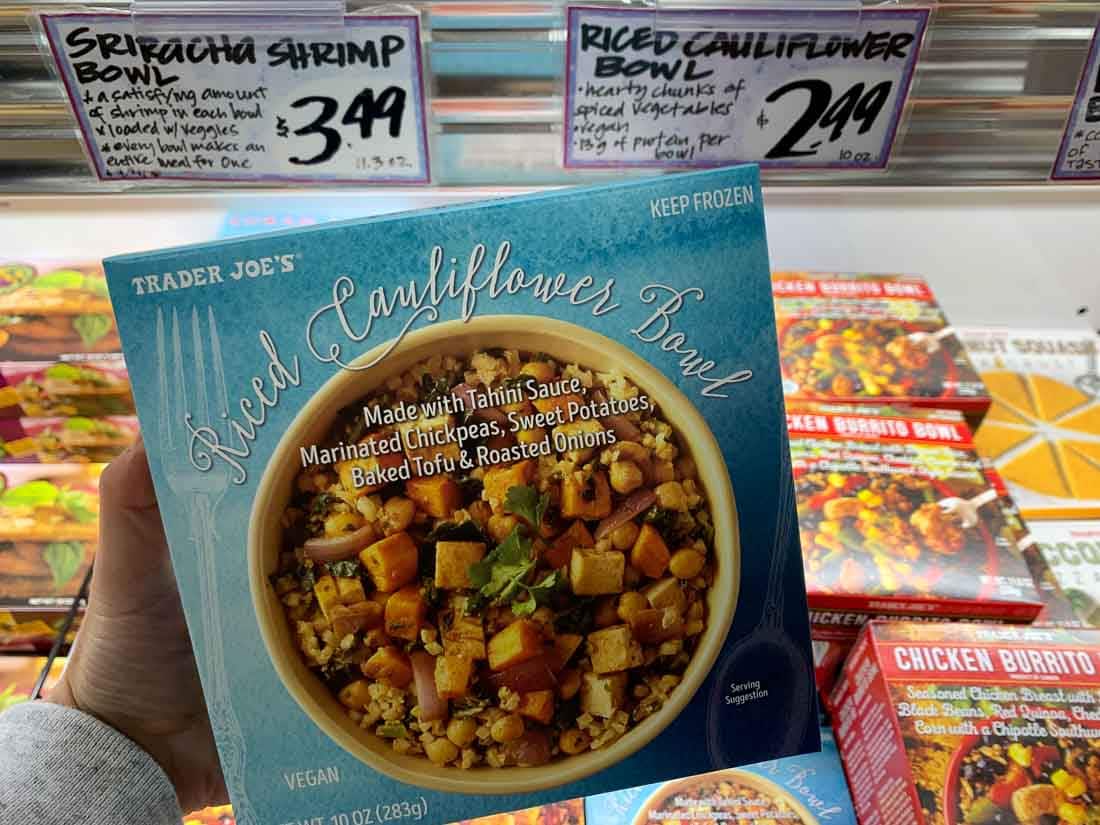 Palak Paneer
Another Trader Joe's frozen meal winner. This palak paneer is basically cheese and spinach spiced to perfection. If you're follow a low-carb lifestlye it's a great option at only 8 grams of carbs, half of which is fiber.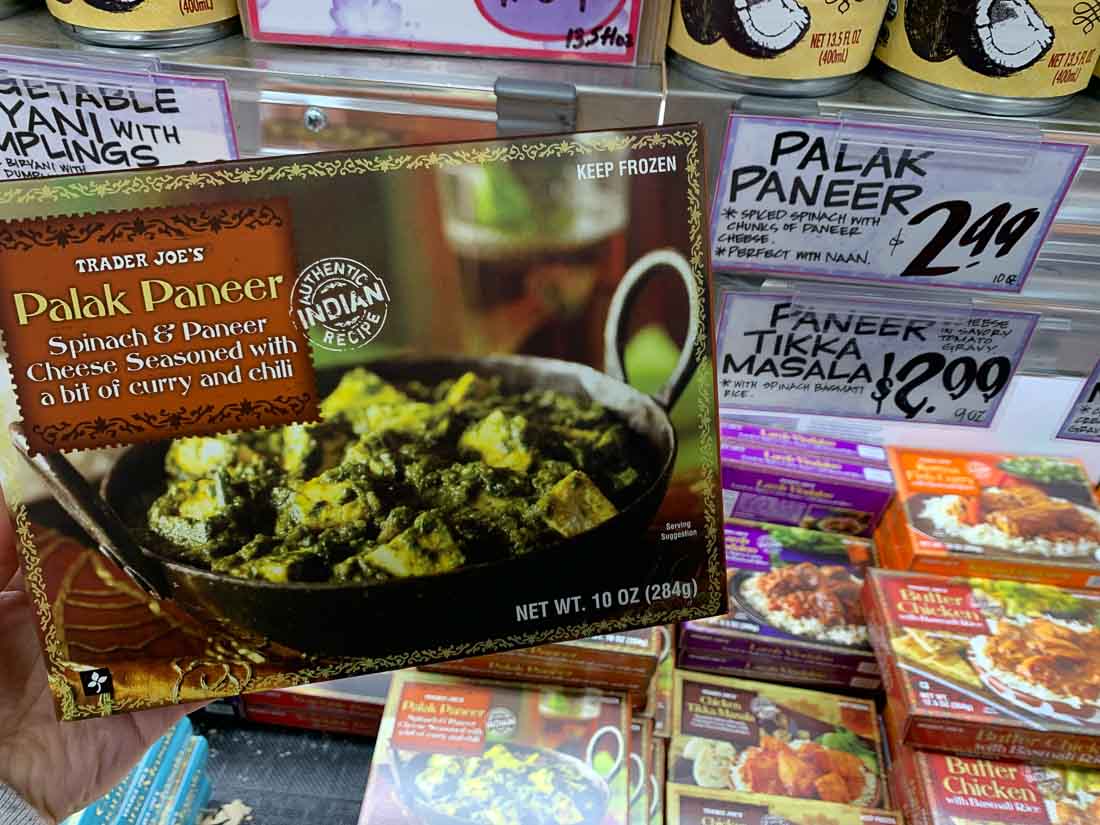 Cheese Pizza with a Cauliflower Crust
I. Love. Pizza. I eat it AT LEAST once per week. And I'd eat it everyday if I could. While I'm all for just getting the real stuff, sometimes I want the taste of pizza without the sluggish side effects. Enter: this pizza. It lets you enjoy pizza without feeling like a couch potato afterwards, and you'll get in some extra veggies, too.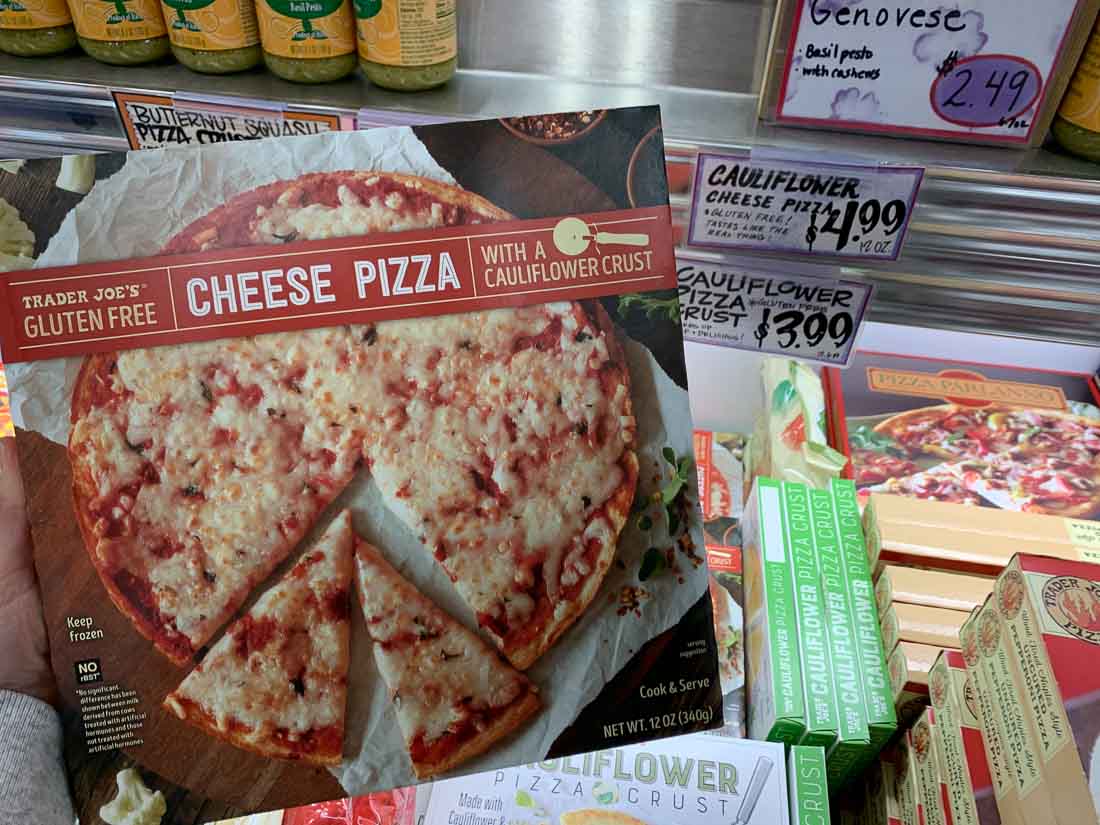 Cauliflower Gnocchi
No explanation needed. But if you really want my thoughts: it's got minimal ingredients, lots of fiber, and is SO FREAKIN GOOD. Just ignore Trader Joe's cooking directions. Saute in a skillet with a little oil, DO NOT BOIL. I REPEAT DO NOT BOIL.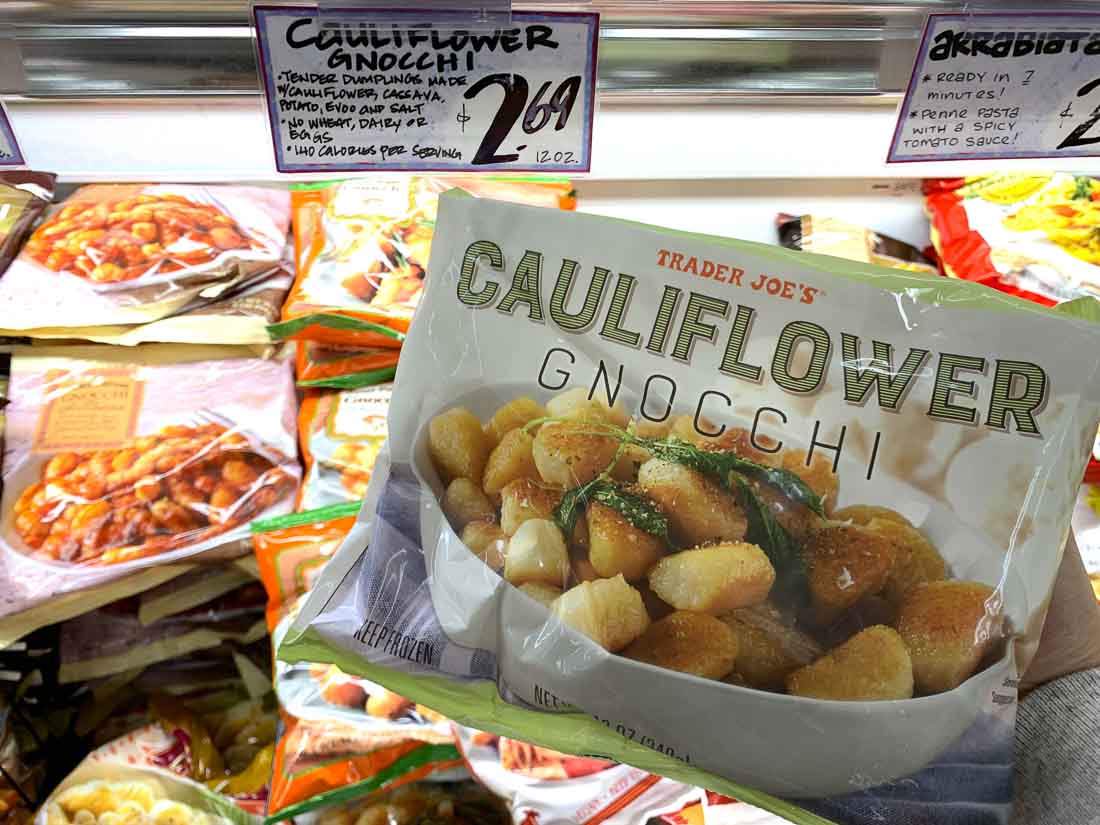 Riced Cauliflower Stir Fry
This riced cauliflower stir fry makes for a great base for easy weeknight dinners. Just add your favorite protein: eggs, chicken, shrimp, pork, beef, tofu, etc. I also like to stir in a little extra soy sauce flavor using Trader Joe's Coconut Aminos.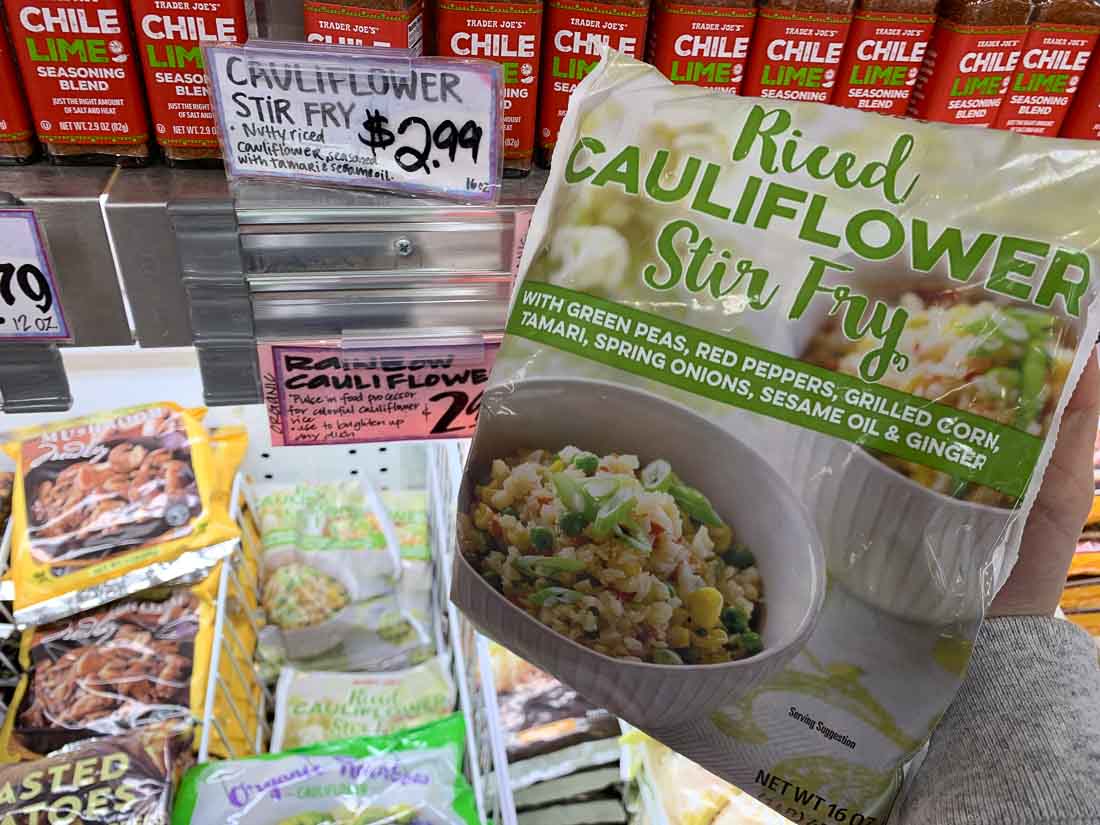 Organic Riced Cauliflower
Remember when riced cauliflower first hit the TJ's frozen section and it would sell out in like 2.5 seconds? Luckily, that's no longer the case and they're always stocked with this amazing and convenient ingredient for all of your dinner needs. Use it as a bowl base, in a stir fry, in a casserole, and even in a smoothie.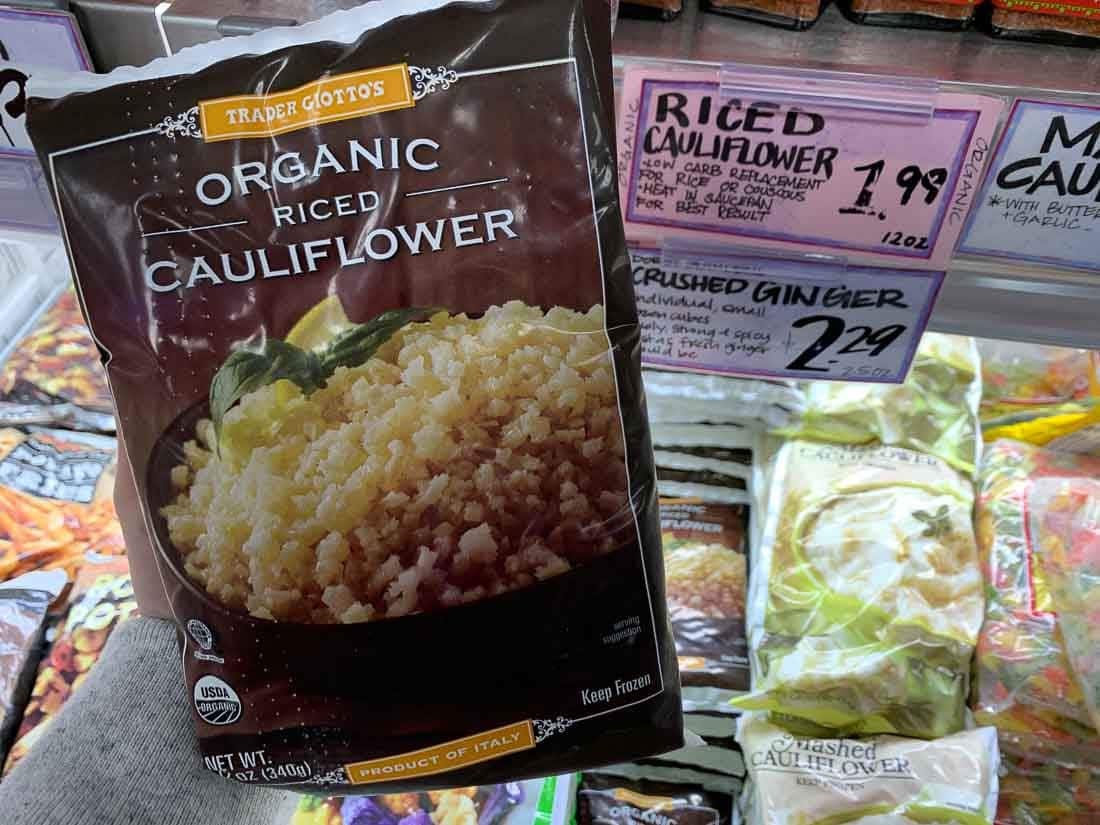 Mashed Sweet Potatoes
Just one ingredient in this bag: sweet potatoes. Sweet potatoes are chock full of nutrients (good source of fiber, natural sugars, and vitamins A and C), but they can also be a P.I.T.A. to cook. With these, no matter which method you choose (stove top or microwave) you're looking at an under 10 minutes time commitment.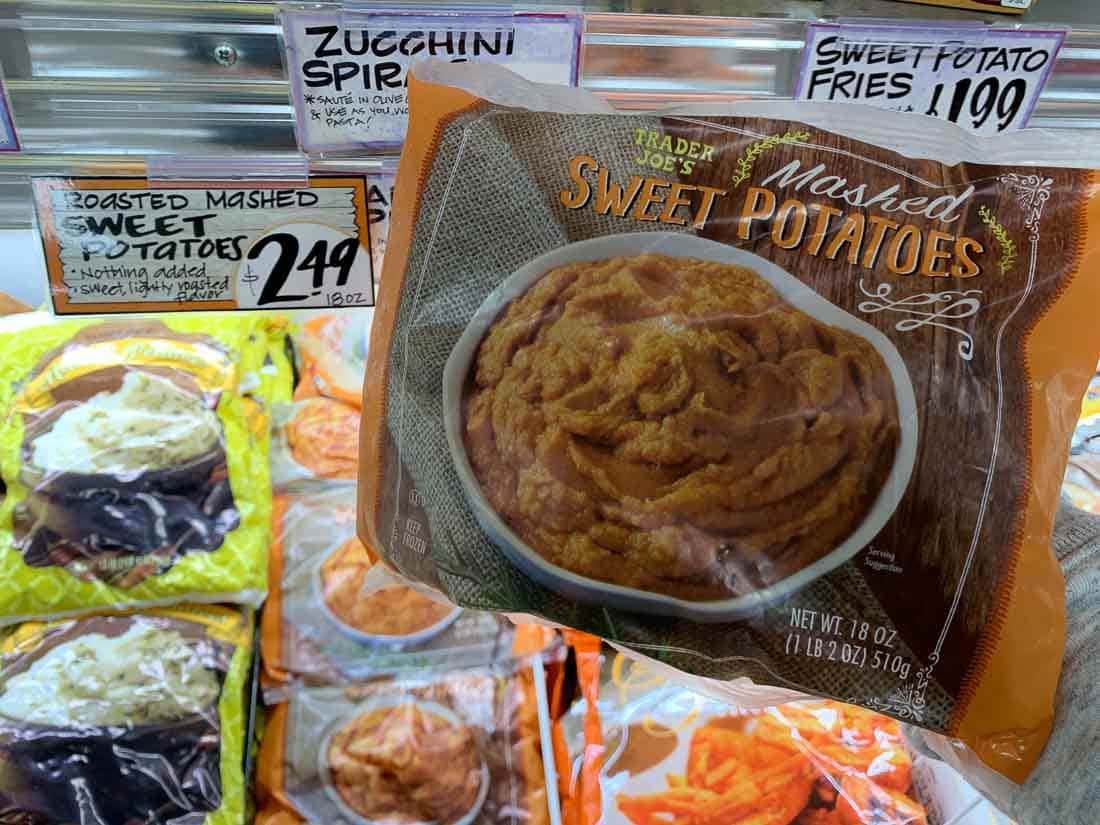 Organic Fully Cooked Quinoa
Lazy girl hack #2309458: buy already cooked quinoa. Just heat it up and serve! Quinoa is my absolute favorite "ancient" grain. It's gluten-free, high in protein and fiber, and one of the few plant foods that contains sufficient amounts of all 9 essential amino acids (aka a complete protein).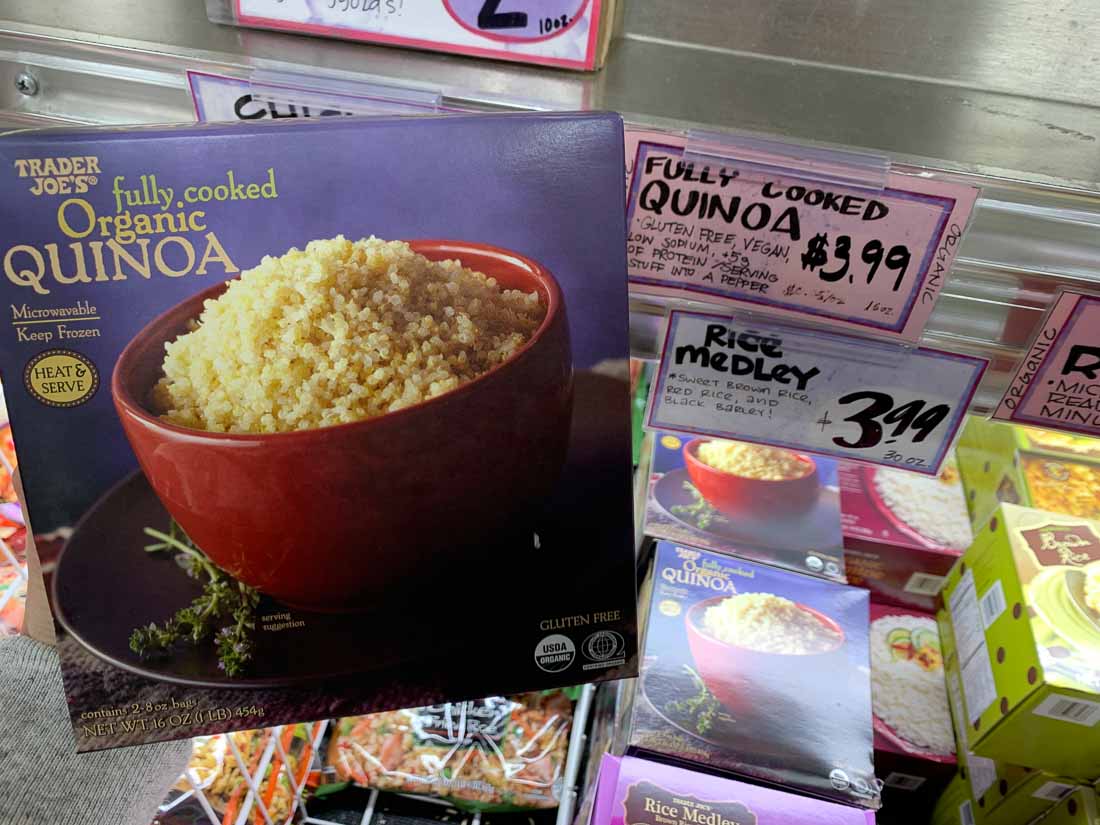 Shakshuka Starter
Literally, just crack an egg in this thing and you've got a healthy, gourmet brunch right at home. If you've never tried shakshuka before you're missing out!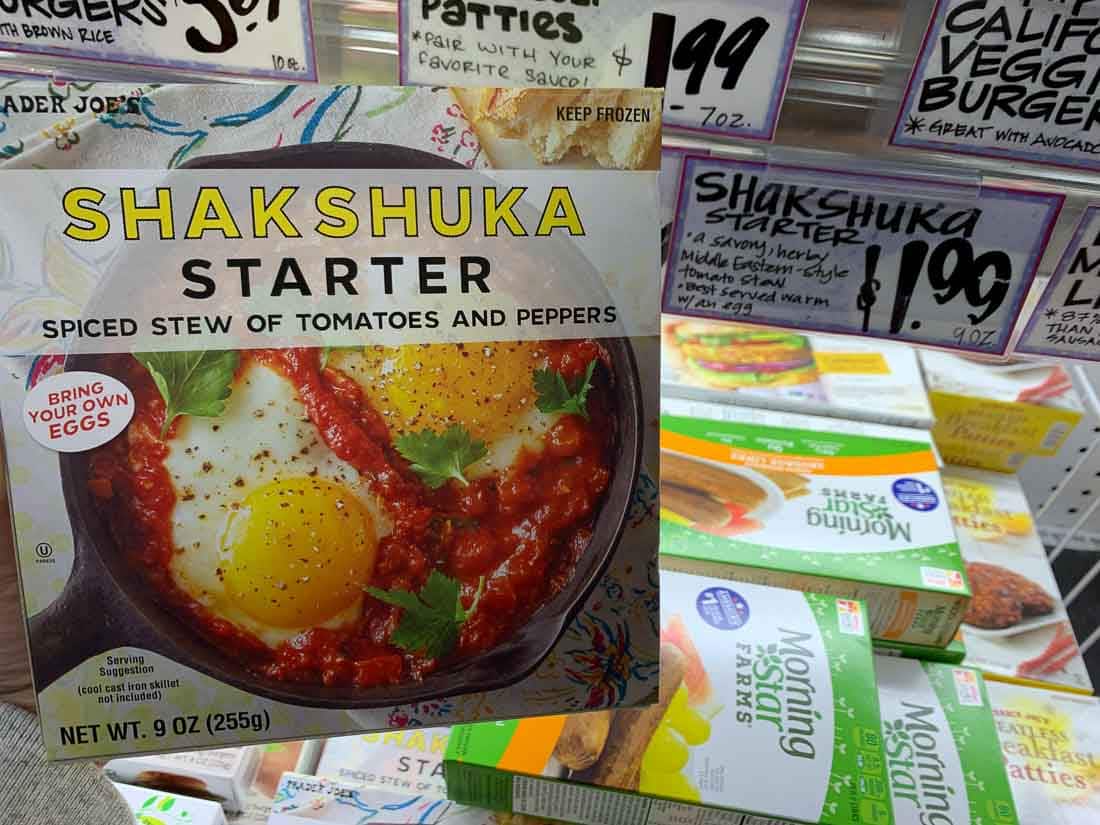 Cauliflower & Broccoli Vegetable Patties
These little guys are perfect for when you're trying to cram some veggies in but don't feel like cooking any veggies. They're so good you won't even realize you're eating veggies (exaggerating a tad here). Plus, they're packed with my two favorite cruciferous veggies: cauliflower and broccoli, which are rich in antioxidants and other phytonutrients.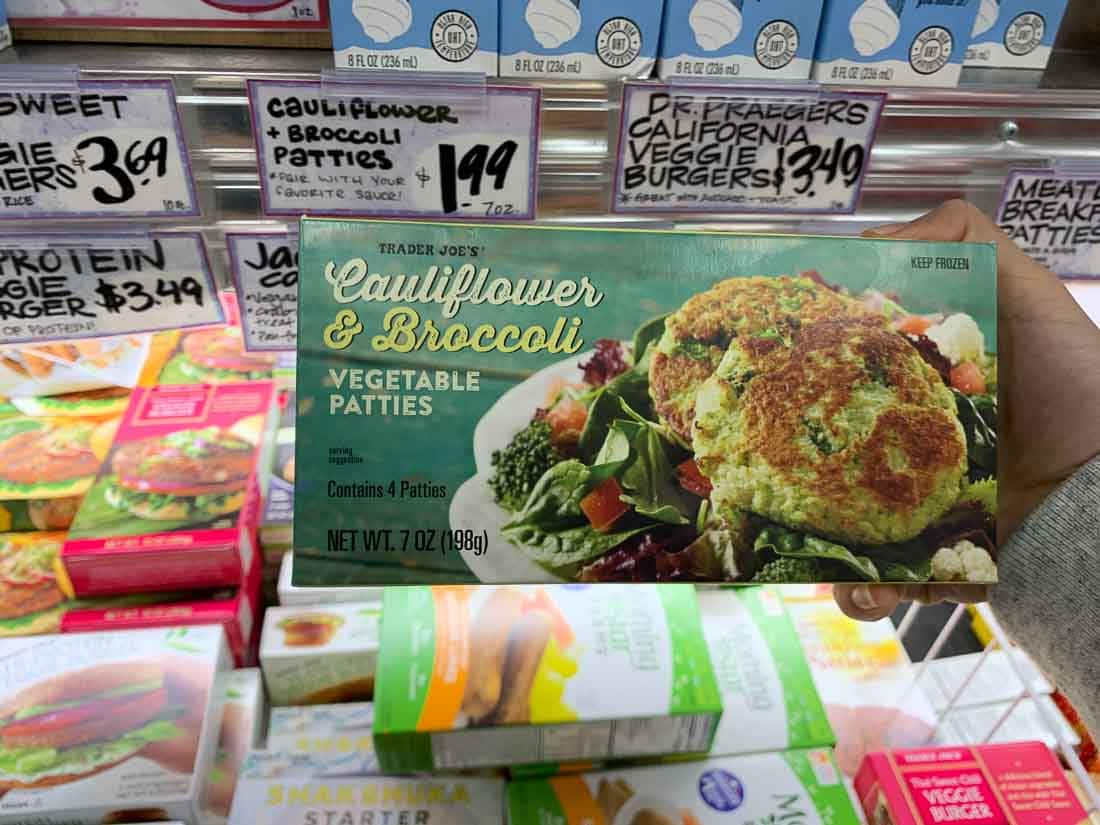 Carrot & Zucchini Spirals
Veggie noodles are a great low-carb substitute for regular pasta but if you don't have the right tools, turning a vegetable into noodles can be tough. Not only do these frozen, pre-noodled veggies noodles make meal prep a breeze, but they also last much longer than fresh (in case life gets hectic). PS zucchini spirals were out of stock, so not pictured below.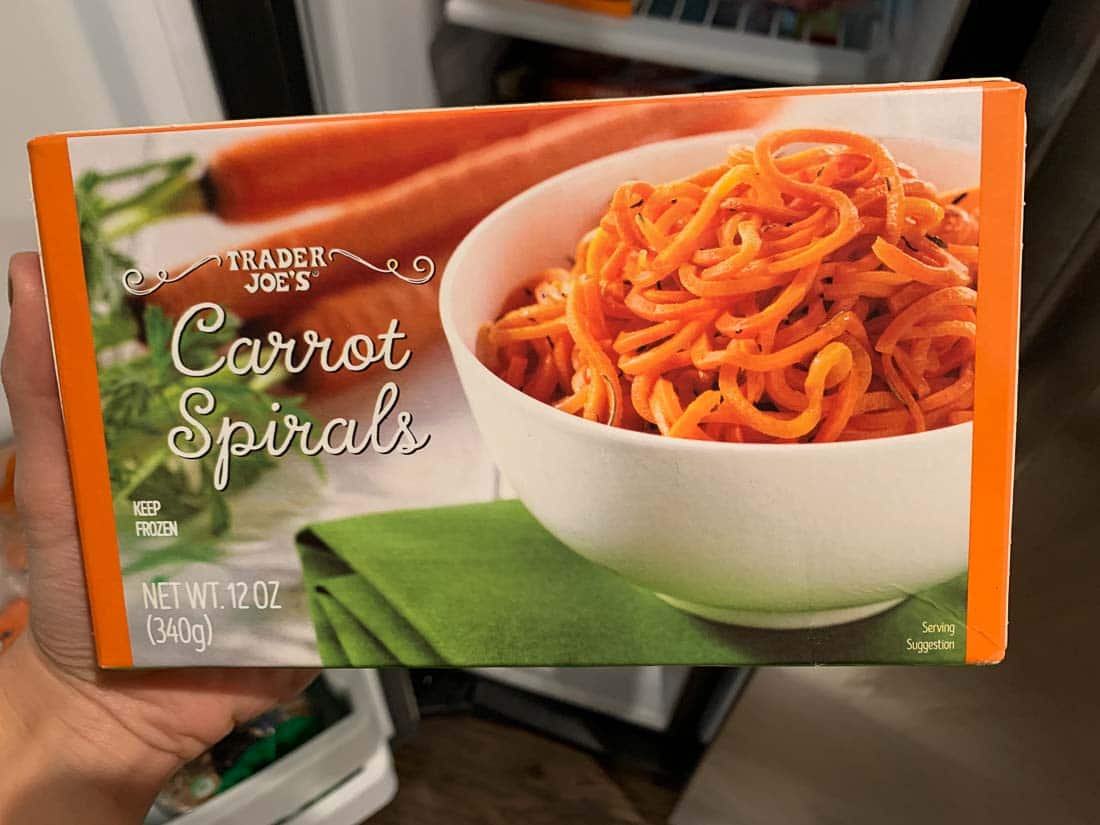 Wild Blueberries
Fun fact: wild blueberries are small in size but mighty in nutritional power. They have double the antioxidant capacity of regular, cultivated blueberries. Add these little guys to smoothies or yogurt for a nutrient-rich breakfast.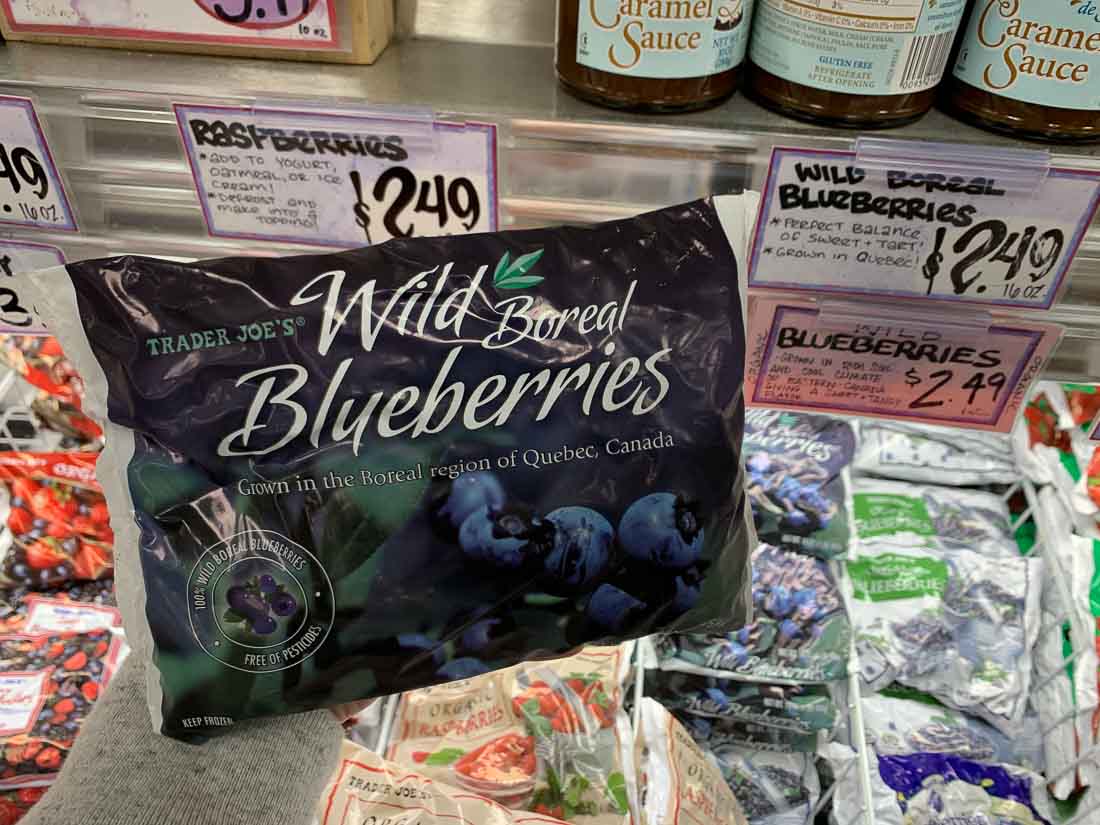 Wild Argentinian Red Shrimp
Shrimp are a lean source of protein that cooks super quickly. Grab a handful out of this frozen bag to add to any of your meals. My favorite way to enjoy these shrimp is with the Trader Joe's Cauliflower Stir Fry.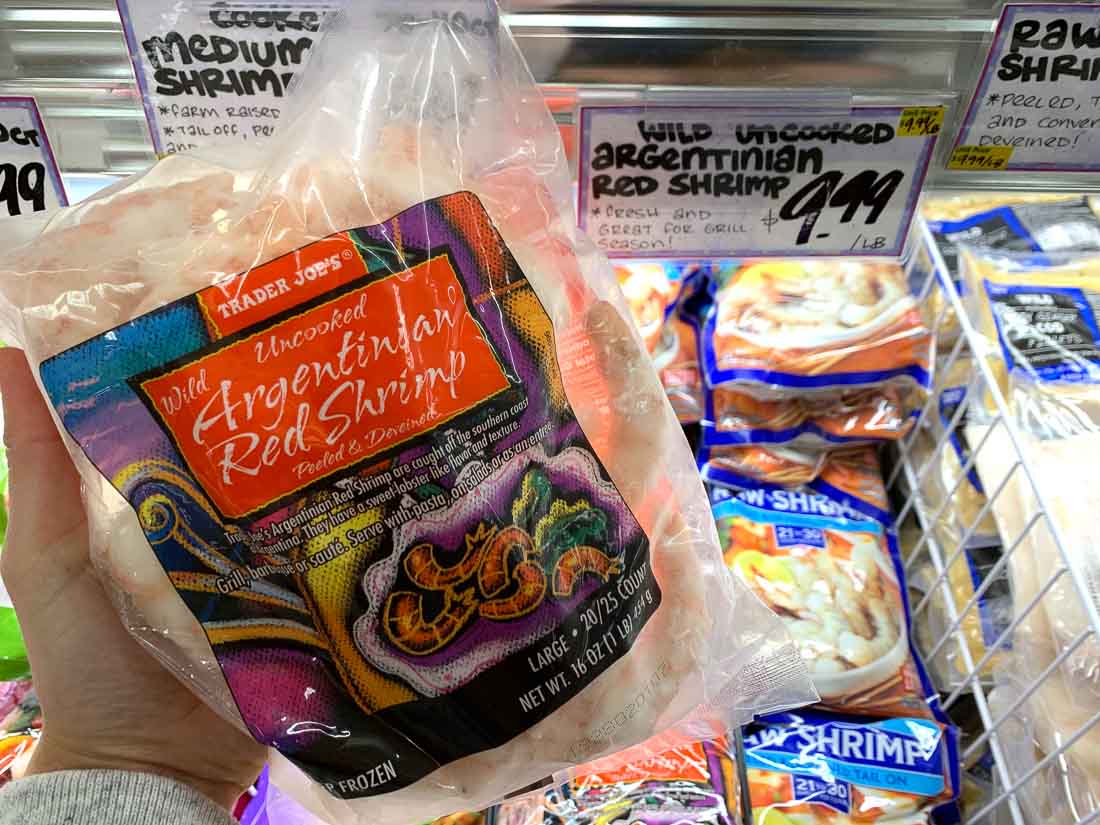 Healthy Trader Joe's – Condiments & Sauces
Vegan Kale, Cashew & Basil Pesto
If you can't tell, I'm definitely not a vegan, but I love me this vegan pesto! It's as good if not better tasting than regular pesto and is packed with healthy fats. I love to use it as a pasta sauce, on eggs, in a sandwich, and on a salad.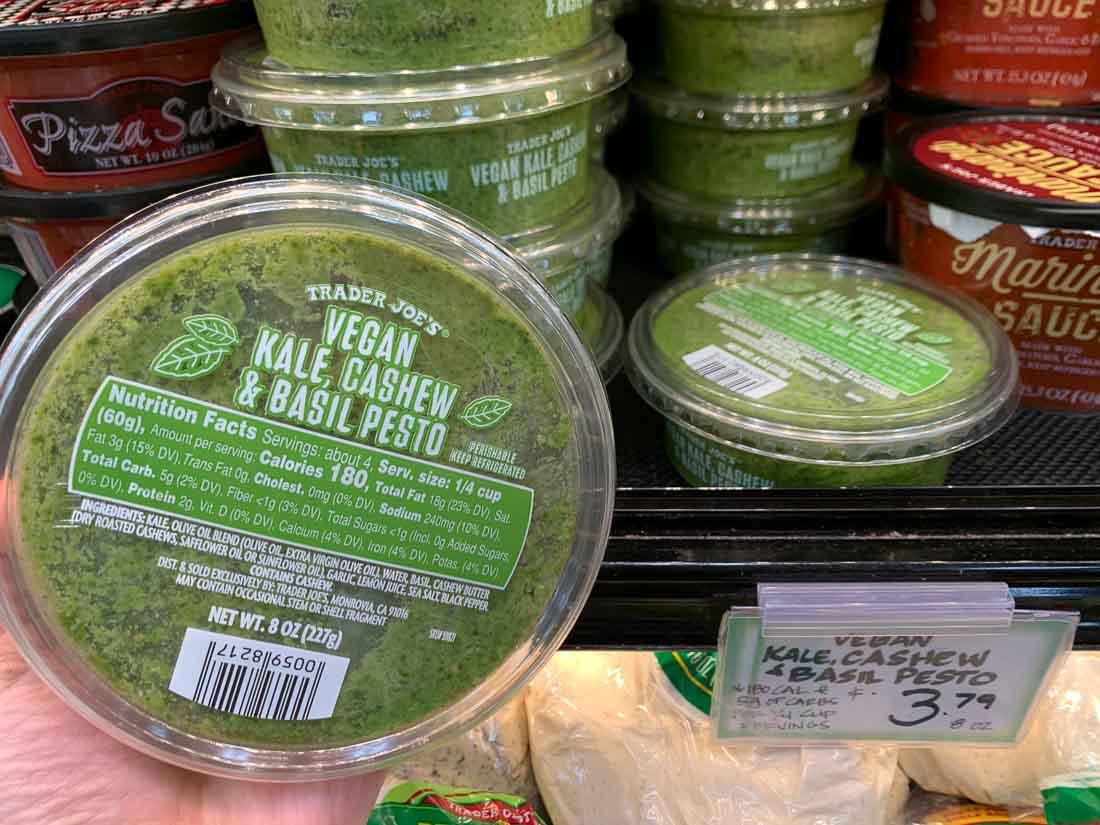 Coconut Aminos
If you're looking to reduce sodium in your diet, or avoid gluten and/or soy, coconut aminos is a great soy sauce alternative for you. It gives you that tasty soy sauce flavor without any soy, just coconut sap (and a little salt and water). It's also cheaper here than anywhere else.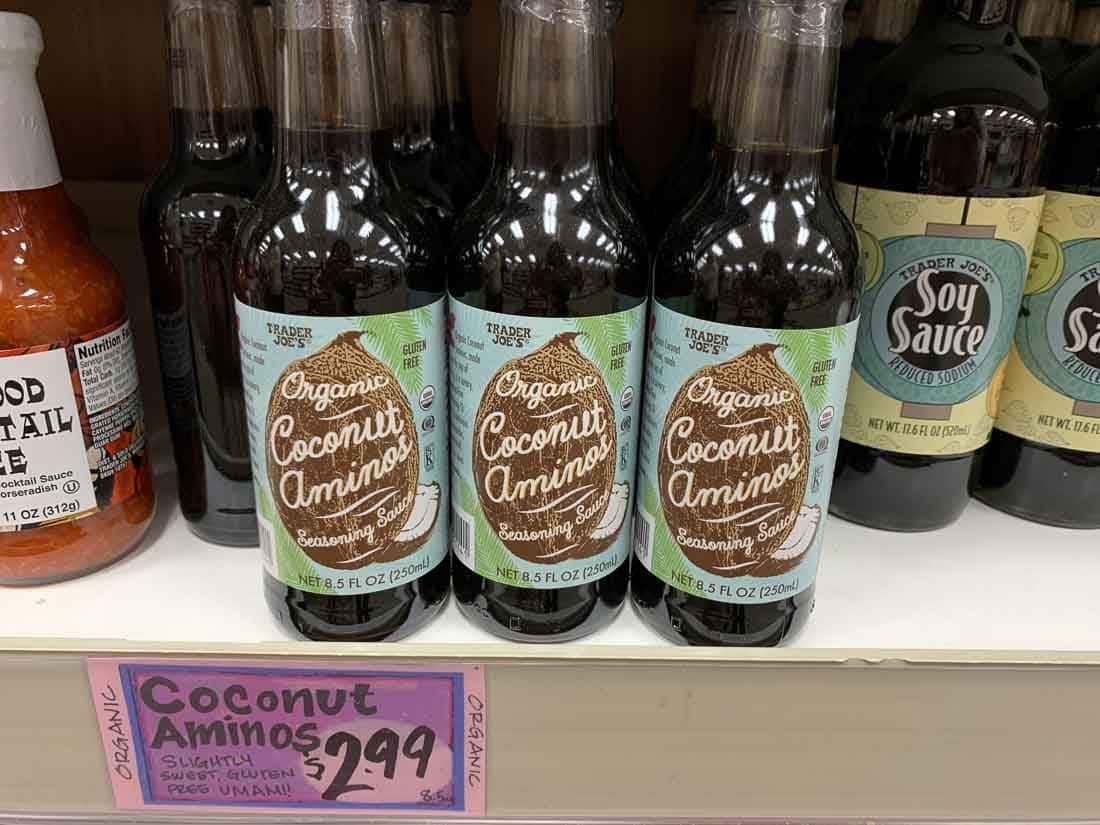 Seasonings (EBTBS & Chili Lime)
If you haven't heard of Everything But The Bagel Seasoning (EBTBS for short), you're either living under a rock or not in the US. As I mentioned earlier, I put this sh*t on everything. Trader Joe's Chili Lime seasoning is a close second. It's great on protein: shrimp, chicken, salmon, even steak. You honestly can't go wrong with any of their seasoning blends: the 21 Seasoning Salute is a great everday seasoning, and the Umami is a new favorite made from mushroom.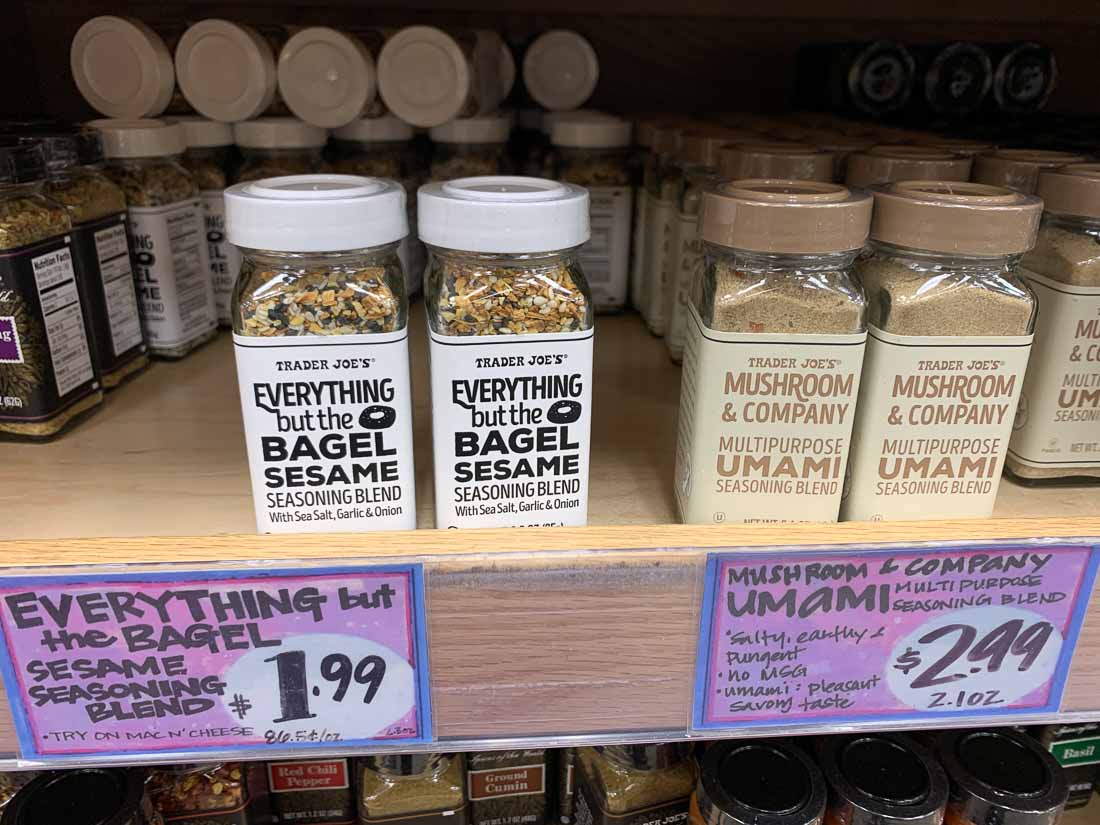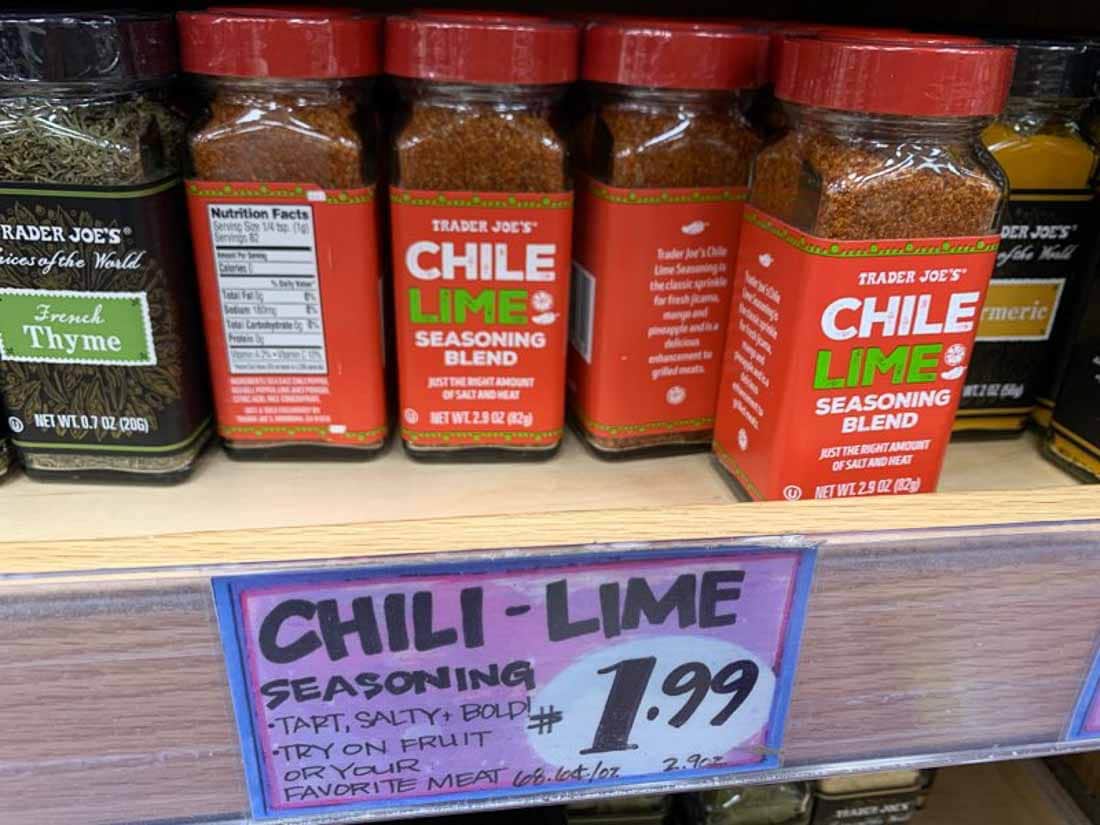 Olive Oil Spray
It's tough to find cooking sprays that don't have propellants, but not at Trader Joe's. This cooking spray has just one ingredient: Organic Extra Virgin Olive Oil.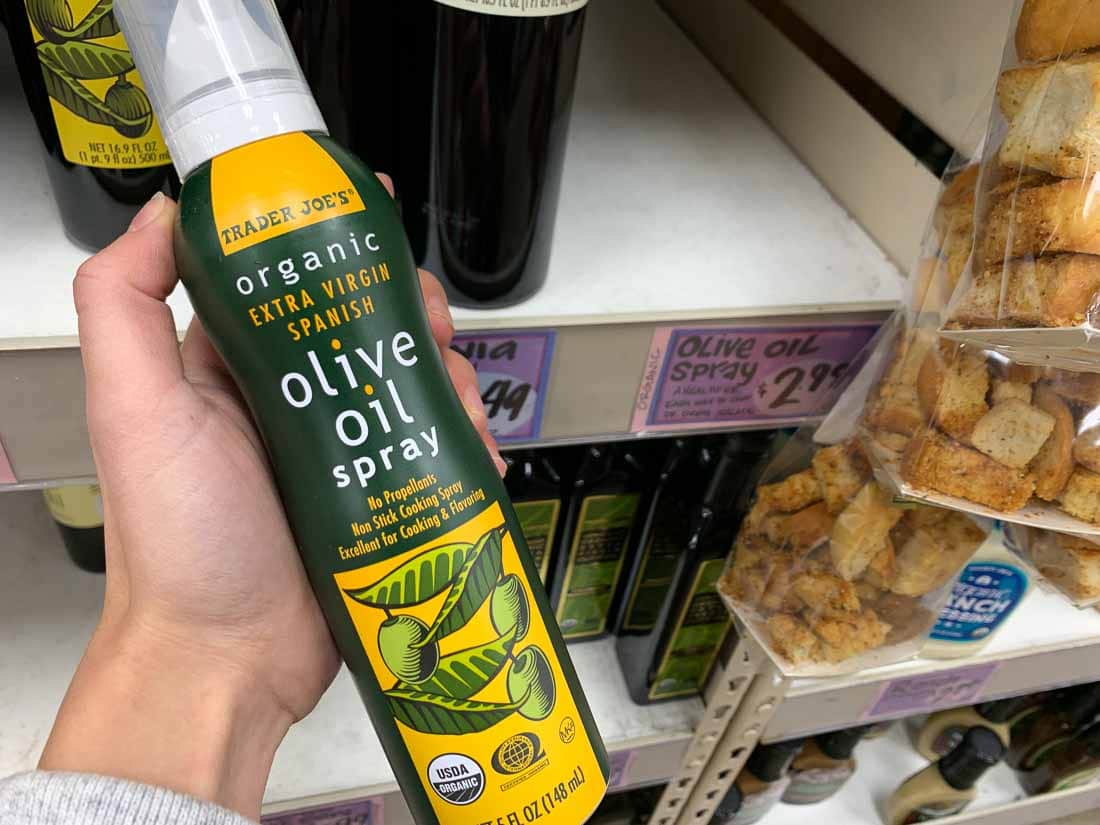 Salsa
Salsa is SO underrated. You can use it to flavor just about any dish AND it's extremely low in calories (I'm talking 10 calories per 2 tablespoons) with no added sugar. Throw a jar of it in the Instant Pot with some chicken and you've got an easy dinner with little effort.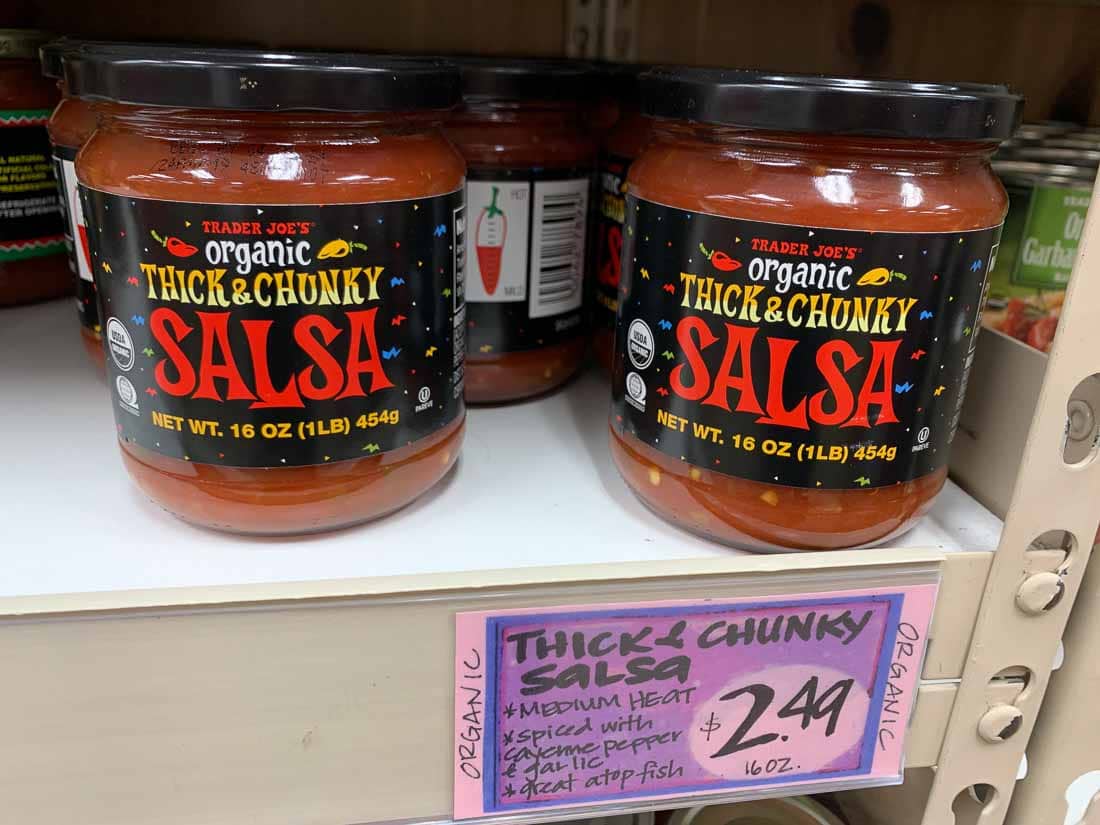 Marinara Sauce
While you don't have to worry about added sugars in Trader Joe's salsas, you definitely have to pay attention to the ingredient list when buying their marinara sauces. For some reason, only the organic marinara sauces here are free of added sugars. But don't worry, they're under $3 a jar.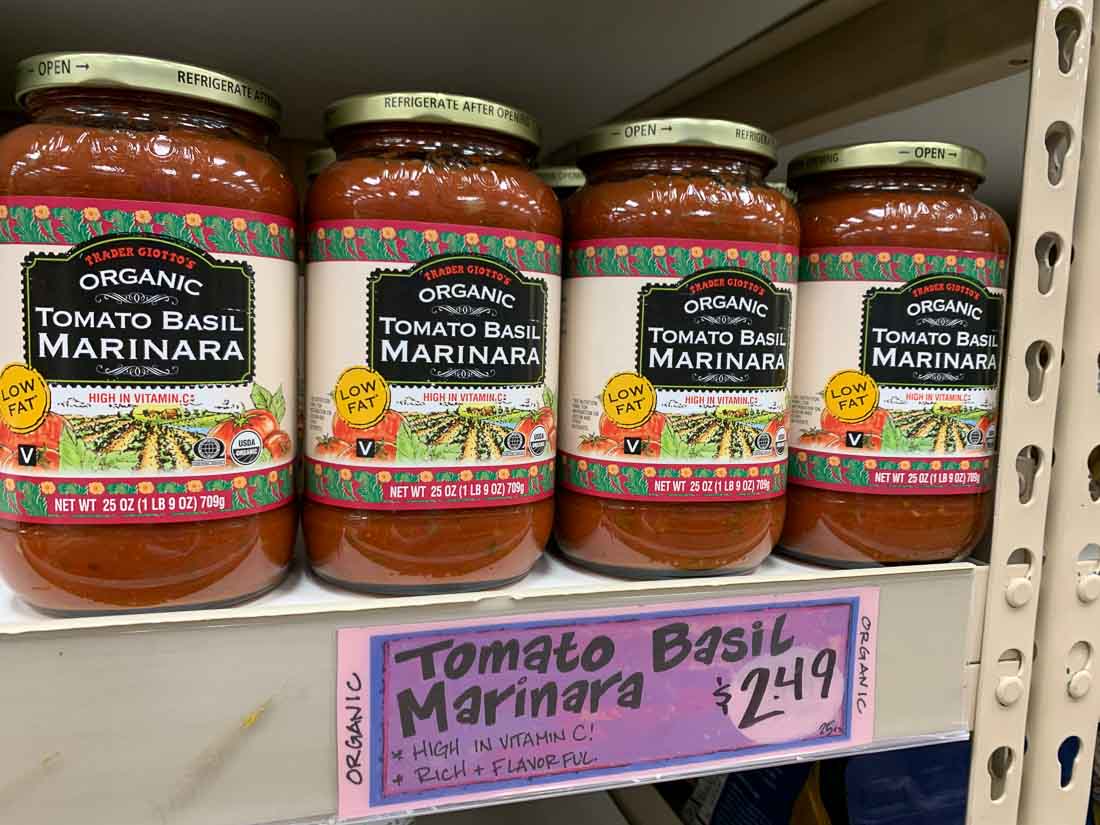 Lentil Pasta
I know this isn't a condiment or sauce but it's near the pasta sauce section and I had nowhere else to put it! Legume pastas are all the rage right now, and for good reason. They have significantly more protein and fiber than regular pastas, and this Trader Joe's pasta is no exception. Plus, it's made from just one simple ingredient: organic red lentil flour. Trader Joe's also carries a black bean pasta that's pretty tasty, too. Of note: some people dislike the texture of this pasta, I don't mind it at all.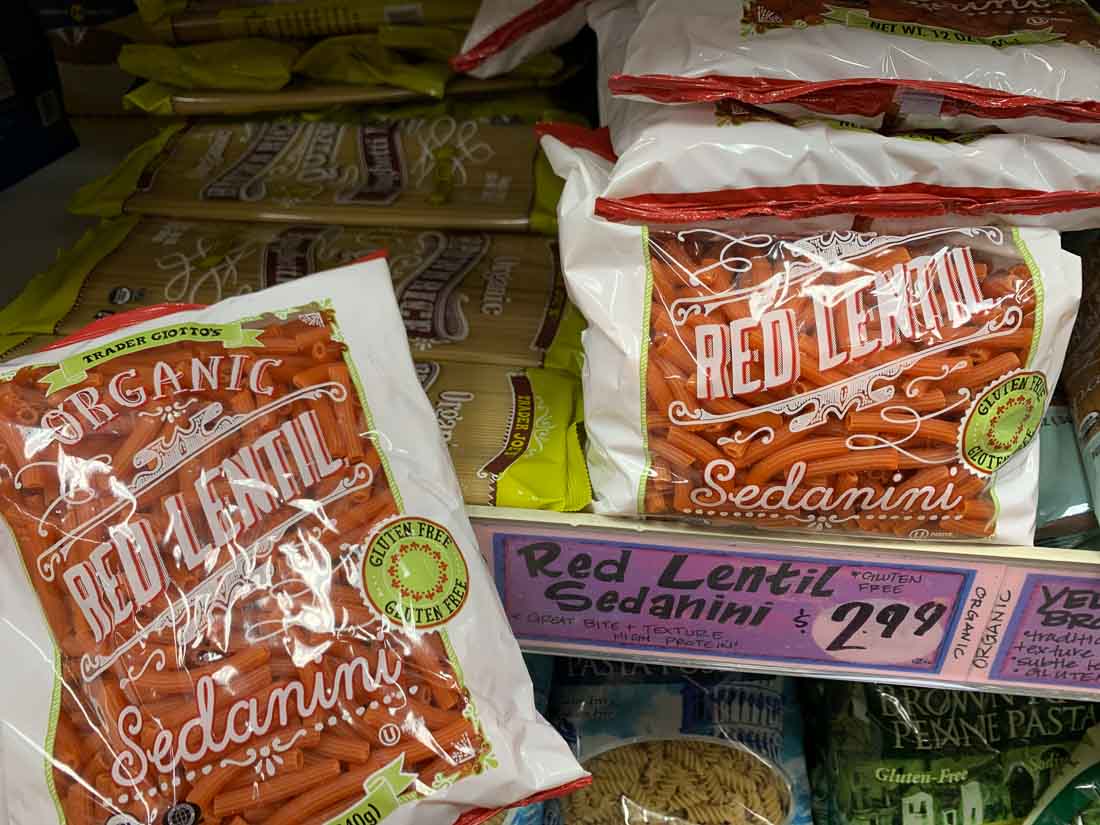 Healthy Trader Joe's – Meat, Poultry & Dairy
Chicken Sausage Assortment
Trader Joe's selection of chicken sausages is on point. I'm partial to the spicy jalapeno flavor, but the organic sweet Italian is a close second. These high-protein fully-cooked sausages just need to be re-heated before adding them to veggie spirals, quinoa, cauliflower stir fry, or whatever your heart desires.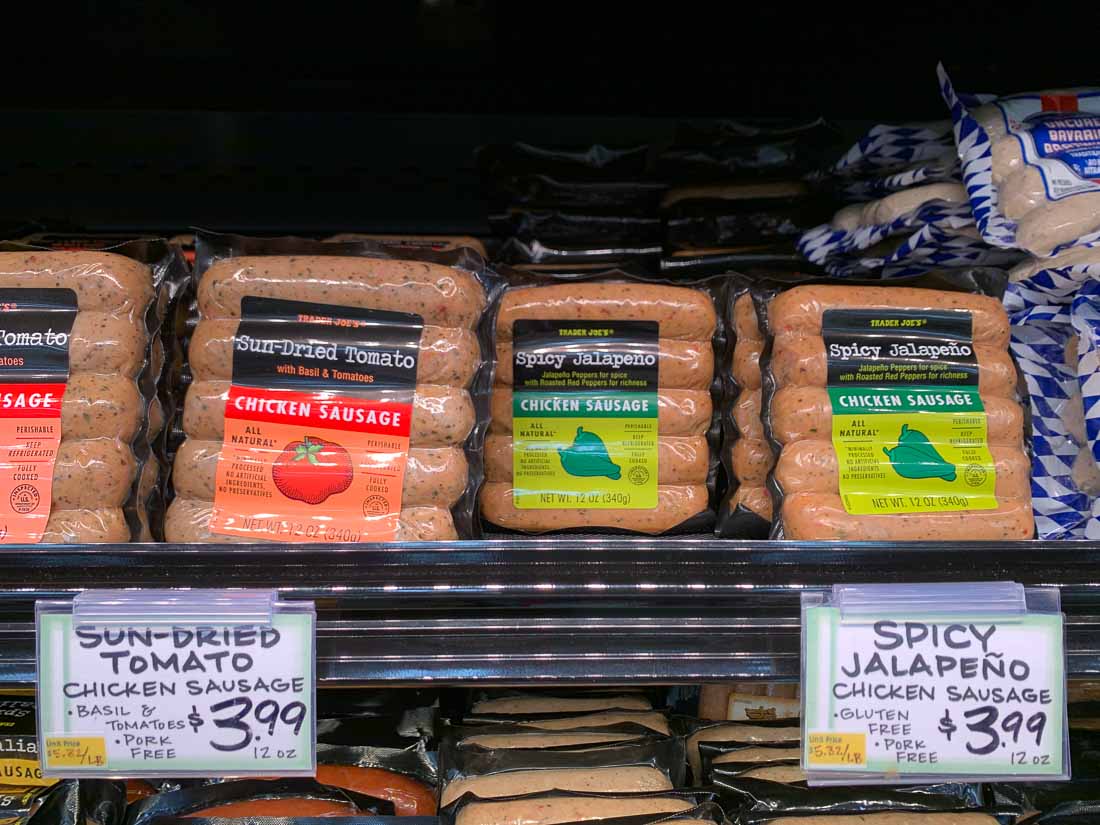 String Cheese
Is it string cheese or cheese stick?! Whatever the name, I love this portable, on-the-go form of cheese. It makes for a great, high-protein snack or even breakfast, especially when paired with fruit. I usually choose the regular (not light) version, but either is fine!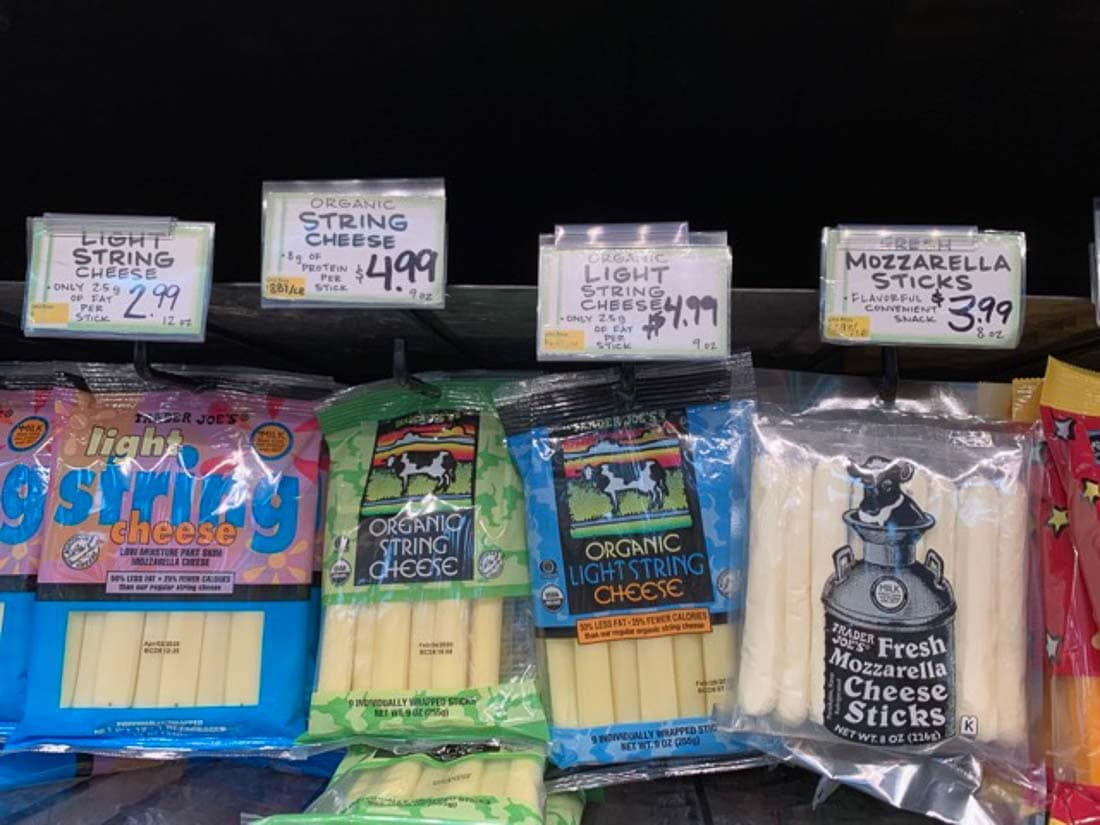 Crumbled Feta
Have I already mentioned that I love cheese? I eat cheese every. single. day. Cheese and other dairy products are rich in protein and calcium (click here to read more about the myths/facts on dairy). What I love about feta is it's rich, strong flavor, so a little goes a long way. Sprinkle it on a salad or pasta, or use it as queso fresco substitute in Mexican dishes.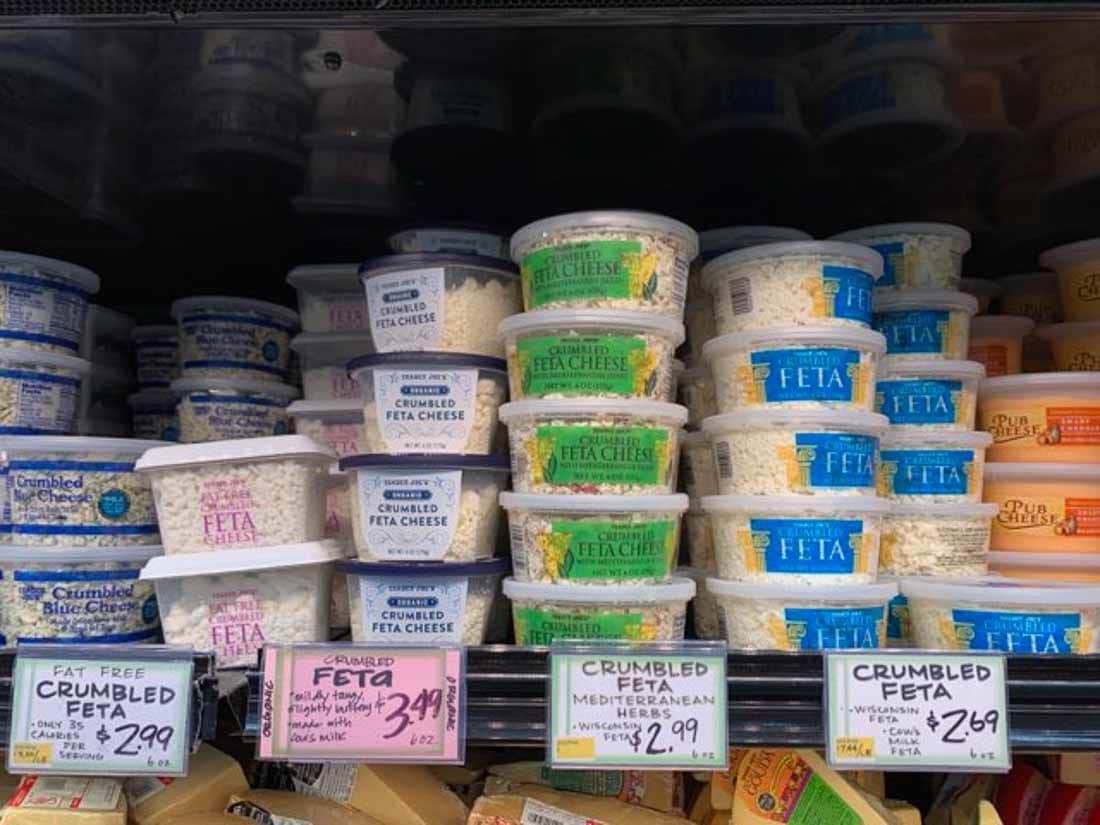 Canned Coconut Milk
This one obviously isn't dairy but it's a great dairy alternative! I love using canned coconut milk in my coffee, in baking, and to make savory sauces like curries or Thai sauces. You can buy canned coconut milk at almost any grocery store, but what I love most about TJ's version is that it's one of the few on the market that's made from just TWO ingredients: water and organic coconut. No preservatives or emulsifiers. Trader Joe's carries both regular and reduced-fat versions.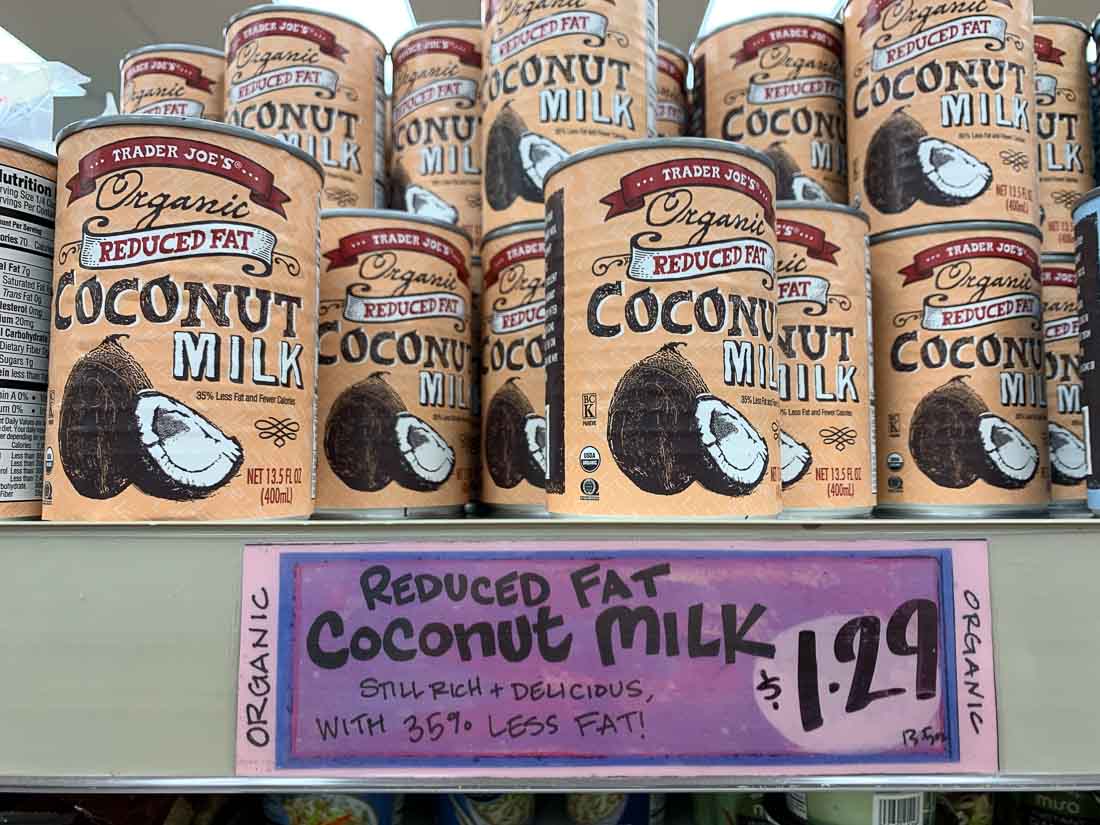 Healthy Trader Joe's – Breakfast Stuff
Vanilla Overnight Oats
Let's be real, overnight oats aren't that hard to make yourself. However, if you're lazy like me, these can be a lifesaver during busy mornings. As convenient as they are, what I like most about these overnight oats is that they're sweetened with dates. That's right, no added sugar!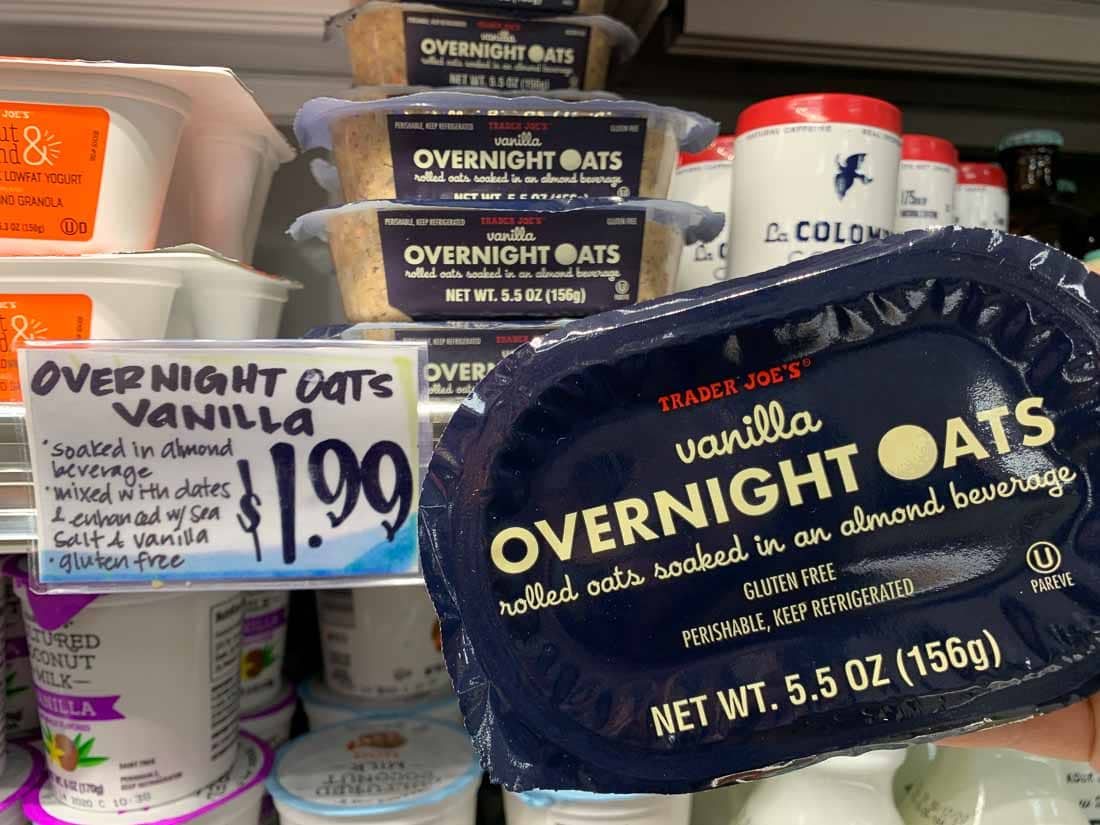 Raw Shelled Hemp Seeds
Hemp seeds are a great source of omega-3s (aka heart-healthy fats), protein, and fiber, and are perfect as yogurt topper or smoothie booster.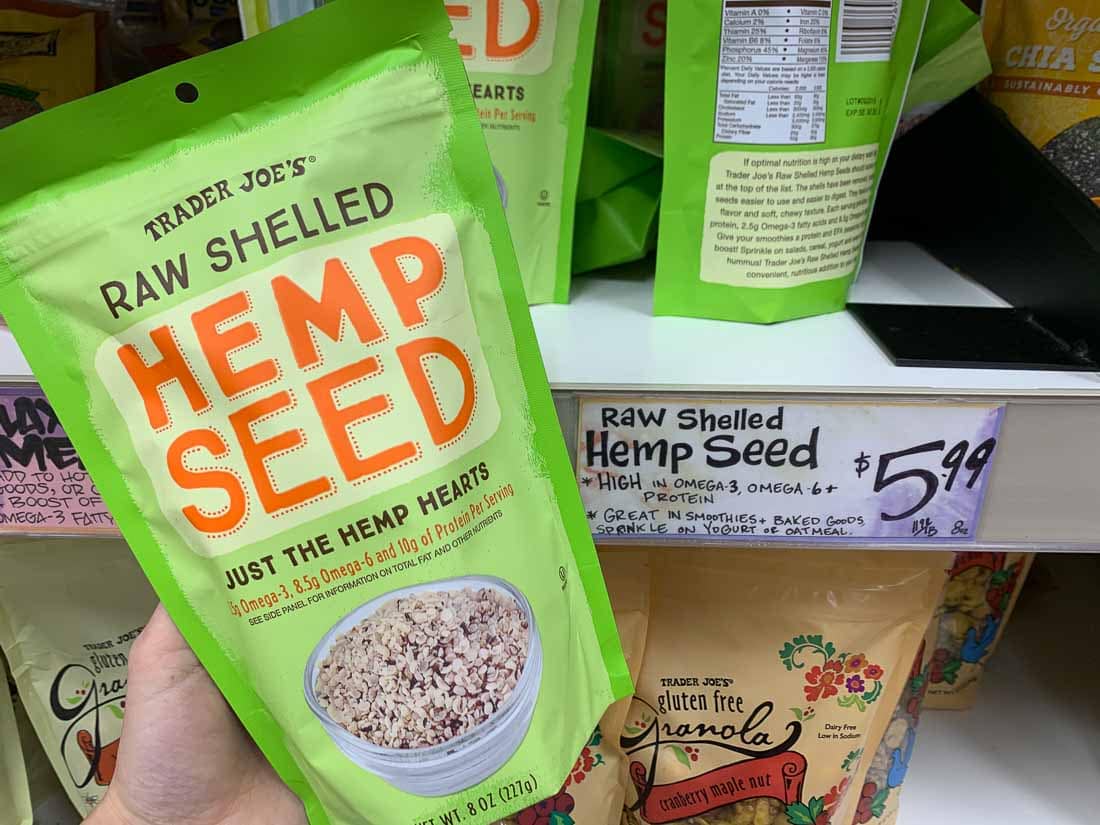 Organic Flaxseed Meal
Like hemp seeds, this flaxseed meal is also a great source of omega-3s, plus protein and fiber. I love adding it to smoothies or using it in vegan baking (to make a "flax egg" mix 1 Tbsp flaxseed meal with 2.5 Tbsp water and let sit for 5 minutes).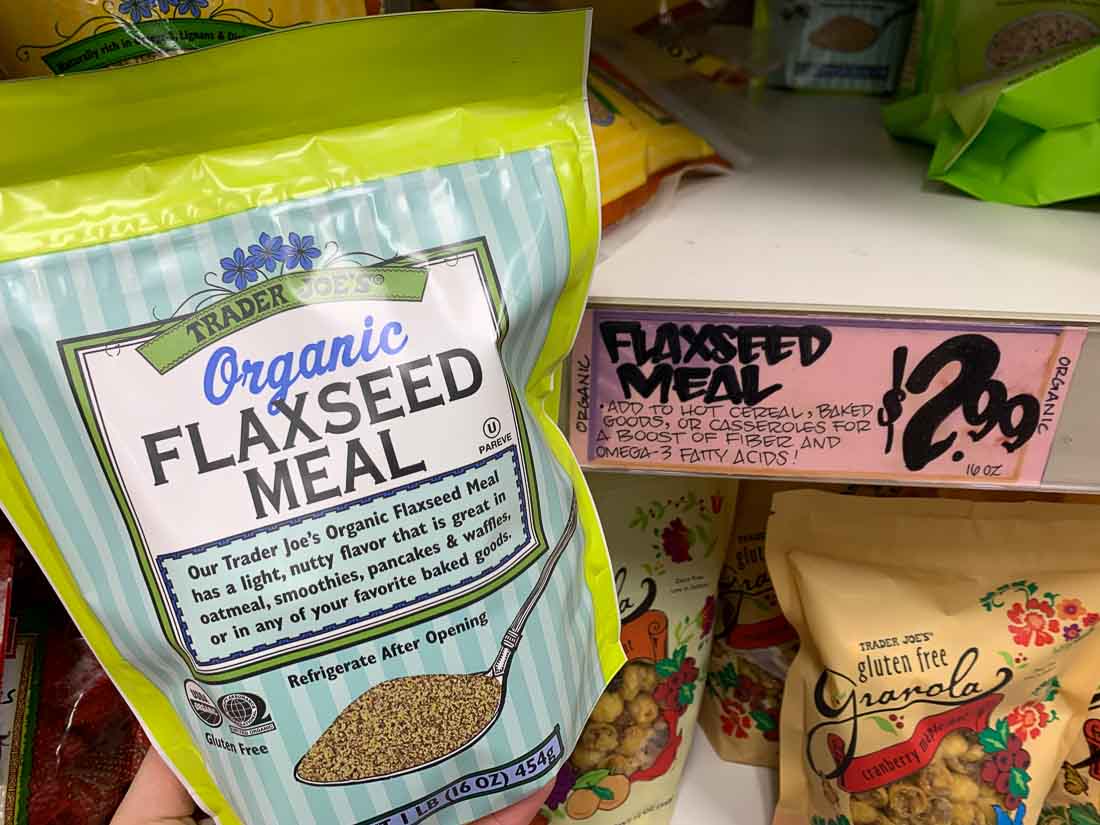 Gluten-Free Rolled Oats
This is one LARGE bag of rolled oats. It's sure to last you a long time, even if you're an oat-lover like me. Oats are the perfect breakfast staple and help keep you full and focused til lunch. I love making overnight oats, baked oatmeal, oat muffins and more with them. PS no need to buy this gluten-free version if you're good with gluten. They have a regular version too.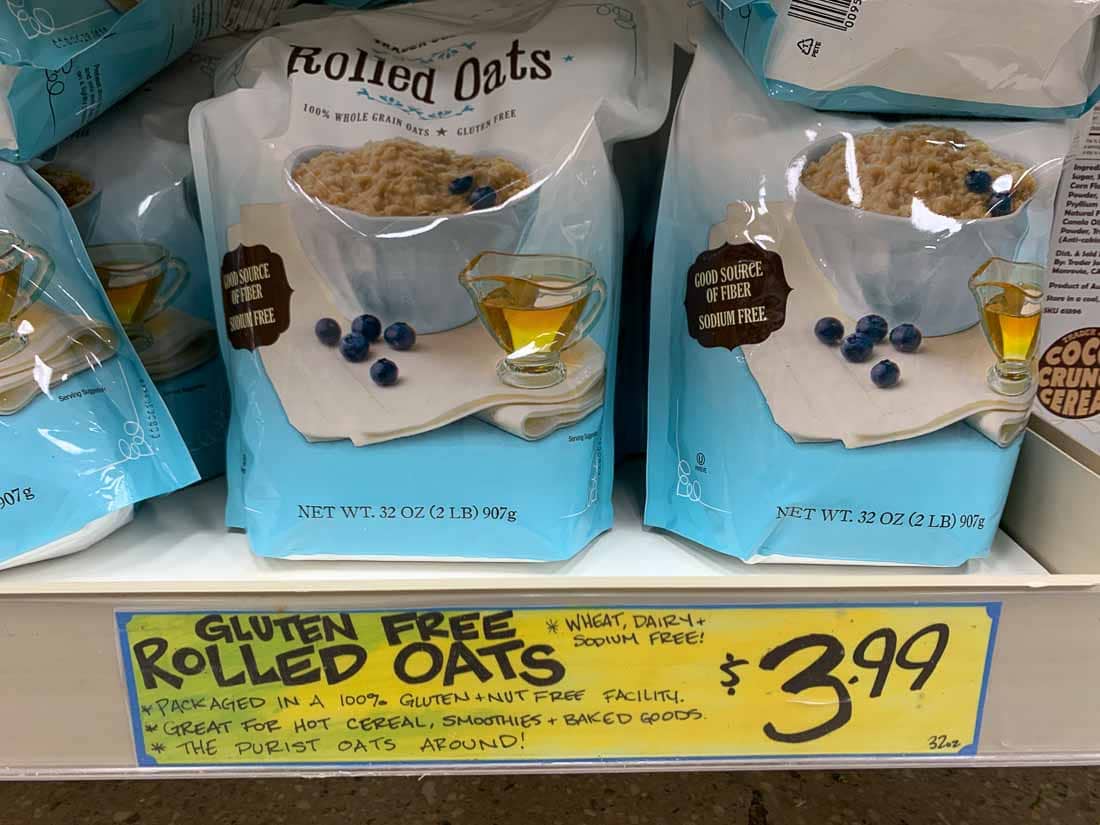 Sprouted Bread
Sprouted bread is basically the Beyonce of breads. Sprouted grains are simply whole-grain seeds that have already started to sprout. The sprouting process partially breaks down the starch in the grains, which lowers the carb content. Even better, sprouting decreases substances in the grain that block the absorption of nutrients. Without these antinutrients, your body is able to digest and utilize the grain's nutrients with more ease. Sprouted breads are also lower in gluten and higher in protein and fiber than typical breads.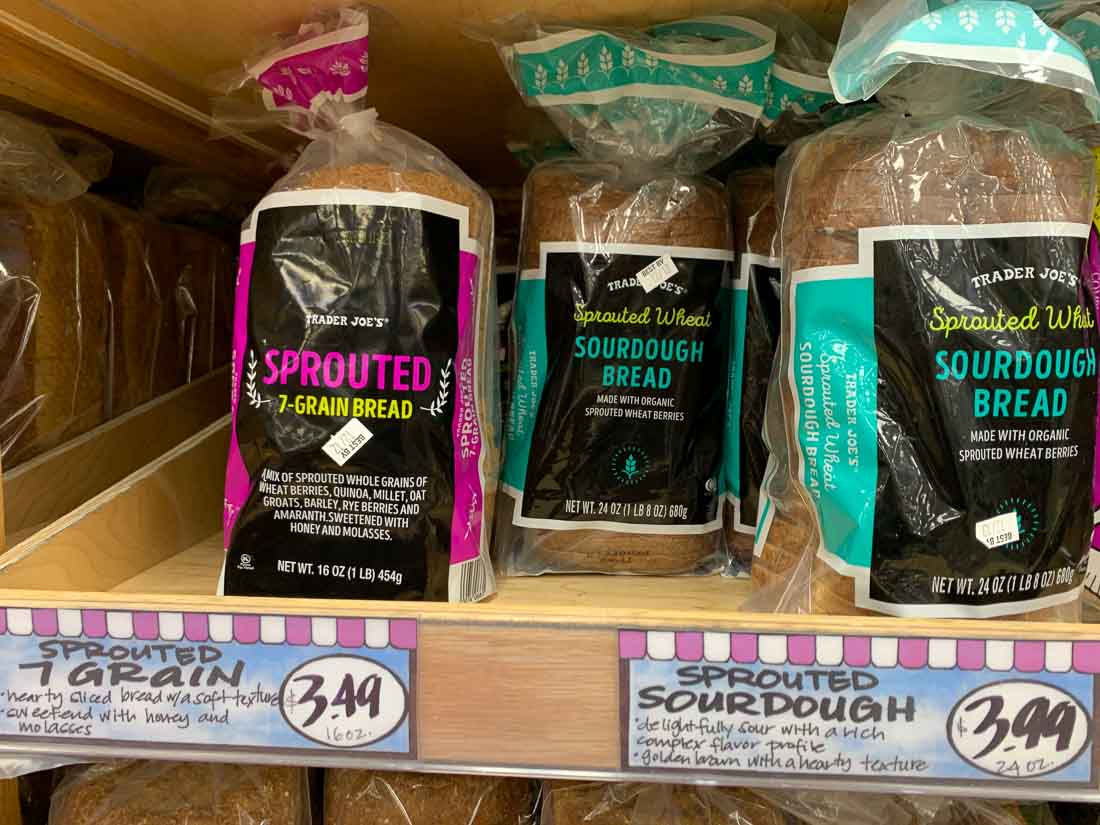 Healthy Trader Joe's – Snacks
Roasted Seaweed Snacks
Sounds a little weird, right? Well, have you tried sushi? If so, these snacks are what holds the sushi roll together. It's seaweed that's pressed, roasted, and then cut into little sheets. Although these snacks might not sound appetizing, they're addicting. Plus they're super low in calories, high in vitamins A and C, and even have a little protein and fiber, too. They come in two flavors: original and wasabi.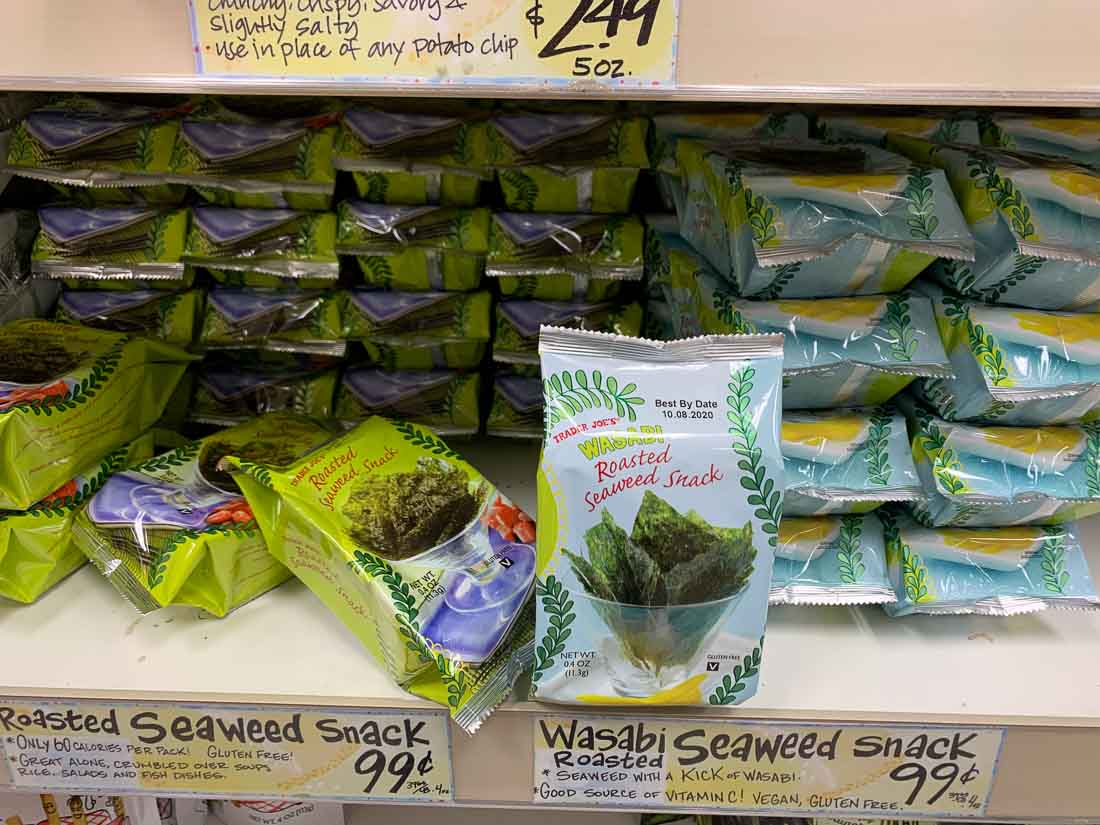 Ancient Grains Granola
Granola isn't usually on my list of top 5 or even top 10 snacks because store-bought options tend to be packed with added sugar. When looking for a good store-bought option, I typically recommend no more than 6 grams of sugar per 1/3 cup serving, and this one fits the bill!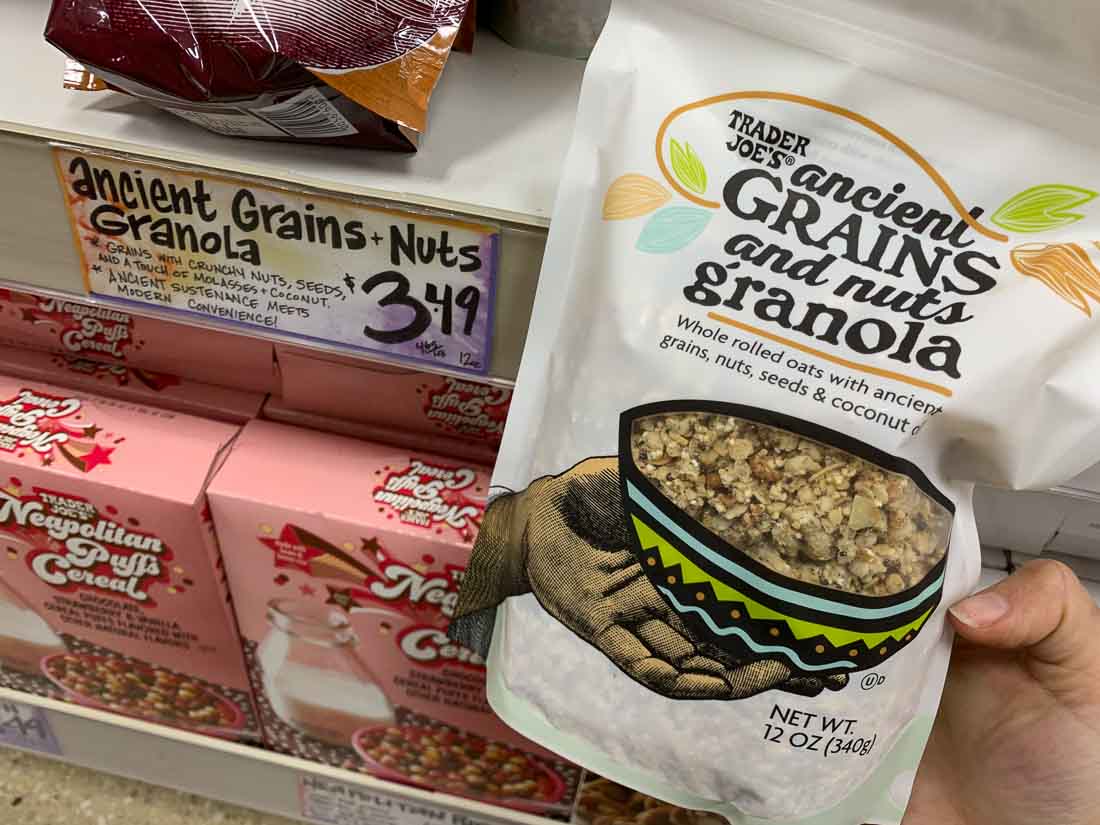 Air-Popped Lightly-Seasoned Popcorn
I ALWAYS recommend popcorn as a snack. Before you get too excited, the popcorn I'm referring to isn't butter-rich movie theater popcorn. Lighter alternatives from Trader Joe's, like the lightly-seasoned Heirloom Popcorn (with avocado oil & pink salt) and the Organic Popcorn (with extra virgin olive oil) are lower in fat and calories, and have some protein and fiber. Plus, you get more bang for your calorie buck than you would with other crunchy, salty snacks like chips (you can enjoy a few cups of popcorn in just one serving).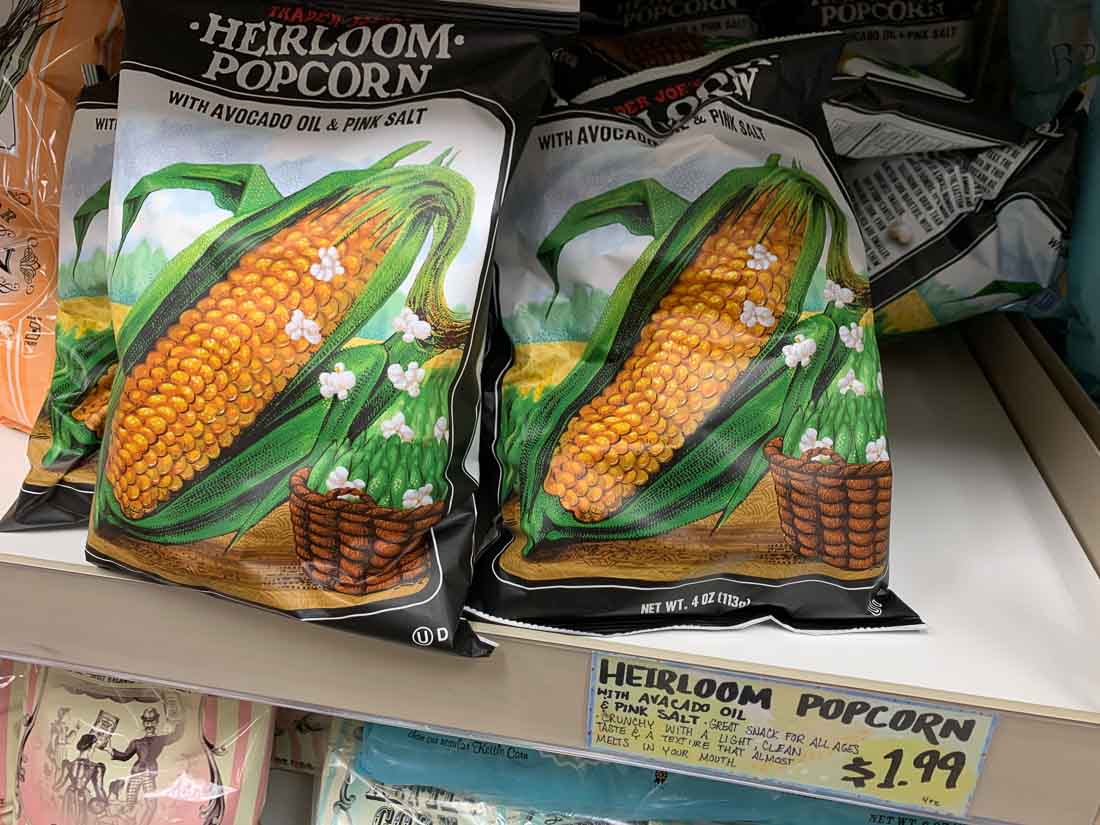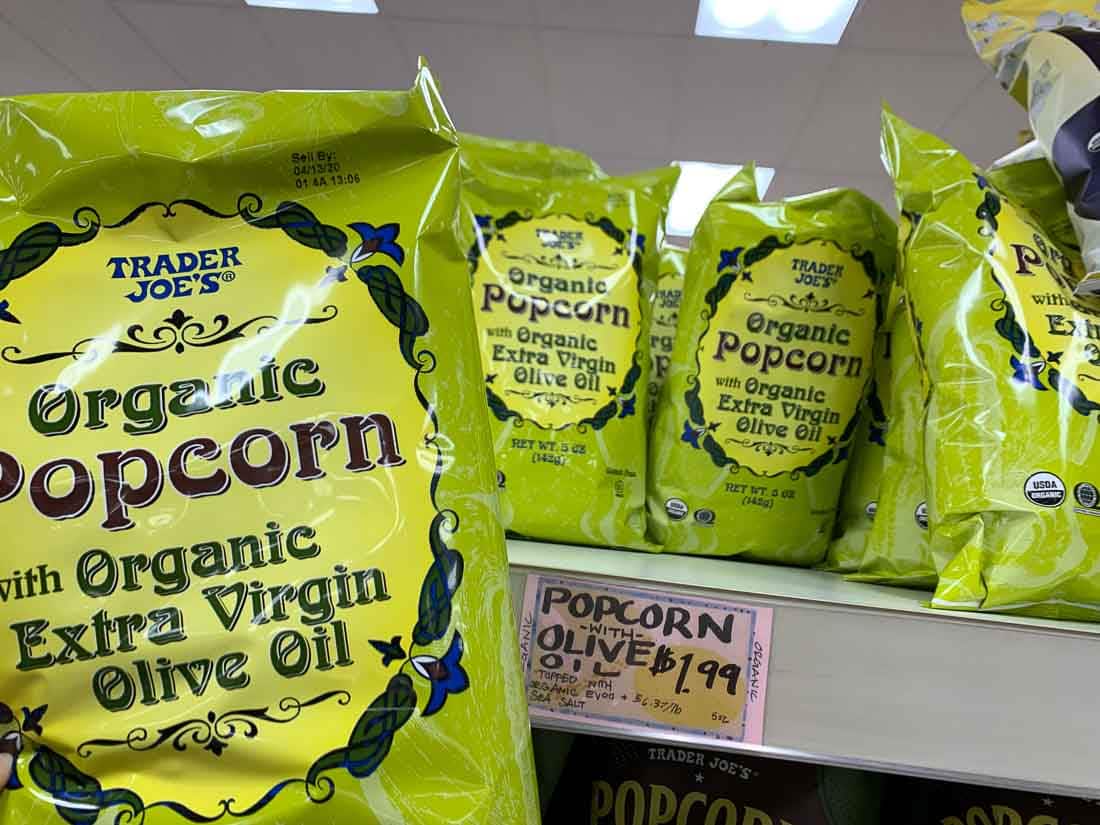 Just Beets
TBH, I hate the taste of beets. But I've heard through the grapevine that people like them, in fact a lot of people love them. As the name implies, this crunchy, chip-like snack is made from just beets. And these beet chips are solid enough to scoop any dip you throw at them.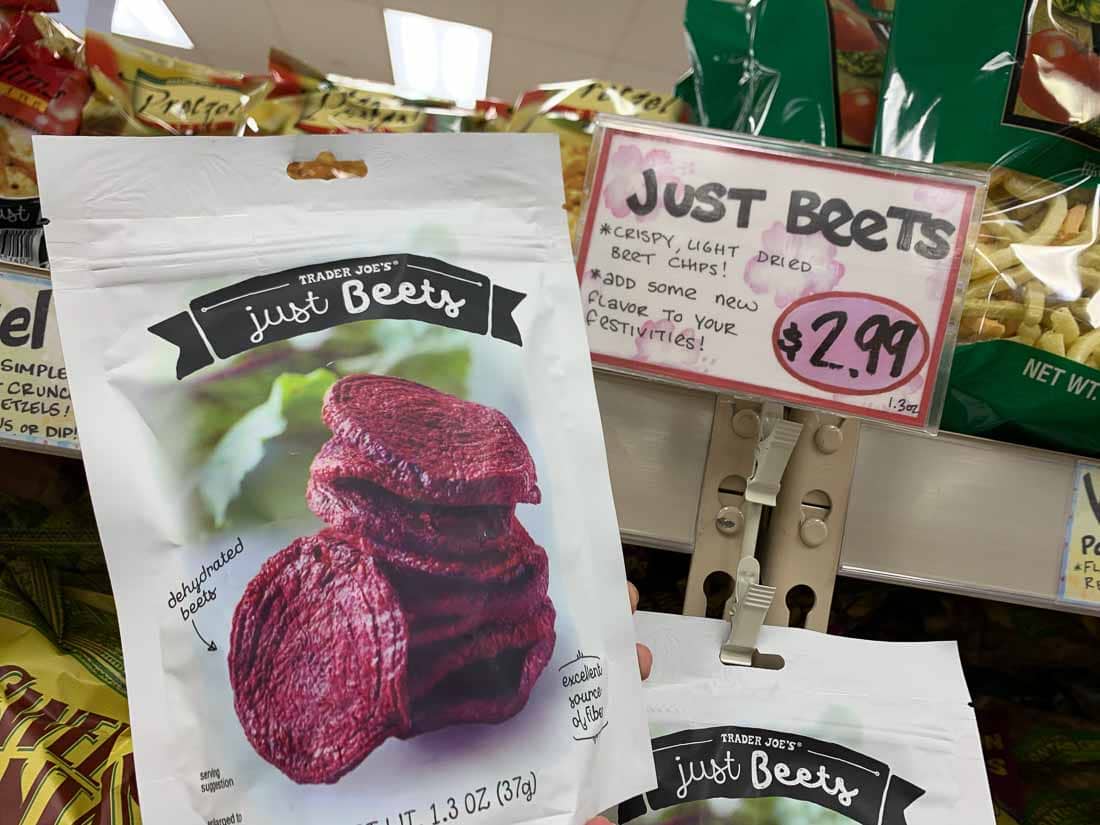 Crispbreads
These crispbreads look like something you'd find in the pantry of someone on the F-Factor diet. They're not very appealing to look at, but give them a chance, they're surprisingly tasty! And yes, they're packed with the two snack essentials: protein and fiber.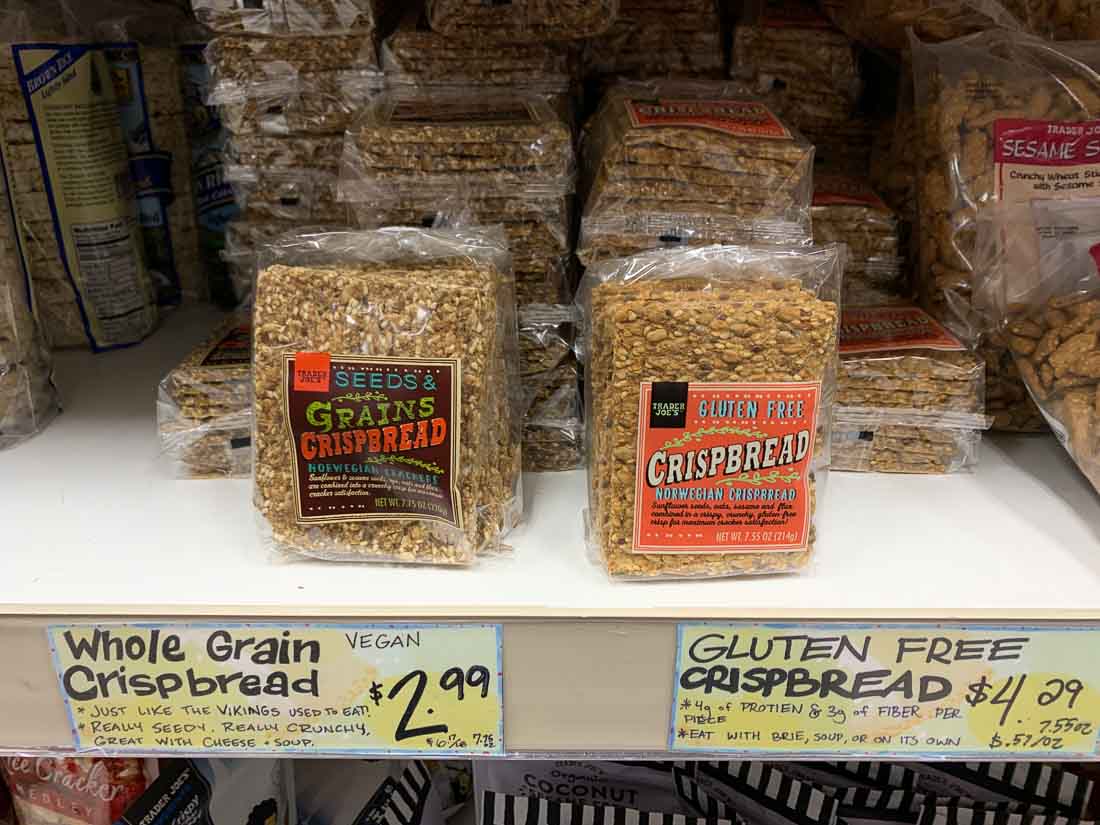 Oven-Baked Cheese Bites
I told you I like cheese, right?! Just read the sign in the picture and you'll know why I'm obsessed with these. If you can't see it, it reads "like having a bag full of crunchy grilled cheese edges". Cue the drool. They're made from just oven-baked cheese, so you know they're high in protein. They're also high in fat, aka a keto-dieters dream snack (but if you're not on keto, consume in moderation).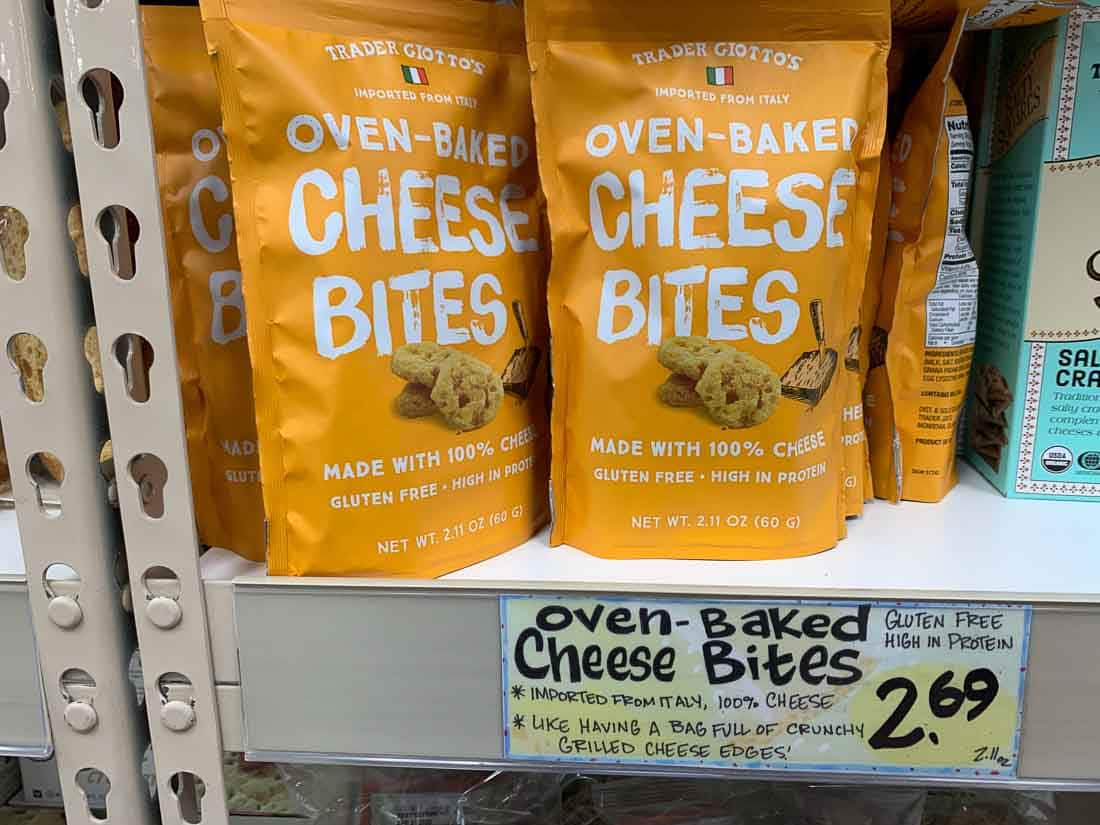 Mixed Nut Butter
I hate to single out just one of Trader Joe's nut butters because they're all so good (and reasonably priced, too). But how can I not when this nut butter is made from SIX different nuts? Each nut offers some unique nutritional benefits, so getting a variety of nuts in one spoonful of nut butter is a dietitian's dream.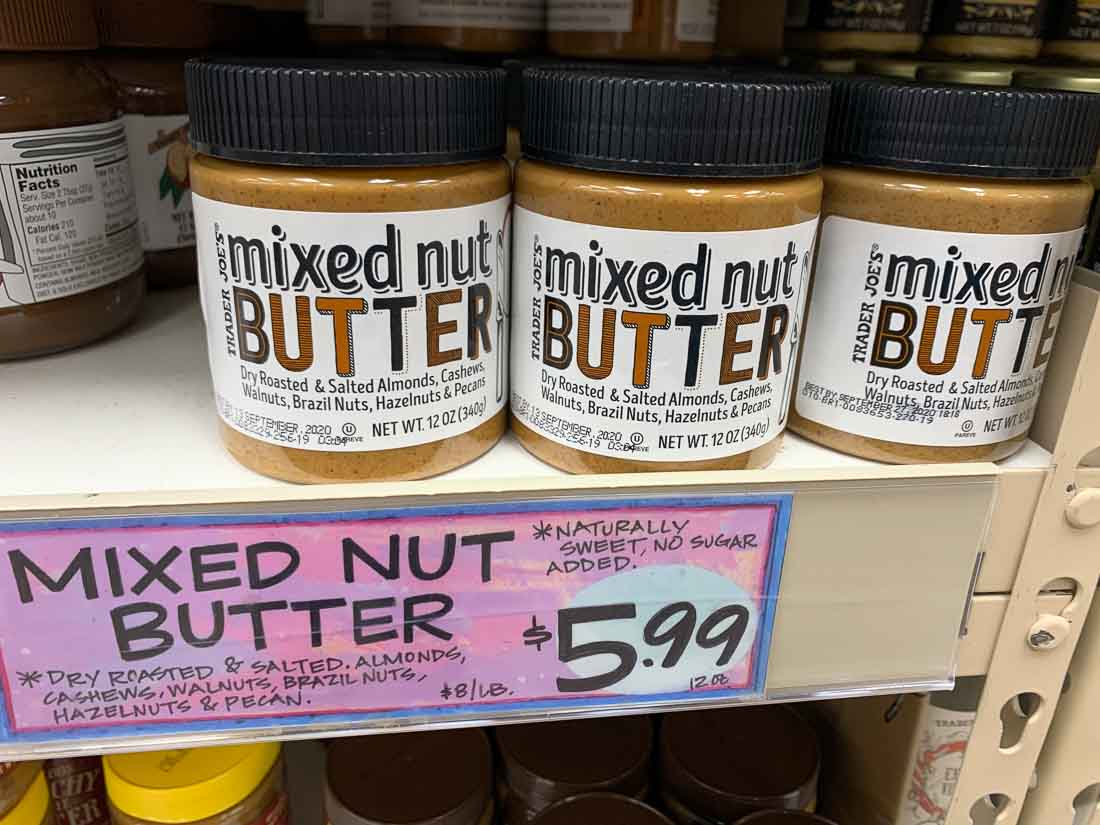 Peanut Powder
I didn't know which section to stick this guy in, so here it is. This peanut powder is Trader Joe's version of PB2, but without any added sugars. It's made from only two ingredients: partially defatted organic peanut flour and sea salt. Since it's partially defatted, it's lower in fat than regular peanut butter if you decide to reconstitute it with water (directions on package). My favorite way to use it is in smoothies or as a base for a peanut sauce for Asian dishes.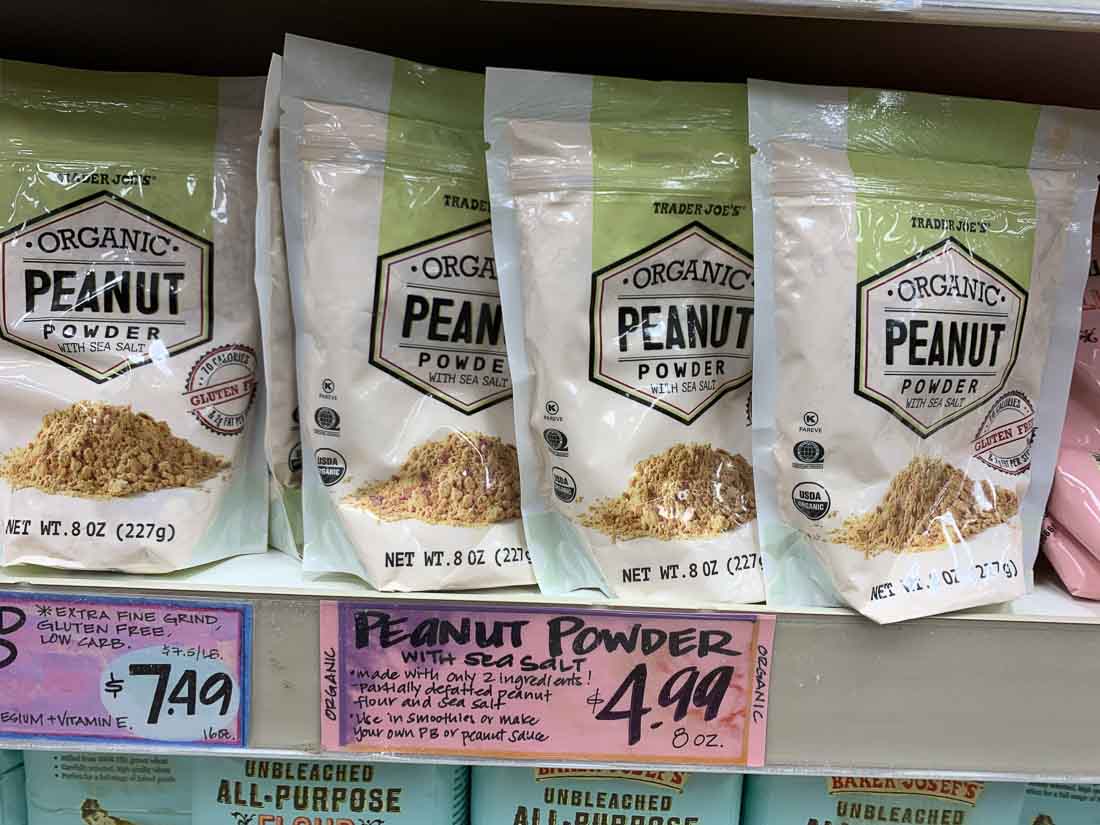 RXBARs & Power Crunch Bars
You can buy these at a lot of grocery stores, but they just happen to be my top two favorite protein bars. I love that RXBARS are sweetened naturally with dates (which are high in fiber) and have the added protein from egg whites. As for the Power Crunch bars, just take a bite and you'll know why I love them. They're SO GOOD they could pass as dessert. Plus, they're low in added sugar.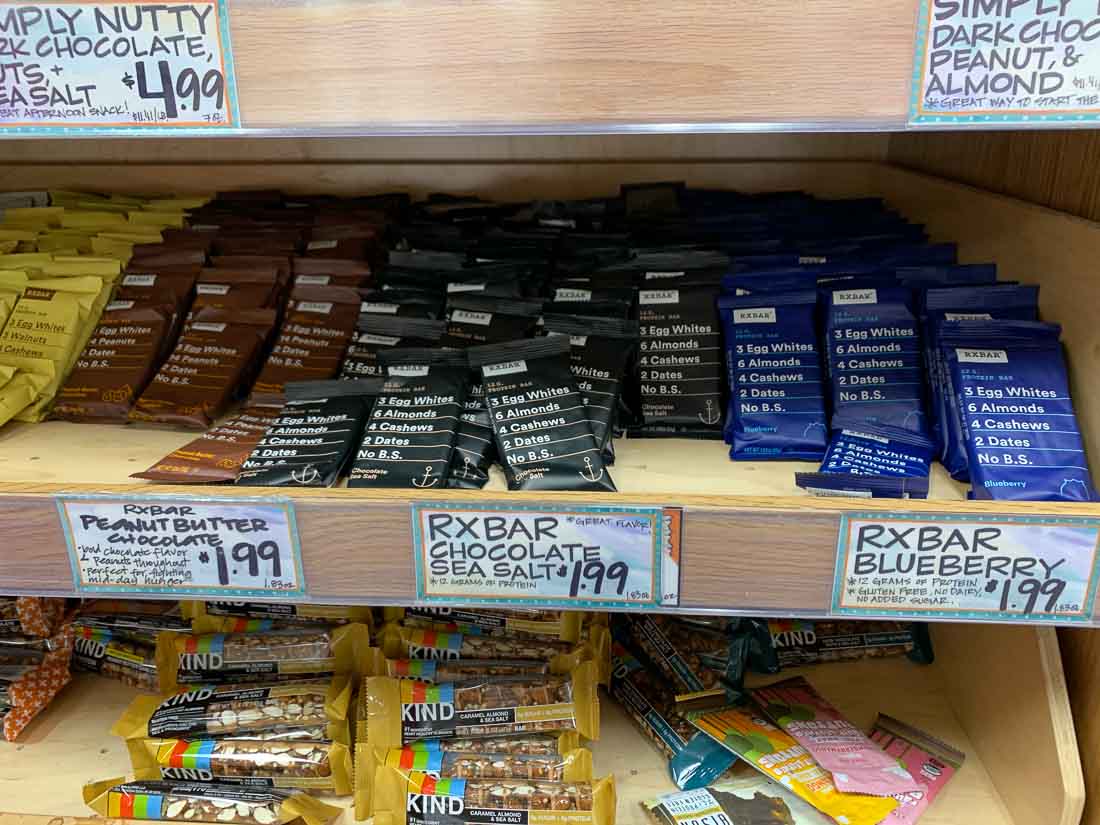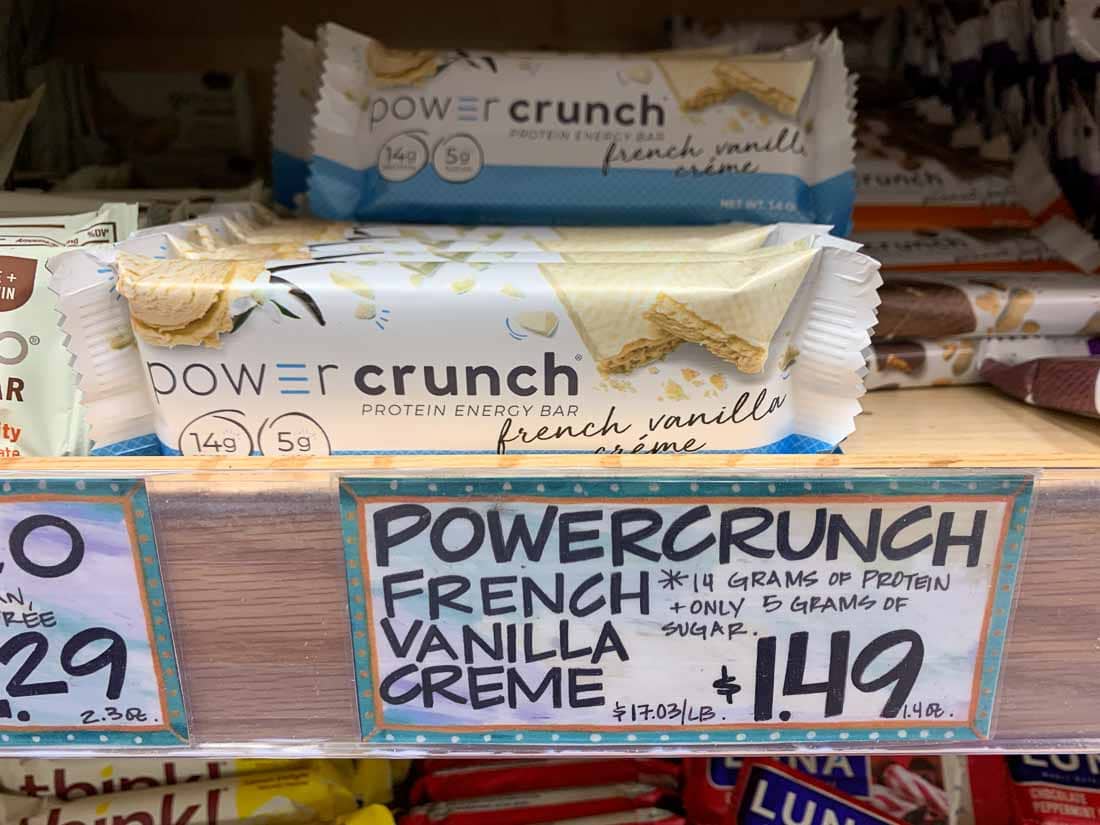 Other Random Things you Should Consider Buying at Trader Joe's
Flowers
They always have the most beautiful flower selection, including sunflowers! And as with all other Trader Joe's items, they're very reasonably priced.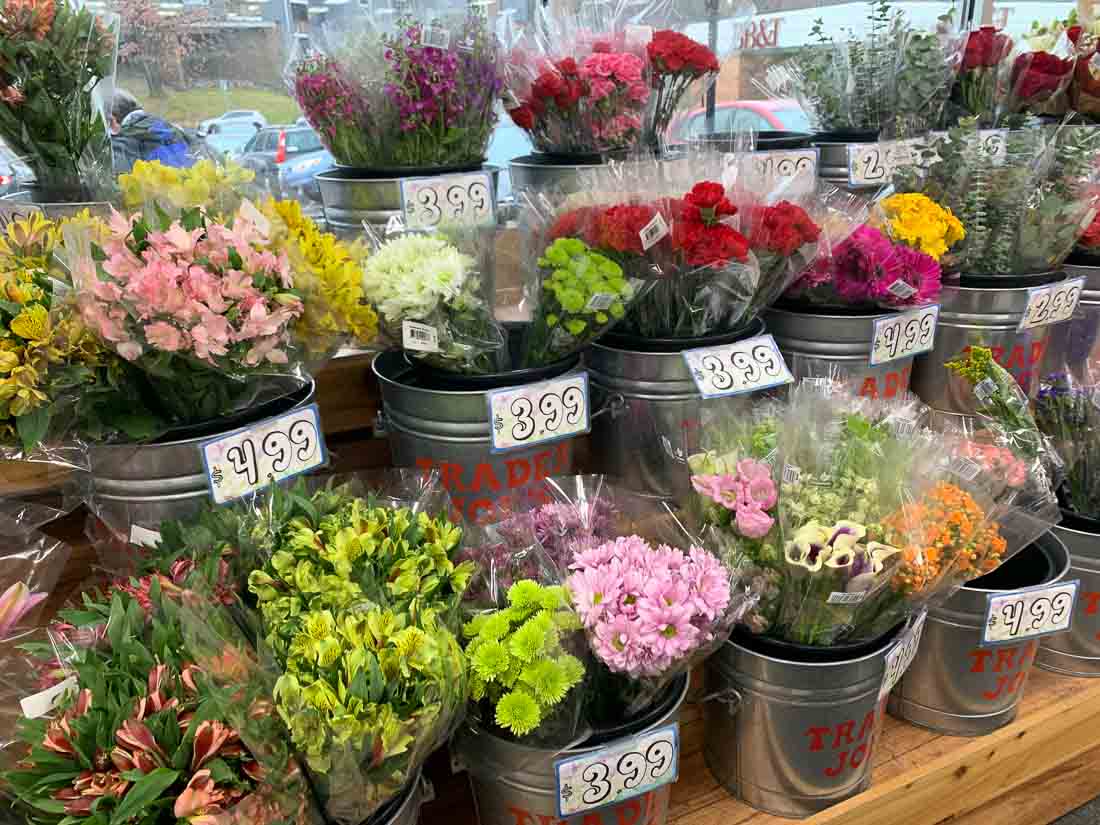 Spa Products
Trader Joe's has some great face and body products that won't break the bank. Many people swear by the tea tree oil face wash, the rosewater toner, and the rose facial oil, plus many others.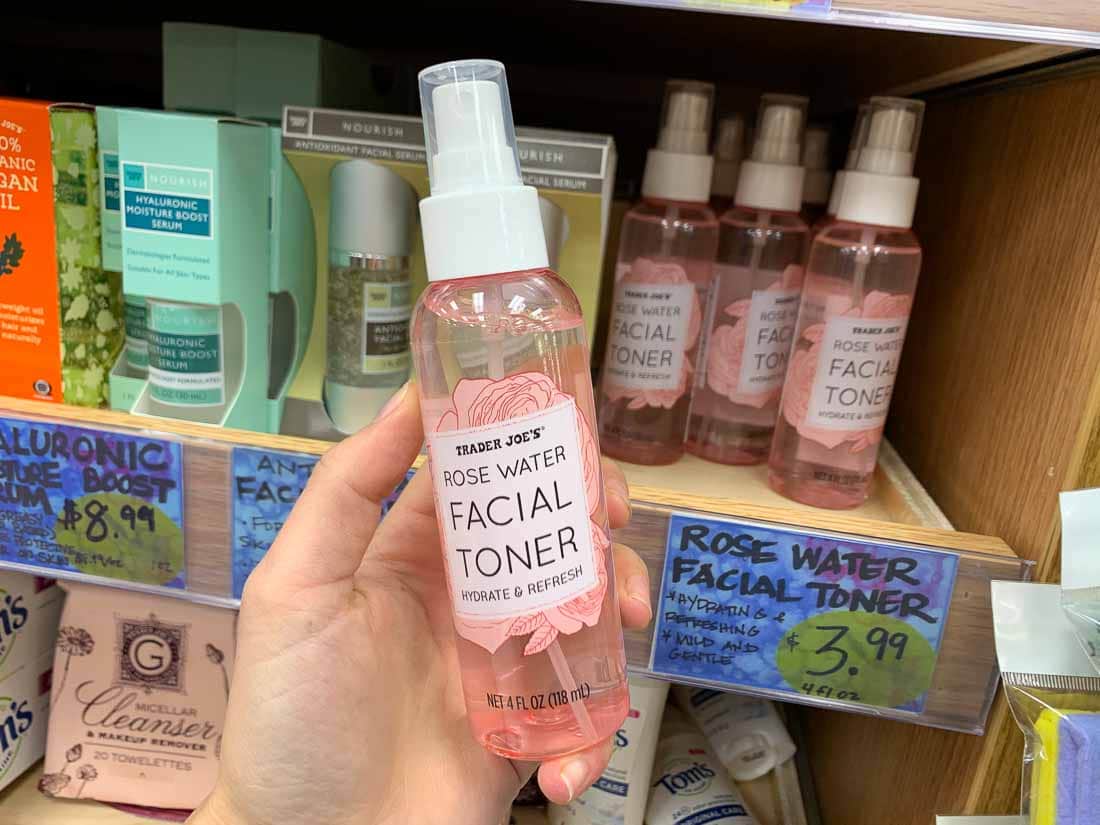 Supplements
Trader Joe's has a nice little supplement section that's not too overwhelming. I love their probiotics, magnesium, and vitamin D. And just look at those price tags, so affordable!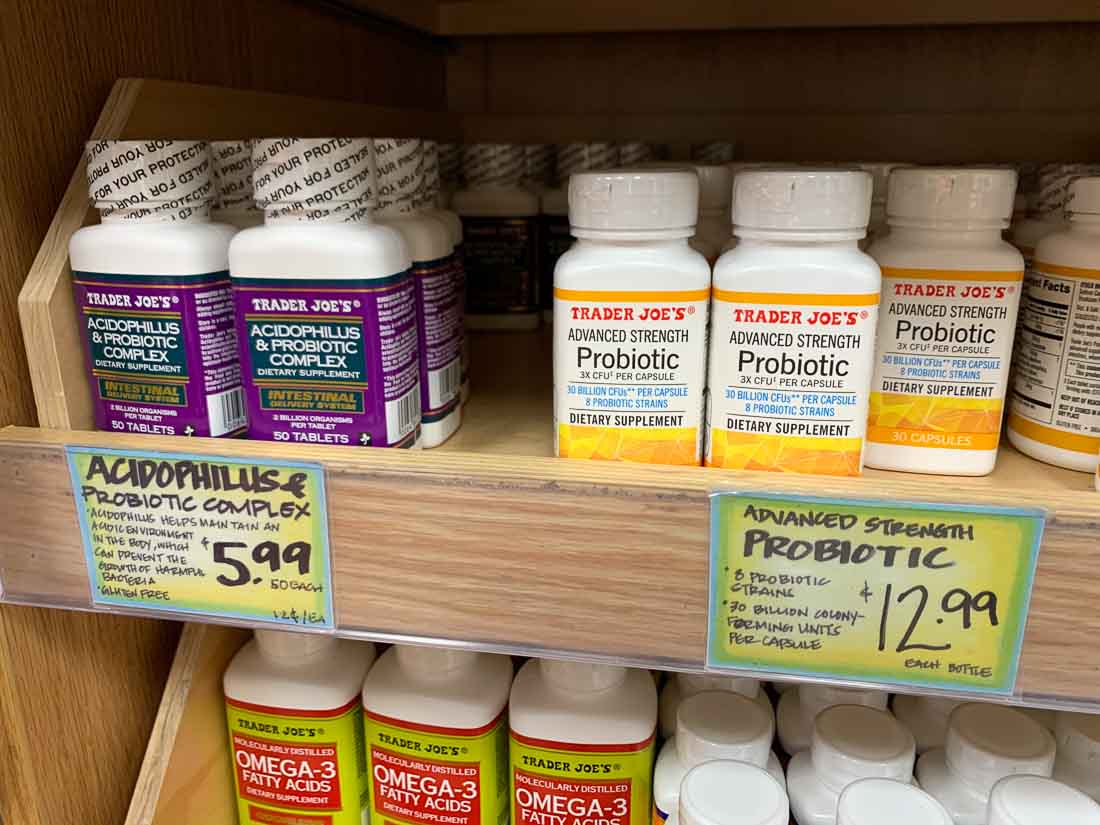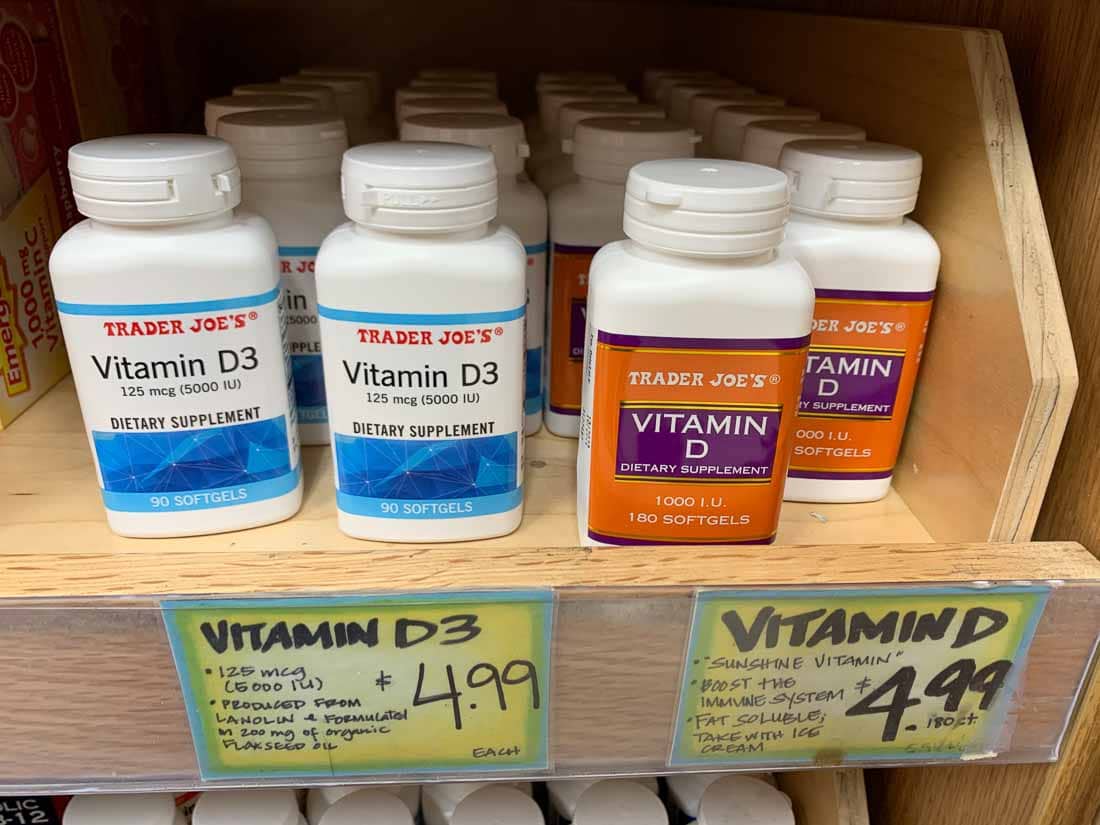 That's It, Folks
Keep in mind, just because something didn't make my list doesn't mean you shouldn't buy it. Trader Joe's has hundreds of other healthy options you should definitely consider throwing in your cart, like Greek yogurt, almond milk, eggs, and more. I just wanted to call out the less obvious ones.
Be sure to grab your copy of my totally free Ultimate Trader Joe's Shopping Guide with 7-Day Meal Plan below!
Let me know in the comments section below, what's YOUR favorite Trader Joe's food product?!
This post may contain affiliate links, which means I may receive a small commission if you purchase through those links. I only recommend products that I know, trust and love! Thank you for your support!