Thai Chicken Zoodle Soup (Paleo, Whole30)
This recipe for Thai Chicken Zoodle Soup is a gluten-free, lightened-up take on the classic Thai dish. This quick and yummy recipe takes advantage of many traditional Thai veggies, spices, and more. By using zoodles instead of noodles, it's low-carb, gluten-free, paleo, and Whole30-approved!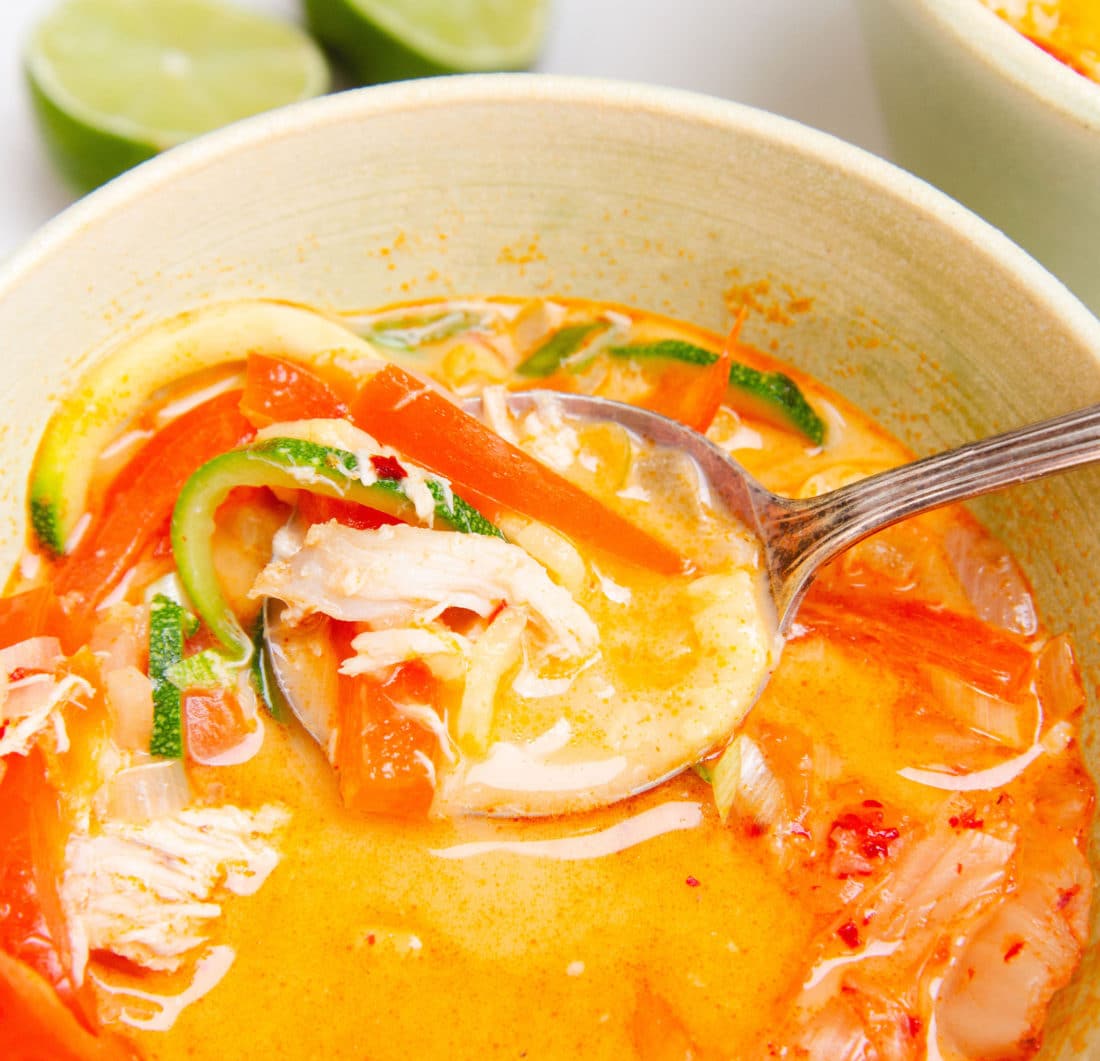 Have You Tried Zoodles Before?
While the name "zoodles" sounds complicated, it really is quite simple. Zoodles are simply spiralized zucchini! In fact, zoodles have gained so much popularity this year that you can find pre-spiralized zoodles, fresh or frozen, at most grocery stores. I recommend stocking up on frozen zoodles for quick and healthy last-minute dinners . Alternatively, you can easily make your own zoodles by using a spiralizer at home.
PS If you're not a fan of zucchini, look for alternate "noodle" options, like spiralized butternut squash, carrot, or sweet potato.
Zucchini Nutrition Facts
Zucchini is a type of squash that is loaded with good-for-you nutrients. One cup of raw zucchini only contains 25 calories. However, while low in calories, it's rich in vitamins and minerals.
Zucchini contains high amounts of Vitamins A and C, as well as many B vitamins. It also packed with fiber, which helps to regulate bowl movements and support proper digestion.
Cooking with Zoodles
The key to cooking with zoodles is not overcooking them. When overcooked, zoodles quickly turn soggy due to the high water content. As noted in the directions below, when making this Thai Chicken Zoodle Soup it's important to add your zoodles at the very end. The goal is to thoroughly heat the zoodles without reaching a mushy texture.
Recipe Substitutions
*As an Amazon Associate I earn from qualifying purchases.
Vegan or Vegetarian: If you follow a vegan diet, be sure to replace the chicken broth with veggie broth. Also, omit the chicken or replace it with your preferred source of protein, like tofu or chickpeas.
Instead of rotisserie chicken: Instead of using rotisserie chicken, you can make your own shredded chicken breast by following the instructions shared on Well Plated.
Paleo, Whole30: You're in luck! This recipe is already paleo and Whole30-approved.
Gluten-Free/Dairy-Free: You're in luck, again! The recipe is already gluten-free and dairy-free, since it uses zucchini (for noodles) and coconut milk.
Other: As mentioned previously, if zucchini isn't your thing, you can try swapping out the zoodles for spiralized sweet potato or opt for pasta made with black beans, chickpeas, or lentils. Banza makes a great chickpea pasta!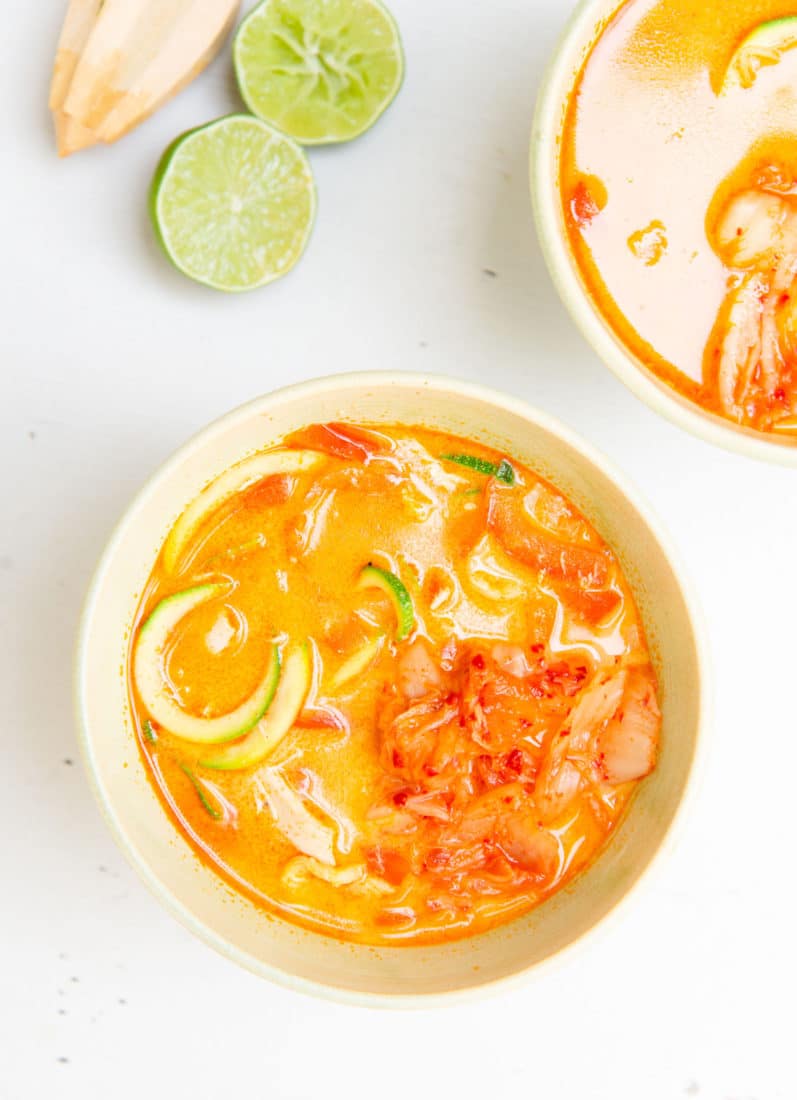 What You Need to Make Thai Chicken Zoodle Soup:
Coconut Oil: Coconut oil provides a hint of coconut flavor without overpowering the dish. Also, it is loaded with healthy fats to enhance the other flavors and help to satisfy your tastebuds and tummy.
Shallots: Shallots look like a small red onion. They are tangy, sweet, and spicy all in one. Although they are small, they add tons of flavor!
Red Bell Pepper & Carrots: Bell Pepper and carrots are both staples in traditional Thai food. Red bell pepper is particularly sweeter than other bell peppers, which adds a nice, subtle flavor to this dish.
Ginger: Ginger is known to be a potent and powerful superfood. It has anti-inflammatory properties and helps aid in digestion. Not only is it a key ingredient for flavor, but also for health!
Curry Paste: Curry is a common ingredient in most Thai and Indian dishes. It is loaded with spices and herbs to at plenty of flavor to any dish.
Coconut Milk: Instead of using traditional cream or yogurt, I opted for coconut milk to keep this dish free of common allergens, like dairy. The coconut milk creates a thick, creamy consistency, which is essential for this soup.
Coconut Aminos: Coconut Aminos are a gluten-free alternative for soy sauce. It tastes slightly sweeter than soy sauce, which adds a great flavor to this traditional Thai dish.
Chicken: Shredded chicken is the primary source of protein in this recipe. Since it is already cooked and shredded, adding it to the soup is a quick and easy way to make sure you are consuming high-quality protein.
Zucchini: Zucchini, in the form of zoodles, is the base of this recipe. You can buy pre-spiralized zoodles, either fresh or frozen. However, if you'd prefer homemade zoodles, using a handheld spiralizer is a piece of cake. Check out my favorite Handheld Spiralizer below.
Shop for this Recipe: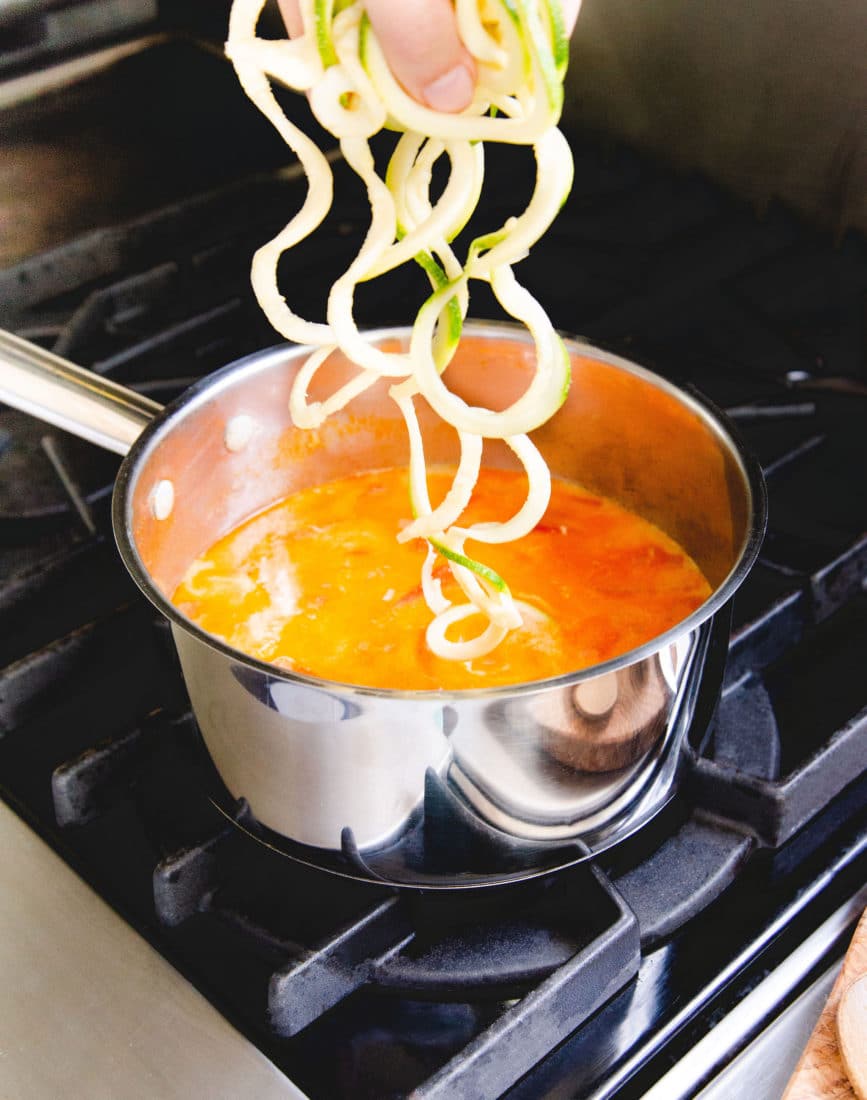 Thanks for reading Shaped by Charlotte! To see what other healthy and tasty recipes I'm whipping up in the kitchen, be sure to follow me on Facebook and Instagram!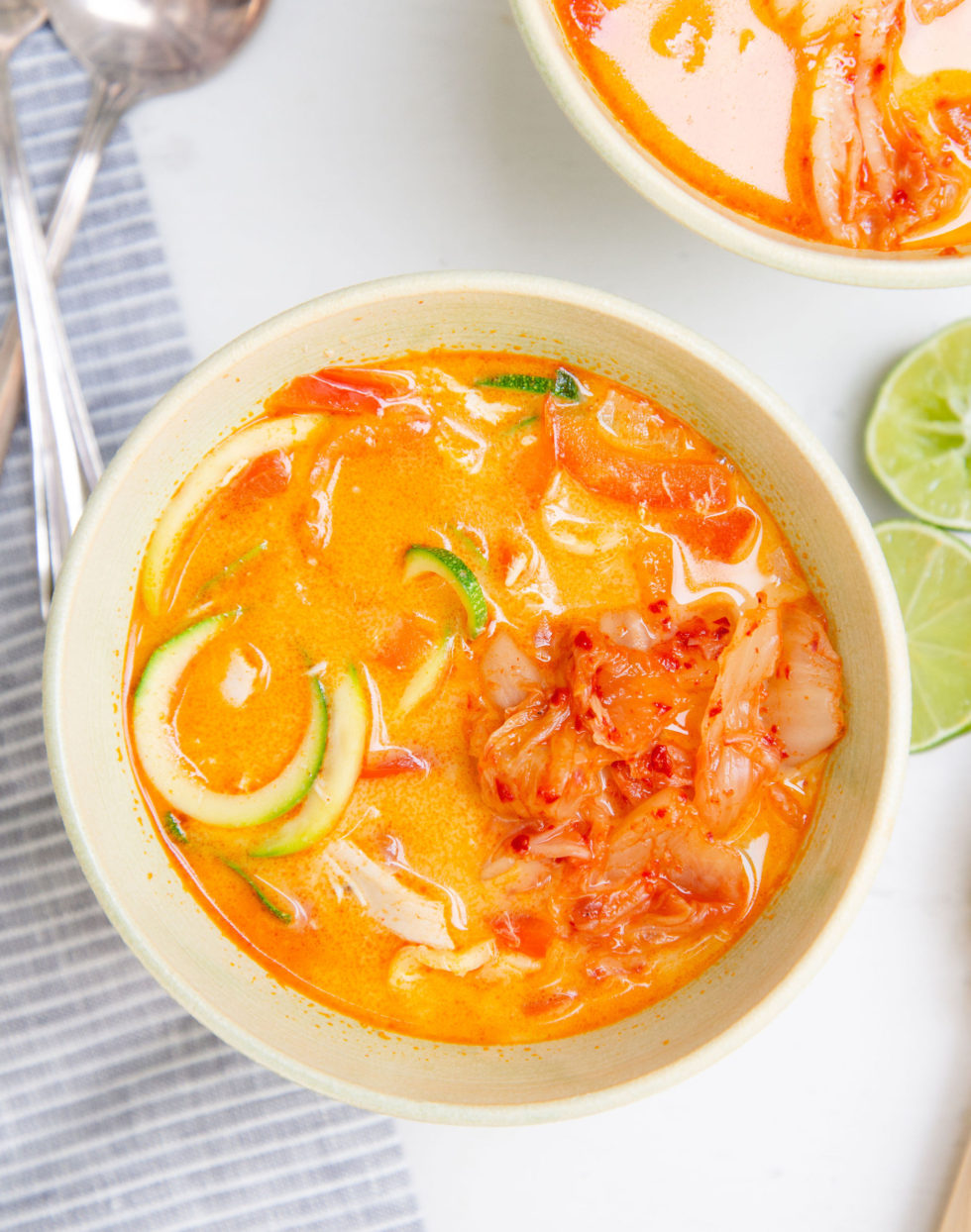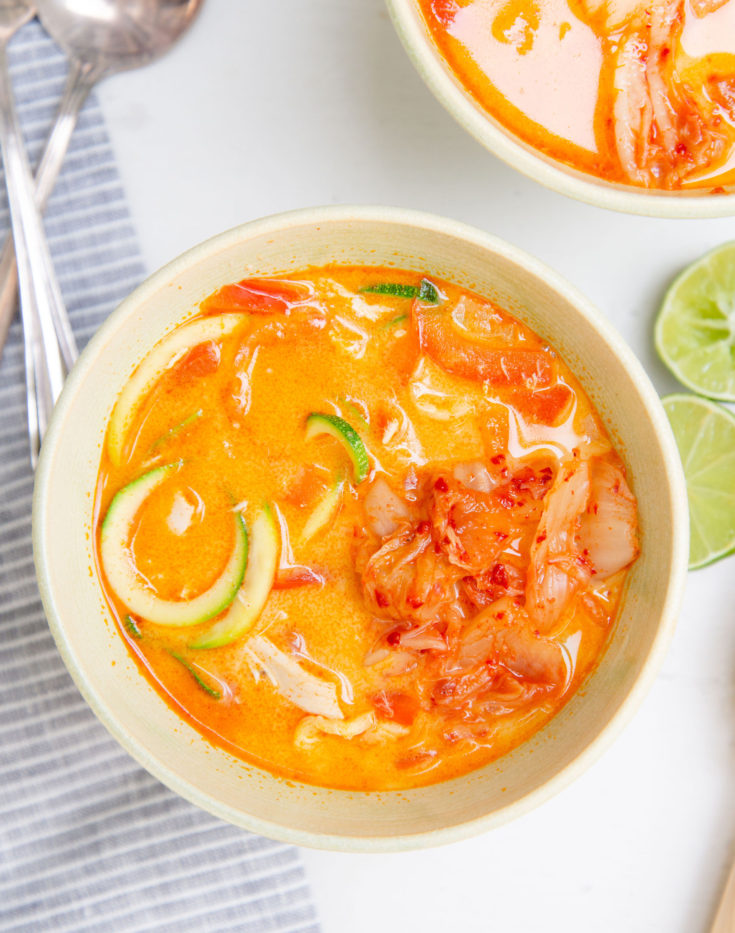 Thai Chicken Zoodle Soup (Paleo, Whole30)
Yield: 4 servings
Prep Time: 10 minutes
Cook Time: 20 minutes
Total Time: 30 minutes
This Thai Chicken Zoodle Soup is a delicious, glute-free version of classic chicken noodle soup. It is tangy, slightly sweet, and a little spicy!
Ingredients
1 Tbsp coconut oil
1 large shallot, minced
2 garlic cloves, minced or pressed
1 large red bell pepper, sliced
1 cup shredded carrots
2 tsp grated fresh ginger
2 - 3 Tbsp thai red curry paste
3 cups chicken or vegetable broth
1 can light or full-fat coconut milk
2 Tbsp coconut aminos or low-sodium tamari*
2 cups shredded rotisserie chicken
2 medium zucchini, spiralized
Squeeze fresh lime juice
Instructions
1. Heat oil in a large saucepot over medium heat. Add shallot, garlic, bell pepper, carrots and ginger and sauté until veggies are softened, about 3 to 4 minutes.
2. Stir in curry paste and cook for an additional minute.
3. Add broth, coconut milk, coconut aminos, and chicken, and simmer over medium-low for 5 minutes. Season with salt and pepper to taste.
4. Add zucchini noodles and cook until slightly softened, about 1 to 2 minutes. Serve with lime juice.

Notes
*If gluten-free, use coconut aminos or tamari labeled "gluten-free".

Thanks for reading Shaped by Charlotte! To see what other healthy and tasty recipes I'm whipping up in the kitchen, be sure to follow me on Facebook and Instagram!
Shaped by Charlotte LLC is a participant in the Amazon Services LLC Associates Program, an affiliate advertising program designed to provide a means for sites to earn advertising fees by advertising and linking to amazon.com. As an Amazon Associate I earn from qualifying purchases!
This post may contain affiliate links, which means I may receive a small commission if you purchase through those links. I only recommend products that I know, trust and love! Thank you for your support!