Breakfast Sweet Potato Fried Rice
If you love sweet potatoes and fried rice, then you'll love this lightened-up, breakfast version of a traditional dish. This breakfast sweet potato fried rice is simple, yet hearty and flavorful. It's gluten-free and Whole30-friendly, too!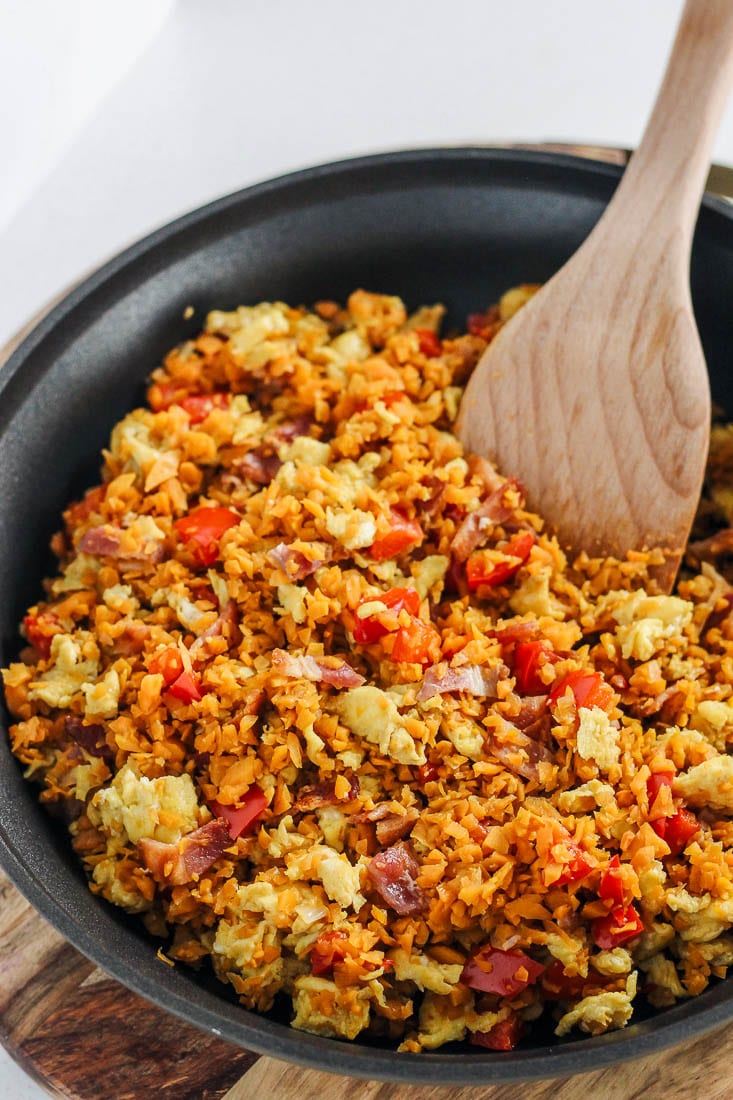 This recipe is sponsored by the North Carolina SweetPotato Commission. North Carolina has been the number one sweetpotato-producing state in the United States since 1971.
Move over cauliflower rice, this NC sweetpotato rice changes everything! I won't lie – I'm a huge fan of cauliflower rice. But it's overdone.
Cauliflower isn't the only vegetable that can magically transform itself into a lower-carb swap for one of your favorite high carb foods. If you're ready to diversify your veggie-based carb swaps, then you've got to give this sweet potato rice a try.
How to make sweet potato rice
Unfortunately, it's nearly impossible to find pre-riced sweet potato (the only one I've seen is this Green Giant Sweet Potato & Cauliflower Rice blend). But don't sweat – sweet potato rice is a cinch to make (even easier than cauliflower rice in my opinion).
To make sweet potato rice, you'll want to scrub and peel your sweet potatoes first. You can also leave the peels on, but it may affect the final texture of the rice. Then, cut your sweet potatoes into ~1-inch cubes and add to the bowl of a food processor.
Pulse slowly, until the sweet potatoes resemble the look, texture, and size of rice, working in batches if necessary. This will happen much faster than you think! So, be sure to manually pulse and be careful not to over-process.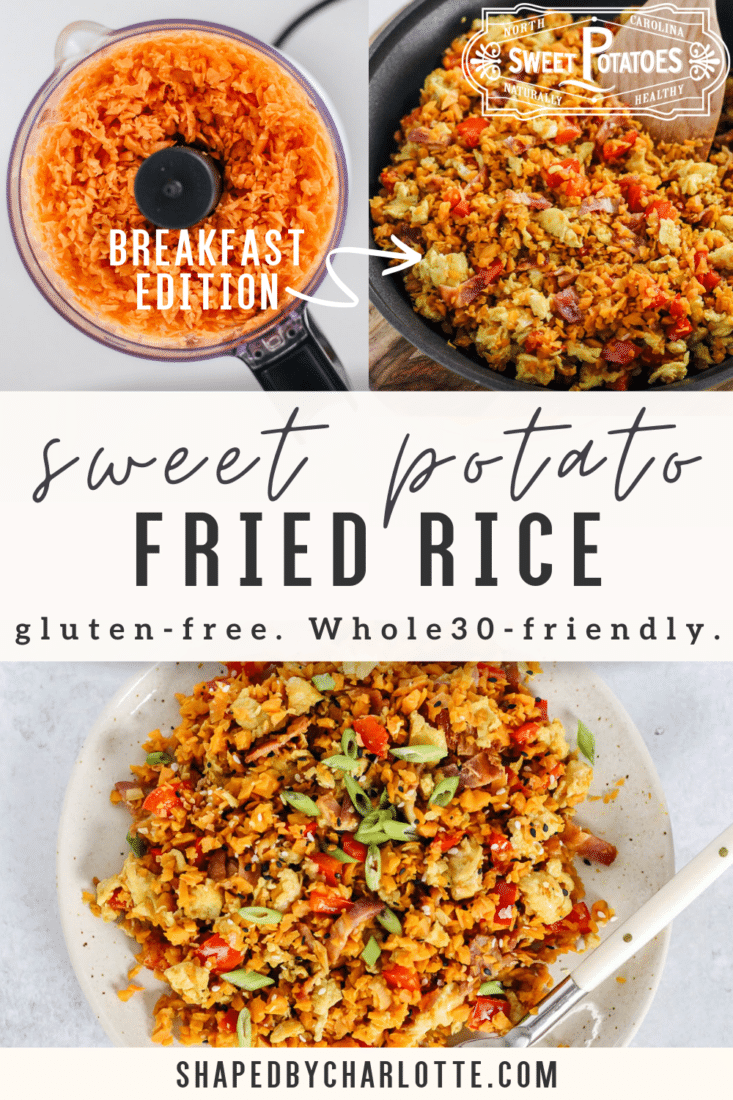 Let's talk about NC sweetpotatoes
North Carolina sweetpotatoes are a wonderfully versatile orange "superfood" that are highly nutritious and have a long shelf life.
Health benefits of NC sweetpotatoes
A medium sweetpotato (baked, with skin on) contains around 100 calories, making it a great food for weight management. Here are some of the other surprising health benefits of NC sweetpotatoes:
Excellent source of energy: Sweet potatoes have a bad rep for being a carb-rich food, but make no mistake – these taters are made of complex carbs. Complex carbohydrates contain fiber and take longer to break down, giving you a more steady supply of energy.
Great for your heart: Sweet potatoes are rich in fiber, potassium, and vitamin C, all of which support a healthy heart.
Great for your eyes, too: When eaten with the skin on, one medium sweet potato contains over 100% of the recommended daily amount (RDA) of vitamin A. Vitamin A plays a crucial role in vision, as well as bone development and immune function. Here's a tip: For optimal absorption of vitamin A, be sure to pair your sweet potato with a fat source, like avocado, nut butter, or oil.
Versatility of NC sweetpotatoes
Sweet potatoes are a year-round staple in my kitchen. They're extremely versatile and can be enjoyed in a variety of everyday dishes both sweet and savory.
Looking for ways to incorporate more sweet potatoes into your diet? Don't worry, I've got you covered:
Cook a small sweet potato in the oven or microwave and stuff with sliced banana, cinnamon, and peanut butter for an easy breakfast or snack.
Add cooked (and cooled) sweet potato to your smoothie with some almond butter, banana, vanilla protein powder and/or Greek yogurt.
Make "sweet potato toast" by slicing a sweet potato lengthwise into ½-inch thick slices and baking or toasting in a toaster oven until the slices are tender. Top with your favorite toast toppings like avocado, hummus, nut butter, etc.
Follow the sweet potato rice guideline from this post and use to make a dinner fried rice (instead of a breakfast version) with your preferred protein choice, like shrimp or chicken.
Use thinly sliced sweet potato to form a quiche crust! Try my famous Spinach and Feta Quiche with Sweet Potato Crust.
How to store sweet potatoes
Avoid storing sweet potatoes in the refrigerator as this will affect taste and texture. Instead, store your sweet potatoes in a cool, dry, well-ventilated space (away from heat sources) for up to two weeks. And if your sweetpotatoes came in a plastic bag, make sure to remove them from the bag before storing, as this locks in the ethylene gasses causing them to break down quicker.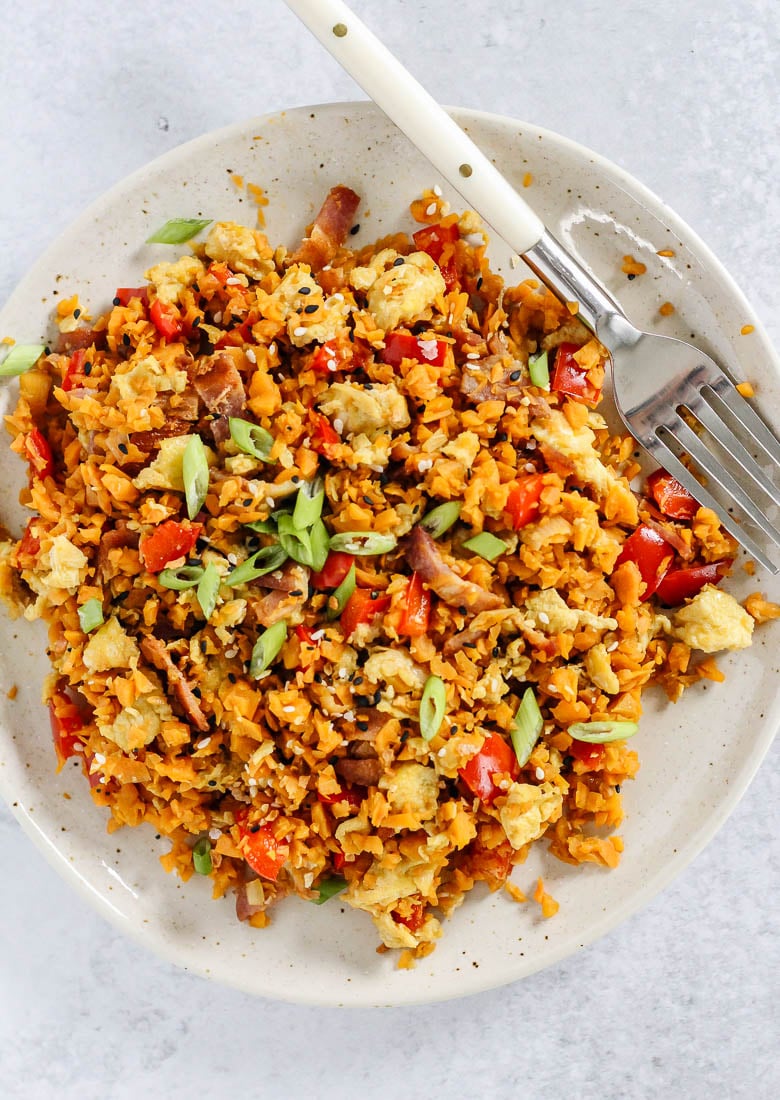 What You'll Need to Make This Breakfast Fried Sweet Potato Rice
You only need a handful of ingredients to whip up this healthy breakfast or brunch dish.
NC sweetpotatoes: You'll need two medium sweetpotatoes. If you prefer to leave the skin on, it's fine by me!
Bacon: Part of what makes this fried rice a breakfast version is the use of a breakfast protein like bacon, instead of chicken or shrimp. You could also use breakfast sausage!
Coconut aminos: Coconut aminos has a distinct flavor similar to soy sauce but without the soy. If you don't have it on hand, you can use regular soy sauce or tamari. Coconut aminos is naturally gluten-free, so if you're gluten intolerant but don't want to use coconut aminos, be sure to look for a soy sauce or tamari that's labeled as gluten-free.
Additional veggies: Like red bell pepper, onion, and green onion.
Eggs: Fried rice isn't complete without some scrambled egg mixed in! Feel free to do half whole eggs, half egg whites if desired.
Everything bagel seasoning: Traditional fried rice is usually garnished with sesame seeds. Since everything bagel seasoning contains sesame seeds, I thought adding it to this dish would take the breakfast vibe up a notch (and it does)! I use the OG Trader Joe's everything but the bagel seasoning, but you can also use the McCormick version or whatever version you can find/have on hand.
Substitutions:
Whole30-friendly: Great news, this dish is Whole-30 friendly as written! Just be sure to use a Whole30-compliant bacon brand, like Applegate Naturals or Pederson's.
Gluten-free: This recipe as written is gluten-free. If you choose to use soy sauce instead of coconut aminos, please note that soy sauce contains gluten. It also contains more sodium, so you'll likely need less.
Vegetarian: You can easily leave out the bacon in this recipe and enjoy the dish without it, or swap in vegetarian bacon, meatless crumbles, or more scrambled egg.
Let's get cooking! If you make this recipe, I'd love it if you share your thoughts in the comments section below and tag me (@shapedbycharlotte) on the 'gram!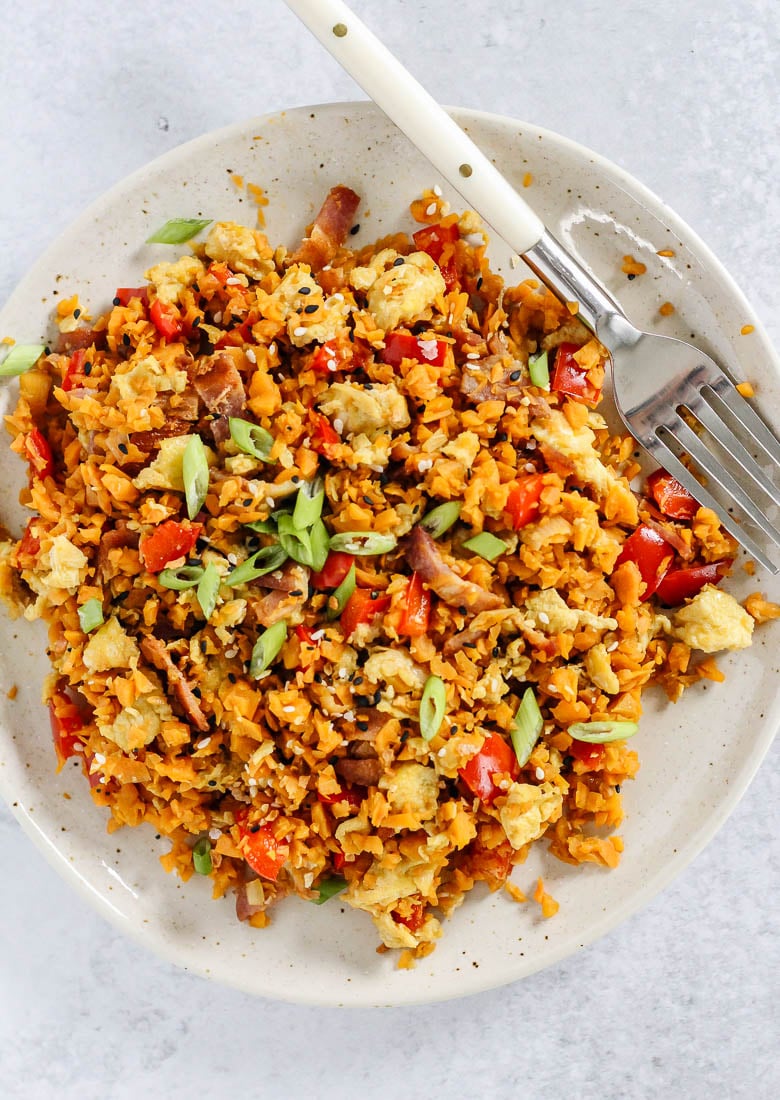 Breakfast Sweet Potato Fried Rice
Yield: 3 - 4 Servings
Prep Time: 10 minutes
Cook Time: 15 minutes
Total Time: 25 minutes
Ingredients
2 medium-sized North Carolina sweetpotatoes, scrubbed & peeled
4 slices bacon (regular or turkey)
3 Tbsp coconut aminos (plus more to taste if necessary)
1 large red bell pepper, diced 
½ small white or yellow onion, diced
1 large clove garlic, minced or pressed
4 eggs, whisked
¼ cup thinly sliced green onion
 Everything bagel seasoning
Instructions
Cut sweet potatoes into ~1-inch cubes and add to the bowl of a food processor.
Pulse slowly, until the sweet potatoes resemble the look, texture, and size of rice (working in batches if necessary). Be careful not to over process.
Cook bacon in a large skillet until crisp. Once cooked, transfer bacon to a plate but keep bacon fat in the skillet to cook the remaining ingredients. *Alternatively, you
can remove the bacon fat and add one tablespoon of preferred cooking oil (toasted sesame oil, olive oil, or avocado oil work best here). Chop cooked bacon into small, bite-sized pieces.
Add bell pepper, onion, and garlic to the skillet, and saute over medium heat until onions are translucent, about 3 minutes.
Add sweet potato rice and coconut aminos and cook, stirring frequently, until sweet potato rice is tender, about 4 to 5 minutes.
Push the sweet potato rice mixture to one side of the skillet and raise the heat a tad. Add a small drizzle of oil or cooking spray to the other side of the skillet and add the whisked eggs. Scramble until cooked through, about 2 to 3 minutes.
Add chopped bacon to the skillet, stir all of the contents of the skillet together, and remove from the heat.
Serve garnished with everything bagel seasoning and green onion.








Thanks for reading! Did you make one of my recipes? I'd love it if you left a comment/review!
To see what other healthy and tasty recipes I'm whipping up in the kitchen, be sure to follow me on Facebook and Instagram!
This post may contain affiliate links, which means I may receive a small commission if you purchase through those links. I only recommend products that I know, trust and love! Thank you for your support!