Everything Bagel Salmon
This post is sponsored by Dish on Fish/National Fisheries Institute. All opinions are my own.
This October marks the first ever National Pescatarian Month, and I'm celebrating with this crowd-pleasing everything bagel salmon. It's juicy, flavorful, requires just 5 ingredients, and is ready in about 20 minutes.
Thanks to a partnership between National Today, the National Fisheries Institute (NFI), and the NFI's popular blog Dish on Fish, pescatarians and seafood-lovers alike can celebrate the many health benefits of seafood all October long. I know I will!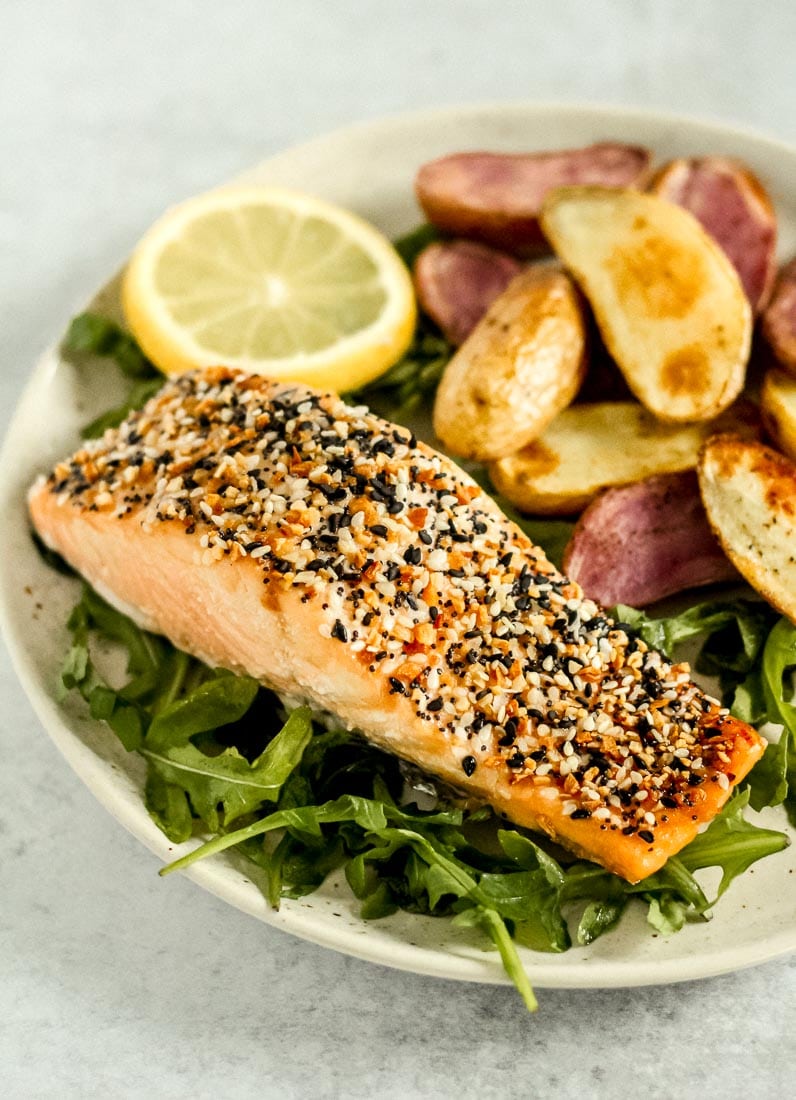 So, what is the pescatarian diet?
The pescatarian diet is like a vegetarian diet in that they both rely heavily on plant foods and eliminate meat and poultry. Where the two differ is that the pescatarian diet allows for and emphasizes intake of seafood (aka fish and shellfish), whereas a vegetarian diet does not.
National Pescatarian Month is the perfect time to start getting more comfortable cooking seafood for yourself, your family and friends, which is why I'm committing to getting creative in the kitchen with seafood by going pescatarian this month!
Going pescatarian is easier than it seems, and you certainly don't have to go pescatarian forever. You can reap the health benefits of a pescatarian diet even if it's just for a few weeks or even a few days. Speaking of which…
What are the health benefits of seafood, exactly?
Seafood is a nutrient-rich protein source that has been shown to have numerous health benefits. In fact, it's so nutritious that the Dietary Guidelines for Americans recommend that everyone consume at least two servings of a variety of seafood each week.
Here are some of the benefits of seafood:
Supports heart health: An analysis of numerous studies involving hundreds of thousands of participants concluded that eating one to two servings of fatty fish (i.e. salmon, mackerel, herring, etc) reduces the risk of dying from heart disease by a whopping 36%.
Boosts brain health: One study found that weekly consumption of baked or broiled fish was associated with larger gray matter volumes in brain areas responsible for memory and cognition in healthy older adults. This benefit is thought to come from the omega-3 fatty acids in fish.
Supports mental health: High fish consumption has been associated with a lower risk of depression.
… & more!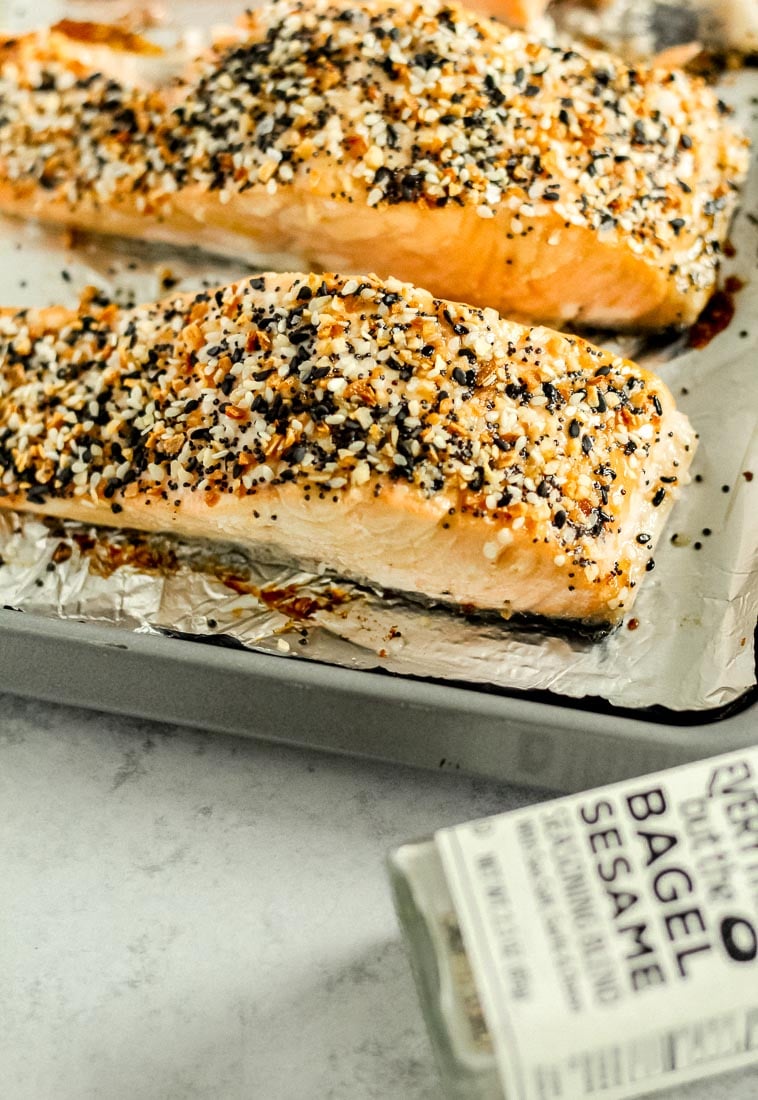 How to make this everything bagel salmon
This Everything Bagel Salmon recipe is proof that cooking a tasty seafood dish doesn't have to be complicated or overwhelming. You only need twenty minutes and a handful of ingredients you can easily find at any grocery store.
It's as simple as brushing the fish with a simple marinade, sprinkling with everything bagel seasoning, and throwing it in the oven – that's it!
Here's what you'll need:
Salmon fillets: You can choose wild salmon or farm-raised salmon – it's completely up to you and your budget. Both are nutrient-dense, providing omega-3s, vitamin D, protein, and more.
Everything bagel seasoning: You can find everything bagel seasoning at pretty much any grocery store these days! My two favorites are Trader Joe's Everything But The Bagel Seasoning and McCormick Everything Bagel Seasoning.
A little olive oil, Dijon mustard, and honey: This simple marinade adds an extra pop of flavor and helps make the salmon fillets extra moist and juicy.
How do you know if your salmon is done cooking?
Cooked salmon will appear opaque on the outside and a slightly translucent pink in the center.
If you have a meat thermometer, you can easily check for doneness by inserting it into the thickest part of the fillet. Check for a temperature between 110°F and 125°F for medium-rare, and between 125°F and 140°F for medium to well-done.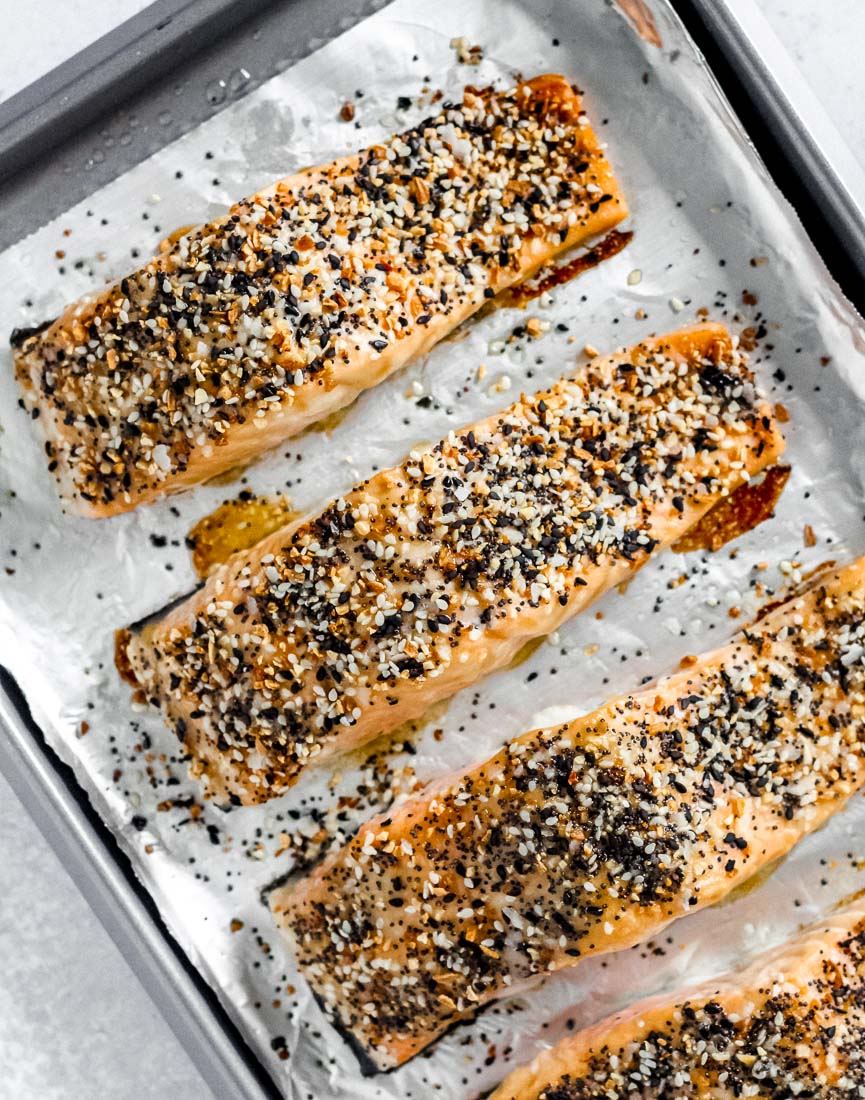 Let's get cooking! If you make this recipe, I'd love it if you share your thoughts in the comments section below and tag me (@shapedbycharlotte) on the 'gram!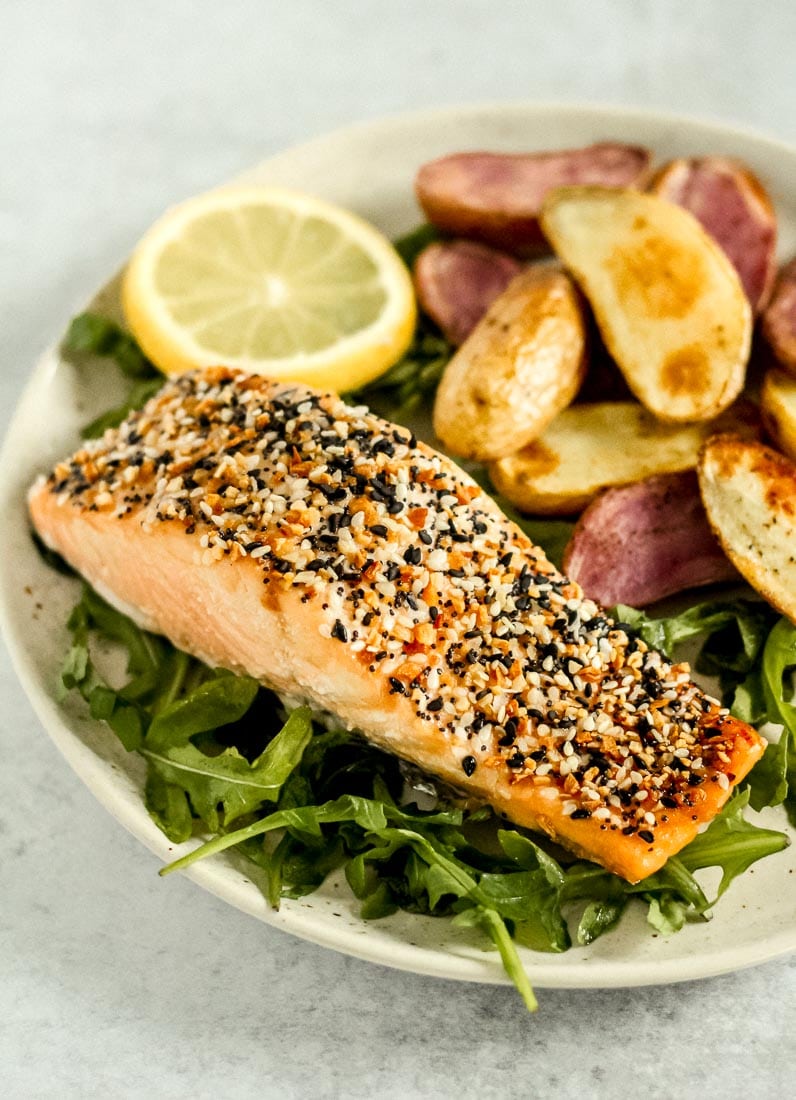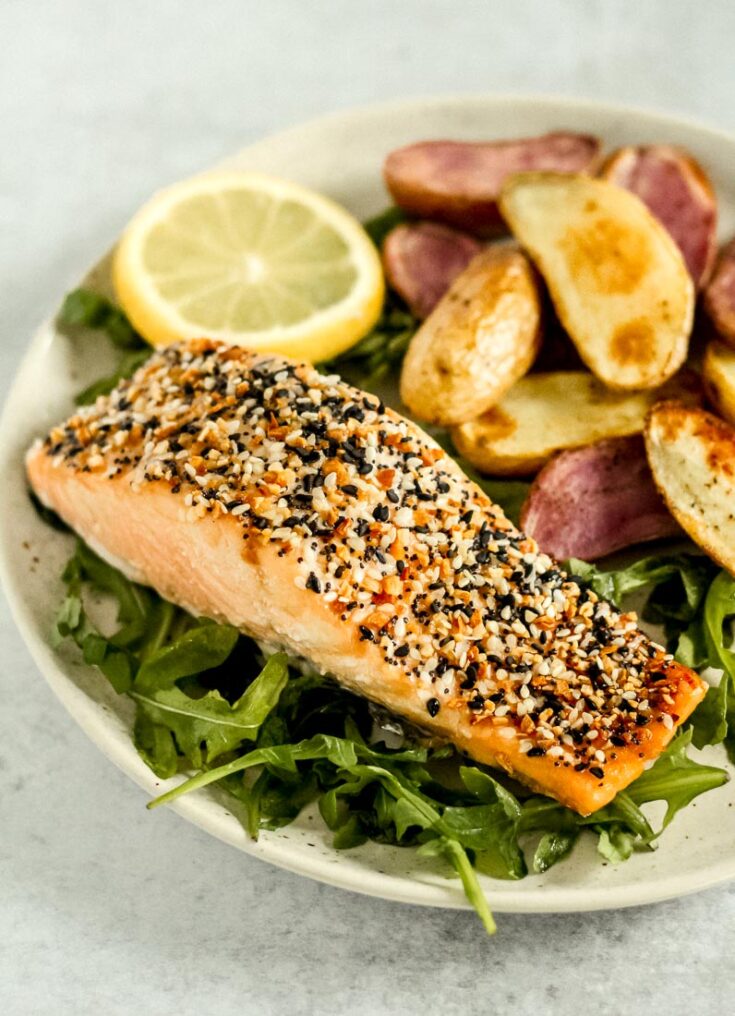 Everything Bagel Salmon
Yield: 4 servings
Prep Time: 10 minutes
Cook Time: 15 minutes
Total Time: 25 minutes
This crowd-pleasing Everything Bagel Salmon is juicy, flavorful, requires just 5 ingredients, and is ready in just over 20 minutes!
Ingredients
1 Tbsp extra-virgin olive oil
2 tsp Dijon mustard
2 tsp pure honey
1 heaping Tbsp everything bagel seasoning
4 salmon fillets (~5 oz. each)
Instructions
Preheat oven to 425 degrees F.
In a small bowl, whisk together olive oil, Dijon mustard, and honey.
Place salmon fillets skin-side-down onto a foil-lined baking sheet. Brush tops with oil mixture.
Sprinkle tops of salmon fillets evenly with everything bagel seasoning and press down lightly with your fingers.
Bake in the preheated oven until salmon is opaque and flakes easily with a fork, about 10 to 12 minutes.
Thanks for reading! Did you make one of my recipes? I'd love it if you left a comment/review!
To see what other healthy and tasty recipes I'm whipping up in the kitchen, be sure to follow me on Instagram and Facebook!
This post may contain affiliate links, which means I may receive a small commission if you purchase through those links. I only recommend products that I know, trust and love! Thank you for your support!