Instant Pot Chipotle Chicken Burrito Bowls
Instant Pot Chipotle Chicken Burrito Bowls are the perfect meal prep recipe for the whole family! Just like dining out at Chipotle, everyone can custom make their own burrito bowl. Love avocado? Great, load up on that yummy, green goodness without the extra charge! Hate beans? No worries, leave 'em out! Craving salsa? Top off your bowl with a few extra spoonfuls!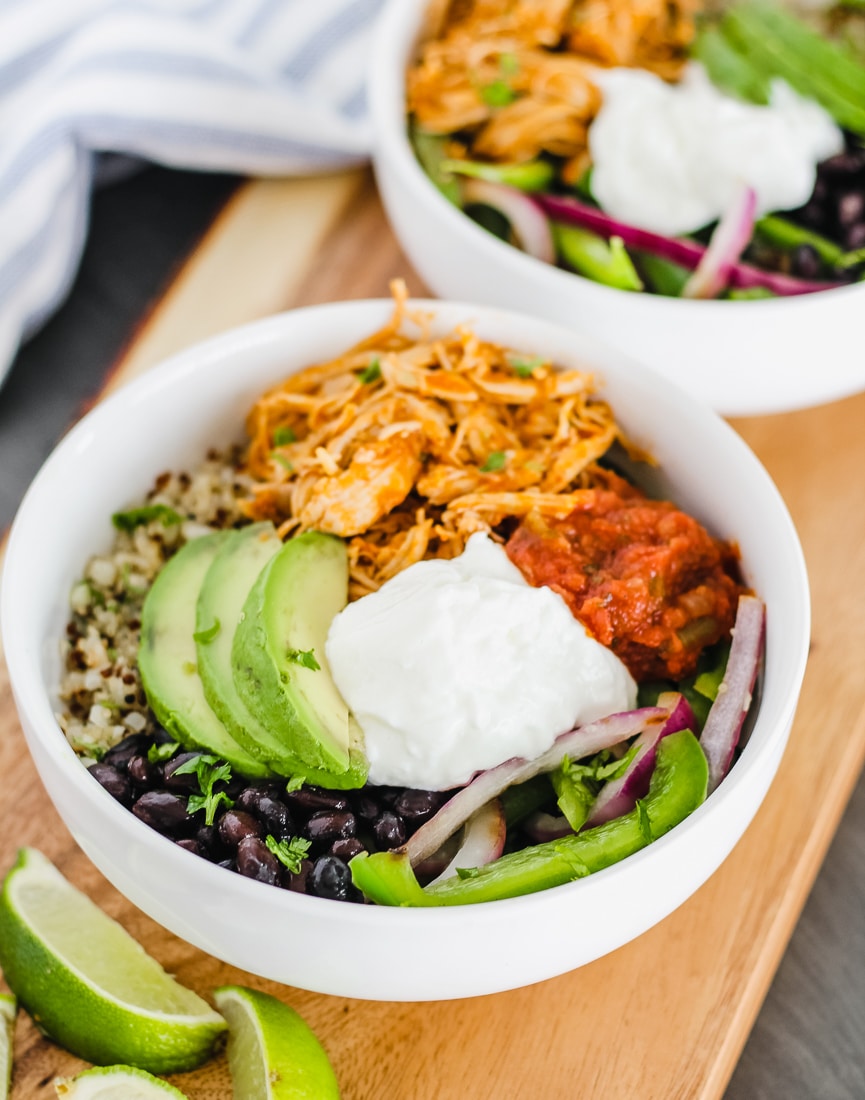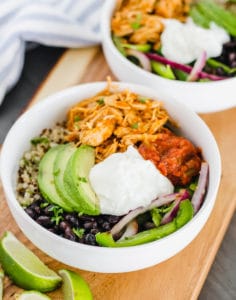 Have you ever wondered how to create the perfect homemade Chipotle bowl? If so, you're in luck because this recipe for Instant Pot Chicken Burrito Bowls is your answer. This recipe is unique in that it combines both quinoa AND cauliflower rice for the base. This lowers the carb content and ups the veggie content, which I love!
*As an Amazon Associate I earn from qualifying purchases.
What are Chipotle Peppers in Adobo & Where to Find Them
Did you know that chipotle is simply jalapeño peppers that have been dried and smoked? This fun fact was news to me, too! And, adobo is a fancy word for spiced tomato sauce. These two ingredients combined is what gives this chicken recipe a classic chipotle flavor.
Most grocery stores carry jars or cans of chipotle peppers in adobo on the international aisle. However, you can also find my favorite Goya chipotle peppers in adobo sauce on Amazon, here!

Why Instant Pot Chipotle Chicken Burrito Bowls are Great for Easy Meal Prep
This recipe is perfect for easy weekend meal prepping that will last you all week long! Depending on your preference, you can store the components separately or as pre-assembled bowls. If you decide to pre-assemble your bowls, avoid adding the toppings like avocado, salsa, or Greek yogurt until right before eating. No one likes soggy toppings or brown avocado!
When I meal prep this recipe, I use my favorite Tupperware, which can be found on Amazon for less than $20, here!
Benefits of Cooking with an Instant Pot
Quick & Convenient
Personally, I love cooking with an instant pot (like this one). Not only is it one of the quickest and most convenient cooking methods, but it also results in delicious, perfectly cooked meats and veggies!
Save Energy
Not to mention, cooking with an instant pot requires less energy than using the stove or oven. Meaning, you can save money on your monthly electricity bill. Score!
Easy Clean-Up
Also, instant pot clean-up is so easy. Instead of cleaning several pots, pans, and dishes, the instant pot keeps the mess all to one pan. And, you'll never have to wipe up splatters or spills!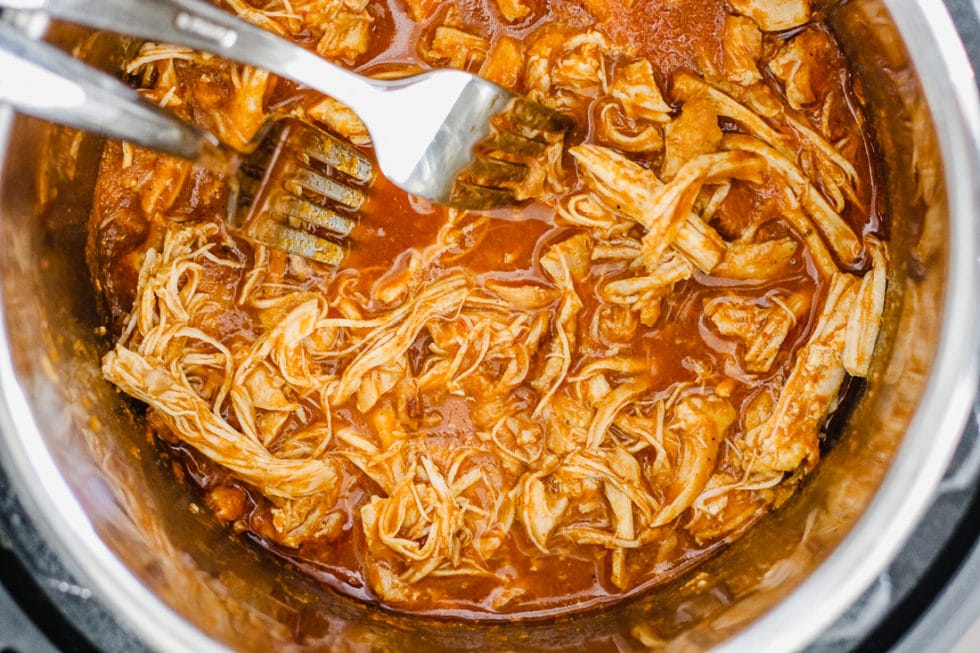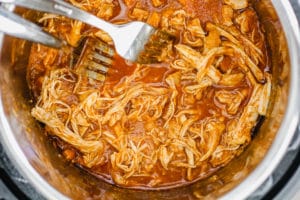 What You Need to Make These Instant Pot Chipotle Chicken Burrito Bowls
Salsa: When selecting your store bought salsa, look at the ingredients list to ensure only vegetables are added. Avoid added sugars, oils, or artificial sweeteners. Organic vegetables are preferable, but not necessary.
Chipotle in Adobo: As I shared above, chipotle in adobo is key to the perfect flavor. Be sure to not omit or substitute this ingredient. It shouldn't be too hard to find- check the international aisle at your grocery store or order it ahead of time from Amazon.
Chicken Thighs: Chicken thighs, as opposed to breasts, are juicier, more flavorful, and higher in nutrient content. For these reasons, I highly recommend sticking to chicken thighs in this recipe. To keep it easy and simple, buy skinless and boneless thighs.
Quinoa: Quinoa is a great plant-based protein. One cup of cooked quinoa contains a whopping 32g of protein and nearly 20% of your daily folate needs. Bonus: it's texture and flavor are mouth-watering. If you are following a Whole 30, Paleo, or grain-free diet, feel free to omit the quinoa and add more cauliflower rice!
Cauliflower Rice: This recipe is unique in that it combines both quinoa AND cauliflower rice for the base. This lowers the carb content and ups the veggie content, which I love! You can buy cauliflower pre-riced in fresh or frozen form. I typically stock up my freezer with frozen riced cauliflower, so that I have something to grab for quick, last-minute dinners.
Cilantro: Cilantro is a potent and flavorful herb, mostly used in traditional Mexican dishes. Fresh cilantro is hands down the better option compared to the tired and ground variety. It's much more flavorful!
Fajita Veggies: You just can't make burrito bowls without fajita veggies! Sauté bell pepper, red onion, and oregano in olive oil for delicious flavor and additional nutrients.
Toppings: I recommend adding your favorite toppings, like avocado, greek yogurt, black beans, cheese, or extra salsa. Personally, I prefer a small dollop of greek yogurt (it tastes just like sour cream), chopped avocado, and spicy salsa on my bowl!
Recipe Substitutions
Dairy Free
Omit cheese and greek yogurt.
Paleo, Whole 30, or Grain-Free
Omit quinoa and add more cauliflower rice.
Vegetarian
Skip the chicken all together. You can use more black beans, veggies, and/or quinoa (to add plant-based protein).
Let's get cooking! If you make this recipe I'd love to see it! Feel free to share on Instagram and tag me @shapedbycharlotte so I can see it.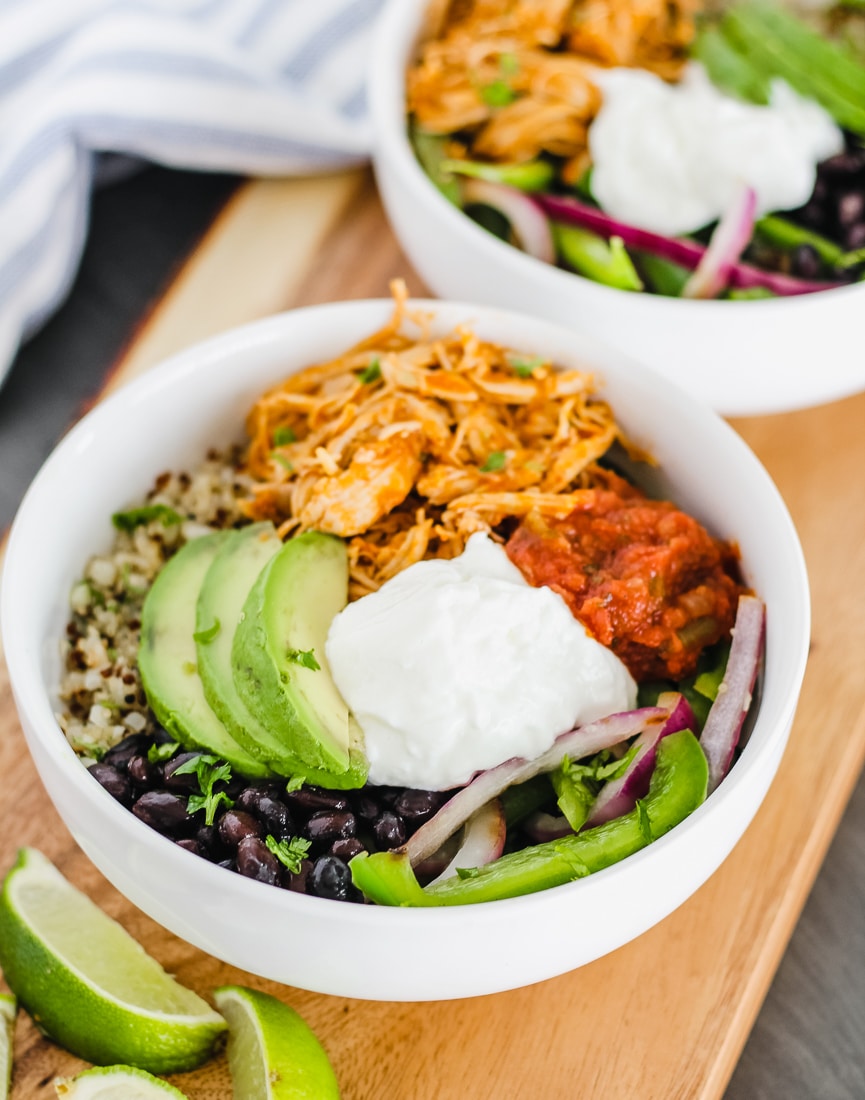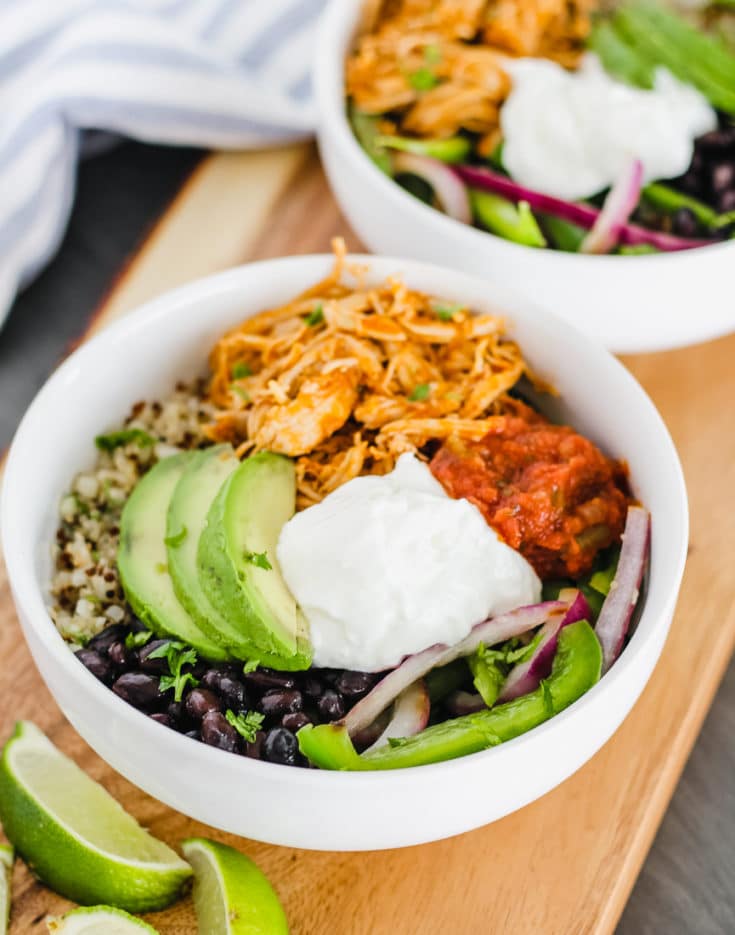 Instant Pot Chicken Burrito Bowls
Yield: 4 servings
Prep Time: 20 minutes
Cook Time: 20 minutes
Total Time: 40 minutes
Instant Pot Chicken Burrito Bowls are an easy, healthy dinner for any night of the week. This recipe has a kick of spice and can easily be made dairy free!
Ingredients
For the Chicken
1 cup store-bought salsa
1 small chipotle in adobo sauce + 2 Tbsp sauce (from can)
½ tsp cumin
1 lb. boneless, skinless chicken thighs
For the Cauliflower Quinoa
½ cup dry, uncooked quinoa (rinsed & drained)
2 tsp olive oil
1 bag frozen cauliflower rice
1 lime, juiced
2 tablespoons chopped fresh cilantro
½ tsp salt
For the Fajita Veggies
1 tsp olive oil
2 small bell peppers, sliced
½ small red onion, sliced
½ tsp oregano
Salt and pepper to taste
Creating Your Bowl
¼ avocado
¼ cup canned black beans, drained & rinsed
Extra salsa (optional)
Dollop of plain, low-fat Greek Yogurt (optional)*
Sprinkle of shredded Mexican-blend cheese (optional)*
Instructions
Combine salsa, chipotle pepper, chipotle sauce, and cumin in a blender and blend until smooth.
Place chicken thighs in bottom of Instant Pot and pour sauce over top. Secure lid and close pressure valve. Set to 15 minutes at high pressure. Allow pressure to release naturally or quick release. Remove chicken and shred with two forks, then toss back in sauce.
Meanwhile, cook quinoa according to package directions. For an easy tutorial for fluffy quinoa, click here.
Heat olive oil in a large skillet over medium heat. Add cauliflower rice and cook until heated through, about 3 to 5 minutes. Add cooked quinoa, lime juice, cilantro, and salt, and stir to incorporate. Continue cooking for about 1 minute, remove from heat. Transfer cauliflower quinoa mix to a bowl or meal prep container.
To same skillet, add olive oil, sliced peppers and onions, and oregano. Season lightly with salt and pepper. Cook until crisp-tender, about 5 to 7 minutes.
To serve: Top cauliflower quinoa mix with chipotle chicken, fajita veggies, and toppings of choosing. Alternatively, place quinoa, chicken and fajita veggies in meal prep containers. Let cool before securing lids and placing in the refrigerator. Will last approximately 3 to 5 days in the refrigerator.
Recommended Products
As an Amazon Associate and member of other affiliate programs, I earn from qualifying purchases.
Thanks for reading Shaped by Charlotte! To see what other healthy and tasty recipes I'm whipping up in the kitchen, be sure to follow me on Facebook and Instagram!
Shaped by Charlotte LLC is a participant in the Amazon Services LLC Associates Program, an affiliate advertising program designed to provide a means for sites to earn advertising fees by advertising and linking to amazon.com. As an Amazon Associate I earn from qualifying purchases!
This post may contain affiliate links, which means I may receive a small commission if you purchase through those links. I only recommend products that I know, trust and love! Thank you for your support!