Spicy Tuna Salad
This spicy tuna salad without mayo makes for an easy, healthy lunch that's ready in just 5 minutes and is packed with lean protein and healthy fats!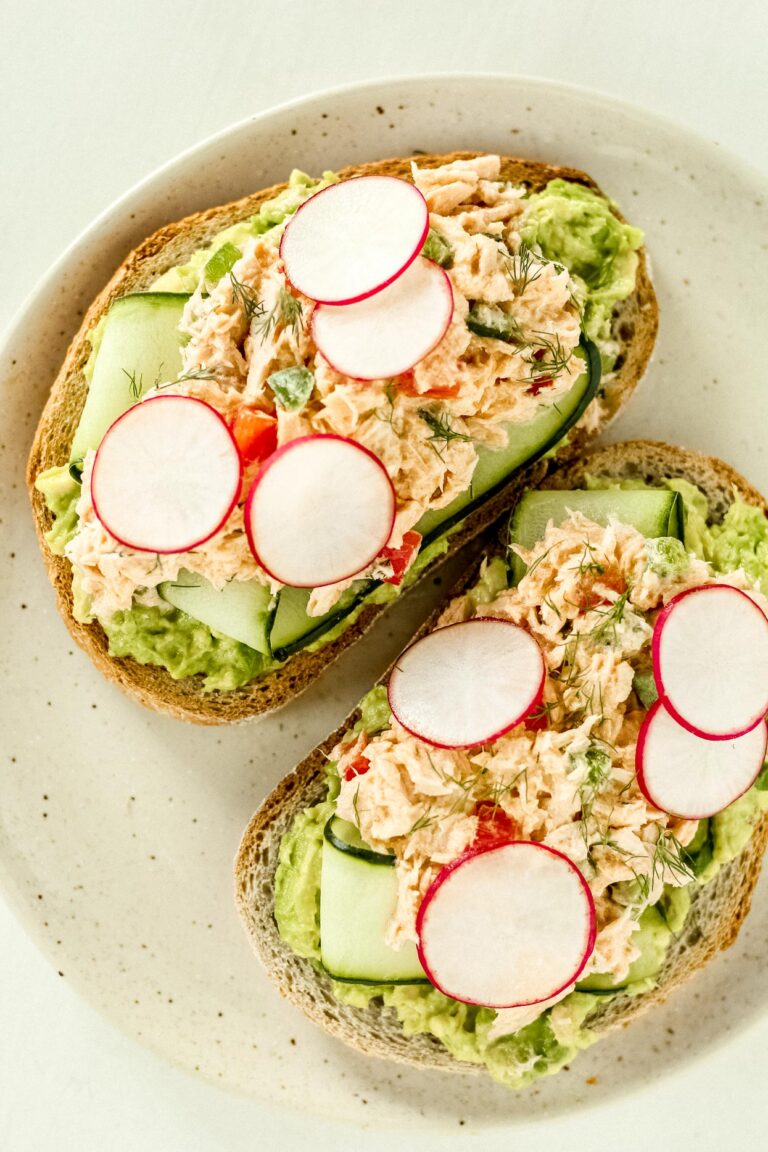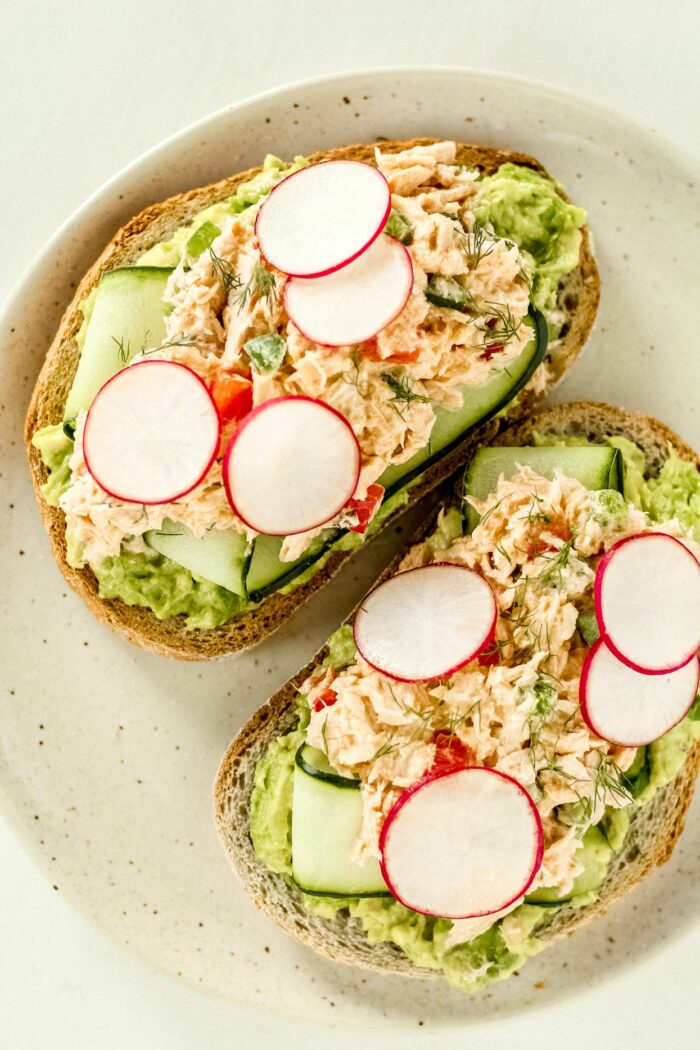 Regular tuna salad gets a spicy kick in this spicy tuna salad that's both good for you and can be good for the planet, too (more on this below). It's made with simple ingredients and can be served many different ways – sandwich-style, wrap-style, as a dip with crackers or veggies, or – my personal favorite – avocado toast-style.
Is spicy tuna salad healthy?
A resounding yes! Canned tuna – the main ingredient in this spicy tuna salad – is an excellent protein source. Not only does protein help build and repair body tissues but it's also the most satiating macronutrient, helping keep you full and satisfied!
In addition to being a great protein source, canned tuna also contains key nutrients like vitamin D – involved in immune function, calcium absorption, bone health, and more – and omega-3 fats. Research shows that omega-3 fats are critical for brain function and that they positively impact heart health by lowering triglyceride levels, blood pressure, and inflammation, and by increasing HDL-cholesterol (aka the "good" cholesterol) levels.
In fact, because of these important benefits, the latest Dietary Guidelines for Americans has strengthened the recommendations for seafood consumption, as fish and other seafood are the best sources for omega-3s. The guidelines recommend consuming at least two meals of a variety of fish and seafood per week.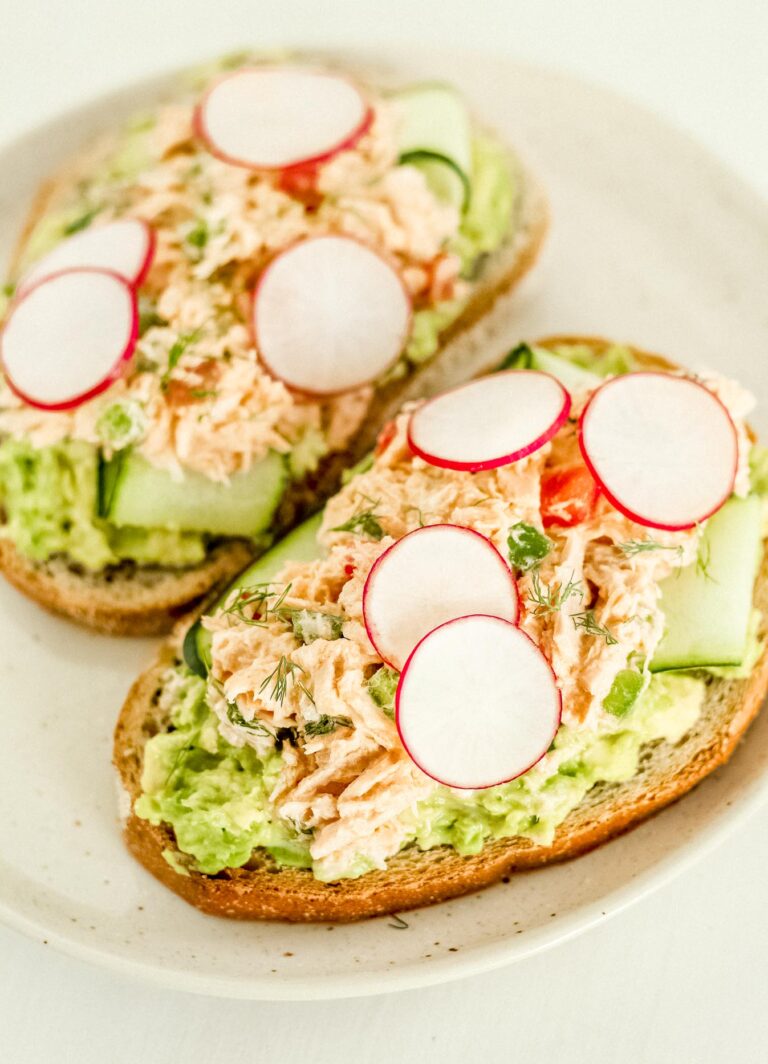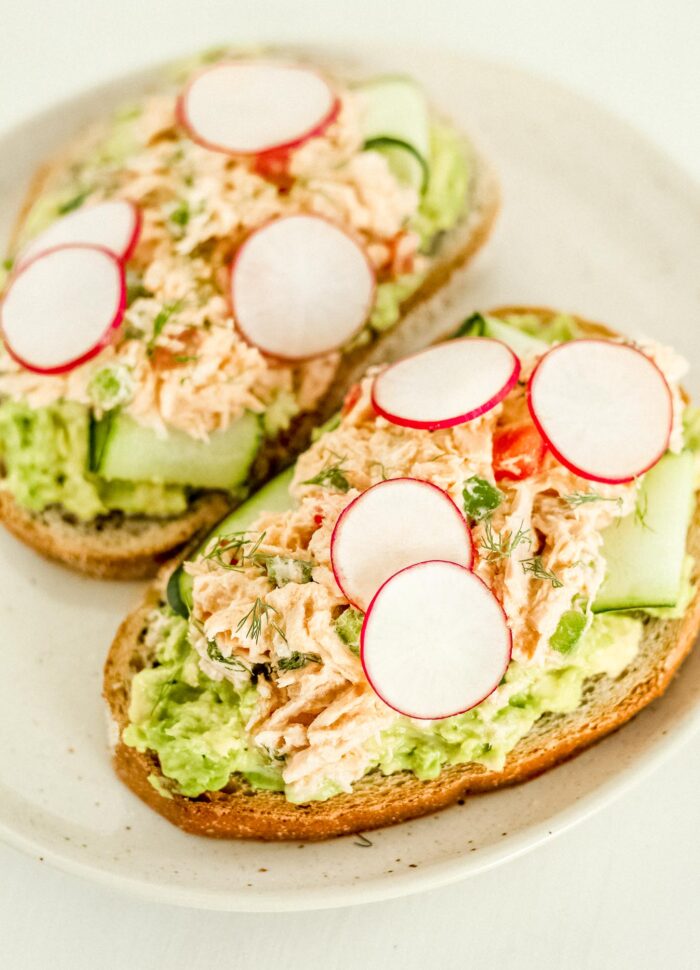 Tuna salad with Greek yogurt
Some tuna salads can be high in fat and calories, but this tuna salad is made without mayo and uses Greek yogurt for creaminess instead. Per tablespoon, regular mayo is around 90 calories and 10 grams fat whereas 2% Greek yogurt is around 10 calories and under half a gram of fat.
If you like the taste of mayo in your tuna salad (I totally get that!), you can substitute a tablespoon of mayo for a tablespoon of the Greek yogurt in this recipe.
What is sustainable seafood?
According to the Seafood Nutrition Partnership, sustainable seafood is caught in a way in which it "leaves enough fish in the ocean, respects habitats, and ensures people who depend on fishing can maintain their livelihoods." Essentially, these fisheries are pioneering ways to conserve our marine environment and ensure a sustainable supply of seafood for future generations.
Choosing to purchase fish, like tuna, that are sustainably harvested allows you to enjoy eating seafood with the knowledge that you've made a positive choice to support these fisheries and our marine environment.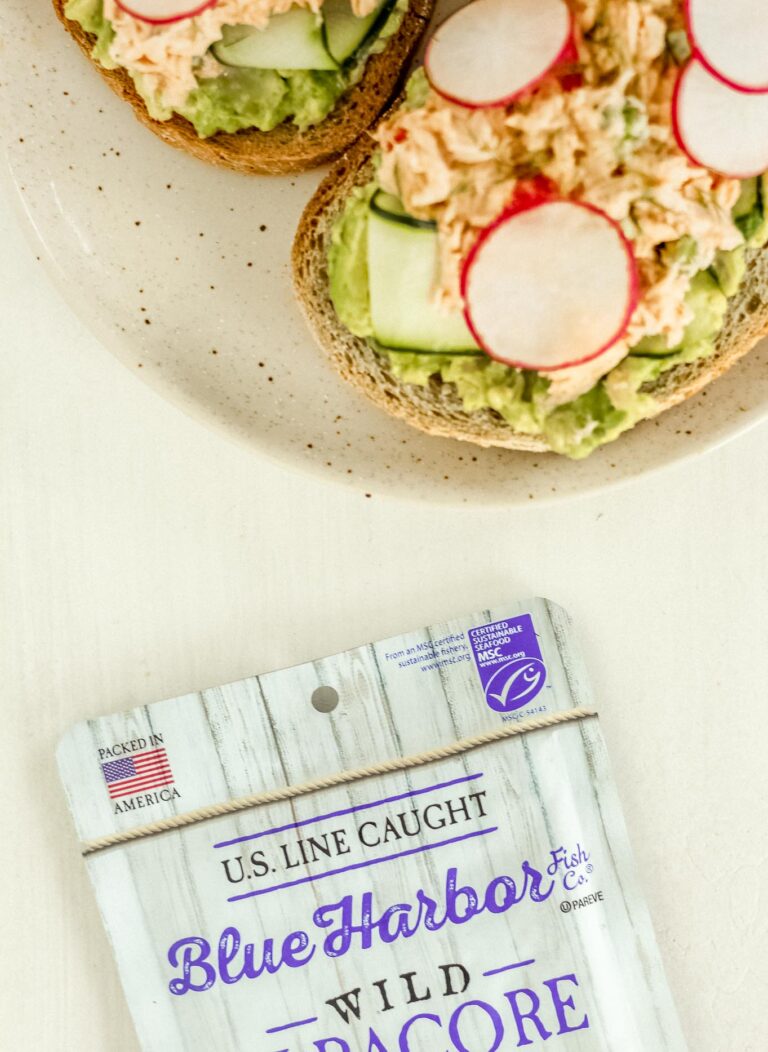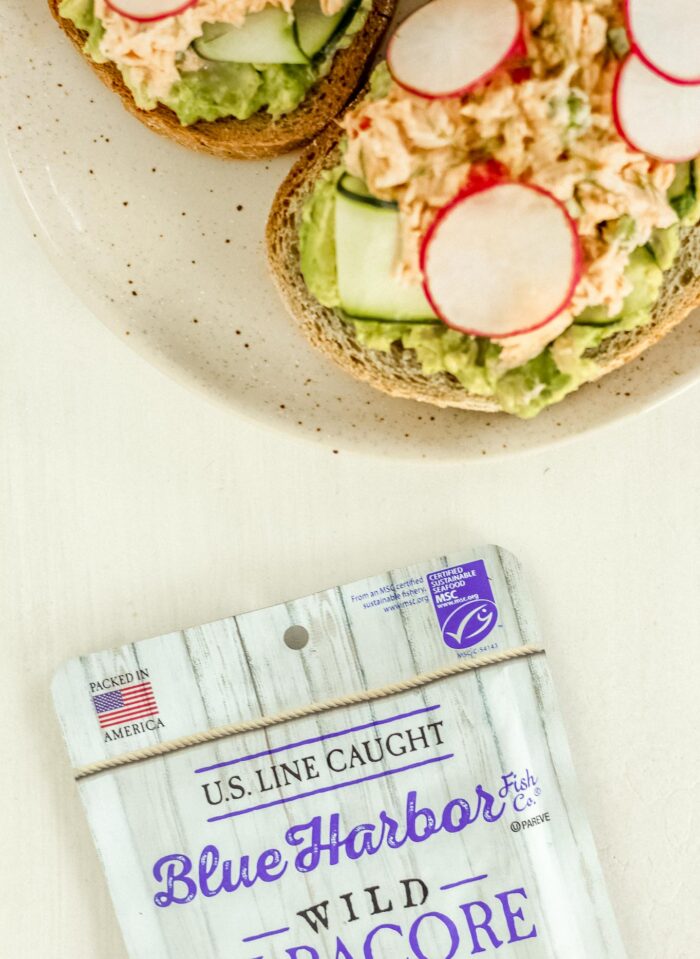 How to buy sustainable seafood
So, how can you find sustainable seafood in the grocery store? One way to know if you are buying responsibly farmed or wild-caught seafood products, like canned tuna, is to look for specific certification logos. For wild seafood look for the Marine Stewardship Council (MSC) logo (blue logo pictured below) or Alaska RFM and for farmed seafood look for Aquaculture Stewardship Council (ASC) or Best Aquaculture Practices (BAP) logos.
Also, you can feel confident buying seafood that's been harvested in the U.S. The United States is the global leader in responsibly managed fisheries and sustainable seafood.
What you'll need for this spicy tuna salad
Here are the main ingredients needed:
Canned or pouched albacore tuna: I prefer the taste and texture of albacore but you can also use skipjack or 'light' tuna. Look for one of the logos mentioned above to purchase sustainable tuna!
Greek yogurt: I use yogurt instead of mayo to provide creaminess (plus a little extra protein) without the extra calories and fat.
Lime juice: Lime juice adds a little tanginess.
Sriracha or hot sauce: Provides the heat in this spicy tuna salad!
Jalapeno: For an extra kick!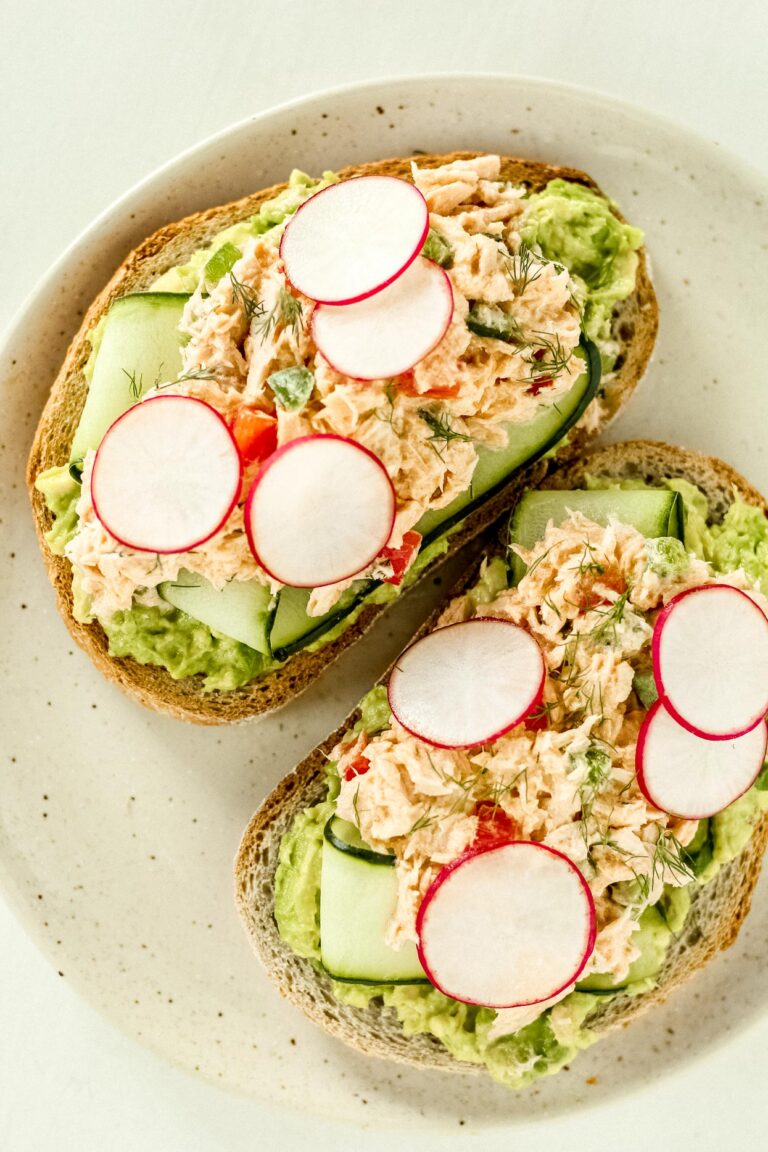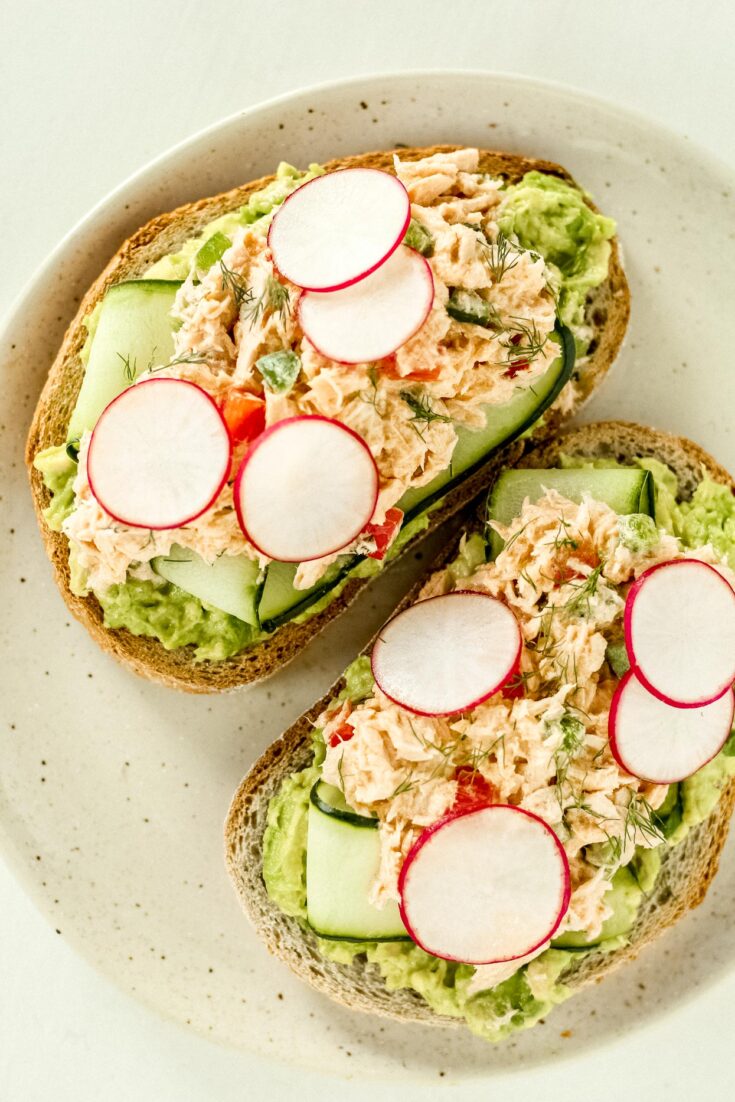 Spicy Tuna Salad
This spicy tuna salad without mayo makes for an easy, healthy lunch that's ready in just 5 minutes and is packed with lean protein and healthy fats!
Ingredients
¼ cup Greek yogurt (2% or whole)
½ Tbsp extra-virgin olive oil
1 Tbsp fresh lime juice
1 to 2 Tbsp sriracha or hot sauce
2 Tbsp chopped fresh parsley, cilantro, and/or dill
2, 5-oz. cans albacore tuna (in water)
½ red bell pepper, finely chopped
1 small jalapeno, seeded and minced
¼ cup finely chopped red onion
Salt and pepper to taste
Instructions
In a medium-sized bowl, combine the yogurt, olive oil, lime juice, sriracha, and fresh herbs; stir to combine.
Add the tuna, bell pepper, jalapeno, and onion; stir until well-combined. Season with salt and pepper to taste.
Serve as a sandwich or wrap with lettuce and additional sliced veggies, as a dip with crackers or veggies, or avocado-toast style (as pictured): spread mashed avocado onto toasted bread and top with sliced cucumber, the spicy tuna salad, and sliced radishes.
---
This post may contain affiliate links, which means I may receive a small commission if you purchase through those links. I only recommend products that I know, trust and love! Thank you for your support!