Paleo Snickerdoodle Cookie Skillet with Cinnamon Apple Topping
This Paleo Snickerdoodle Skillet Cookie is a soft and sweet delicious treat. The recipe is gluten and dairy free, making it a guilt-free treat for anyone! The traditional snickerdoodle cookie paired with warm, sauteed apples is a winning flavor combination.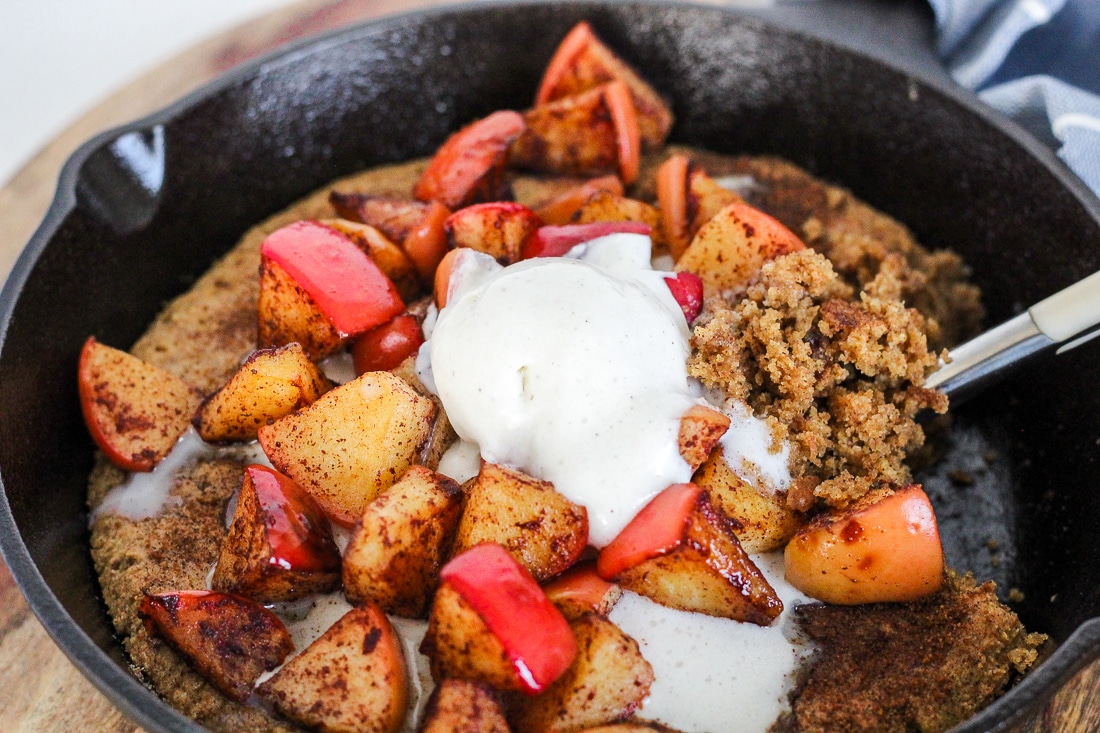 Using almond flour (instead of refined white flour) in this recipe creates a paleo-friendly and gluten free-approved dessert. The almond flour is low in carbohydrates and rich in healthy fats, making it a healthy swap. It also gives this recipe a slightly nutty flavor, which only promotes the traditional snickerdoodle flavor.
And, you know what they say: an apple a day keeps the doctor away! Don't forget the scrumptious apple topping because it is loaded with antioxidants and vitamin C to keep your immune system strong and healthy. Not to mention, it's absolutely delicious!
*As an Amazon Associate I earn from qualifying purchases.
How to Make a Cookie Skillet
A skillet cookie is basically a homemade pizookie: an over-sized cookie baked in a cast iron skillet (this Lodge cast-iron skillet is my favorite). It's best eaten straight out of the skillet with your best friends. Because what better way to bond than by sharing a warm, delicious skillet cookie with cinnamon apples and vanilla ice cream?
Simply, mix all the dry ingredients in a large bowl. Then, mix the wet ingredients separately. Add the wet mix to the dry mix and press the cookie dough into a lightly greased 8″ cast iron skillet. Meanwhile, prepare the apple topping by sautéing apple chucks with cinnamon and a little fat.
How to store the Paleo Snickerdoodle Skillet Cookie
If you have leftover skillet cookie to store (no shame if you don't), transfer the cookie to an airtight container and keep in the fridge. To serve, reheat in the oven at 350F for 10 minutes. Or, you can quickly reheat the cookie in the microwave for 15-20 seconds.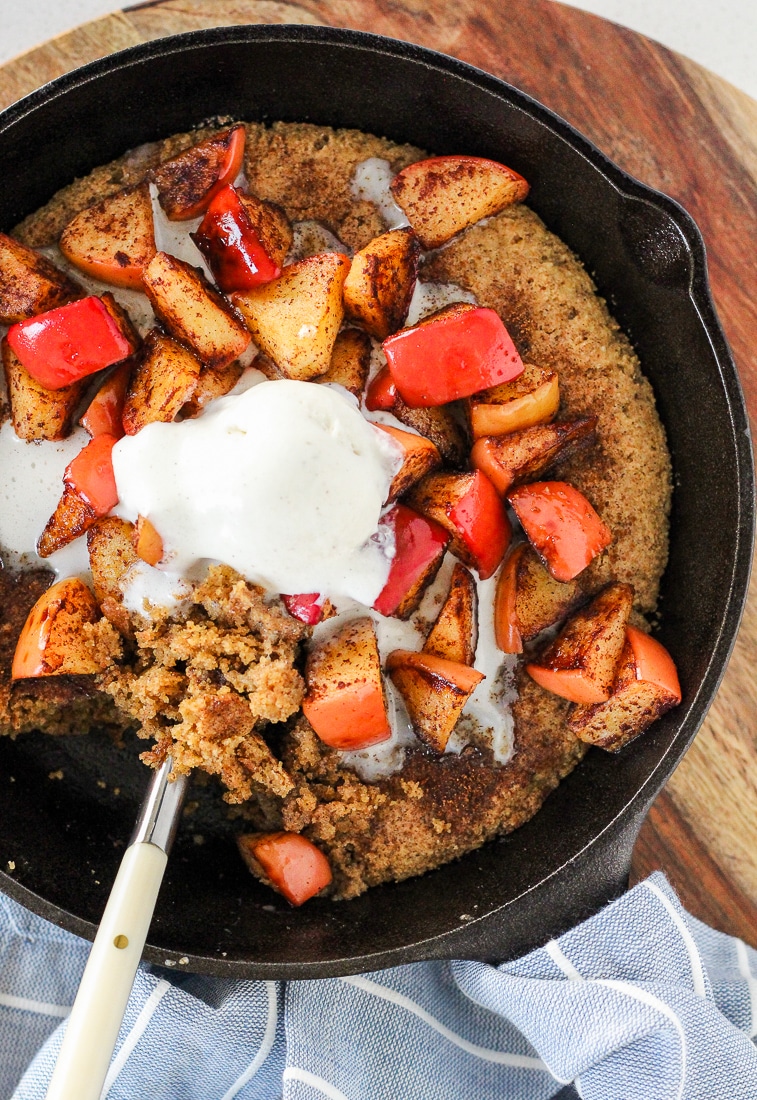 Here's What You'll Need to Make This Paleo Snickerdoodle Skillet Cookie
These are the main ingredients you'll need:
Almond flour: Almond flour is the perfect ingredient for gluten free baking. It makes for a soft, grainy texture and buttery, nutty flavor.
Cream of tartar: Cream of tartar mixed with baking soda creates small air bubbles and results in a light, fluffy, and soft skillet cookie. It also adds a bit of tanginess to achieve the perfect snickerdoodle flavor!
Nut butter: Nut butter is a healthy substitute in baked goods. You can use whatever nut butter you have on hand, like almond, cashew, or peanut. Preferably, use natural nut butter with minimal ingredients and no added sugar.
Apples: Although the snickerdoodle skillet cookie is absolutely delicious by itself, the apple topping is the icing on the cake. Have you ever had apples mixed with cinnamon and coconut oil? It's a combination you don't want to pass up.
Ingredient Substitutions
*I don't recommend subbing coconut flour in this recipe, due to it's different consistency and characteristics.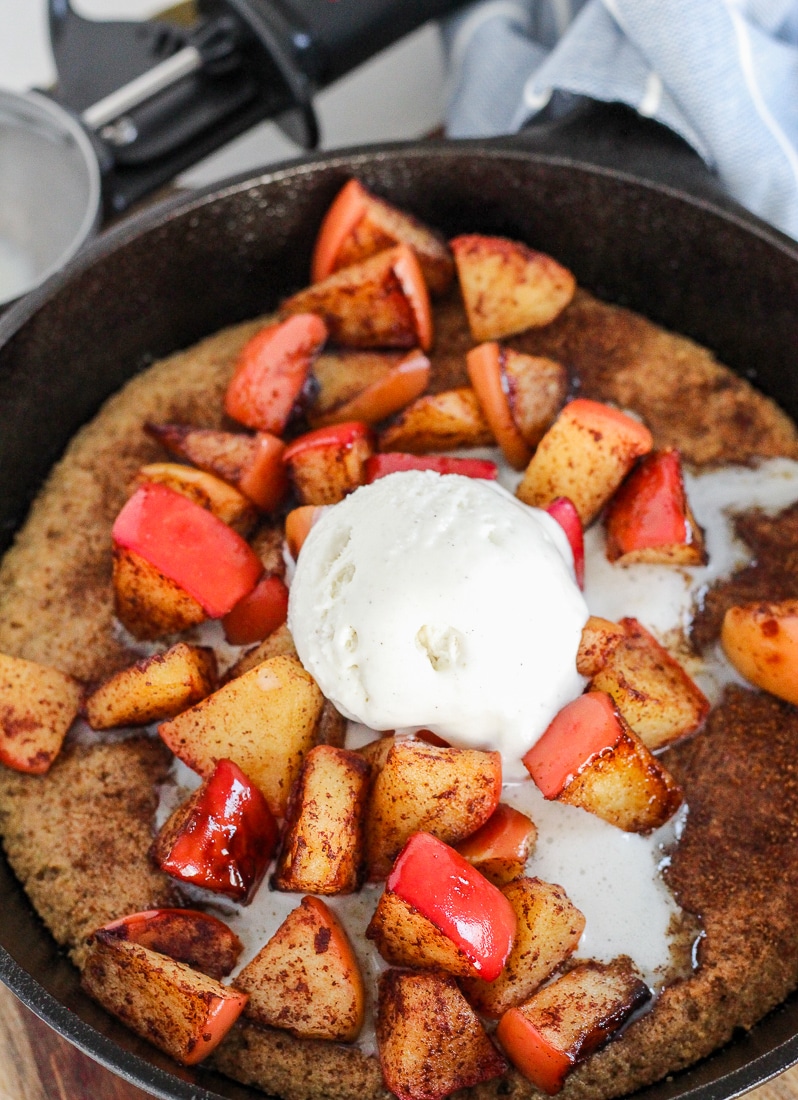 Let's get cooking! If you make this recipe I'd love to see it! Feel free to share on Instagram and tag me @shapedbycharlotte so I can see it.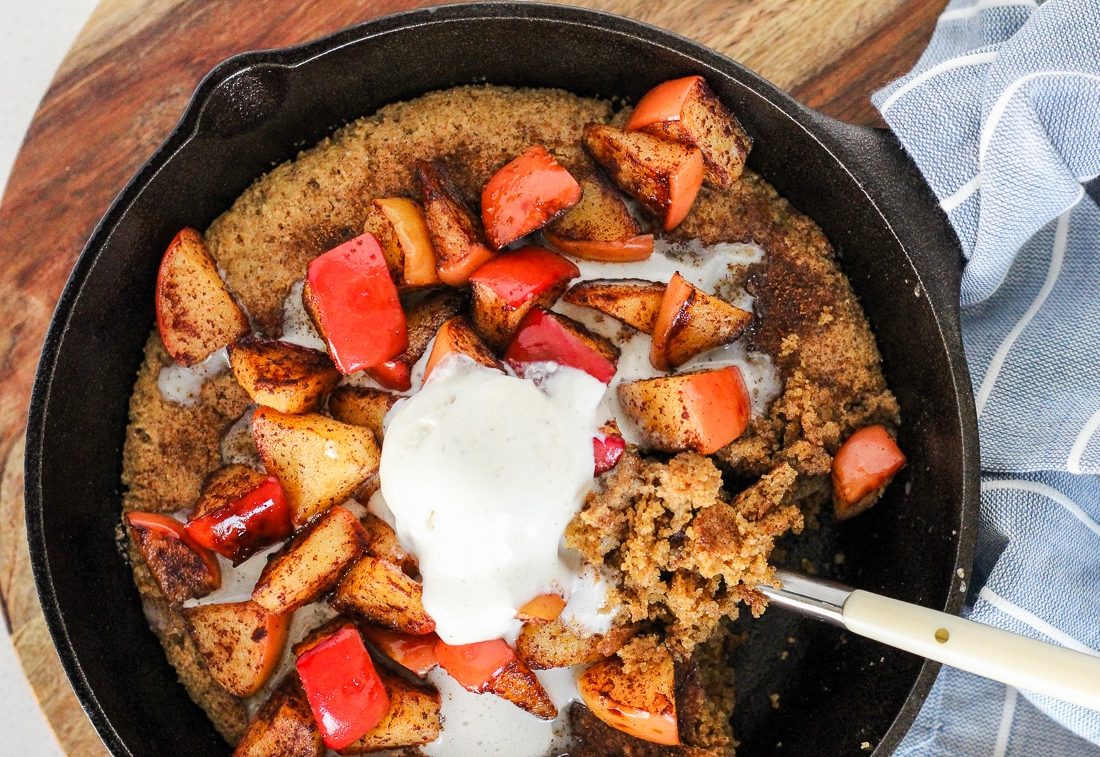 Paleo Snickerdoodle Cookie Skillet with Apple Topping
Yield: 6 servings
Prep Time: 15 minutes
Cook Time: 15 minutes
Total Time: 30 minutes
This Paleo Snickerdoodle Cookie Skillet is gluten-free and dairy-free, yet filled with flavor. The traditional snickerdoodle cookie is topped with warm apples, making for a delicious and healthy treat!
Ingredients
2 tsp cinnamon, divided
¼ tsp baking soda
¼ tsp cream of tartar
Pinch salt
¼ cup creamy no-sugar-added almond butter (or other nut butter), softened if necessary
1 egg
3 Tbsp coconut sugar, divided
3 Tbsp butter, ghee, or coconut oil, melted & divided*
1 tsp vanilla
1 large apple, cored and chopped
Instructions
Preheat oven to 350 ℉.
Combine almond flour, half of cinnamon, baking soda, cream of tartar and salt in a medium-sized bowl.
In a separate bowl, combine almond butter, egg, 2½ tablespoons coconut sugar, two tablespoons fat (I like to use butter or ghee here), and vanilla. Mix wet ingredients with dry ingredients until a dough forms.
Press dough into the bottom of a lightly-greased 8-inch cast-iron skillet. Combine half-teaspoon of cinnamon and remaining coconut sugar, and sprinkle over top of dough and press lightly. Bake for 15 minutes.
Meanwhile, heat remaining fat (I like to use coconut oil here) in a medium-sized skillet over medium heat. Add apple chunks and remaining cinnamon, cover, and cook until tender (stirring occasionally), about 8 to 10 minutes.
Top cookie skillet with sautéed apples and your favorite ice cream and serve immediately!
Notes
*I like to use butter or ghee in the cookie, and coconut oil for the apples.
Recommended Products
As an Amazon Associate and member of other affiliate programs, I earn from qualifying purchases.
Thanks for reading Shaped by Charlotte! To see what other healthy and tasty recipes I'm whipping up in the kitchen, be sure to follow me on Facebook and Instagram!
Shaped by Charlotte LLC is a participant in the Amazon Services LLC Associates Program, an affiliate advertising program designed to provide a means for sites to earn advertising fees by advertising and linking to amazon.com. As an Amazon Associate I earn from qualifying purchases!
This post may contain affiliate links, which means I may receive a small commission if you purchase through those links. I only recommend products that I know, trust and love! Thank you for your support!